'Villages are much better prepared than towns as far as COVID-19 is concerned.'
"The lockdown has taught us many things. It has hit all of us hard, especially the poor. But it has prepared all of us for a long battle till the vaccine comes," Pratyay Amrit, the senior-most bureaucrat in charge of disaster management in Bihar, tells Archana Masih/Rediff.com, explaining how a state with the largest migrant population is helping Biharis stranded in other states and defending its citizens from the deadly virus.
This pandemic is something civil servants have not faced before in their careers. How are you dealing with a crisis that does not have a precedent?
It the rarest of rare, but I still feel it is a great honour to be at the helm of affairs at this critical juncture. Whatever we are doing gives immense satisfaction.
I have been in the disaster management department for almost four years and have been part of the Kosi river flood disaster team (one of Bihar's most devastating floods which occurred in 2008) and other disasters in Bihar. But this is different from the floods and other disasters we have faced in the past.
What is a day like as the top-most official handling disaster management in the state?
The day starts early and we plan for the day. We have a small, dedicated team of good officers. I feel small teams are more effective in dealing with a crisis.
We talk to the district magistrates, coordinate with the health department. We assist in contact tracing the moment someone is tested positive.
It is not possible for the civil surgeons or doctors to do this, so we step in and start getting lists of contacts prepared etc.
Secondly, funds have been disbursed to the district magistrates for disaster according the three-tier system that has been followed by the Bihar government.
All the border districts have Apda Rahat Kendras (District Disaster Relief Centres). These centres are in readiness.
Many migrant labourers, who have managed to return by whatever means -- I won't get into that debate -- we get them medically examined and scanned as soon as they reach our borders.
They are housed in government schools keeping social distancing in mind. These are known as village quarantine camps. Food is provided.
The many people who returned immediately after the lockdown were very keen to go to their villages. So after 2-3 days we transported them (from the border districts of Bihar) in buses arranged by the state government to their respective districts and villages.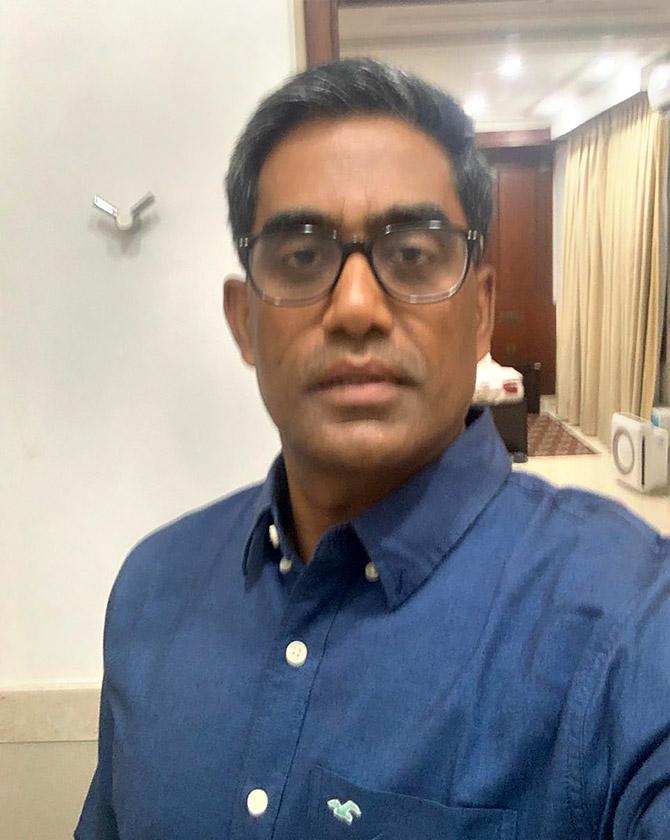 The state also has Seema Apda Rahat Kendras (Border Disaster Relief Centres).
Meanwhile, we have a third relief centre for destitute, beggars, rickshaw pullers etc in towns.
There are 168 such centres that provide food to 60,000 people per day.
Who monitors the village quarantine centres to ensure adequate food is being provided and social distancing being followed?
Bihar has seen one of the highest influx of migrants and there are many challenges in implementation, I'll be very candid.
A local government functionary is in charge of every village quarantine centre.
The mukhiyas have also been given responsibility because social pressure and community leadership plays an important role.
Otherwise, it will not be possible to keep a person who has travelled 1,300 kms on foot or by hook and crook, inside a school and prevent him from going to his house when it is just next door.
There have been cases where migrants have slipped out and gone to their homes at night. It is not possible for us to put CCTV cameras to monitor 60,000 people staying in such camps in more than 3,500 government buildings. Neither is it possible to put a police force at all these buildings.
The government official in charge of the village quarantine camp and the mukhiya are responsible that they remain there for 14 days and do not move around.
Food is provided twice a day. We are also going to provide clothes, mosquito nets, utensils, durries, milk for children.
In Bihar, we have been doing the same for the past 8 to 10 years during floods. It is a standard operating procedure and we are going to implement it immediately.
The entire cost will be borne by the chief minister's relief fund.
Perhaps the migrants will find it easier to stay for 14 days with enhanced provisions because it has not been easy to really enforce it.
Along the way, we have also learnt a lot of things.
The thela-wallahs, rickshaw-wallahs, beggars etc -- they have to go to a particular place where food is being distributed to eat.
How is the state ensuring that they are able to reach that place and are not deprived of food?
If you look at data, you will not find a hunger death in Bihar for the last 10 to 15 years.
Bihar has fertile land and high density of population, a person close to starvation will not go unnoticed and will be fed.
In Patna, there are 17 centres where 24,000 people are getting food. Some centres are located near the rickshaw stands which is where the rickshaw-wallahs are, hence they don't have to travel much to access it.
Food packets are distributed to all slum dwellers in Bihar through the respective thanas.
10,000 packets are distributed in Patna alone.
Bihar doesn't encourage NGOs to run community kitchens. This has been a standard rule since 2008.
The chief minister strongly believes that there is no issue of funds and is of the clear opinion that in case of a disaster, all the other priorities of the government will be put on hold and the money will be diverted towards disaster.
That is how we have been successful in handling floods.
We have our SOPs in place. We won several accolades for handling the Kosi disaster and that continues even in this pandemic.
If an NGO or somebody is so keen, they can prepare the food, but will have to hand it over to the district administration.
We had urban flooding in Patna last year. We did not allow NGOs or any kind of flood tourism, like taking photos while distributing puris.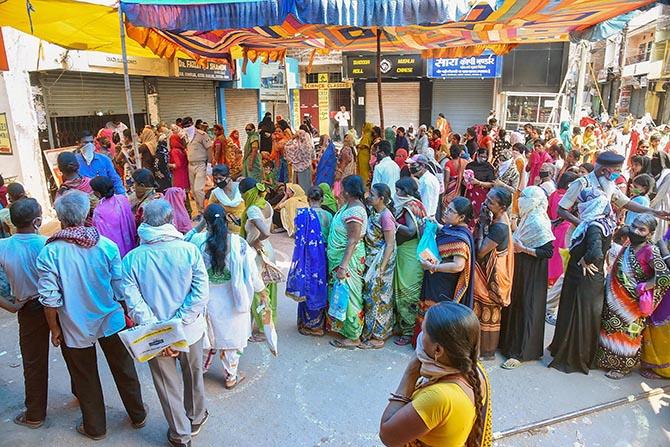 The state government disburses Rs 1,000 each to the migrants stranded in different parts of the country. How many have received the money in their accounts?
It is a unique scheme and now Jharkhand is doing the same and maybe UP also.
It was not easy, but as of Saturday (April 18) 15.94 lakh people have registered themselves.
Out of which Rs 14.29 lakhs payment has been processed and the money has reached the accounts of 10.79 lakh people. The remaining will be completed by Monday (April 20) evening.
How will they get to banks/ATMs in the lockdown?
We have been talking to people and we have not got any complaint regarding this so far. The ATMs are functioning.
We get complaints that it is taking time, OTP is not getting generated etc. It takes patience to handle it and we are doing so and it is working.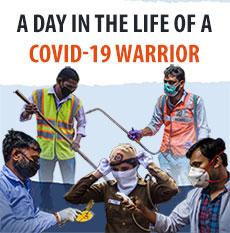 How has the state government reached out to other state governments about the welfare of Bihari migrants stranded in those states?
Bihar has maximum migrants labourers and we are very concerned about them.
The chief minister himself spoke to the respective chief ministers.
The chief secretary has written letters to the states where our migrants hotspots are like Mumbai, Delhi, Haryana, Gujarat, Tamil Nadu and Punjab.
We have also given money from the chief minister's relief fund to the Bihar Foundation which is running centres in Mumbai, Chennai, Sikkim, Puducherry. It is a separate entity with an IRS (Indian Revenue Service) officer based out of Mumbai as its CEO.
There are local representatives in places like Dharavi, Vashi, Belapur, Kalyan, Bhiwandi, Mankhurd etc. They send us a report every day. These are some of the ways we are trying to help our people.
We also have a very good 24x7 helpline with a dedicated team of 50 to 60 people. When we receive requests from places where 20 or more migrants are stuck, we then take the matter up to a certain higher level.
We talk to the district magistrates, tehsildars.
We have created a group of IAS/IPS officers in the Bihar cadre who are not originally from the state, but hail from Maharashtra, Tamil Nadu, Karnataka, Haryana etc.
They have their own mini secretariats and speak to their counterparts in their respective native states to help those in need of help.
We have a WhatsApp group called 'Healing Touch' through which we monitor these efforts.
As of Saturday, we have received more than 72,000 calls at the CM's office, Bihar Bhavan and disaster management department and we have reached out to 25 lakh people.
Are these calls mostly about asking the state government to bring them back home?
Week 1 was basically about ration and wanting to return home.
Week 2 was mostly about complaints related to ration and the need for money.
Today (April 18), which is week 3, we have got 1,300 calls about money and almost 100 calls about issues related to the Rs 1,000 and the app.
Are the migrants who have returned getting work under MNREGA?
We are going to start MNREGA from April 20th to provide work to the migrants who have returned.
We have a scheme called Jan Jivan Hariyali, a historical scheme which undertakes work like digging ponds, plantation etc. It is manually-driven earthwork without using machines and JCBs.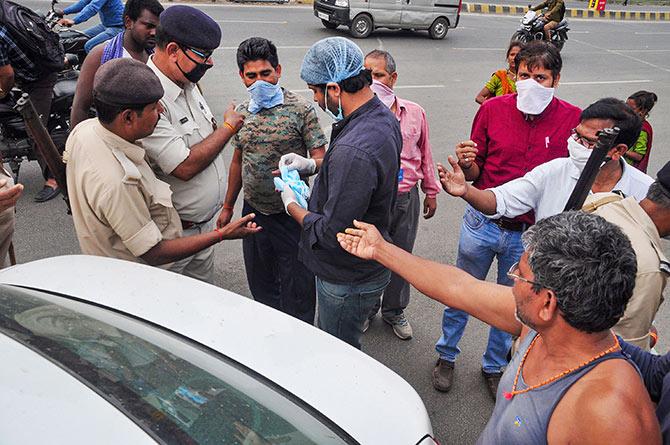 Are we going to see a reverse migration, where migrants will not venture out of the state for some months after the COVID-19 crisis? How is Bihar planning to tackle this return?
Just as parents look forward to having their children back, the migrants also want to return. Nothing is going to stop them from returning once it is allowed and they should come back home.
I feel it is a golden opportunity as a bureaucrat to really see our strength and use them productively.
This is the time to implement some of the good proposals of setting up small scale industries and use migrant labour in the state in a big way.
I am sure they are going remain in Bihar till the Chhath Puja and the Bihar election.
Personally, I feel we all have to live with COVID-19 till we get a vaccine and it is almost going to be a way of living.
The lockdown has taught us many things. It has hit all of us hard, especially the poor.
But it has prepared all of us for a long battle till the vaccine comes.
Life will change post-May 3 whether it is in office, using masks, social distancing.
MNREGA will also have to be done with social distancing.
My own assessment is that villages are much better prepared than towns as far as COVID-19 is concerned.