'That way, it will be helpful for India because by April, temperatures will be in the late 30s and early 40s...'
'So, if we are able to sustain these 21 days, and go to that temperature zone, it will be a way of nature protecting us.'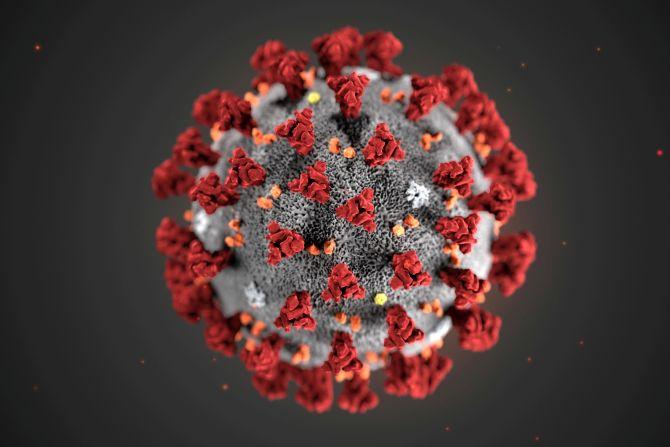 Dr Himanshu Reddy Dandu of the King George's Medical University in Lucknow has been leading his team in fighting the coronavirus.
"I am an optimist and I feel if we hold on for another 3-4 weeks, we will tide over for now. But we should build our infrastructure and be ready for everything. There is always a possibility that it can again come back in the winter," Dr Dandu tells Shobha Warrier/Rediff.com.
You are leading the team in fighting the coronavirus pandemic. How different is this battle compared to what you have been doing so far?
The main thing is it is a novel virus and we were sure that what was needed was to not let it spread in the community.
So, we are trying to prevent patients spreading it to others, and also to our own medical fraternity and healthcare workers.
We also want to ensure that we don't take it home and spread to society as a whole.
For example, even if I only have a mild infection, if I spread to someone in society with low immunity, he can have problems. So, we have to stay in one place, away from society.
We medical doctors also quarantine ourselves which is quite different from what we have been doing for other patients.
Normally when we treat, we only take basic precautions like cleaning, etc. Then, we go back home and meet everybody. But now we are not doing that. We are avoiding contact with others as much as possible.
It was reported that one of your junior doctors got infected. How safe are those who treat covid-19 patients?
World over, healthcare workers are at high risk.
Yes, one of our residents got infected even though he was wearing the (protective) gear. He was the one who sampled one of the patients who was positive.
It is not only while wearing the gear but while removing it also, you have to be careful.
If there is a slight mistake in the order of the whole gear, there is a risk of you touching yourself somewhere where the virus is, and you can get infected.
When you have to wear the PPE (personal protective equipment), you should know how to wear it and remove it properly.
Anyway, the doctor is fine and normal now, and not having any symptoms.
Does that mean healthcare personnel have to be trained for this?
Yes, we are training more and more teams. I was leading the first team and also controlling other things. Then, we had a second team that worked for seven days which then went in for a quarantine of 14 days. Now we have a third team.
We are training more teams so that nobody gets too much of exposure. Every team works for seven days and then a quarantine of 14 days in the hospital. That's the cycle we have planned.
UP is one of the most populous states in India and so far you have reported 37 cases. Has community spread started there?
I don't think so. We have been checking all the symptomatic patients who have come here. We have also checked all the healthcare workers. But none of them had any positivity.
So, till now, we have not seen anything that leads to a community spread.
India has declared a lockdown of 21 days. The WHO chief has said that social distancing alone is not enough to fight the coronavirus. It should go beyond that.
The lockdown has its own effects like it decreases the rapidity with which the virus spreads.
Social distancing also helps in breaking the cycle for a certain period of time so that we are able to reinforce everything and prepare to fight the virus, like increasing the number of ventilatory beds, the strength of the hospital, readying more teams, etc. That way, you will have more capability.
WHO may talk about killing the virus, but we need to have a concrete treatment though various trials are going on. But it will take quite some time for a vaccine to come. It may not come in the next 1-2 ½ years. But we can't sit idle and let people die.
Social distancing is part of the fight itself. With the lockdown, you can decrease the rate of increase and also quarantine. If you keep the high-risk patients isolated, the rate of mortality will be less.
Is it like quarantining only the vulnerable population, the elderly, and let others to develop resistance?
Sort of. Yes, the theory is that the elderly is quarantined, and the rest of the people develop some sort of immunity, then the spread of the virus can be contained. That's what happens with most viruses.
That's what the UK is trying to find out, that is, how much of immunity and how much of antibodies are developing among the young population. When the body develops antibodies, your body gets immunity.
Do you feel what the UK is following is a better method to fight the virus?
We don't know really. It has been a short time to know the results. It will take 3-4 months for herd immunity to develop. And you need 60% of the population to develop herd immunity.
We also have to see whether the immunity developed against coronavirus sustains, whether it is a temporary immunity or permanent immunity. For example, for influenza, you have much longer immunity. So, it will determine how well the herd immunity will act.
There are also studies which say the viruses act differently in different population groups.
A study conducted at MIT found that the spread of coronavirus is much less in high temperatures and high humidity conditions.
Do you feel that could be a reason why the virus is not spreading exponentially in India while it was very high in the northern hemisphere?
I do feel so. I have been looking at the map where the virus spread was more. It is quite a rudimentary analysis. But if you look at Thailand, it had the second highest cases outside China in the beginning of January, but till now, they had only 800-900 cases with very low mortality.
I am pretty sure Italy has a better healthcare system, but still Thailand is doing much better.
If you take Pakistan also, they have more than 1,000 cases but only 9 mortalities.
So, the virus appears to be acting differently in different population groups.
And most of the coronaviruses become weak in high temperatures and high humidity. That way, it will be helpful for India because by April, temperatures will be in the late 30s and early 40s (degrees centigrade).
So, if we are able to sustain these 21 days, and go to that temperature zone, it will be a way of nature protecting us.
How long do we have to wait till we can heave a sigh of relief?
Right now, we have more than 800 (as of March 27) positive cases. We need to have a fall in the number of cases, and only then we will know whether it is really coming down.
In China, the number of cases has fallen down drastically. They do not have any internal spread; they have only cases in those who are coming back.
Korea also is seeing a big drop.
In the case of South Korea, it is said their success is because they tested everyone.
I totally agree that they controlled it by testing. They tested everyone. They had multiple testing booths everywhere; they had drive-in testing too.
They even made public the names of those who were positive though some criticised the privacy aspect of it, but they did that so that the others did not go near them. This is one way of attaining success.
But I would look at Thailand for their success as they had the highest number of cases after China and Japan in early January. I would like to know why they could attain success, taking into consideration their infrastructure, climatic condition and the number of people they have.
Yes, Korea had success due to testing and China quarantined people by building hospitals along with lockdowns.
Maybe we need to find a path which is in between, looking at our infrastructure.
About testing, many experts say we are not doing enough testing. Is that the reason why we have so few numbers?
It is a possibility because the number of testing centres are few. So, the number of cases may not be the true number.
We have tested only the symptomatic patients including healthcare workers who are the most close to the positive cases. But none of them are coming positive except for two people. They did some community testing also, but the numbers are less.
The only thing that scares me is, it should not spread to the villages.
Are our villages not safer as they are comparatively isolated from the crowded cities?
They are, but the migrant workers returning can change the scenario.
We have to keep a watch on where the migrant labourers are coming back.
If we provide them with food and money, and keep a watch on them, I am sure we will be able to do a good job.
Anyway, we have closed our borders with no international flights coming from anywhere.
The ICMR (Indian Council of Medical Research) has now approved the use of anti-malarial drugs for healthcare workers, but some physicians are against it. What is your opinion on this?
The anti-malarial drugs, both chloroquine and hydroxychloroquine, have been tested for a long time on different coronaviruses, and most of the tests showed that there was a decline in the replication of the virus itself.
So, when you give hydroxychloroquine, it is a way of attacking the virus in patients and also protecting the healthcare worker.
If the virus doesn't grow, the healthcare worker will not get it, and you are breaking the chain in the process.
But you have to remember that it is not an alternative to PPE. It is only additional protection.
You cannot rely totally on anti-malarial drugs. The personal protection equipment, the standard precautions and other cleaning systems are the most important.
From your experience, in which direction is it going in India?
We can only talk from anecdotal experience. We have seen the 2009 H1N1 pandemic and swine flu pandemic, then the 2019 influenza pandemic.
The 2009 pandemic started with a bang, but decreased very fast. Influenza had certain herd immunity.
In the case of covid-19, other than the spread and infection profile, it is like the H1N1. They both spread through droplets, attack lungs, and with similar mortality.
I would expect it to come down a bit if we are able to quarantine ourselves.
Many scientists feel we should be in the peak.
I am an optimist and I feel if we hold on for another 3-4 weeks, we will tide over for now. But we should build our infrastructure and be ready for everything. There is always a possibility that it can again come back in the winter.
We saw how the Chinese and Korea controlled it, but we see the number rising in America.
America took a different path. They did very less initial testing. They took a lot of time in quarantining. They neither took the Chinese path nor the Korean path.
But took the Italian path?
Yes, went the Italian way!
Another thing is, in Italy, Spain, the US, there are more elderly population and many of the deaths occurred in old age homes.
We have to also see how China and Korea are being careful even now as people are coming back, and they do not want to see a second or third wave of the virus.
What I mean is, we have to be on our guard later also, when we open our borders and people start coming back.
When the first three students came from Wuhan, they were quarantined in Kerala and allowed to meet their families after they completed the quarantine of 14 days.
Don't you think the situation would have been different if we had quarantined all those who came back from Europe, US, etc and let them in only after quarantine?
Yes, the situation would have been different. Russia did that. They quarantined everyone who entered the country in separate buildings.
We could have also done that in all the hotels after converting them as quarantine centres.
Maybe that would have changed the course of the disease. It would have been a better method of doing the quarantine system than the home quarantine system.