'No one should make coronavirus a Hindu-Muslim issue.'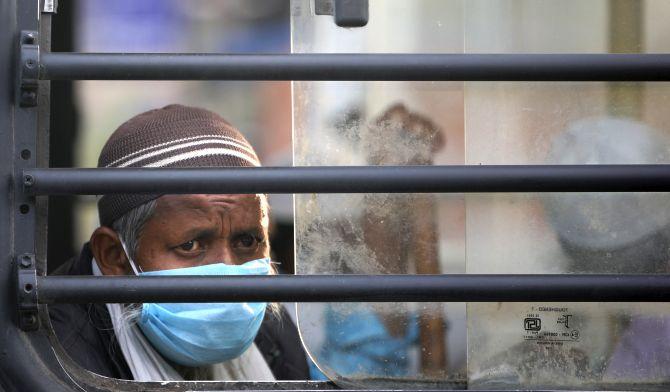 The Tablighi Jamaat have come into the spotlight after an event it held in the Nizamuddin area of Delhi spawned a number of coronavirus clusters across the country.
In fact, the country is now scrambling to find and quarantine all the participants, including the 275 foreign nationals, fearing they could further spread the virus.
The Jamaat has come under severe criticism for defying the lockdown and organising a congregation.
At the time of filing this interview on April 2, 53 people who took part in the Jamaat congregation have tested positive for coronavirus.
The Union home ministry stated on Thursday that so far, 9,000 Tablighi members and their primary contacts have been quarantined across the country.
Now, the issue has taken on communal tones with many taking to social media to level accusations against the Jamaat.
Maulana Khalid Rasheed Firangi Mahali, member of the All India Muslim Personal Law Board and chairman of the Islamic Centre of India, tells Syed Firdaus Ashraf/Rediff.com, "Those participating in the congregation are law-abiding citizens and for the last 100 years they have not done anything that is unlawful."
What is your reaction to the allegations that the Tablighi Jamaat may have spread coronavirus across India?
There has to be a thorough inquiry and before that comments should not be made based on a religious colour.
Doing that is suicidal because one cannot divide the country on religious lines when our country is facing such a huge crisis.
You are keeping the communal pot boiling in such times.
The Markaz (the Tablighi Jamaat headquarters in Delhi) has given a detailed press note stating what they were doing every day and at what time where their delegates were, which place they were and what kind of permissions they had from authorities.
In these circumstances I don't think it is right to target them.
They are law-abiding citizens and for the last 100 years they have not done anything that is unlawful. Therefore, I feel an inquiry has to be conducted and only after the findings should action be taken.
But the message that is being sent out is that the Markaz did not inform the police about the foreign travellers and therefore, the virus has now spread in India.
They have given details as to which (police) officers they met and informed about their programmes for which they have also got acknowledgement notes from the officers.
Therefore, I said, let there be an inquiry and everything will come out in the open.
Coronavirus is such a disease that if anyone hides it, they are sure to infect all their loved ones. It is harmful to everyone and therefore I appeal to anyone who had gone to the Markaz that he should come forward and present himself in front of government officials and doctors and get treated.
But many of those who were in Markaz are hiding in different parts of India.
That is not true. There are maulanas who are in quarantine wards.
When the lockdown was announced everybody stayed put at the place where they were. The migrant labourers too got stuck and therefore they had to walk back to their villages.
In the same way in Markaz, where people were staying, they did not move out, but stayed at the same place.
The media is saying they were having a party at Markaz, which is not true. They have no understanding of the Tablighi Jamaat.
In gurdwaras too, people stayed put where they were and didn't move out after the lockdown was announced. The Markaz too did the same thing.
Some media has played a very negative role and it is a very sad state of affairs. These media people portrayed Markaz in a way that only it spread coronavirus in India whereas the fact is that coronavirus came from China, not Markaz in Nizamuddin.
But we saw videos of these people spitting from buses.
They should not do it and if one or two people have done it then it is sad and action must be taken against such people.
In Indore, too, doctors were driven out of Muslim localities where they had gone to check on local residents.
It is illegal to do so. They have done the wrong thing and it must be explained to them why it is important to be tested for coronavirus.
No one should make coronavirus a Hindu-Muslim issue.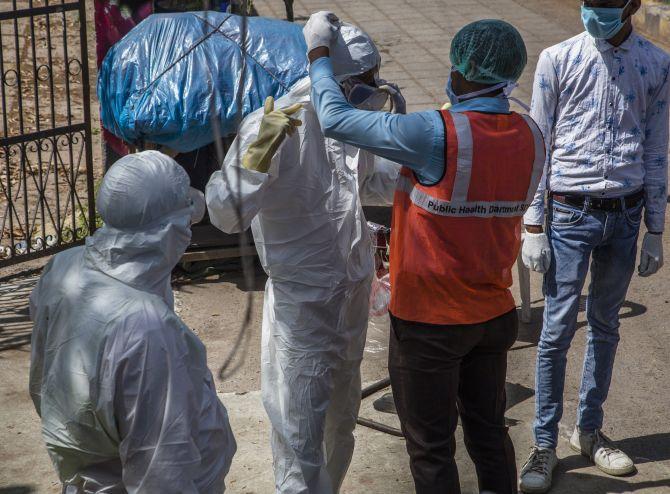 If Saudi Arabia sealed off Mecca and Medina, why were these people still praying at the Markaz?
In India too that has happened. Friday namaaz is not happening anywhere in India. In Markaz, they were already staying at that place before the lockdown was announced.
But there were foreigners inside, so was it not the duty of the Markaz to inform the police and doctors of their presence?
These foreigners came from different airports in India. Why were they not checked at the airports? Why were these foreigners given visas? They were given a valid visa by the government and therefore they came.
According to an audio message circulating on social media, Tablighi Jamaat chief Maulana Saad Kandhalwi said coronavirus can do no harm to Muslims and termed the calls by the government for social distancing and a ban on religious gatherings as a 'conspiracy to divide Muslims and dent their unity by keeping them away'.
It is wrong on his part to say such things. Prophet Mohammed has said clearly that you have to take suggestions and follow the advice of doctors and experts of medicines. Therefore, Mecca and Medina too is shut.
On social media, the words 'corona jihad' are being flung at the Tablighi Jamaat.
Allah has therefore sent all mankind behind four walls. Everybody is in a prison-like structure even if he may be the most powerful man of the world or the most ordinary man. Everybody is in the same position today.
When labourers were migrating, did anyone give it a communal colour?
And if people were stuck in a temple, will anyone say Hindus were spreading coronavirus?
Nobody should say such things.
On March 23 itself, the police had called the Markaz authorities and told them to vacate the Markaz. There is even a video showing this.
I saw that video, but it is not shown what the Markaz guys replied to that policeman. That is only one side of the story.
We should know what answer the Markaz authorities gave to that policeman. Therefore, I am saying let us have a proper inquiry in this matter.
But the Markaz authorities must have known about the fact that foreigners were present and they could be carrying coronavirus. Was it not their failure then in not informing the authorities?
I am again saying why were these foreigners allowed to enter India with a valid visa?
If they were suffering from coronavirus, why were they allowed inside the country?
Therefore, there has to be an impartial inquiry in this matter.