'The administration failed in the coronavirus crisis so they are making it a Hindu-Muslim issue.'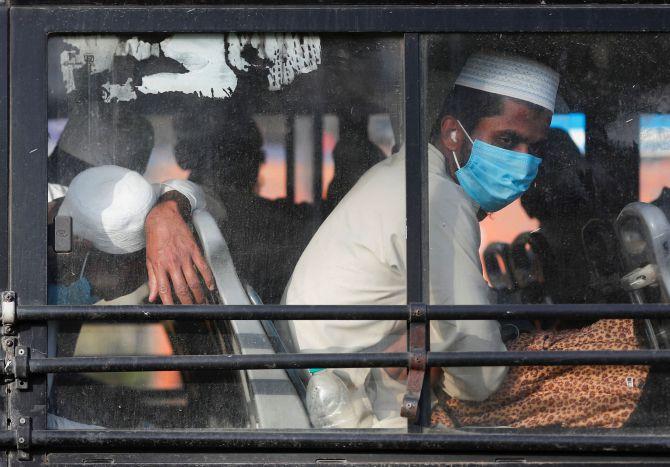 As the country fights the coronavirus pandemic, all attention has been turned to the Nizamuddin West area in south Delhi after six people have died due to the coronavirus, while 24 others have been tested positive and over 300 have been isolated after showing symptoms of the virus.
These people were part of the over 2,000 delegates, including from Indonesia and Malaysia, who attended the the Tabligh-e-Jamaat congregation at the Markaz in Nizamuddin West from March 1 to 15.
Alarm bells started ringing after a man in his 60s who had attended the congregation succumbed to COVID-19 in Srinagar last week.
According to officials, there were several smaller congregations culminating in the big meeting at the headquarters of the organisation which shares its wall with the Nizamuddin police station and is adjacent to the famous dargah of Khwaja Nizamuddin Auliya.
Reacting to the news, Aam Aadmi Party MLA Atishi sought strong action against the Markaz authorities for organising the three-day congregation and asked why the Delhi police did not take any step despite the government prohibiting such gatherings to check the spread of the virus.
However, Yasmin Kidwai, the Congress party councillor from Daryaganj ward under which the area falls, speaking to Syed Firdaus Ashraf/Rediff.com, said the government should be blamed for the incident.
"The government is to be blamed for letting people come in from different countries when the threat of coronavirus has been looming on India and it had started spreading," Kidwai says.
How is it that suddenly so many cases of coronavirus have been detected from the Markaz building (of the Tabligh-e-Jamaat) in the Nizamuddin area of Delhi?
It is a colossal administrative and governmental failure.
You locked down the country without any plan and preparation. These people had come to Markaz for an event on March 10-12. And this lockdown was first announced on March 16 by the Delhi state government.
Delhi Chief Minister Arvind Kejriwal on March 16 ordered the shutting down of all malls, theatres and banned all religious congregations. And now those people who were staying at Markaz had come from different parts of India and the world much before March 16.
The government checked these foreigners at the airport and only then allowed them entry into India.
Then Prime Minister Narendra (damodardas) Modi all of a sudden announced a lockdown and the people who were stuck in Markaz had to remain there only. Isn't it? How could they move out?
But...
The government knew well in advance that these foreigners were in Markaz. Now two people have died -- one in Kashmir and one in Tamil Nadu -- who had gone from Markaz.
The government knew foreigners were in Markaz, but still no arrangements were made earlier to evacuate the building.
Therefore, I am saying this is an administrative failure.
But the blame is being pinned on these people. It is being said they are responsible for spreading the coronavirus.
I don't understand why the coronavirus issue is being given a religious colour.
My appeal to the government and media is to please stop communalising the coronavirus issue.
We need to now get into action and identify the hot spots of coronavirus and make preparations to deal with new patients rather than communalising this entire issue.
Uttar Pradesh Chief Minister Yogi Adityanath attended the Ram Navami function after the lockdown and nobody said anything then.
When Rahul Gandhi said on February 12 that coronavirus is an extremely serious threat to our people and our economy and Modi government is not taking it seriously people were laughing at him.
He again tweeted on March 3, 2020 to the prime minister of India stating, 'Quit wasting India's time playing the clown with your social media accounts, when India is facing an emergency. Focus, the attention of every Indian of taking on the coronavirus challenge.'
Again, no seriousness when the fact is that the first case of coronavirus was reported in India on January 30, 2020.
Therefore, it is clearly an administrative failure of the Modi government. There were no evacuation plans before the lockdown.
How is it that these foreigners who came to Markaz prior to March 10 were not detected with coronavirus?
They must have come before March 10, I guess, and moreover, at that time there were no clear instructions from the government as to what to do on this issue.
I recall my own children going for an outstation picnic with their school on March 3, as there was no direction on anything about coronavirus.
It was only on March 16, when Kejriwal announced the shutdown, that people started understanding the seriousness of the lockdown and coronavirus.
And from March 23, the police was sitting outside Markaz and no one was allowed to either to come in or go out.
There were Indonesian citizens in Markaz; how come they were given permission to come to India when the fact is that coronavirus had already spread in that country?
These are the questions that needs to be asked to the government.
In the Nizamuddin area, how many people are currently affected by the coronavirus?
At present, only one family is quarantined. Their house is quarantined inside Nizamuddin basti. And the man who died in Kashmir had gone to meet that family.
From what you are saying, it seems you are absolving the Markaz of any blame.
I am not speaking on behalf of the Markaz and I am not a spokesperson for the Markaz.
My point is that this could be a gurdwara, mandir, masjid or any other area. I am just questioning how this entire crisis has been handled. I am stating and representing facts.
This is a lockdown without a plan.
The central government and the Kejriwal government had no idea how to tackle it. The migration of labourers from cities to villages proved that. Labourers went hungry on the roads and thousands of them overnight assembled at bus stands to leave for their villages.
What are people supposed to do if the PM announces a lockdown all of a sudden?
But...
When migrant labourers moved out, nobody saw their religion. That issue is over now and a new religious twist has been given to this coronavirus crisis.
The administration failed in the coronavirus crisis so they are making it a Hindu-Muslim issue.
And this Markaz is just behind the police station. So why did the police not take timely action?
What is needed right now is to identify the next hot spot rather than indulging in a blame game.
How did these foreigners enter India? The government must answer this question.
This virus has come from outside of India and it is so unfortunate that people are now seeing the coronavirus in Muslims and Markaz only.