'Then all the usual troubles will break out.'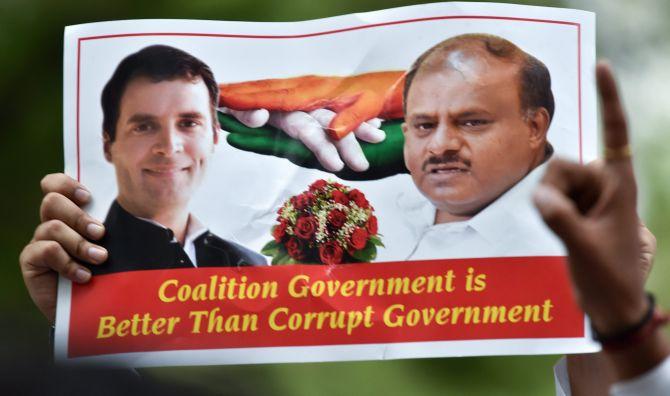 Karnataka's fractured mandate has resulted in high political drama in the state.
Though the election result had been a setback for the Congress, it has succeeded in keeping itself in power, even if in the backseat, by supporting the third-placed Janata Dal-Secular to front the government.
Krishna Prasad, the well-known journalist and former editor-in-chief of Outlook magazine, who in a pre-poll interview to Rediff.com clearly expected the Congress to perform better, argues that the Congress has not been entirely rejected by Karnataka's voters.
"There's no question that Modi's rallies changed the mood in the last 15 days," Krishna Prasad tells Rediff.com's Utkarsh Mishra.
What went wrong for the Congress and Siddaramaiah?
I don't know what went wrong with the Congress. But sure, (the result) is not what people or analysts expected.
At the same time, as you can see from the hung verdict, it is not as if that the Congress has been entirely rejected or the BJP (Bharatiya Janata Party) has been entirely accepted.
No question that the BJP has put up a very fine performance, from 40 seats it's up to 104.
But as I said in a previous interview, there was always a weight of history behind Siddaramaiah.
Karnataka has never repeated a government in the last 35 years. It seems as if following the trend, but I think it is too simplistic a reading.
The fact that we change a government repeatedly does not mean that we should keep changing it all the time. But I suppose there could be a lot of reasons.
Maybe people still have hope in Narendra D Modi.
Maybe people rejected the arrogance of the Congress.
Maybe people just want change.
Maybe they feel that having the same kind of government in the state and at the Centre would help.
It could be any reason. But net net I would say it is not a completely anti-incumbency vote since the vote share of the Congress has actually climbed nearly three per cent.
But the truth is that the BJP has got more seats than the Congress, which is without a shadow of doubt.
And without a shadow of doubt the JD-S had held on to what it had, about 40 MLAs.
So you can now offer many reasons, but that would be post rationalisation.
As you pointed out, the Congress vote share is more than that of the BJP, but what corresponded to such a huge difference in the seats?
This is one of the things that happen very often in Indian politics, a higher vote share does not turn into a higher seat share.
For example, if you saw what happened in Tripura, I think the Left parties held onto their entire vote share from the previous election. But yet the BJP got 35 seats.
That's because of the first past the post system. So in Tripura, the difference between the total votes of the BJP and the CPI-M Communist Party of India-Marxist) was exactly 9,000 votes. And yet the BJP got a huge mandate. So one should not be surprised with this kind of result.
Is this a personal defeat for Siddaramaiah, as he also lost one of the seats he contested?
I would say 100 per cent.
It's a big loss of face for Siddaramaiah, who has been saying for the past few months that he will be the next chief minister.
It's certainly a big loss of face that he lost from his hometown in Mysore, from Chamundeshwari.
It's certainly a big loss because the Congress had invested a fair amount of hope in winning Karnataka.
The fact that not just Siddaramaiah, but many of his ministers have also lost tells you that there was a different kind of dynamics at play, not necessarily just development or corruption (issues).
There would be a very subterranean sort of wave which consumed a lot of people. But there is no question that it is a loss of face (for Siddaramaiah).
In fact, Siddaramaiah going to (H D) Deve Gowda's house and meeting his son (H D Kumaraswamy) tells you that he had to swallow his pride, because he was speaking very poorly of Deve Gowda and his son.
His body language at the press conference soon after the results was quite revealing of a man who has lost face.
However, he won the other seat and he had already announced that it was his last election. But it is still a loss of face because when you think you have done well and you will give a victory, then being sent out like this tells you that maybe you got some signals wrong.
Where did the BJP gain? Was it purely because of Prime Minister Modi?
One bit of it was certainly Modi.
The BJP got 40 seats in 2013, largely because (B S) Yeddyurappa had left the party and B Sriramulu had also launched his own party.
If you add the seats and votes that Yeddyurappa and Sriramulu have brought back to the party, it would be around 33 per cent. The remaining 3 or 4 per cent has clearly come because of Modi's visits and rallies.
There's no question that Modi's rallies changed the mood in the last 15 days.
I think in the last 12, 13 days he was able to successfully change the narrative. It is one possibility.
The other possibility is the RSS (Rashtriya Swayamsevak Sangh) cadre was heavily at work across the state.
And, of course, the BJP's own strategies like having a 'panna pramukh' dealing with each and every voter on the electoral list.
All those things have helped. But I think the fact that BJP has got a vote share of 36, 37 per cent tells you that Modi's rallies have played a very big role.
In the Bombay Karnataka region the BJP won most of the seats, which clearly means that the Lingayats did not vote for the Congress. So has Siddaramaiah's move (of granting them minority status) backfired?
You could say all that. There's no question that the Lingayats perhaps reacted in a very different way; and (perhaps others too) whether it is Dalits, whether it is Muslims.
But let's not run away from the fact that they (the Congress) also got 78 seats. It's not like they have got some 20 seats or so.
It is still 26 short of the BJP, which is a big gap, but it's not like the Congress (was) entirely rejected.
Karnataka's history is like that, every five years the government is changed.
Each time a new government comes it gets into the business of governance and therefore what you see in Karnataka is a result of many governments over many years.
So maybe people just want change.
Maybe they think having the same government here and at the Centre would help, we don't know.
Maybe they think Modi still has hopes. I don't think (that), but let's assume people do.
So it could be a plethora of reasons. I don't see any one reason for what happened.
Certainly, if there is only one reason for what has happened, it has to be Modi.
But that is only on top of Yeddyurappa and Sriramulu bringing their vote shares back into the party.
It also tells you how important a role caste plays in Karnataka.
What do you think of the Congress manoeuvre to lend support to the JD-S after the results? Will they be able to provide a stable government?
You see, the governor (was) bound to invite the single largest party, but you hve seen recently, particularly in Manipur, that Governor Najma Heptullah did not invite the single largest party.
And as you can see in Karnataka, not just now but for a while that, technicality and morality do not matter too much in front of power and politics.
The Congress has learned from its experiences in Meghalaya, Manipur, Arunachal Pradesh and Goa. So it moved very fast and made an offer to the JD-S that the latter couldn't refuse.
And therefore Kumaraswamy (instantly) sent a letter to the governor saying he had accepted the Congress support.
You can see the Congress moved very fast (and) by 2 o'clock Ghulam Nabi Azad said they have extended support to the JD-S.
You heard that (by then) Sonia Gandhi had already spoken to Deve Gowda. Siddaramaiah and the (state) president of the Congress also went to meet him.
Will it result in a stable government? Of course, not.
It will last for a few months and then all the usual troubles will break out. But it is still very early to say.
Do analysts underestimate the influence Modi still holds on the Indian people?
Well, you could certainly say that about me because I said that the Modi wave has waned. Maybe we see it that way.
But as you know and as I know, seeing and covering politics, that it is not only one person, there is a huge machinery behind this wave and Modi is the last mile in that wave actually.
There are many things which boost up that wave. So there are many, many, factors behind the Modi wave, it is not just the man; the circumstances and the economics.
But I would think that the Modi wave has waned simply on the evidence of several elections in the last two years. And also the fact that he seems to be having less and less of carry because of his speeches.
For example, his speeches in Karnataka were not very substantive and did not say anything new, they were full of abuses and lies. So I cannot see a market for that beyond a point.
But you can never underestimate what people are looking for.
Maybe people are looking for things that we don't look for. Maybe they respond to these issues much better than we do.
But I would certainly think that the Modi wave is not what it was.
It is certainly a fact that Modi has helped the Congress come to where it has in Karnataka.