'No country has a richer history than India. We cannot let someone twist our history.'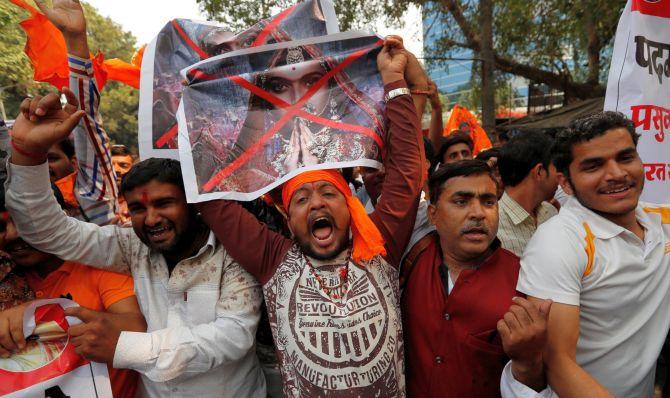 IMAGE: Protests against the release of Padmaavat. Photograph: Danish Siddiqui/Reuters
The raging controversy over Sanjay Leela Bhansali's film Padmaavat, set for release on January 25, refuses to die down.
After the Supreme Court on Thursday, January 18, paved the way for the film's nationwide release by lifting the ban on its screening in Gujarat and Rajasthan, the Rajput Karni Sena has called for a 'janata curfew' on January 25.
Around 1,700 women have threatened to perform jauhar (self-immolation) on January 25, coinciding with the release.
"Rani Padmini had chosen women from 36 different castes and communities to perform jauhar," Rani Mahendra Kanwar of Bassi, Chittorgarh, vice-president, Johar Smriti Sansthan, which is among the organisations leading the protests against Padmaavat, tells Rediff.com's Syed Firdaus Ashraf.
The CBFC (Central Board of Film Certification) has approved the release of Padmaavat. The Supreme Court has permitted its release. Why are you still opposing the film?
The movie projects history incorrectly; we cannot tolerate it.
It is not only the Rajputs that are opposing this movie, every community is doing so too.
Rani Padmini had chosen women from 36 different castes and communities to perform jauhar.
So, it is not the Rajputs alone who are protesting, but everyone is. Even the Muslims are opposed to the movie.
Those who have seen the film say it is actually pro-Rajput.
They (the producers) have shown this movie to those who have no knowledge of history.
They (the producers) are projecting history incorrectly, which can't be tolerated.
A school of historians believe that Rani Padmini never existed.
That is not true. You read history and you will find Rani Padmini existed.
The villages, palaces, even the place where the jauhar took place, exist even today, which is enough proof of her existence.
If Rani Padmini didn't exist, why did Alauddin Khilji attack Chittorgarh? He did it because he wanted Rani Padmini in his harem.
I agree that the story of the mirror is wrong as that kind of mirror did not arrive in India till then. It was only later that these mirrors came from Belgium.
Another historical fact is that Rani Padmini's husband was taken prisoner through cheating by Alauddin Khilji. It was then Rani Padmini went to rescue him.
How can these historians say Rani Padmini did not exist?
X
According to Malik Muhammad Jaysi's poem Padmaavat -- on which Sanjay Leela Bhansali's film is based -- a glimpse of Rani Padmini is shown to Alauddin Khilji via a mirror at Chittorgarh fort.
It is agreed that he would return to Delhi after seeing that image of the queen.
But Khilji reneges on his assurance, according to the poem, and instead captures Raja Ratan Singh, Rani Padmini's husband.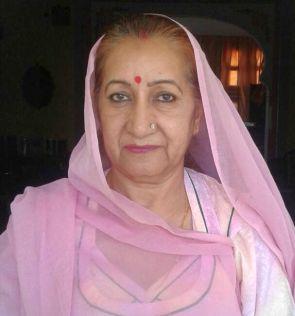 IMAGE: Rani Mahendra Kanwar of Bassi, Chittorgarh, says 1,700 women have signed forms vowing they will commit jauhar if the movie is released.
The film very clearly states it is based on Malik Muhmammad Jasyi's poem, which is fictional.
We made a team, which included the Maharana of Mewar (Arvind Singhji). We call him Maharana because for us he is still the Maharana.
He told the makers of the movie that either he or his son must be allowed to watch the movie before its release.
This permission was not granted by Sanjay Leela Bhansali. I want to know why.
If he had a clean heart, he would have shown the movie to the Maharana whose ancestor was Rani Padmini.
The Supreme Court has okayed its release.
The Supreme Court of India has given its order in just one day.
There are thousands of files in the Supreme Court, but this decision to release the movie came in one day without any discussion and debate.
We feel the decision came too quickly.
The court had to take a quick decision as the movie is releasing on January 25.
I respect the law and order of the country.
I am hurt because they are releasing the movie on January 26 which is our Republic Day.
Many foreign dignitaries come on this day to India and I feel very worried about this fact. But what is the value of my words?
What is happening in Chittorgarh right now?
There are many women who are sitting on dharna protesting against the movie.
You say women will perform jauhar if the film is released.
Many women have filled forms stating that they will commit jauhar if the film is released.
Around 1,700 women have already filled the form.
Isn't your organisation going too far by threatening jauhar?
But what can we do? How do you control the emotions of people?
A country works on law and order, not on emotions.
When dealing with history, laws don't matter, emotions matter.
No country has a richer history than India. We cannot let someone twist our history.
The kind of respect women get in India is unparalleled; no other country respects women as we do.
We cannot play with that image.
Karni Sena members beat up children in Madhya Pradesh for dancing to the Ghoomar song from the tilm.
I oppose that. You cannot beat up children for doing the Ghoomar dance.
What is the situation in Chittorgarh now?
Right now, we are meeting in Chittorgarh. Women are taking out silent marches against the release of Padmaavat.
I believe the mirror put up by the ASI (Archaeological Survey of India) has been removed from the Chittorgarh fort. Is that true?
Yes, that has been removed now.
It was wrong to put up that mirror in the Chittorgarh fort. That mirror has been removed for a month, ever since we protested.
Are tourists visiting Chittorgarh?
More tourists are coming to Chittorgarh to know about Rani Padmini. They are coming to see where she performed jauhar.
Foreigners are taking the mud of Chittorgarh back to their country as they feel she made a huge sacrifice and in her remembrance they are doing this act.