'Yes, we are angry, we are frustrated, but not all our anger is directed towards Delhi.'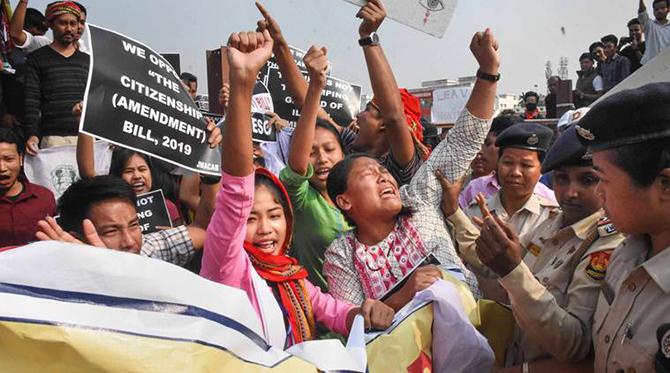 Like the rest of the country, there is anger simmering in Tripura against the Citizenship (Amendment) Act.
The anger has a face -- the son of its last king and the sole heir of the 800-year-old Manikya dynasty.
Pradyot Bikram Manikya DebBarma, affectionately called Bubagra (meaning king in Kokborok, the Tripuri language), has filed a case in the Supreme Court against the CAA.
His state, he says, has borne more than its fair share of the illegal migrant burden.
"There has to be a demographic character to a state. Today, we've lost that character. And now you are telling us to do it all over again. That's unacceptable to us," DebBarma tells Savera R Someshwar/Rediff.com in the first of a two-part interview.
You have been protesting against the Citizenship (Amendment) Act for almost a year now.
We have been protesting against it since it was first introduced.
We have already accepted so many persecuted minorities from Bangladesh, while other states have not even accepted even one.
When, today, the same states have again been exempted, why should we should we do it all over again? We have already suffered a lot because of illegal migration from Bangladesh.
When a bill like this is passed, it disregards every assurance given by the Government of India -- irrespective of which political party is at the helm -- to the people of the north east and Tripura specifically.
When you say 'the same states have been exempted', which states do you mean?
The other states in the north east. The other states in the country.
We have lost everything because of our large-heartedness. The bureaucracy, the entire character of the state has changed.
There has to be a demographic character to a state. Today, we've lost that character. And now you are telling us to do it all over again. That's unacceptable to us.
We sympathise with the persecuted minorities, in this case the Hindus. We ourselves are Hindus. But please send these persecuted minorities elsewhere. Please distribute them in equal parts across the country. Why should one state bear the burden?
As far as migration is concerned, how is Tripura different from its sister states?
Tripura is the only state in the north east where the original population, which was close to 75% to 80% in 1950, has come down to 30% in 2019. And if this new influx takes place, we will be down to 20%.
The earlier influx has not been mixed; it has been from a single community. And that one community has completely dominated the state.
Of all the north eastern states, why do you believe Tripura has borne the brunt of demographic migration?
Because, in Tripura, the mahajans were Hindus.
My parents and grandparents were Hindus. We had a certain emotional understanding about the migrants'S plight; we felt bad for them so we allowed them in. (Bengali Hindus began migrating in 1949 from what was then East Pakistan to escape religious persecution. The 1971 war saw an increase in the number of migrants from what would become Bangladesh.)
But when the Government of India took over, the administration was not passed on to the people of Tripura. It was passed on to those whose origins were in Bangladesh. (Tripura was ruled by kings since 1964. It signed the instrument of accession with India in 1949. Tripura became a Union Territory without a legislature in 1956 and had its first elected government in 1963.)
It's a clear case of vote bank politics. Everybody's guilty as far as Tripura's plight is concerned. The Congress is guilty. The BJP is guilty. The CPM is guilty. They are all guilty.
Where's Manik Sarkar (the Communist Party of India-Marxist leader served as Tripura's chief minister from 1990 to 2018)? He hasn't said a word.
Please understand, it's not a question of politics here. It's all about ethnicity.
According to you, how can Tripura's indigenous be protected?
The NRC (National Register of Citizens).
But, before that, the CAA has to be reversed. Otherwise, forget being protected, we'll be finished.
In 70 years, you've only had one Tripuri, Dashrat Deb (April 10, 1993 to March 11, 1998), as chief minister. Otherwise, we've had people from Bihar, from Bangladesh or West Bengal.
Can you imagine Kamal Haasan as the chief minister of Maharashtra? Or a Badal? Or a Mamata Banerjee?
Would West Bengal, which claims to be so humane, accept Balasaheb (Thackeray)'s parivar (family) or Prithviraj Chavan or Sharad Pawar (as chief minister)? No.
But when it comes to Tripura, it is heaped upon us.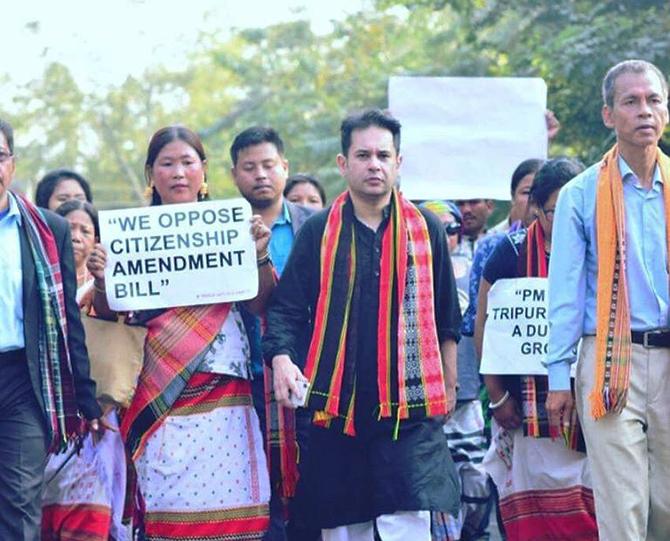 Why are you in favour of the NRC?
I had asked for the NRC way before this bill (the CAA) was introduced and my demand was not on the basis of religion.
Today, there are enough allegations that people born outside India, people who are not Indian citizens are occupying high Constitutional posts in the bureaucracy and the judiciary.
Anyone who has come to India illegally cannot hold Constitutional posts. They should not be allowed to take part in the electoral franchise which is meant for the people of India.
They cannot become your MLAs, your chief secretaries or your ministers. They cannot take away your jobs.
The Dalai Lama has been living in India since 1959, but he is not the chief minister of Himachal Pradesh, is he?
In Tripura, anyone who comes from across the border can become a minister and an MLA. Why is this kind of duality allowed to exist?
I'd also asked for a national refugee policy so that these people (illegal migrants) should not live in terrible conditions but have proper accommodation.
Can you update us on what is happening in Tripura?
People are being harassed. There is communal tension.
Pro CAA supporters who are from Bangladesh are celebrating, distributing streets.
There have been deaths, but the national media is not reporting it. The Internet is banned (this interview was conducted before the Internet was restored). Section 144 has been imposed. And yet, people are saying Tripura is peaceful.
Tripura is not peaceful. There is a lot of tension. There is a lot of anger and a lot of frustration.
Do you know how many deaths have taken place?
As far as I know, four.
Does Tripura feel betrayed by Delhi?
We've always felt betrayed by Delhi. And now, we feel betrayed by own politicians.
It's a different situation when forces are sent to quell the voice of the people, like it happened in Mizoram in the sixties, or in Nagaland. Right now, our own politicians, our own community leaders, our own MPs, have let us down.
When we complain about Delhi being draconian, well, we have got our elected government. These same people (local leaders) have a different narrative before the elections and become completely silent after the elections.
So yes, we are angry, we are frustrated, but not all our anger is directed towards Delhi. There is much more anger towards our own local leaders who have become mute and toed Delhi's line for financial and personal benefits.
The truth is that all political parties are playing votebank politics. The Congress played votebank politics, now the BJP is doing it.
The sad part is that the regional parties seem to have lost their voice and become spineless because they're too dependent on central funds.
Three months ago, I resigned from the Congress on the same issues -- the CAA and NRC -- because I did not want to compromise my core ideology.
And today, I will not compromise with Amit Shah on his ideology.
---
Savera R Someshwar covers national issues for Rediff.com
She can be reached at saveras@rediff.co.in
---