'This country is not of one culture. We must live together and we must respect each other.'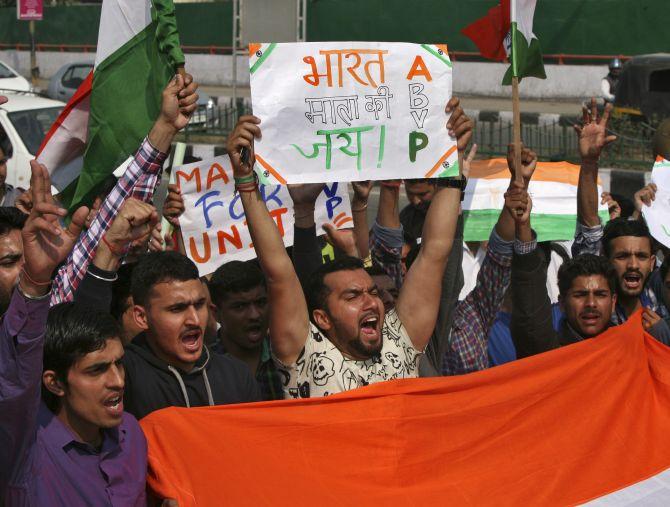 IMAGE: Akhil Bharatiya Vidyarthi Parishad activists protest against 'anti-national' activities at Jawaharlal Nehru University. Photograph: Mukesh Gupta/Reuters
On Wednesday, February 24, Human Resource Development Minister Smriti Irani, while mounting a spirited defence in the Lok Sabha of her government's actions pertaining to the Jawaharlal Nehru University controversy, listed a number of 'anti-national' statements made by JNU students earlier this year and in the past.
During her 30-minute speech, Irani mentioned the Mahishasura Martyrdom Day celebrated on the JNU campus.
She also displayed articles from the monthly magazine Forward Press in Parliament, which had written about the Mahishasur festival that celebrates the demon king.
Syed Firdaus Ashraf/Rediff.com spoke to Pramod Ranjan, editor, Forward Press.
There seems to be a controversy over an event you organised a few years ago.
I did not organise that event, but I know what the event was about. In 2011, members of the All India Backward Students Federation organised an event at JNU during which they passed out posters featuring a painting of Mahishasur by Lal Ratnakar, reproduced from the October 2011 issue of Forward Press of which I am the editor.
The article mentions that Mahishasur belonged to the OBC (Other Backward Classes) community who progressed from the Adivasi areas out to the fields. This was one argument.
Even today, Adivasis believe that Mahishasur is their ancestor and mourn during Durga Puja which is celebrated to mark his slaying.
There was also a political argument in that article. The article talks of when Atal Bihari Vajpayee had referred to Indira Gandhi as Goddess Durga in Parliament (in the aftermath of the 1971 War). It was then that Comrade S A Dange of the CPI (the then leader of the Communist Party of India) objected.
It was after this that Indira Gandhi said, 'I am Indira. Let me be Indira only.'
Where are the Adivasis located today?
They are everywhere in India. They are based in West Bengal, Jharkhand, Odisha.
These Adivasis are the Santhals, the Gonds and the Asur Adivasis, who have been declared primitive by the government. Their population is only 9,000. They call themselves descendants of Mahishasur.
At different places, they mourn at different times. The Santhals mourn during Durga Puja, they call it Dasai. The Ashuras mourn during Diwali.
Why do you think this issue has been raked up now?
In 2011, JNU witnessed clashes between students and the ABVP (Akhil Bharatiya Vidyarthi Parishad) when the Mahishasur event was held.
A case was filed, but the programme continued in 2013 and 2014.
The Sangh Parivar began to feel threatened as the programme was no longer restricted to the Adivasis, but was also being marked in cities.
In October 2014, the BJP (Bharatiya Janata Party) government filed a case against us on Mahishasur day. They raided the offices of Forward Press and confiscated copies of the magazine.
Now, suddenly, when this Afzal Guru issue came to light, they have decided to club the Mahishasur event with the Afzal Guru sloganeering. They want to give JNU a bad name and are distorting the facts with the Afzal issue.
Is Forward Press still around?
It has not shut down, but we are planning to shut it down. Our editorial staff are being abused. They (the abusers) find their family members and abuse them too.
What is the case against your magazine?
They filed charges stating that the magazine caused tensions between Brahmins and OBCs.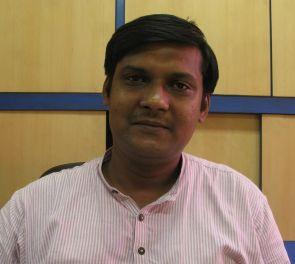 IMAGE: Pramod Ranjan, editor, Forward Press. Photograph: Kind courtesy, Pramod Ranjan's blog
Did (Dalit activist) Udit Raj (he was not a BJP MP then) attend the Mahishasur day function?
In 2013, Udit Raj attended the function. He was a speaker at the function.
What did he say in his speech?
He said it was a very important event and we should challenge the myth which dominates society and somewhere also hurts Dalits and backward sentiments.
How do you feel about the case against you?
This is not Aryan, but Brahminical supremacy. The BJP and RSS (Rashtriya Swayamsevak Sangh) want to show Brahminical supremacy.
This country is not of one culture alone. We must live together and we must respect each other.
This country is of various, different, cultures and traditions.
Why do you beat up others? Others don't beat you, they do not even disturb you.
There has to be discourse in society. If these things do not happen in universities, then where will it happen? They want to silence all voices.