'Till the time we do not remove fear in the minds of Muslims of India, how will we achieve peace?'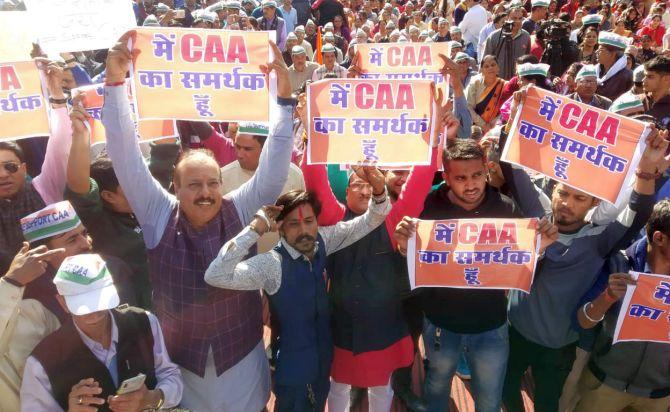 In a surprise statement, the Bharatiya Janata Party MLA from Gorakhpur, Radha Mohan Das Agarwal, says he will resign as member of the Uttar Pradesh assembly 'if any Indian Muslim of his constituency is evicted from the country during the Citizenship (Amendment) Act exercise'.
A legislator since 2002, Agarwal is reaching out to Muslims in his constituency as part of the BJP's mass contact programme to dispel myths over the new citizenship Act.
"I believe if there is a disease, then you have to apply medicine. And I am doing that," Agarwal tells Syed Firdaus Ashraf/Rediff.com.
What message are you trying to spread among Muslims in Gorakhpur?
As an MLA, I am always available to solve the problems of the Muslim community. This time I decided I would go straight to them and understand what problems they have regarding the CAA and try to solve it.
Till the time we do not remove that fear in the minds of Muslims of India, how will we achieve peace?
And in my experience I explained to them about the CAA and the status of the NRC (National Register of Citizens) so there was apprehension from their side and they understood my viewpoint.
What is it that you explained to them?
I explained to them that one can acquire Indian citizenship in four ways -- either by birth, by descent, by registration or by naturalisation.
In the first case of birth, any Muslim born in India after January 26, 1950 is a citizen of India. S/he does not need any kind of certificate.
Citizenship by descent does not apply to them because it is for those born outside India.
By registration means that if any Muslim parent was a citizen of pre-Independence, undivided India. And if they (the parents) stayed for seven years in India then they have the right to apply for Indian citizenship. This route has not stopped.
So, the Indian government has not stopped giving citizenship to any Muslim. The Indian government has made it clear that if an individual Muslim wants to become an Indian citizen, then by registration they are willing to give her/him citizenship, even if they are from Bangladesh or Pakistan.
What has stopped is citizenship by naturalisation.
It is for those people (Muslims) who come from Bangladesh, Afghanistan and Pakistan. They are responsible for Partition in 1947 by saying India has become Darul-Harb (the land of infidels). The other group of Muslims are those who said that India is not a Darul-Harb, so they stayed back in India.
Those who went were deshdrohi and those who stayed back are desh bhakts.
Now if those deshdrohi Muslims want to come back to India, they cannot come back. This is what I am explaining to the Muslims of Gorakhpur.
Do ordinary Muslims understand these issues so easily?
I give them examples. For instance, if a Muslim family has four brothers and has a 10-room house in Gorakhpur city. Now two brothers want their share. So the other two brothers unite and give the money to the other two brothers and tell them to go and settle somewhere else.
Now these two brothers who stayed back in the house got 5 rooms each. And they prospered in that house by gaining more property.
Now after many years, the two brothers who took cash and went away from the property cannot come back and ask for a share in the property.
Will these brothers who stayed back give the right of property to the other two brothers? The answer is no.
In the same way, I tell my Muslim brothers of Gorakhpur when you cannot part with your own homes, how can you tell the Government of India to give them a share of land in India? They understand this logic.
How many meetings have you carried out?
I have taken part in eight meetings with the Muslim community so far. Whoever wants to meet me can come and meet me.
I explain that any citizen who is a deshdrohi will lose his citizenship. Like Devender Singh (the Jammu-Kashmir police officer) who has been arrested for (alleged) terror links.
So be it Hindu or Muslim, he will be a deshdrohi if he works against the interests of India.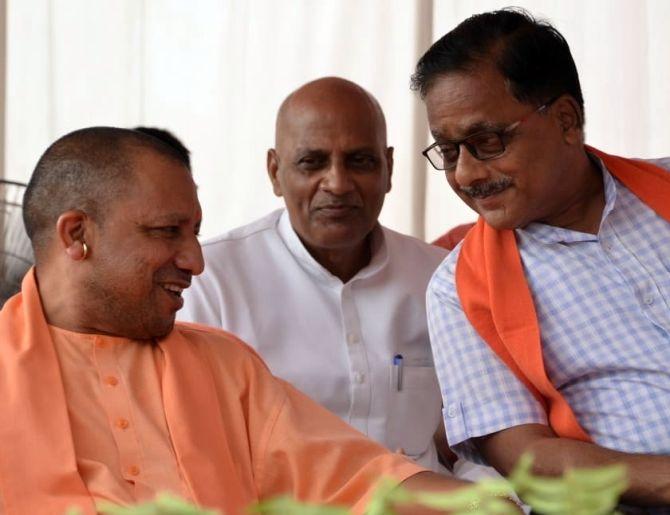 Have you been gained the trust of Muslims by explaining this logic?
They say it is me who is saying such things, but Prime Minister Modi and Home Minister Shah say something else. They say they don't trust them, but trust me.
I tell them if they trust me, then they have to trust PM Modi as well as Home Minister Shah because I trust them.
I gave them a challenge, that if any Indian citizen in Gorakhpur is asked to leave, then I will resign as an MLA from Gorakhpur.
I believe if there is a disease, then you have to apply medicine. And I am doing that.
The trouble is not with the CAA, but with the NRC, which when combined with the CAA can be lethal.
Moreover, the NPR is also coming. The officer who visits your home will have the right to declare you as an Indian citizen or a doubtful citizen. Isn't it?
Nobody asked me questions on the NPR, they only asked me about the NRC.
I told them no Indian Muslim will be ousted from India and they understood it.
The NRC is only for illegal migrants. It is not the BJP that introduced this rule. It was in 1986 when Rajiv Gandhi was in power that this concept of illegal migrant was introduced in India.
The BJP did not introduce any such thing. Any countryman will not allow a Pakistani or Bangladeshi Muslim back in India because they left India long back calling India Darul-Harb.
Now why should we get such elements back to India who called India Darul-Harb?
The trust between the BJP and Muslims has been broken, isn't it?
That is what I am doing, I am trying to build trust.
Don't you feel the CAA is discriminatory and biased against one religion, which goes against the founding principles of the Constitution?
This is not being done based on religion. The CAA and NRC have been brought in for deshdrohi Muslims.
Those Muslims who left India in 1947 are deshdrohi and should not even be called Muslims.
It is the media's fault they call them Muslims; we must call them deshdrohi.
But those Muslims have died long ago and perhaps their children or grandchildren may be staying in India.
So they can become an Indian citizens by registration.
Read Section 5 (c) pertaining to Indian citizenship. The legislation says those children whose parents were part of undivided India can apply for Indian citizenship. The media is not highlighting this fact.