'Our boys are very patriotic.'
'They say Bharat Mata Ki Jai and Jai Hind in front of the Chinese.'
'We have never accepted their claims, we are Indians and proud to be Indians.'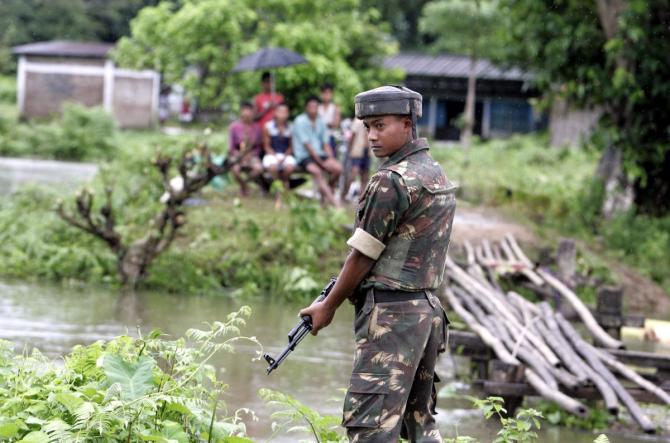 Five men from Arunachal Pradesh engaged as porters and guides by the Indian Army were 'abducted' by the People's Liberation Army from the Nacho area of the border state last week.
The group belonging to the Tagin tribe had gone hunting in the forest and were reported missing by their families.
The Arunachal Pradesh police has said the whereabouts of the five youths are not yet known, as reported by PTI.
China has dismissed the allegation and angered India by saying it has never recognised Arunachal Pradesh which it claims is a part of south Tibet.
Ninong Ering, a two-time MP and currently the MLA from Pasighat in Arunachal Pradesh, responded to the Chinese in an angry tweet saying, 'Who the hell is the Chinese Communist Party to recognise Arunachal Pradesh? Arunachal is an integral part of India and we are proud Indians. Jai Hind!'
The former Union minister tells Rediff.com's Archana Masih that the Chinese are habitual offenders and why it is important to raise an Arunachal regiment in the Indian Army.
"Our boys know the terrain. They can survive in a jungle for 15 to 20 days on berries, roots and hunting animals. Our people are ready to give a befitting reply to the Chinese."
Can you give a sense of the area from where the five men have been abducted by the Chinese? What efforts are being made for their return?
It is a jungle area and not easy to reach. It takes 10 to 11 days from Nacho (the area the men belong to) to get there if one walked at normal speed in that terrain. But our local boys can walk fast or run and cover that distance in 4 to 5 days.
A group has already been sent to that area and it will take them 3 days or so to return. The ITBP and army have posts in that area.
They have got in touch with their counterparts on the other side and are verifying the details.
Our boys have been apprehended, arrested or taken into custody -- 'kidnapped' would be a wrong word because it involves an international boundary.
The Chinese are habitual offenders. They come into our territory and say it is their land. Those boys were very much in our area - because the Indian Army post is ahead of the area where they had gone to hunt. So how can the Chinese take them away when they were on Indian land?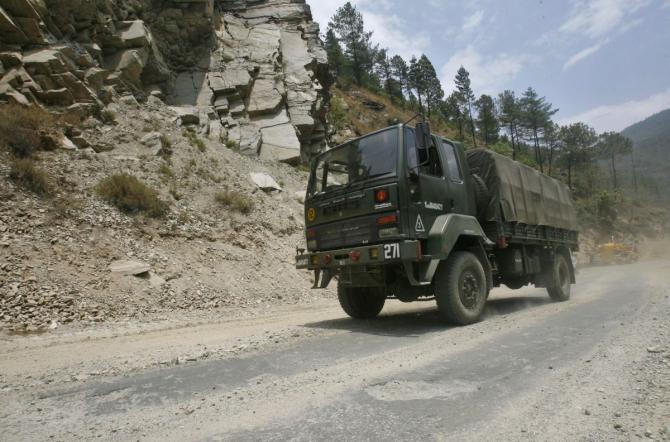 You mean to say that Chinese have come into our land and picked up the locals?
Arunachal Pradesh has a 1,100 km boundary which is largely unmanned. There are about 20 to 25 (Indian Army) posts along this boundary. It is impossible to man every part of this boundary.
The Chinese obviously don't come in through the outposts, but through our jungles and they also get lost in the dense forest.
They come into our jungles in the summer, put their flags and go back. Our patrolling parties remove their flags -- so this goes on.
What is the Chinese presence along that side of the border? They had abducted another boy in March and had returned him after nearly 20 days.
That person was also taken from around the same area as these five boys. It is the same border area belt.
The Chinese have built roads right up till Bising village. It takes a 10-day march to get to Bising and about two days from the last point in Siang.
While it takes us so long to get there, the Chinese have built a road from their side leading into Indian territory.
Similarly, China is building a road in Anini in the Dibang Valley in Eastern Arunachal. The ITBP post is 34 km from Anini and there is a distance of about 100 km to the McMahon Line from that ITBP post.
So there is an unmanned area of more than 100 km and the Chinese are taking advantage of that and constructing a road.
I have tweeted the satellite images to the PMO and defence minister.
There are infrastructure inadequacies on our side like roads and the Government of India is taking up these issues. They are making several roads in Arunachal. \
Let's hope that the central government takes strong initiatives because the Chinese have made roads till the houses, while our jawans have to undertake 10-day foot marches to get there.
Nacho has no telecommunication connectivity; electricity and roads are not good.
It is sad that you can get Chinese mobile network connectivity in that area, but not Indian. I have raised this issue in Parliament.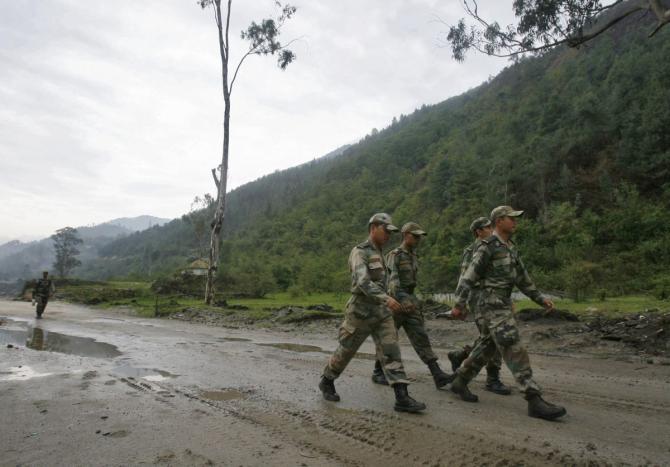 How did the Chinese treat the local who they had taken into custody the last time?
They interrogate the simple tribal boys who go out to catch fish or hunt or look for food and medicinal plants.
Hunting is allowed in Arunachal Pradesh and it is a tribal way of life for hundreds of years.
It is, after all, our jungle, our river, our field. The Chinese claim on this land is wrong.
Our boys are very patriotic. They say Bharat Mata Ki Jai and Jai Hind in front of the Chinese.
We have never accepted their claims, we are Indians and proud to be Indians.
What is the sentiment in that area just now after the abduction and Chinese action in Ladakh?
We have fought the 1962 War with China.
Our villagers are not afraid of the Chinese. The Chinese are very cautious and suspicious about people in Arunachal.
There has been enhanced troop movement on our side in view of what is happening in Ladakh so India too is prepared and taking precautions.
But we should have taken these precautions earlier.
You think this arrest of the boys is connected to the Chinese transgressions in Ladakh?
It is a diversion tactic by the Chinese. These are the devious techniques followed by the Chinese.
They come into our territory and claim it is their land. In 1986, they occupied Sumdorong Chu in Tawang and did not go back.
There are large tracts that are unmanned that is the reason the Chinese are able to do this.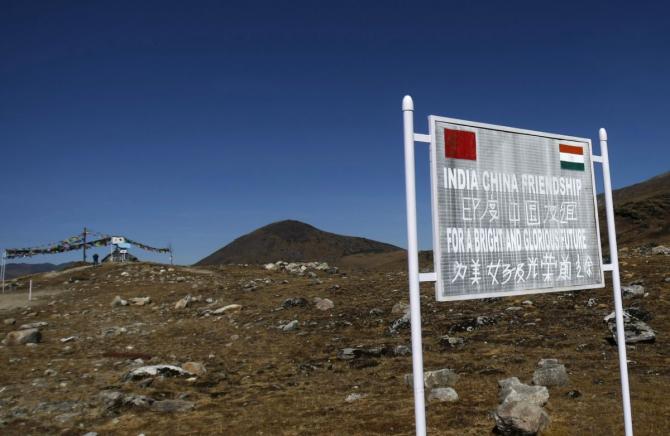 Do the people living near the border face any threat from the Chinese in everyday life?
Not as such. They local people living on the other side look similar. Arunachal has 34 tribes and hundreds of subtribes and several languages.
The Nyishi, Tagin, Momba tribes live on both sides of the border. They look similar, worship the sun and moon, but the difference is that we speak Hindi and they speak Chini.
We don't view that region as China, our border is not with China, but with Tibet.
We have had historic trade relations with Tibet. Never in our history has Arunachal Pradesh been under the sovereignty of Tibet.
We had our own separate administrative system. This region became a part of British India in 1911.
The Chinese encroachment into India has to stop. They cannot continue to do this.
China says it does not recognise Arunachal Pradesh and calls it South Tibet. They want to give stapled visas to the people of our state.
We are Indians and will go to China on an Indian passport if we want to.
Arunachal Pradesh is India. Its people are simple, hardy and have great love for India. Independence Day and Republic Day are celebrated as big festivals over here with pomp and splendour.
<
Has Chinese threat in Arunachal increased after what they have been doing in Ladakh?
They will and are already trying, I have already tweeted the satellite imagery of the road they started constructing in Dibang this year to the honourable prime minister.
The Chinese have become very aggressive and commit transgressions on our land.
But the Chinese have become cautious after the response given by India in Ladakh and by the ban on Chinese products and apps. It has hit them hard.
This ban of Chinese goods is a good step by India.
If they try any misadventure in Arunachal, they will be given a befitting reply.
Our people are also ready. I want to appeal to PM to raise an Arunachal regiment like the Assam regiment, Naga regiment, Gorkha regiment.
We have the Arunachal Scouts, but it is a paramilitary force.
Our boys know the terrain. They can survive in a jungle for 15 to 20 days on berries, roots and hunting animals. An Arunachal regiment is the need of the hour.
Feature Presentation: Aslam Hunani/Rediff.com