'What happened in the Vajpayee era will repeat in the Modi era in 2019.'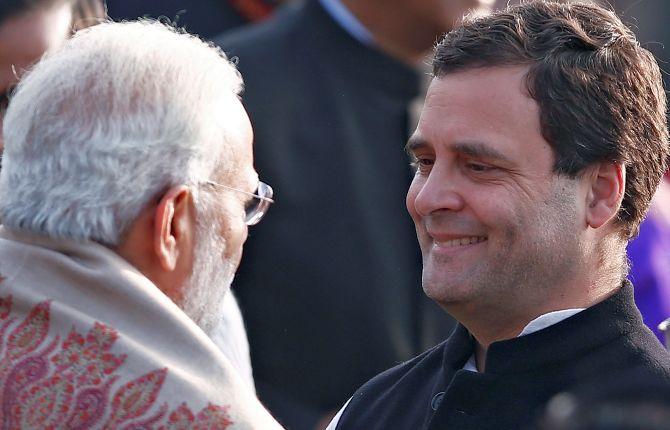 The Congress may not have emerged as the single largest party in the Karnataka election, but takes solace in the fact that its vote share was higher than that of the Bharatiya Janata Party.
At the time of this interview, the Congress had a 37.9 per cent vote share whereas the BJP had 36.2 per cent vote share.
"We couldn't convince our voters to choose us over the JD-S. And that is where we perhaps lost out some seats," Congress National Spokesperson Priyanka Chaturvedi tells Rediff.com's Syed Firdaus Ashraf.
How do you view the BJP victory in the Karnataka elections?
I will not call the Karnataka elections a victory for the BJP. It might have emerged as the single largest party, but it has not won the majority in the state to be able to form the government in Karnataka.
And as we speak, the votes are still being counted.
Having said that, we, as the principal Opposition party, need to look into where we went wrong despite getting a bigger vote share than the BJP. We need to focus on that.
However, after trying everything in their arsenal -- right from a divisive narrative, to pushing through money, putting up corrupt candidates -- they (the BJP) have not managed to secure a space for themselves.
This is something we will view as a silver lining for us in the election outcome.
Do you feel the Congress has been unable to micro manage the seats despite getting a higher percentage of the vote share?
Every election we learn how to get better with our work.
Unfortunately, we don't have seats to show in terms of the vote share that we have got. That could be because of micro level management.
But it could also be seen as that we couldn't convince our voters to choose us over the other alternative -- the JD-S (Janata Dal-Secular). And that is where we perhaps lost out some seats.
We left that gap for the BJP to take advantage.
Do you think the Congress made a mistake by not having a pre-poll alliance with the JD-S?
In hindsight, we can look at our campaign and see what we could have done better.
However, we believe that we gave a stable government to Karnataka and were successful.
We gave the state a chief minister for five years, who provided Karnataka with development. We also had a vision for the coming five years.
In terms of corruption, we saw there was no charge against the government and we gave a transparent government.
Somehow, I also believe that Karnataka has a tradition to change political parties every five years.
We were hoping to break that trend and create history, but we were left behind by a few numbers of seats.
The BJP gave the Reddys, who were accused of corruption, tickets. Even then, the Congress could not convince voters not to opt for the BJP.
I will not blame the voters. The vote share shows voters chose the Congress over the BJP.
Corruption was an important issue as Karnataka was looted of Rs 35,000 crore (Rs 350 billion) upwards of its wealth (under the BJP rule). It is a big concern.
Karnataka exposed the BJP's hollow claim on fighting corruption. They openly supported those people who were facing several cases of corruption.
The BJP also got the CBI (Central Bureau of Investigation) to bring closure to the investigation.
This has exposed the BJP. It has hurt them electorally in Karnataka and it will hurt them in times to come.
The Lingayat card failed for the Congress party.
From day one, we have been maintaining that the entire Lingayat issue was not on the basis of caste.
Siddaramaiahji had gone on record to say that we may win or we may lose because of this, but we honoured our commitment we made to the community.
If a community endorses what they are seeking we will ensure that as a government we will take a call on that. It was a long standing demand.
Karnataka had seen a protest on this issue and even in Maharashtra there were protests as Lingayats have a sizeable population.
These are demands which pre-date India's Independence. You cannot wish them away. You have to acknowledge it, respect it and honour it.
How it played out for us politically is something for us to bear.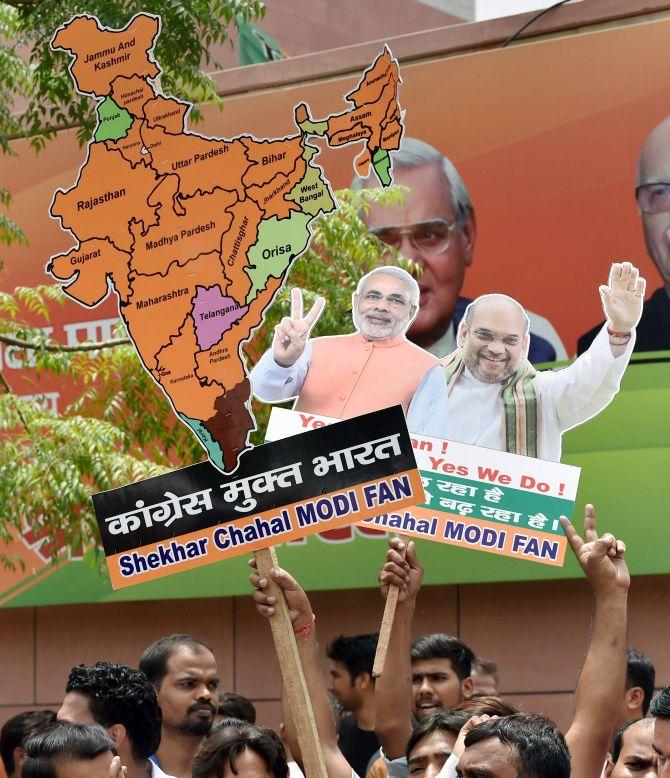 Do you feel you were too dependent on Siddaramiah and it backfired?
I think as a chief minister he was loved and admired by a lot of people in Karnataka. They admired his leadership skill.
He took Karnataka forward and gave a stable government. He connected with the masses.
I will not say we were over-dependent; I would say we were unable to convert the vote share that we managed to get into the first-past-the-post system, which is what our democracy is based on.
After the Karnataka election results, BJP leader Seshadri Chari said it is Modi versus no one in 2019.
All I would say is take a look at how the BJP is losing out in Lok Sabha by-elections.
Even in Karnataka, if you see, there is a huge difference in terms of seats for the BJP if you compare the 2014 election with this assembly election.
There is a huge lag. We just need to encash on that and build up from where they are lagging.
2019 is a game wide open.
What happened in the Vajpayee era will repeat in the Modi era in 2019.
Your party loses elections in every state. The BJP now rule 21 states and you are optimistic about the Congress' chances in the 2019 general election!
I inherently believe our country has been working for a liberal, inclusive, progressive system.
This is the core belief of India. This is the core Hinduism we know about. This is what we are fighting for.
Ultimately, governments come and go, but the entire idea on which India is based is not going to die.
Why don't Congress leaders understand that there is a fundamental shift in the mindset of Hindu voters?
Are you trying to say 38 per cent of the vote share in Karnataka is on the basis of one single equation? I find that hard to believe.
If you say that the party which is the second largest party in the country gets votes from only one section of people I refuse to believe that.
There can be an idea which is popular right now like a popcorn idea, but it will fade out.
India is inherently an inclusive country; a country which is progressive and believes in the assimilation of every ethnicity, every religious group and every caste equation.
It may be an unpopular idea at this point of time, but it is a long living idea.
India has survived earlier assaults as well and it will survive this assault as well.
Mr Modi in his election speeches in Karnataka said the Congress will be reduced to Punjab, Puducherry and Parivar (The Nehru Parivar). This seems to be coming true.
Don't you feel Rahul Gandhi should be blamed for the Congress' loss in Karnataka?
You can blame every Congress person for this (election result). It does not matter to us.
If we have failed, we are ready to take the blame, but I would want to know which parivar dominates the country?
There is only one parivar and that is the Sangh Parivar.
That is the ideology we are battling and we will fight it till the very end.