Rahul Gandhi has the potential to grow into a good, effective, leader of the Opposition provided he puts his heart and soul into it, with a willingness to learn, says B S Raghavan, the distinguished civil servant who worked closely with India's first three prime ministers.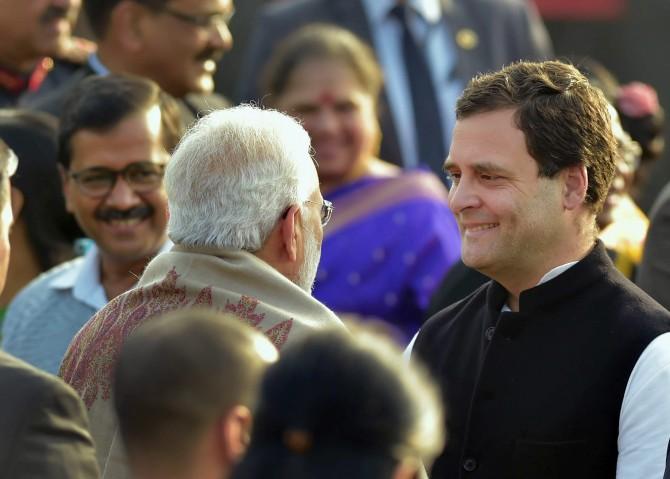 IMAGE: Prime Minister Narendra D Modi greets Congress President Rahul Gandhi at the At Home reception organised on the occasion of Republic Day at Rashtrapati Bhavan, January 26, 2018. Photograph: Atul Yadav/PTI Photo
If, as Harold Wilson, the wily politician that he was, remarked when he was Britain's prime minister, a week is a long time in politics, a year is an aeon.
The election to the Lok Sabha is more than a year away and anything can happen between now and then.
Even so, there is no harm in gazing into the crystal ball. I see the Bharatiya Janata Party romping home once again victorious, this time with a significantly increased majority on its own, and even going it alone in forming the government.
I am happy at the prospect for the sake of the nation, for I hold that the precepts of stability, predictability, capacity and keenness to perform and answerability to the people, all of which ought to be binding on any democratic setup, are better served when a single party with a majority in the legislature, composed of like-minded persons, forms the government.
On this account alone, it was a matter for rejoicing when the Indian people, with their uncanny knack of doing the right thing at the right time, gave the BJP an absolute majority in the Lok Sabha election of 2014 for the first time since its creation in 1980, more than doubling the party's tally in the previous two elections in 2004 (138) and 2009 (116).
The coalition politics of the earlier period almost ruined the country, with a benumbed prime minister being reduced to a mute spectator.
It is futile to expect any coalition in the future too, given our national character, to be any different.
The country will once again suffocate in the poisonous atmosphere of loot and plunder on an atrocious scale that characterised the Manmohan Singh government.
The prime minister, heading the rag-tag combine, will once again be forced to include in his Cabinet persons notorious for misusing public office and making their piles.
Lawless political mafias grabbing the levers of power, with their own sinister overt and covert agendas and vote banks, will once again begin ruling the roost.
Coalitions are a bane not because of dirty politics alone.
A scholarly paper emanating from that Olympic financial oracle, the International Monetary Fund, damns them on economic grounds as well.
It has found, after analysing econometric data, that looming political instability faced by 'governments in politically fragmented countries' leads to high inflation and spread of corruption 'disrupting long term economic policies conducive to a better economic performance'.
A more revealing conclusion of the paper is that political instability reduces the annual real GDP per capita growth rate by 2.39 percentage points (no more, no less!).
My prophecy derives from my experience of having been an observer and analyst of the Indian political scene for close to seven decades and handling political issues at the national and state levels from the time of Jawaharlal Nehru, the first prime minister.
I would give the prime place to the trust and faith that Narendra D Modi commands for his manifestly sincere commitment to the three goals he has set before himself: 'Reform, Perform and Transform', 'Minimum Government, Maximum Governance' and 'Sabka Saath, Sabka Vikas', without pandering to the baser populist instincts.
For the first time in the 70 years after Independence, he has made the large majority of the Indian people rediscover themselves and their cultural heritage with a sense of pride, devoid of a sense of guilt.
In Modi they see a leader with a vision of the future glory of India who identifies himself wholly with the hardships and harassments, humiliations and oppression of the ordinary person resulting from the lethargy, heartlessness and venality of the so-called public servants.
Modi was the first prime minister to specifically refer in his first address to the nation from the ramparts of the Red Fort on the Independence Day of 2014 to the basic needs of the people at the grass roots such as corruption-free governance, toilets, sanitation, hygiene and cleanliness, housing, supply of electricity to every home, drinking water, education and the like, setting timelines within which to provide them.
He thrilled the entire nation by being totally unlike all other PMs who used that occasion for lofty airy-fairy pronouncements striking no chord in the minds of listeners.
It is true that Modi's government is still a work in progress, and there is a lot of unfinished business, largely arising from the lack of experience of many members of his ministerial team and his own hesitance in going for the jugular, namely, a radical, root-and-branch shake-up of bureaucracy in all its forms and manifestations, still continuing its stranglehold on the government, thwarting translation of his vision into action.
While, on the one hand, a government run by a single cohesive party will certainly help faster and firmer decision-making for the nation's progress, on the other, a strong Opposition, which is not a patchwork of dissimilar entities pulling in different directions, is imperative for fostering and sustaining a healthy political culture and as a counter-balance and corrective mechanism.
It will also conduce to implanting in the polity a two-party system such as obtains in the US and UK.
In my view, if the Opposition has to play its proper role and fulfil its objective, it should also be a national mainstream party and the only such party today is the Indian National Congress.
Although it has lately fallen on evil days, it is still a party rooted in long and honourable traditions, with an enviable record of achievements beginning from a unique mass struggle for Independence led by a unique personality.
Rahul Gandhi, as the newly anointed president of the party, now faces the challenge of revitalising it, giving it a sense of direction and purpose, with imagination and drive, and turning it into a New Congress, just as Britain's Labour Party reinvented itself into New Labour.
Does Rahul Gandhi have what it takes?
Does he have the leadership abilities distinguished by a futuristic vision, clarity of the mission to be accomplished, and an optimal awareness of the strengths and vulnerabilities of the outfit he is slated to head, as well as the scope ahead for exploiting its potential to the maximum public good?
Can he cope with the compulsions, contradictions, complexities and diversities, of sub-continental dimensions and become a unifying force?
Besides, a political leader, in the prevalent combative and fractious national milieu, should command a general acceptability in the sense of enjoying the trust and confidence of governmental set-ups, state leaderships, economic players, business and industry, the public at large, and even institutions and governments abroad.
As an inevitable corollary, he should have the accommodative attitude to reach out, build bridges and forge a consensus out of conflicts of opinions.
In all these respects, Rahul Gandhi starts off with a bumper advantage of having been part of the much reviled 'dynasticism', namely, observing from close quarters over the years the way great leaders solved problems, managed conflicts and handled people and having the opportunity to draw the appropriate lessons in both how-to and how-not-to.
Another point that goes greatly in Rahul's favour is that his reputation has been that of a good-natured person with no malicious or vindictive temperament.
Such advice as he had been credited with giving, whether it turned out to be suited to the circumstances or not, has been in good faith and for the betterment of the party and the country.
Also, there have been no big blunders on his part affecting national interest.
The enthusiasm he inspires among the leaders, members and workers of the Congress party is genuine and unmistakable.
I would rate his biggest endowment to be his youth, which gives him the capacity for hard work and the desire to do the best he can.
There are many young, bright, educated and idealist persons in politics, cutting across parties.
Bypassing the elders, who are in any case irredeemable with their antique ways set in concrete, he could bring the youth together on a common platform and boldly lead a movement for cleansing politics and making it once again a noble profession as it was when his great grandfather entered it.
The fact that he comes nowhere near Modi in stature and leadership qualities should not be held against him, because he is a novice compared to him.
His record so far in political management has no doubt been unimpressive, but that may be because he was under the shadow of older leaders and could not take and implement decisions on his own.
Now that he has the reins in his hands in his own right, with his charisma and back-up of a vast organisation still with a lot of latent energy, resilience and vitality in it, he has the potential to grow into a good and effective leader of Opposition, provided he puts his heart and soul into it, with a willingness to learn.
In short, if you ask me: Yes, Rahul can. And not only that, Rahul must!
B S Raghavan is a former member of the Indian Administrative Service and during the time of the first three prime ministers, handled political and security issues in the Government of India and was in charge of the National Council Secretariat.
He had known and worked with great leaders like Dr B C Roy and Jyoti Basu, chief ministers of West Bengal. He was also the chief secretary of Tripura.