'Kim has once again shown astuteness and statesmanship by securing China's support precisely just when it matters most to him,' points out Ambassador M K Bhadrakumar.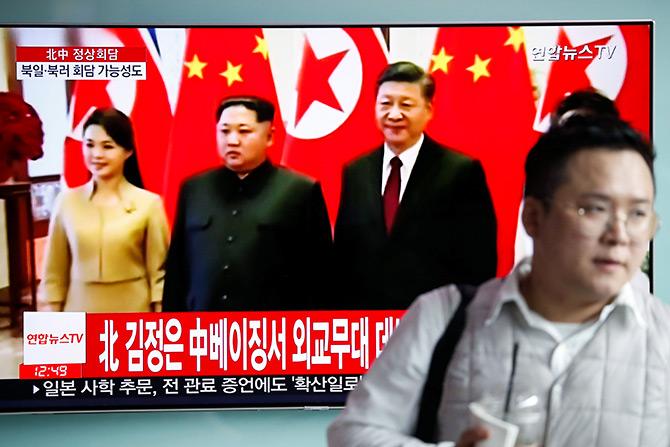 IMAGE: Seoul, March 28, 2018: South Korean television broadcasts a report on North Korean leader Kim Jong-un's meeting with China's supreme leader Xi Jinping in Beijing. Photograph: Kim Hong-Ji/Reuters
Just as a hypothesis was appearing that the United States 'marginalised' China in the processes surrounding the North Korean situation, it gets blown to smithereens.
North Korean leader Kim Jong-un's 'unofficial' three-day visit to Beijing is a stark reminder that China is becoming even more central than before in the resolution of tensions on the Korean peninsula.
A profound reset of the power dynamic in the Asia-Pacific and internationally has taken place between Sunday, March 25 and Wednesday, March 28.
Questions arise as regards the exquisite timing of Kim's first-ever visit to Beijing, its rich symbolism in this being his first-ever journey abroad after taking the reins of power seven years ago, and what it means.
Both Beijing and Pyongyang must be acutely conscious of the timing.
The Xinhua dispatch on the visit cited both Chinese President Xi Jinping and Kim openly noting the regional backdrop.
Xi noted that this is 'a special time' when 'positive changes had taken place on the Korean peninsula'.
Kim noted that 'the Korean peninsula situation is developing rapidly and many important changes have taken place' while 'a series of major and happy events' have occurred in China too.
The three key elements discernible from the unusually long 2,600-word Xinhua report are:
Both China and North Korea sense that an open display of fraternal ties is necessary and can be advantageous.
The ties by far exceed a friendly inter-State relationship.
Xi pointedly recalled the past when the two leaderships 'maintained close exchanges and paid frequent calls on each other like relatives.'
Equally, ideological affinities were stressed. Kim recalled his father and grandfather.
There is an attempt to hark back to the past fervour in the relationship which is thought to have been a bygone era.
Most important, Kim committed himself to the 'denuclearisation of the Korean peninsula.'
But he added the expectation that Seoul and Washington, DC should also responded with goodwill and create an atmosphere of peace and stability on the basis of 'progressive and synchronous measures for the realisation of peace.'
In return, he secured Xi's assurance of support 'no matter how the international and regional situation changes.'
No doubt, Kim received an exceedingly warm welcome. Kim said 'he felt he should come in time to inform Comrade General Secretary Xi Jinping in person the situation out of comradeship and moral responsibility.'
Xi remarked, 'I am willing to keep frequent contacts with the chairman through various forms such as exchange of visits.'
Xi and Kim personally pledged to mentor the relationship and a line of communication opens directly between them.
Xinhua made no reference to President Donald J Trump or his tentative plan to meet Kim in end-May (although surely, the topic would have figured in the talks).
On the other hand, Xi voiced support for the improvement of inter-Korean ties and peace talks. China's support strengthens Kim's hands in the upcoming negotiations with his South Korean counterpart President Moon Jae-in.
Kim has once again shown astuteness and statesmanship by securing China's support precisely just when it matters most to him.
Significantly, Kim's visit to Beijing comes at a time when US-China relations are buffeted by adverse currents -- Trump's threat of trade war, the Taiwan Travel Act (designed to encourage high-level contacts between Washington and Taipei), and the US navy's freedom of navigation operation last weekend within 12 nautical miles of Mischief Reef in the Spratly archipelago.
Kim's visit to Beijing coincided with China's Liaoning carrier strike group of more than 40 other warships and submarines conducting drills off the coast of Hainan in the South China Sea in a substantial show of force.
Even as Xi and Kim were holding talks, Chinese Premier Li Keqiang called on a visiting US Congressional delegation to 'play a constructive role and work with China to maintain the political and public opinion foundations for China-US relations.'
The US faces a dilemma in the weeks ahead.
The recent reshuffle in the state department and the national security council has added to the disarray within the Trump administration.
The huge uproar in public opinion over John Bolton's appointment as the NSA is not helping matters either.
On the other hand, US-Russia tensions are cascading. No one knows whom to dial in Washington.
Beijing is plainly disdainful of Trump's attempts last week to flex muscle.
The signs are that Trump is already backtracking.
Chinese Foreign Ministry Spokesperson Hua Chunying was rather 'forceful' in her remarks on Tuesday, March 27: 'I must stress that negotiation is by no means an occasion for one party to make requests in an arrogant and condescending way.'
Having extended a big hand of support, Beijing is enabling Kim to approach the negotiating table from a position of advantage.
An editorial in the Global Times notes that the 'friendly relationship between China and North Korea is an important strategy to protect their interests... which can enhance regional balance and eliminate some unrealistic motives.'
Kim isn't going to be a pushover for Trump.
There is speculation among US analysts that Trump may not want to square up to Kim just yet. But then, wriggling out of an engagement may not be easy if the inter-Korean summit in April creates a new momentum for peace.
How Trump gets filled in on Xi's talks with Kim may show which way the wind is blowing.