This was Kim's first visit abroad as North Korea's leader and came ahead of his planned summit with Donald J Trump.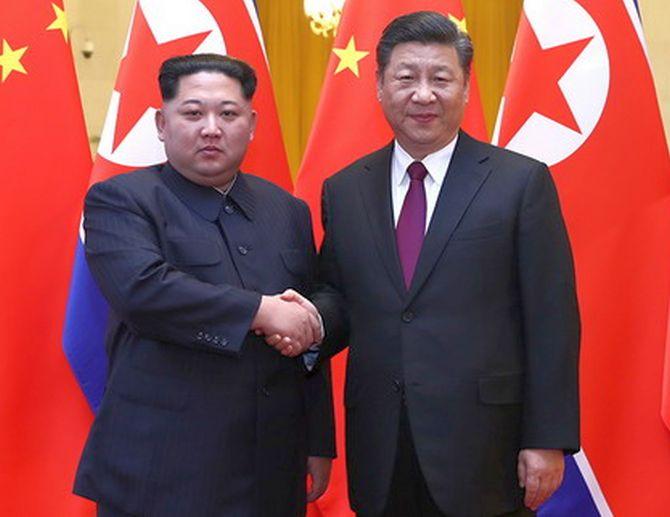 IMAGE: North Korean leader Kim Jong-un with Chinese President Xi Jinping, right. Photograph: Chinese ministry of foreign affairs
China broke its silence on Wednesday, March 28, and acknowledged North Korean leader Kim Jong-un's visit to Beijing and his meeting with Chinese President Xi Jinping.
Kim paid a four-day unofficial visit to Beijing at Xi's invitation, the State-run Xinhua news agency reported.
Kim reportedly arrived in China by a special train from across the border and departed on the same train on Tuesday.
During the visit, which was kept under wraps, Xi held talks with Kim at the Great Hall of the People in Beijing.
Xi and his wife Peng Liyuan hosted a banquet for Kim and his wife Ri Sol Ju and watched an art performance together, Xinhua said.
Premier Li Keqiang, Vice-President Wang Qishan and other top leaders of China's Communist party attended related activities.
Xi said Kim's current visit to China had come 'at a special time' and was of great significance.
On his part, Kim said a series of major and happy events had taken place consecutively in China recently and referred to Xi's re-election as president.
Kim said it was his obligation to come and congratulate Xi in person in line with the Democratic People's Republic of Korea-China friendly tradition, Xinhua said.
Kim declared that North Korea is committed to denuclearisation. 'It is our consistent stand to be committed to denuclearisation on the (Korean) peninsula, in accordance with the will of the late president Kim Il-sung and late general secretary Kim Jong-il,' Kim said, referring to his grandfather and father respectively.
North Korea, Kim said, is willing to have a dialogue with the United States.
'The issue of denuclearisation of the Korean peninsula can be resolved, if South Korea and the United States respond to our efforts with goodwill, create an atmosphere of peace and stability while taking progressive and synchronous measures for the realisation of peace,' Kim said
This was Kim's first visit abroad after he became North Korea's leader six years ago and came ahead of his planned summit with United States President Donald J Trump.
Though allies, China-North Korean relations have gone through some testing times since Kim took over as supreme leader and he pressed ahead with his nuclear programme disregarding caution from Beijing.
Relations between the two countries have been strained after Beijing beefed up United Nations sanctions by blocking essential supplies like oil and coal following pressure from Trump.
Xi said that China and the Democratic People's Republic of Korea -- the official name for North Korea -- had 'traditional friendship' which was the 'precious wealth' of both countries.
'This is a strategic choice and the only right choice both sides have made based on history and reality, the international and regional structure and the general situation of China-DPRK ties. This should not and will not change because of any single event at a particular time,' Xi was quoted as saying.