'His secretary of defence nominee, General James Mattis, says he expects Pakistan to take action against terrorists operating from its soil'.
'Any pressure the US can bring on the Pakistani regime terror-wise would pay dividends for India,' says Group Captain Captain Murli Menon (retd).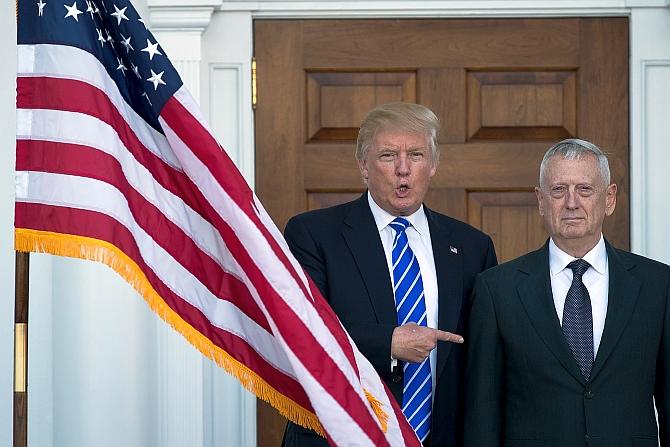 IMAGE: Donald Trump, left with General James Mattis. Photograph: Drew Angerer/Getty Images
America's historically least popular President-elect -- a poor 40% popularity count by latest surveys -- is on the verge of his inauguration and there is no dearth of excitement generated by the Big T's Twitter handle, media rambles and other random shooting off his mouth.
It is possible that the steel frame of American bureaucracy might prevent altogether drastic turns about in State policy, but in a Presidential system the incumbent would wield enough clout to make life uncomfortable for many people.
Whilst how the US presidency actually unfolds is not for us to worry too much about, there are bound to be repercussions on India's strategic landscape by predicted changes to American public policy or other drastic shifts in its geopolitical strategic domain or just 'Trumponomics.'
The latest quip emanating from Trump HQ about the 'obsolescence of NATO' is once again something that could impact subcontinental geopolity willy-nilly, of course depending on whether NATO becomes actually redundant.
It is generally believed by Indophiles that Republicans have been traditionally more conducive for promoting Indian interests, more so after Bush Jr.
Even though Trump has substantial opponents even within his own Republican party the quantum upgrade of relations -- especially in the military sense, the vital civil nuclear deal and most of the military to military ties -- can be expected to maintain the ongoing healthy momentum, in a truly bi-partisan mode.
Trump's proclaimed gung-ho buddyship with Russian President Vladmir Putin and expected easing of sanctions against Russia, could augur well for India, making it easier for our policy makers to manage defence cooperation and other diplomatic issues with both countries on a more even keel, to our best interests, of course.
His possibly adversarial stand on the 'One China' policy, should it actually follow the overtures to the Taiwanese leadership, would strengthen India's negotiating stances on border issues with China, our 'Look East' policy or our stand on the South China Sea standoff.
Even more agreements with the US would be called for such as for naval communications to monitor Chinese submarine activity for one, to effectively checkmate the China-Pakistan nexus in our strategic space.
Besides our burgeoning military ties with countries such as Vietnam, Singapore and other neighbours such as Bangladesh and Myanmar, India would stand to benefit strategically from any US distancing from mainland China.
Some observers have commented that America's much touted 'Asian Pivot' would be at risk in the Trump regime.
Coupled with his latest NATO outburst (which has been wholely seconded by Moscow!), the US would have to be even more reliant on India's strategic wherewithal to manage affairs in our part of the globe.
Even for the Middle East -- Iraq, Syria, Iran etc -- India could find itself more pressured to take sides in the ongoing or any new strategic hiccup situation.
More so, India will have to be careful how it protects its bilateral interests with traditionally friendly nations.
Improved ties between India and America have tended to ameliorate tensions, if any, over erstwhile irksome issues such as Iran and Afghanistan.
What perhaps is most critical in this context is the Pakistan scenario.
If one were to go by sound bytes alone, Trump appears pro-India in the counter terror agenda.
His secretary of defence nominee General James Mattis has clearly stated that he would expect Pakistan to take action against terrorists operating from its soil.
From his tone he appears to be hinting not only at the Haqqani group, but also India's bugbears such as the Lashkar-e-Tayiba and Jaish-e-Muhammad.
Any kind of pressure the US can bring on the Pakistani regime terror-wise would pay dividends for India, especially in light of our pro-active counter terror stance evident of late.
However, whether this is glib talk and the US shutting its eye to that country's selective targeting of terrorist entities remains to be seen.
During his campaign, Trump was vocal enough to say that he wished to take India's help to rein in Pakistan's nukes.
This is significant more so in the context of its much touted tactical nukes, possibly whose proliferation has been accelerated by India's articulated belligerence such as 'Cold Start' or the 'surgical strikes.'
America assisting India in targeting rogue tactical nukes would alter the strategic landscape altogether in the Subcontinent.
Indo-US military cooperation is already progressing well and one can expect more big ticket deals such as the F-16 made in India or even Predator drones.
More numbers of C-17 Globe Masters, C-130 Js and Apache/Chinook helicopters are in the pipe line.
The White House has recently raved about the much improved counter terror cooperation between the two countries.
Advent of technologies such as that of the Predator into the subcontinent would contribute directly to America's counter terror agenda, as the jihadi factories themselves are located in Pakistan's badlands.
Trump's emphasis on counter-terror and illegal immigration would see India getting even more involved in combating terror groups not only in our domain, but also in combating cyber terror against varied global terror outfits like Al Qaeda and ISIS.
Trump is also expected to have a better relationship with Benjamin Netanyahu of Israel, once again giving a fillip to India's counter-terror and strategic interests.
There may be more truth to Trump's latest statement on NATO's impotence. America's substantial contribution to its coffers has been seen to be not giving the required military-strategic pay off.
Should NATO eventually peter out as a military bloc, the US would have to have its own bilateral tie-ups with European nations like Poland, Norway or Ukraine, this, of course, to the detriment of Russian interests.
European countries would have to look elsewhere for their security needs, either creating smaller defence mechanisms or coordinating their military requirements separately with the US.
Either way India could leverage its interests smartly in the European theatre, increasing military training and equipment opportunities and leveraging these for increased trade and economic cooperation with smaller European nations.
Sweden, incidentally, with its Saab Gripen fighter aircraft, is one of the bidders in India's 'Make in India' venture. Smaller defence programmes exist with countries such as Portugal. The UK would also be in dire straits as Trump has shown inclinations to walk away from post-war defence arrangements.
India should be looking for new markets for its space technology and defence-related software skills. Existing commercial arrangements such as those with Russia for the Brahmos and Israel for Antrix need to be further enhanced.
So it's not only the expected 'Trump Bump' or the reduced US corporate tax rate from 35% to 15% which would affect India, but perhaps more significicantly India's military posturing and strategic positioning could be impacted by the new American president's world view, and his right of centre policies.
India needs to appreciate the likely changes in American strategic priorities with the advent of Donald Trump and tailor its own approach to protect its national interests optimally.