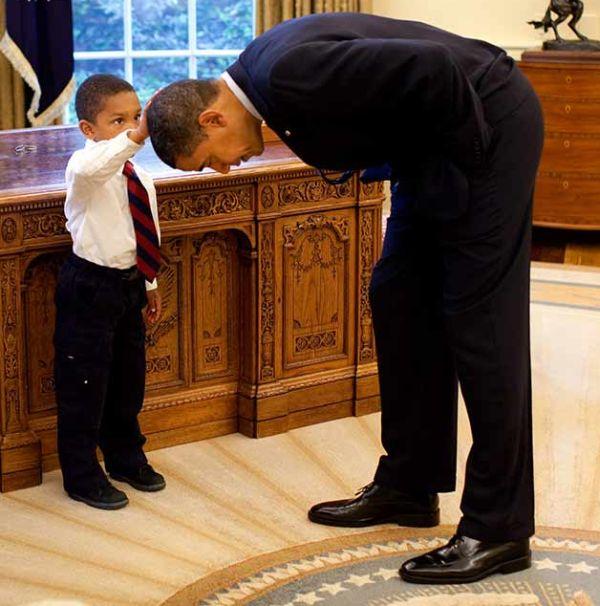 Oh, Barack Obama, how we will miss you!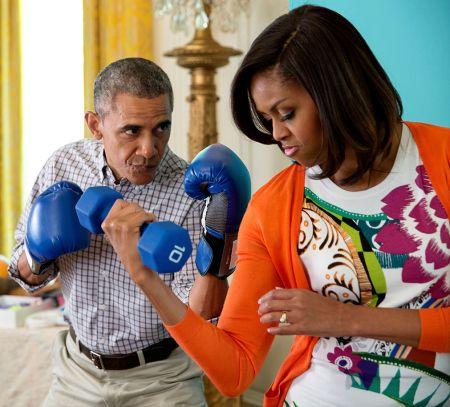 Over their eight years in the White House, Barack, Michelle, Malia, and Sasha Obama undoubtedly left their mark on history.
As he prepares for a life after the WH, we look at the most intimate, candid and comical moments of Barack Obama's presidency.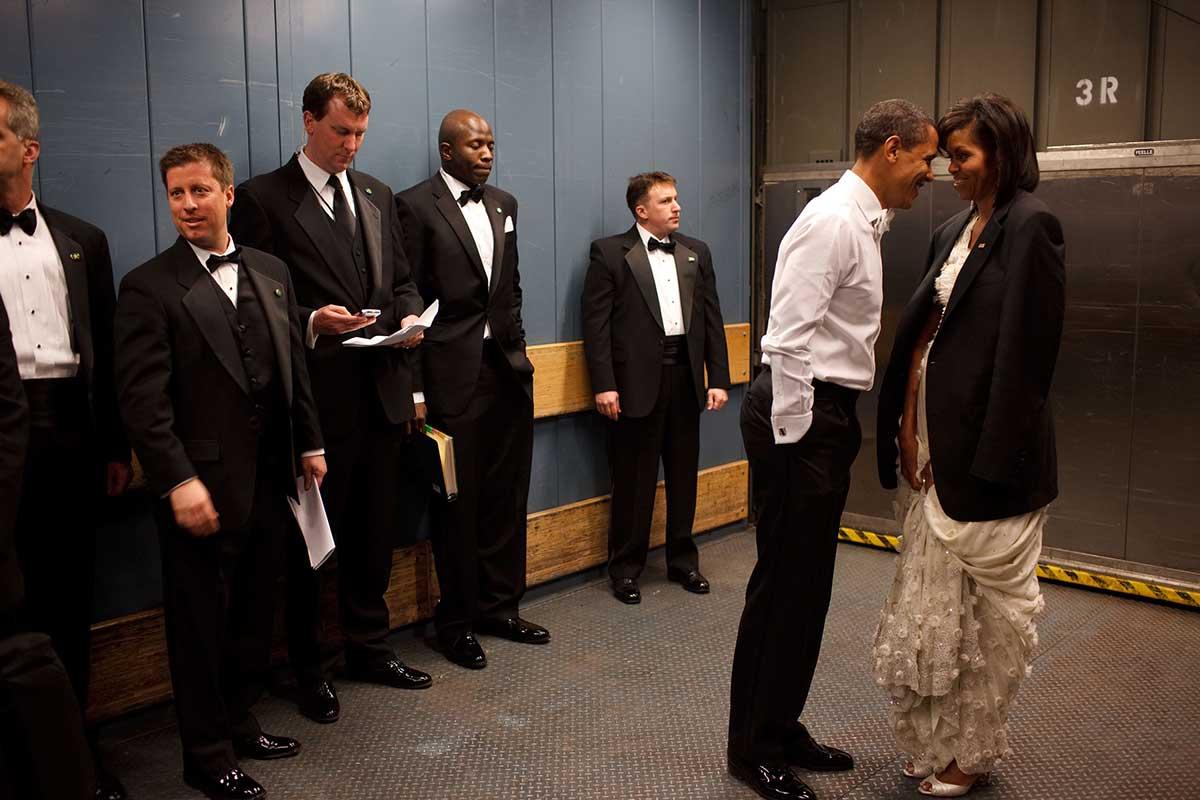 So in love!
If a couple forces us to go 'aww' it's Michelle and Barack.
Back in January 2009, when he was just sworn in as America's first black president, the bond M and B shared was still being revealed to the world.
Here they are, sharing a private moment in a freight elevator at the Inaugural Ball in Washington, DC.
---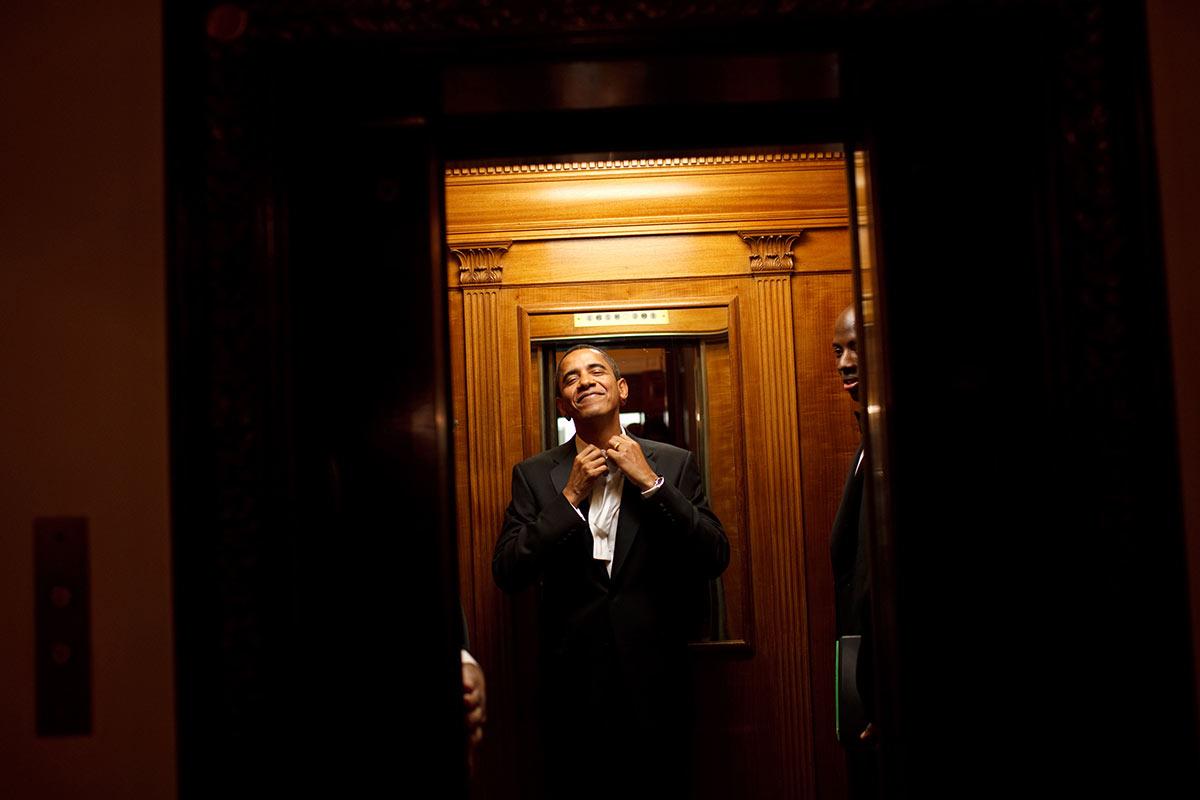 Ain't I dapper!
Barack has become a true style icon over these 8 years at 1600, Pennsylvania Avenue.
Most American presidents look haggard after their time as the planet's most powerful person.
Think W. Think Jimmy. Think Papa Bush. Think even Bill.
Barack -- or Barry as he was known in his early years -- has only grown dishier.
Check him out as he rides the elevator to the private residence at the White House after attending 10 inaugural balls and a long day, including being sworn in as president on January 20, 2009.
---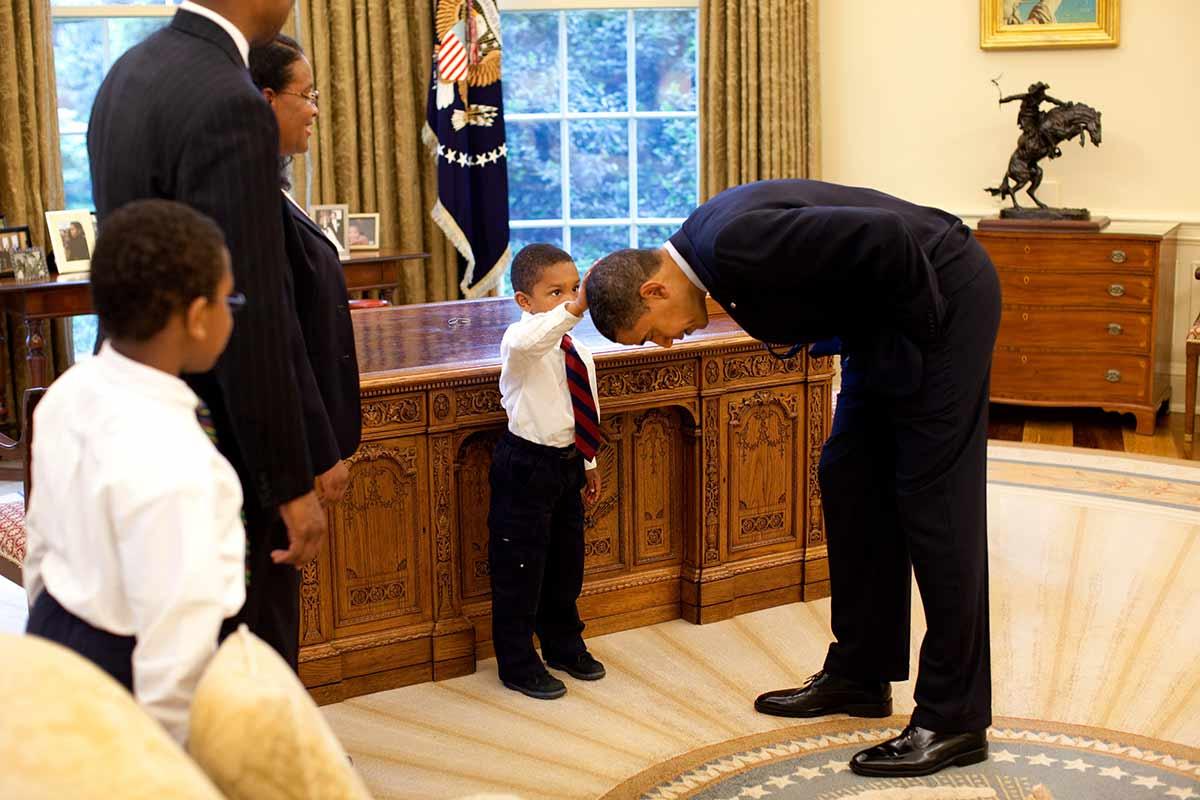 'Touch it, dude'
Jacob Philadelphia is just one in a long line of African-American kids who have met their hero in the White House, in encounters that have been touchingly, spontaneously, comically captured by presidential photographer, the amazing Pete Souza.
'I want to know if my hair is just like yours,' Jacob told POTUS. 'Touch it, dude!' Barack replied.
---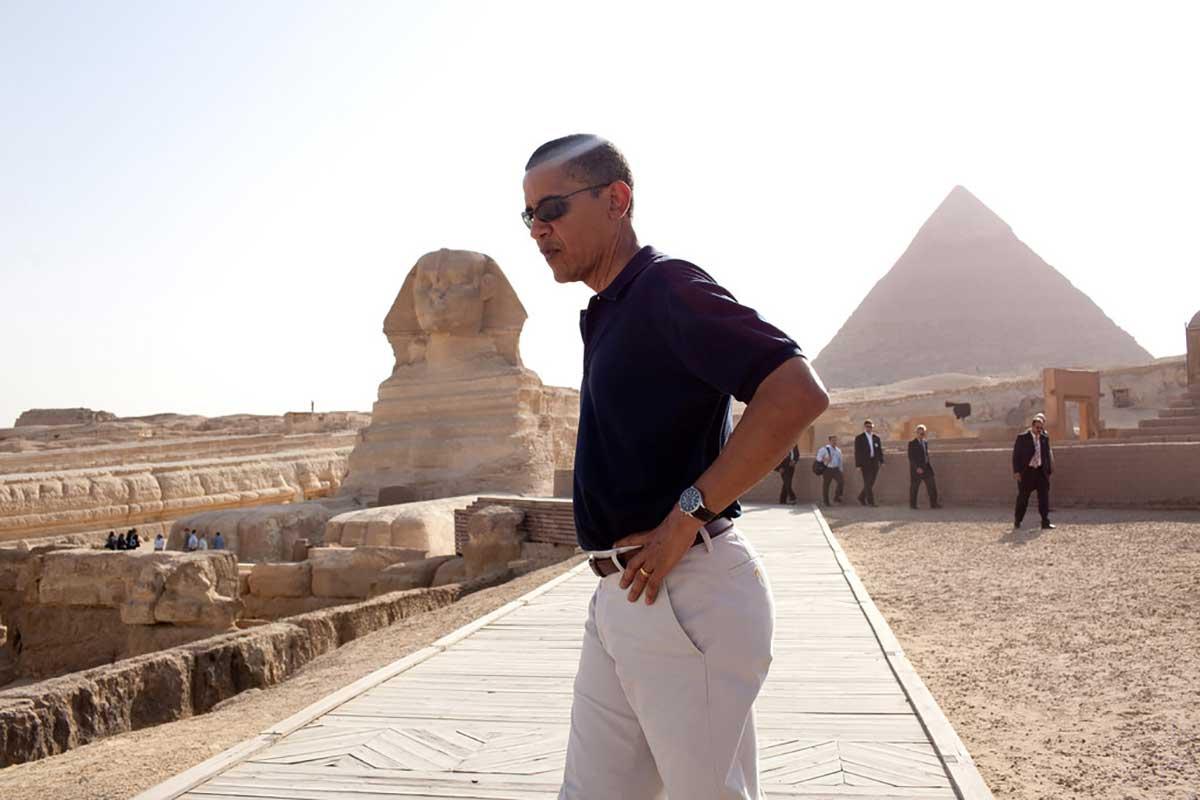 Walk like an Egyptian
He's travelled the world as 'leader of the free world,' including twice to India which no American president had done before, but there's something about Barack at the Great Sphinx of Giza back in June 2009.
You know what we mean, don't you?
---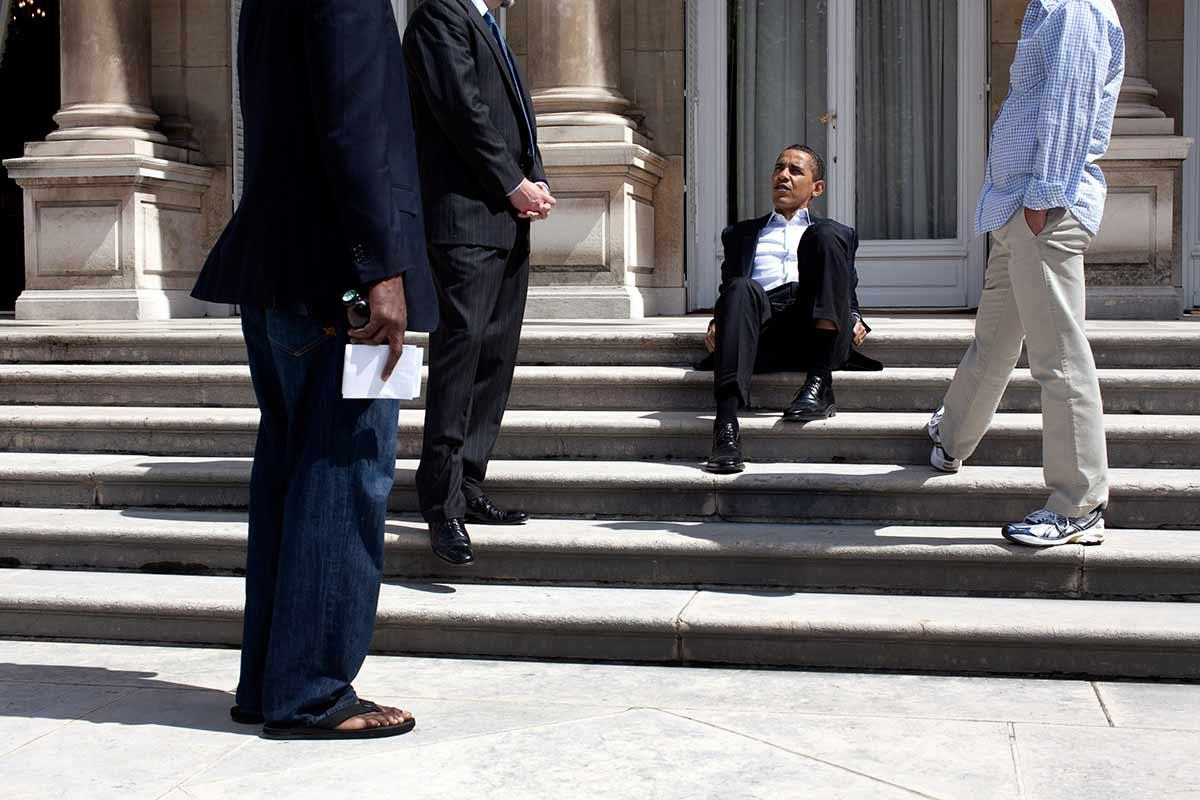 Sunbathing in Paris?
His predecessor was famously formal, banning jeans from the WH.
Barack ushered in an era of smart casual at 1600 Penn Ave or on POTUS' travels.
Here he is, with aides outside the US ambassador's residence in Paris.
---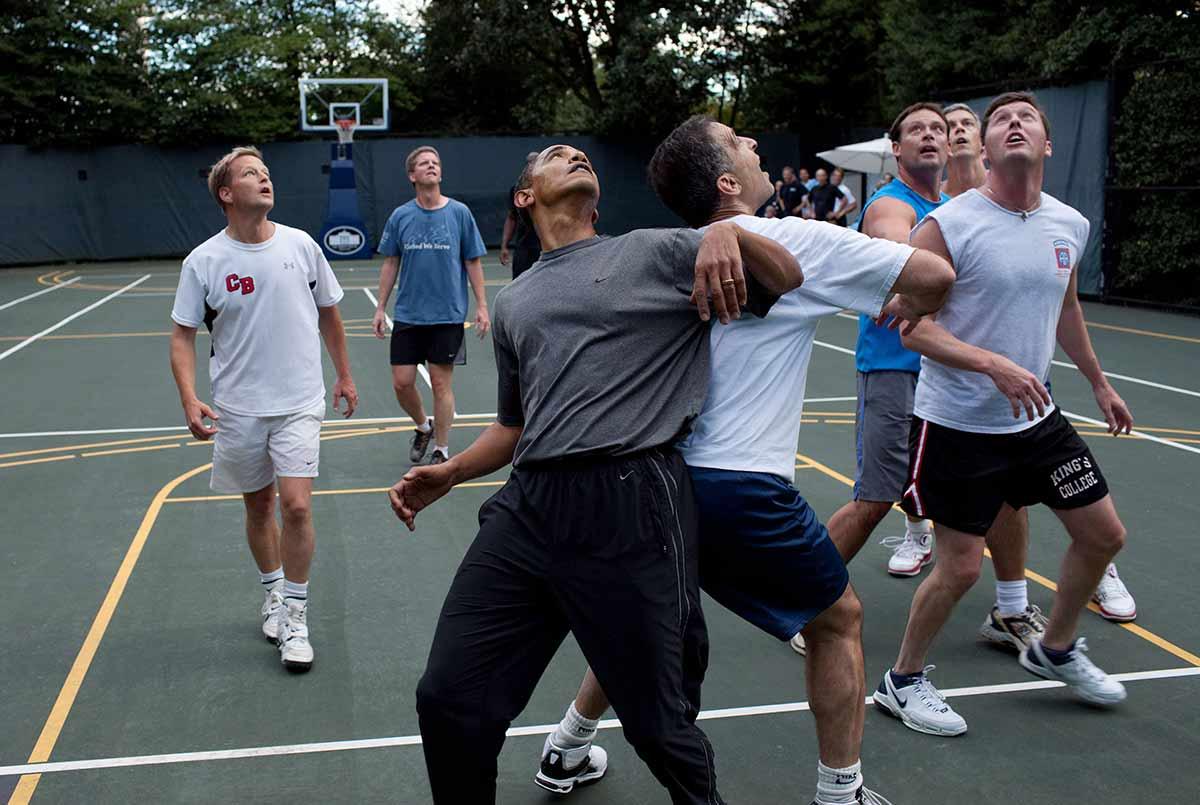 Shooting hoops!
Michelle was all about getting kids out and playing and being healthy.
BHO stayed fit by squeeze time out from his sked to play a basketball game along with WH staff, members of Congress, Cabinet secretaries, whoever was game.
---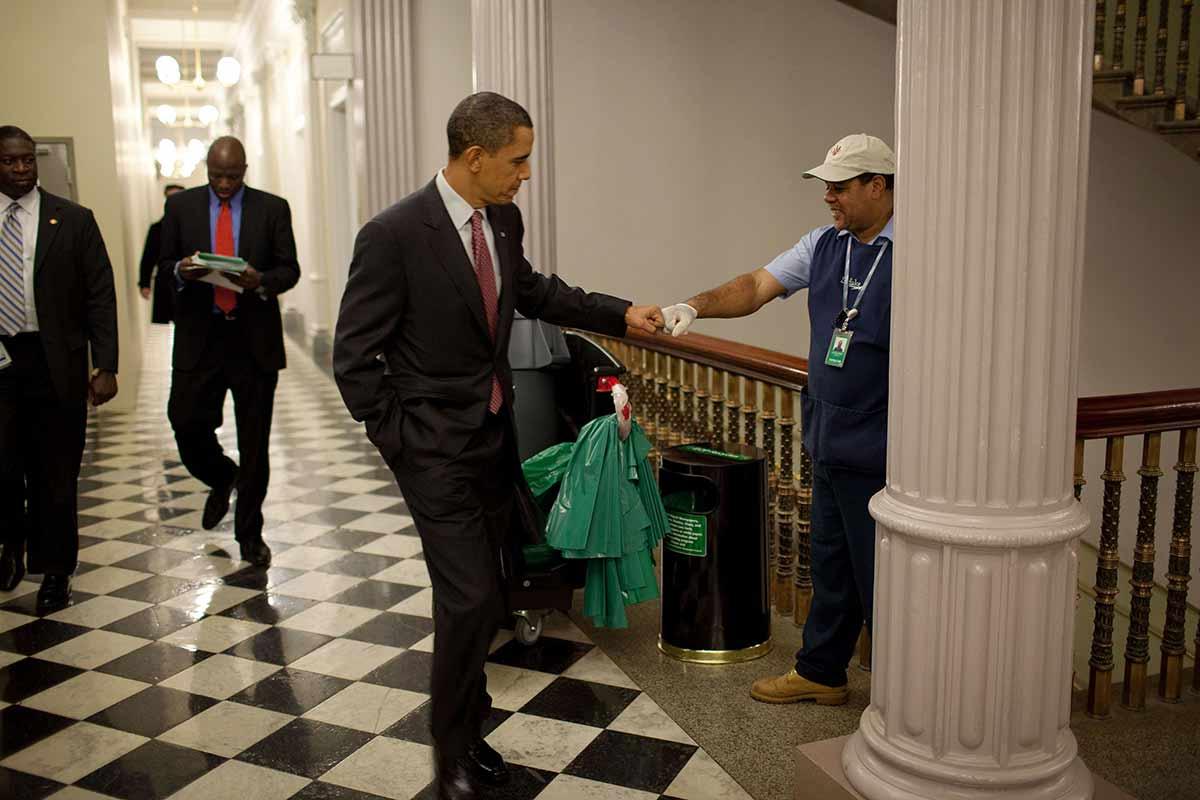 Fist bump chumps
Check out the swag as he fist bumps Lawrence Lipscomb, a custodian at the Executive Office Building.
His connect with working class folk, regardless of colour, made him what else, a working class hero.
---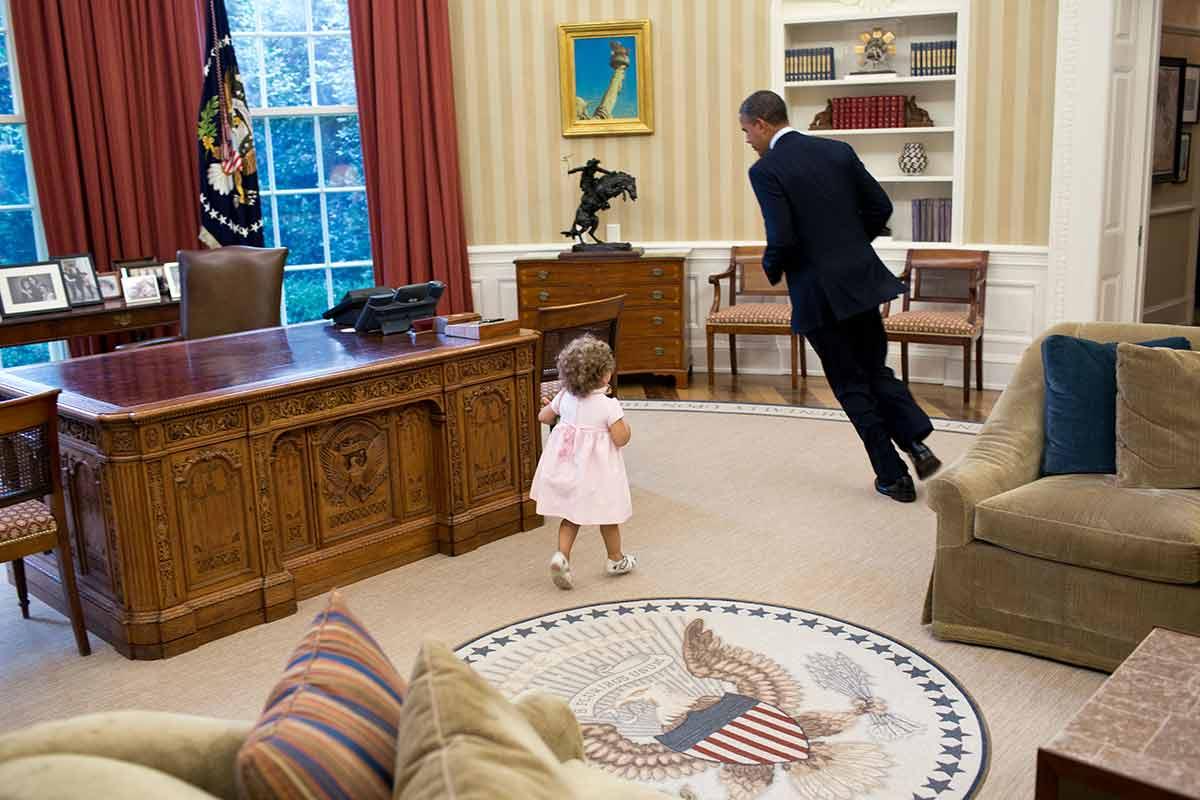 Presidential play date
The Oval Office, transformed into a playground, and the president a playmate.
---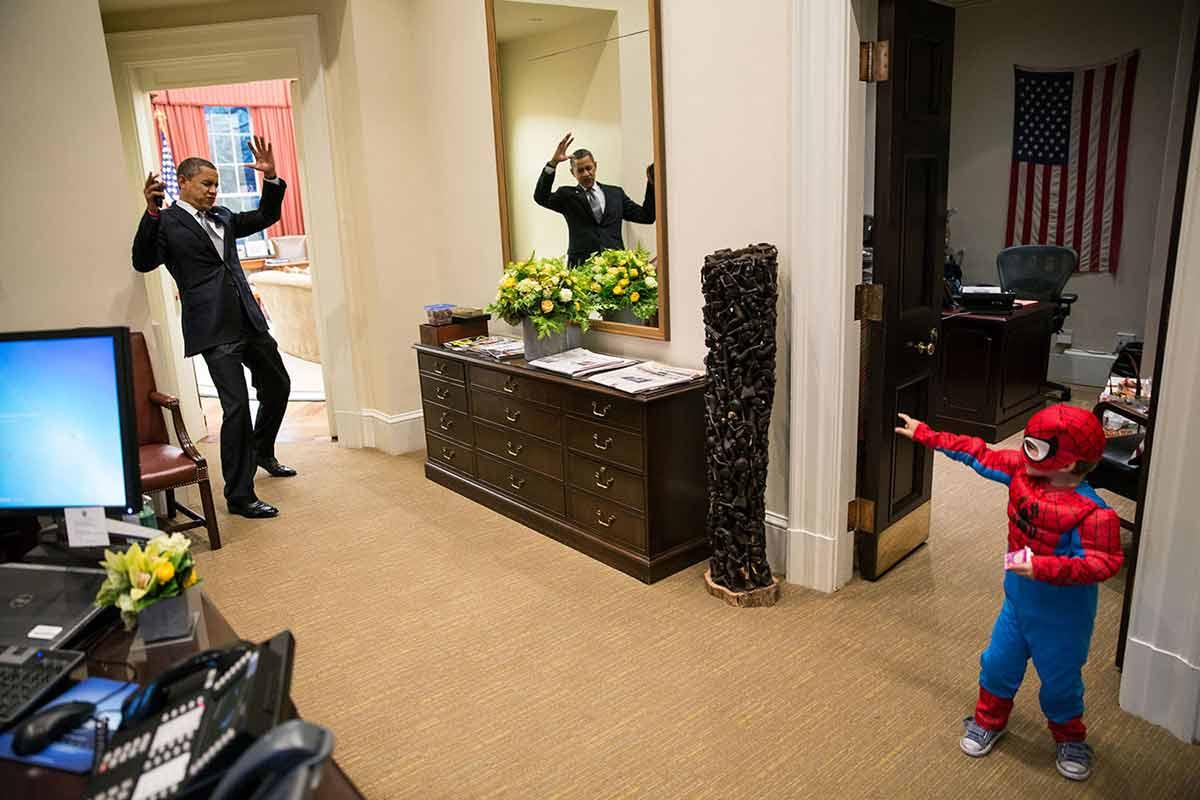 Spinning a web!
Pete Souza's images -- and gosh weren't we spoilt for choice! -- capture Obama's sense of fun and quick-witted social grace.
Here, he pretends to be caught in Spider-Man's web as he greets Nicholas Tamarin, 3, just outside the Oval Office.
Spider-Man had been trick-or-treating for an early Halloween with his father, WH aide Nate Tamarin.
Souza says he can't commit to calling any picture his favourite, this was Obama's favourite picture of 2012.
---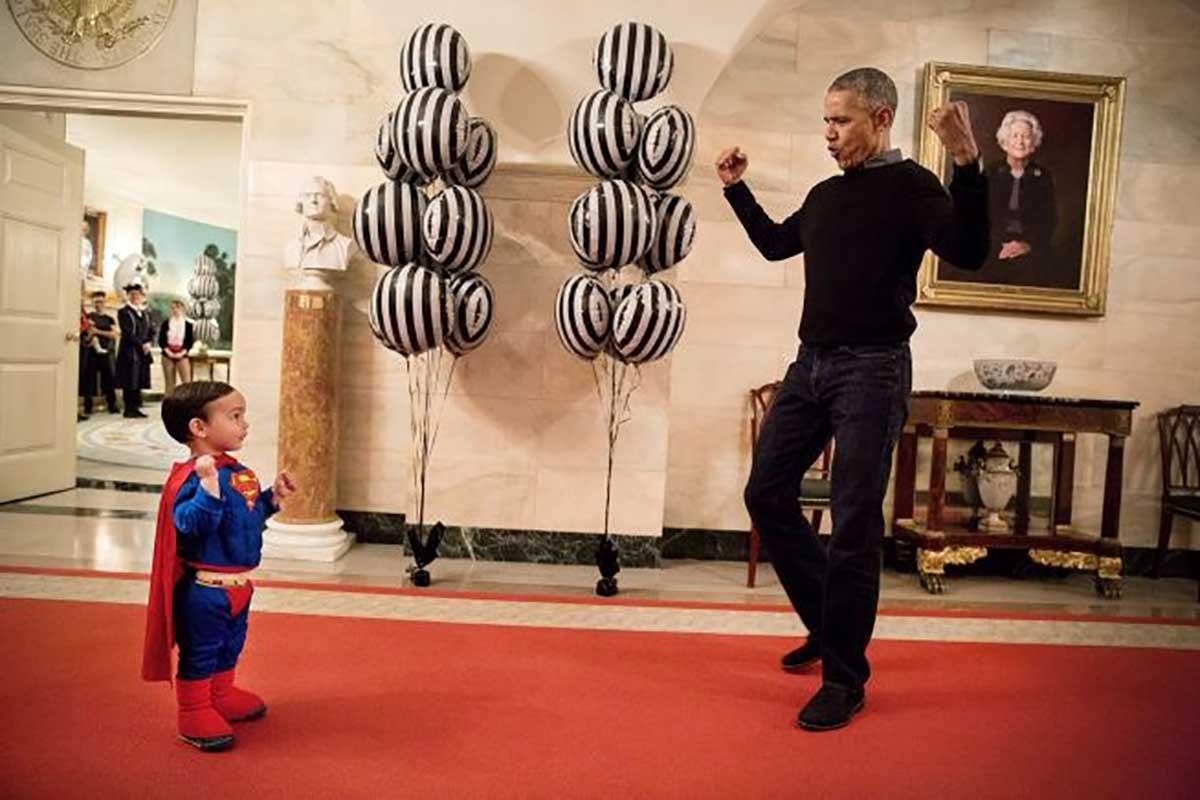 Who's stronger?
Through eight exhausting years, he has charmed us through it all.
Hell, he could give the Man of Steel a run for his money.
This Halloween, he squared up against tiny Superman.
You can also check out the fun video!
---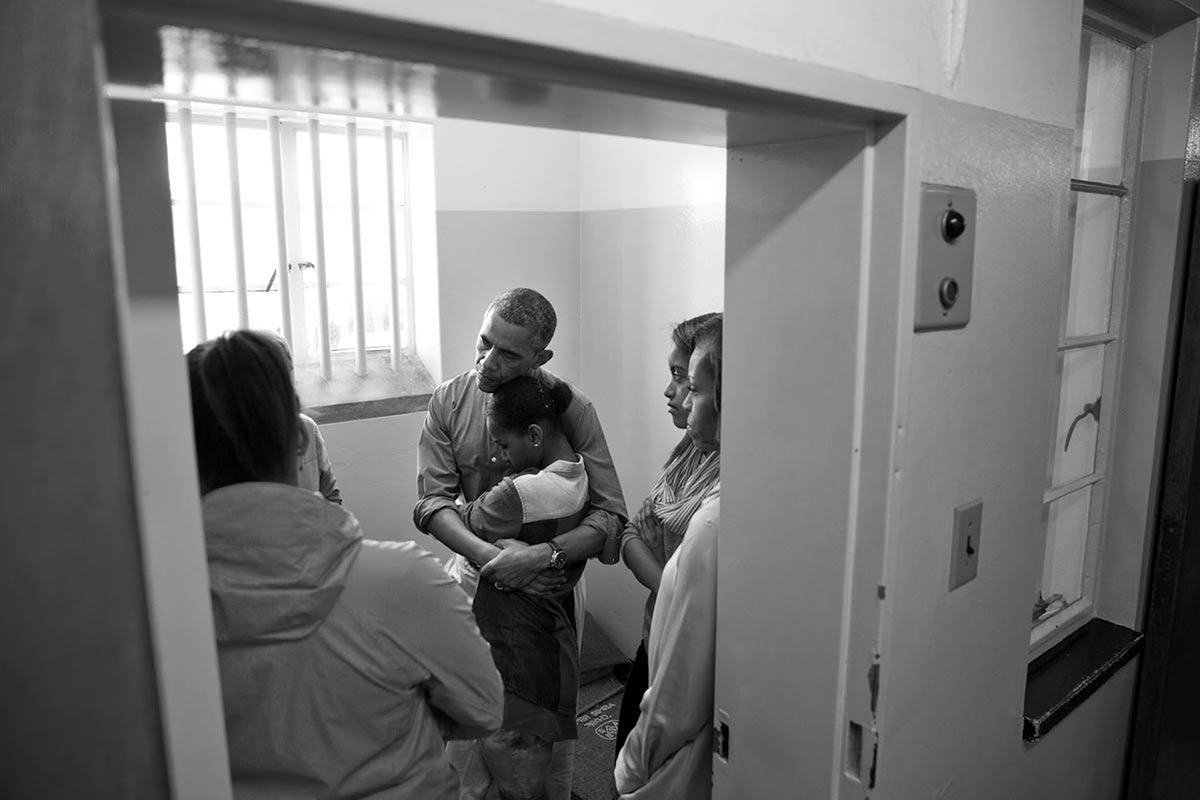 Daddy Cool
Michelle is known to be a caring, but tough, mom, ensuring her daughters Sasha and Malia never strayed out of line.
Barack was the appropriate antithesis, truly a Daddy Cool.
When the First Family visited Nelson Mandela's prison cell on Robben Island in Cape Town, South Africa in 2013. dad shares a quiet moment with Sasha as they hear stories of imprisonment, despair, hope and triumph.
---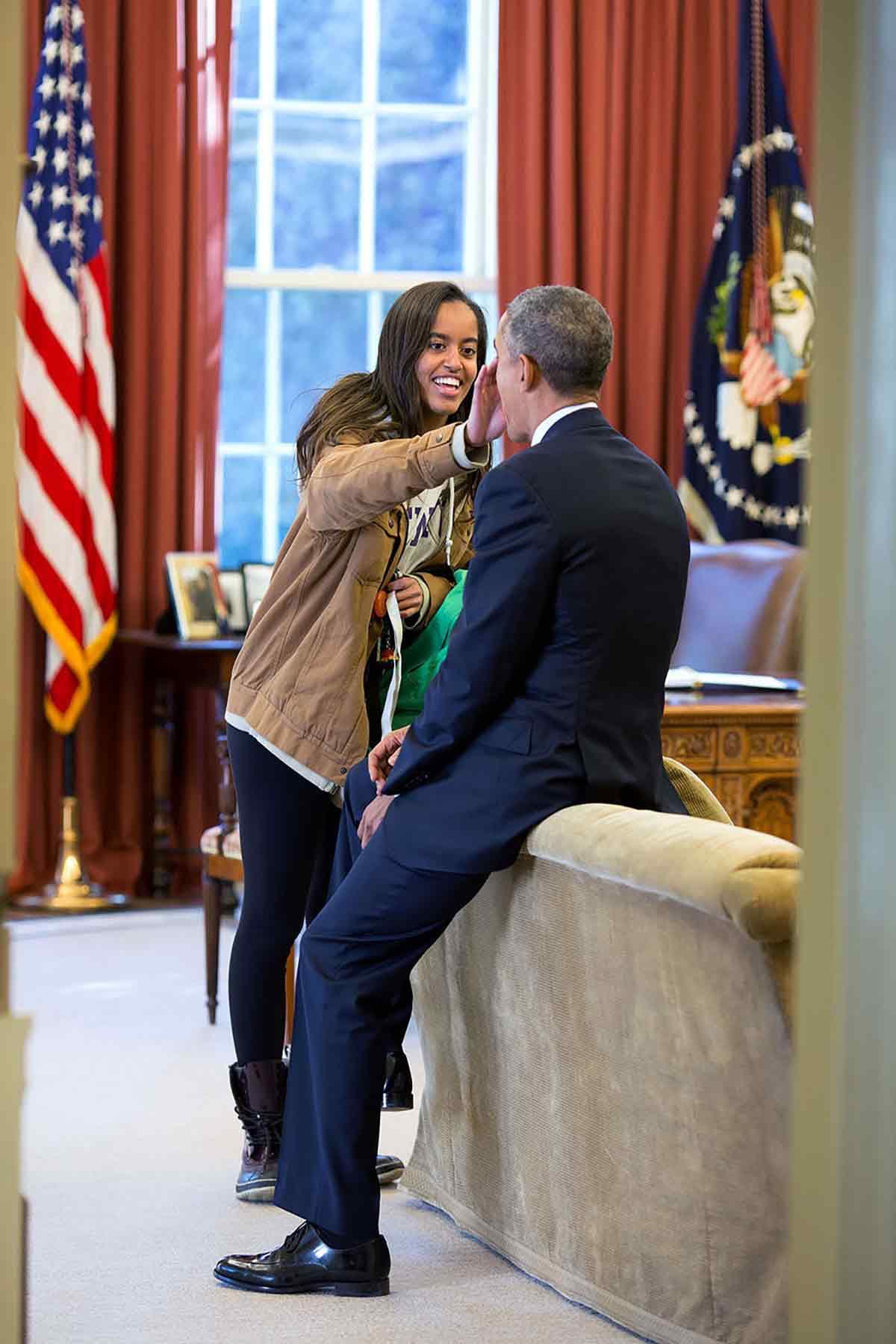 There's something on your nose, daddy
Malia stopped by the Oval Office one afternoon to see her dad and, while they were talking, she wiped something from his face.
---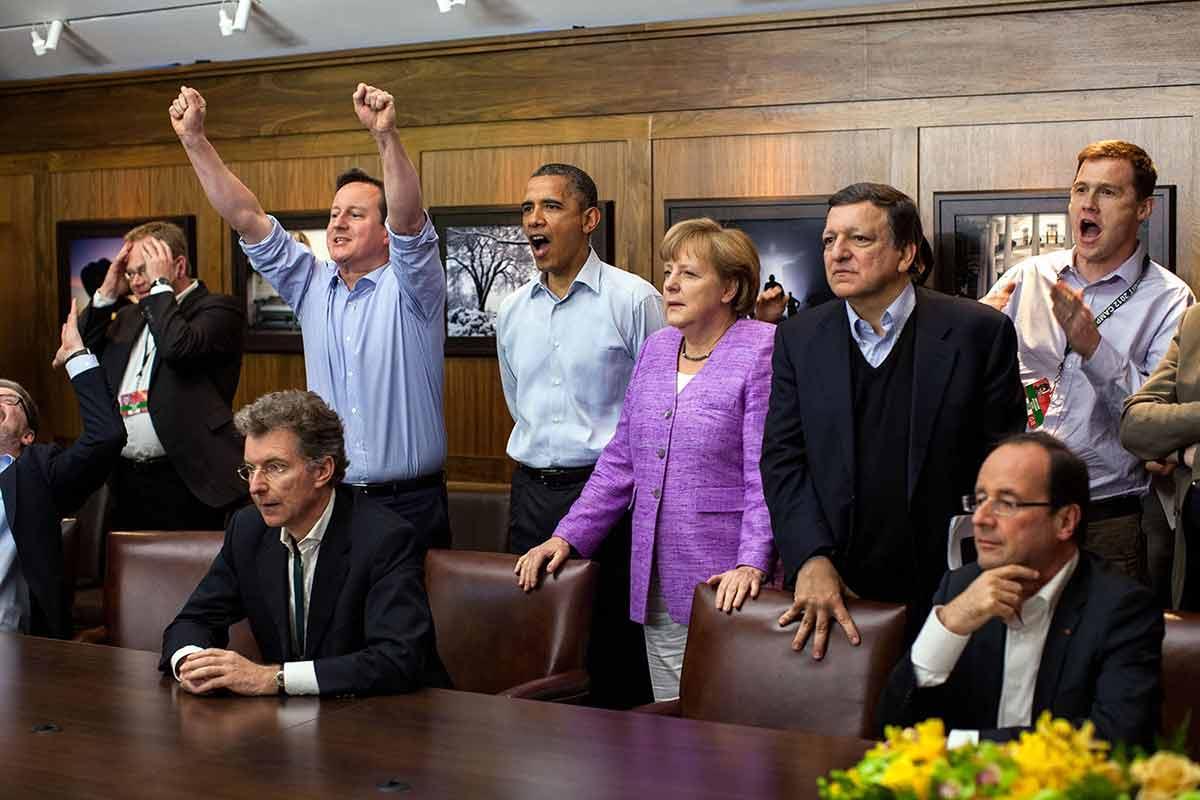 Kicking it with world leaders
Barack likes hanging out with his counterparts.
European leaders -- then British prime minister David Cameron, Germany's formidable Chancellor Angela Merkel, José Manuel Barroso, president of the European Commission, French President François Hollande -- take a break from the G8 Summit in 2012 to watch the Chelsea versus Bayern Munich Champions League final.
---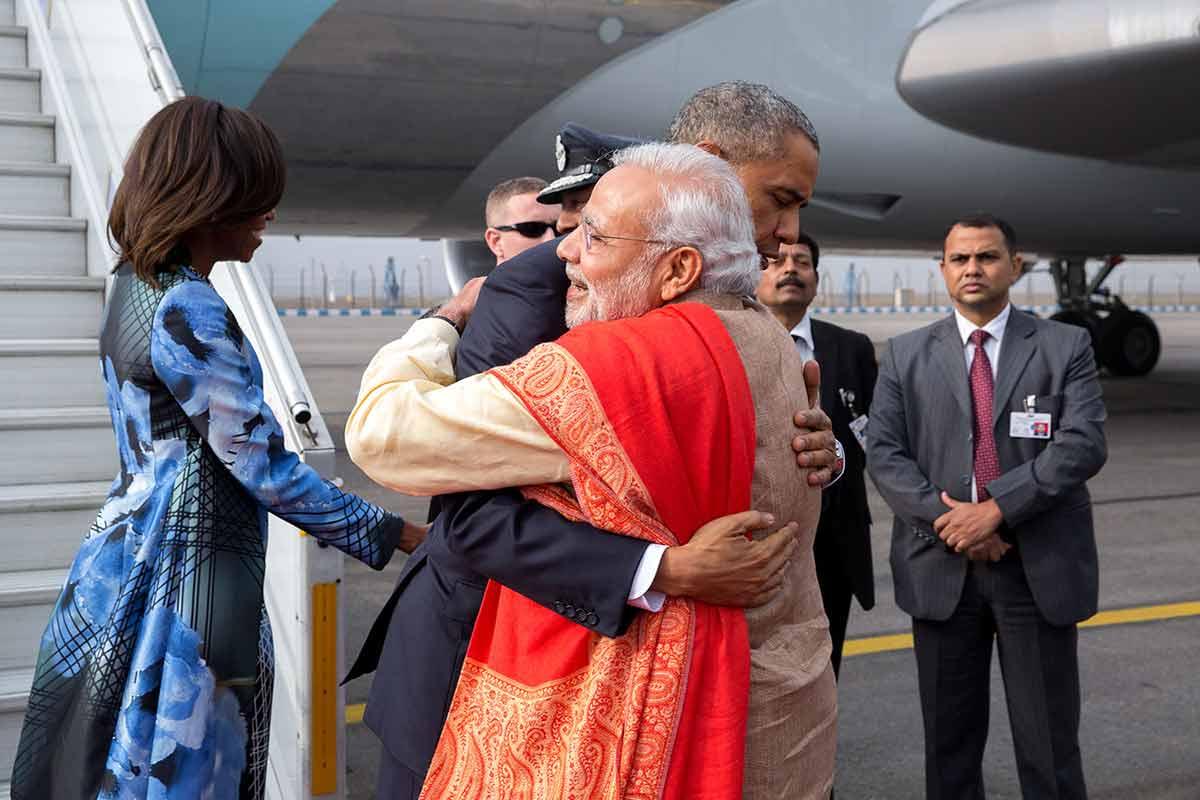 Sealed with a hug
Barack and Narendra share an unlikely friendship -- one that has grown from that first meeting in the WH in September 2014 through eight encounters, the last one in Laos in September.
When the American president accepted NaMo's invitation to be the chief guest at India's Republic Day, the first POTUS to do so, the Indian leader was truly delighted, breaking protocol to greet Michelle and Barack at Palam airport.
The hug that heralded subsquent hugfests.
---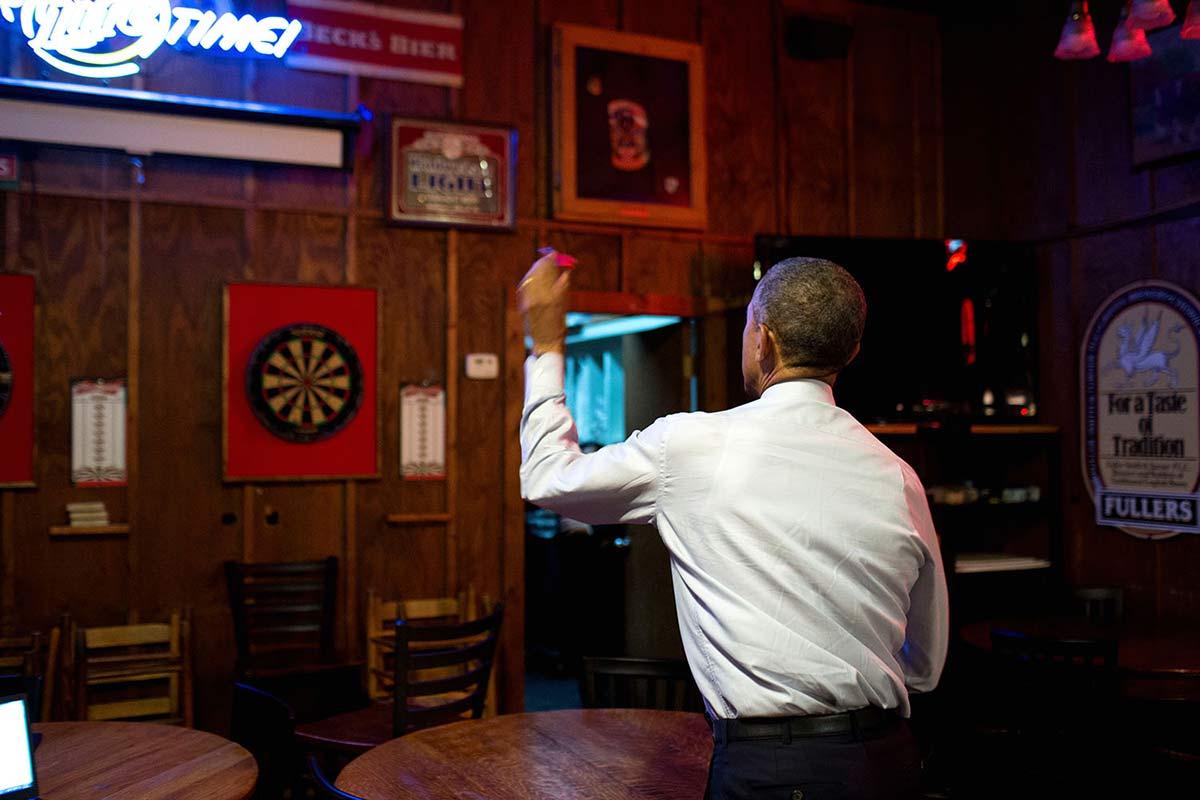 Bulls-eye!
We knew Barack was good at shooting hoops, earning the admiration of basketball superstar Steph Curry, but it seems he is good at throwing darts too, as is evident at Manuel's Tavern in Atlanta, Dr King country.
---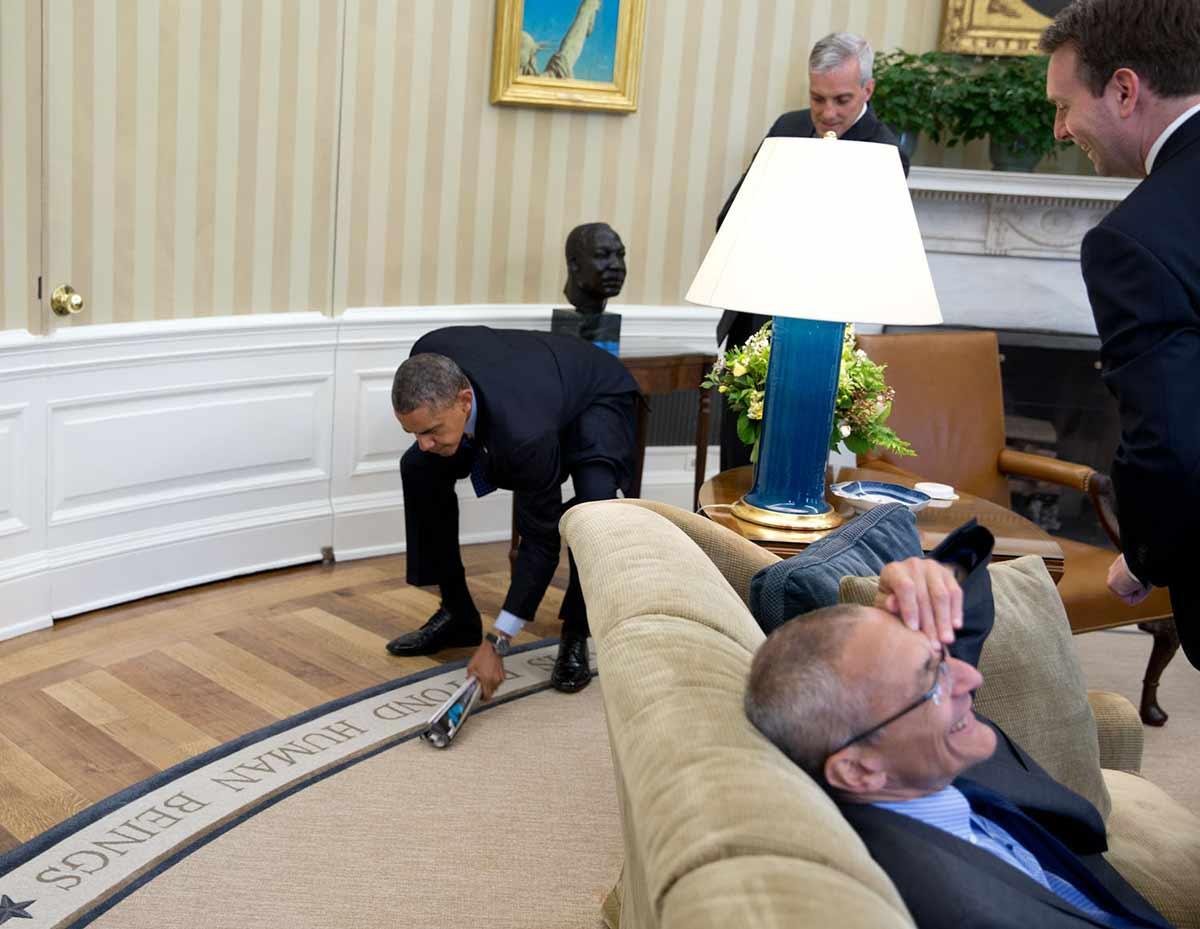 Swatter-in-chief
The ahem, Lord of the Flies, uses a magazine to swat a pesky pest in the Oval Office as aides giggle.
---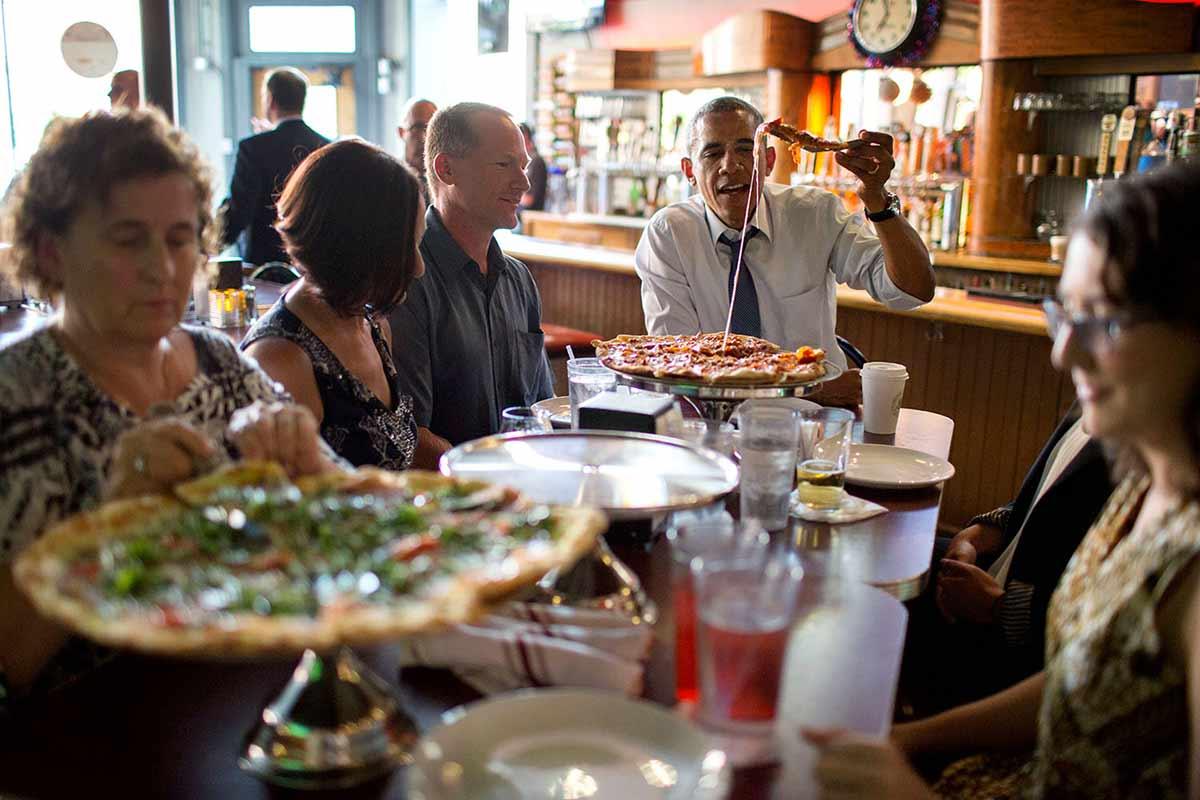 Chomping down
The man is super lean, with not even an extra mm of adipose around him.

How then do we account for all those pix of him chomping down pizza?

BHO apparently loves his pizza super cheesy too, like the one he shares here with folks who wrote him letters at the Wazee Supper Club in Denver.
---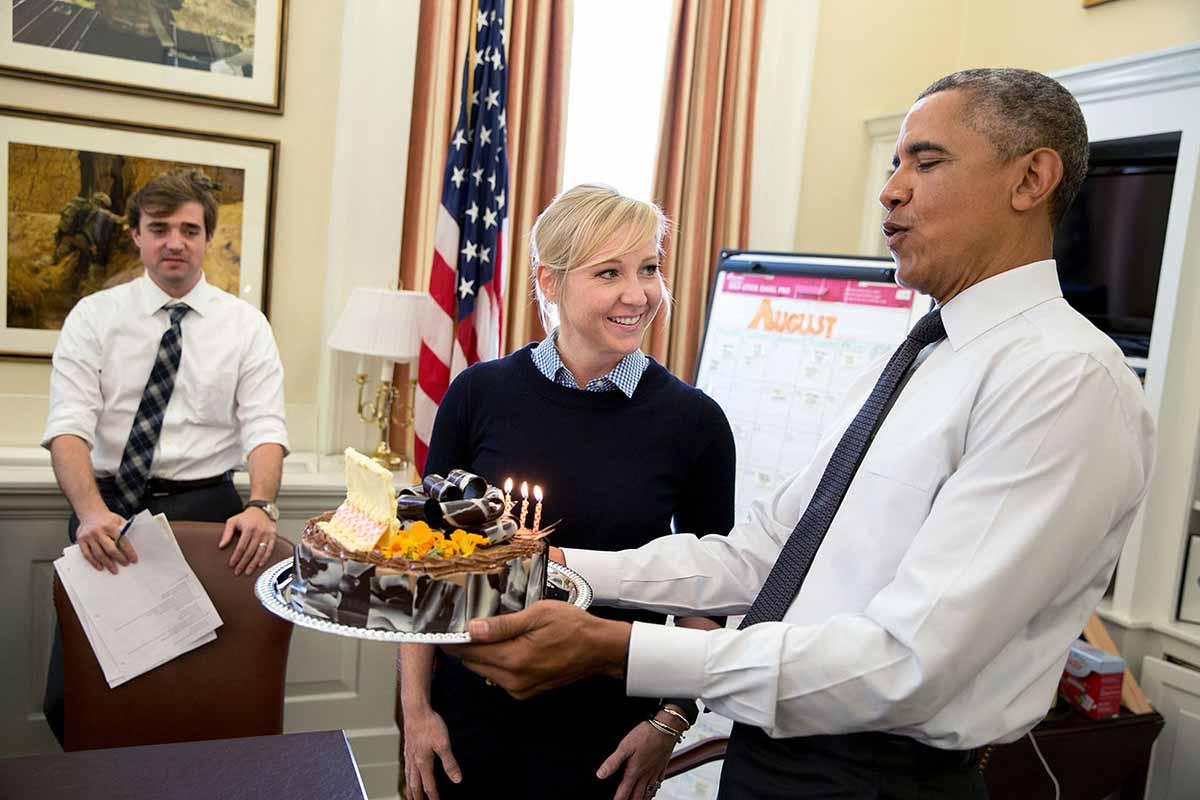 Birthday man
Pete Souza says it's always a cloak and dagger routine trying to surprise senior staff aides on their birthdays.

Here, Barack stuns Anita Decker Breckenridge on her birthday.

Tale to stock up for the grandkids: When the President of these United States brought me cake on my birthday.
---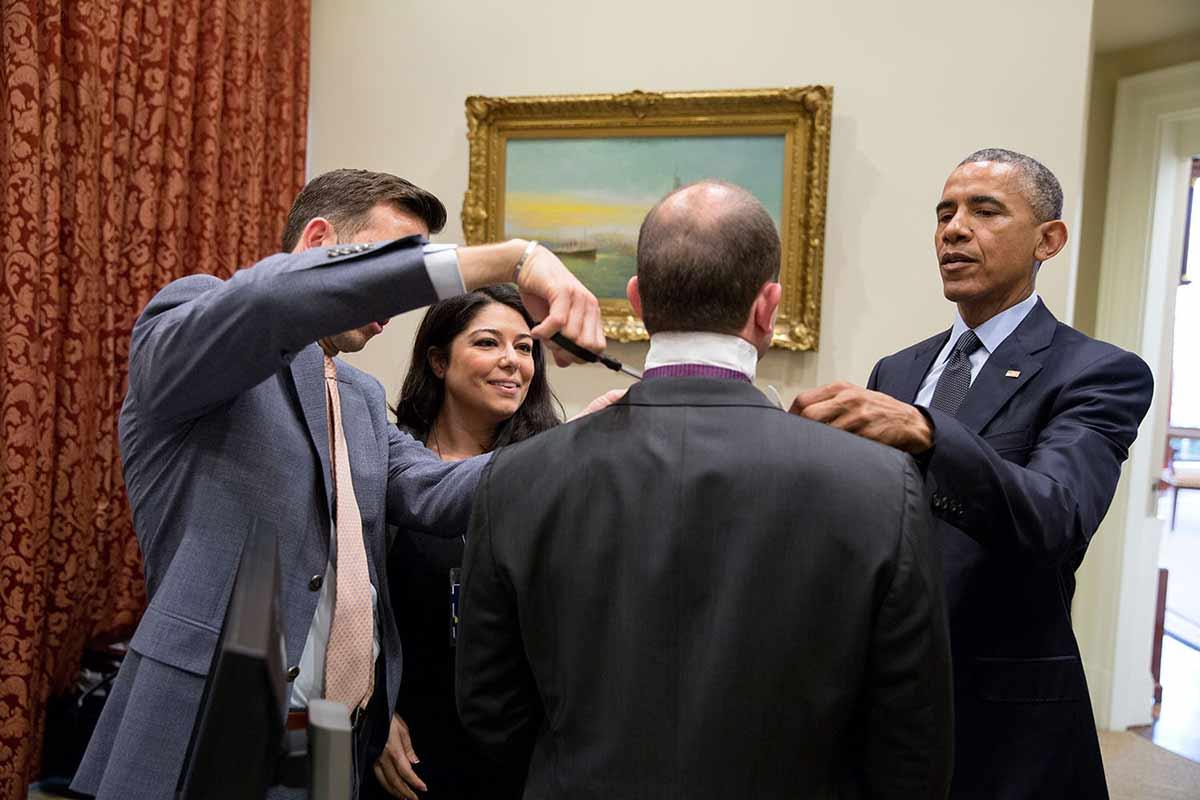 Style Guru
Mr Very Stylish Dude helps Ben Rhodes with the deputy national security advisor's wardrobe.
---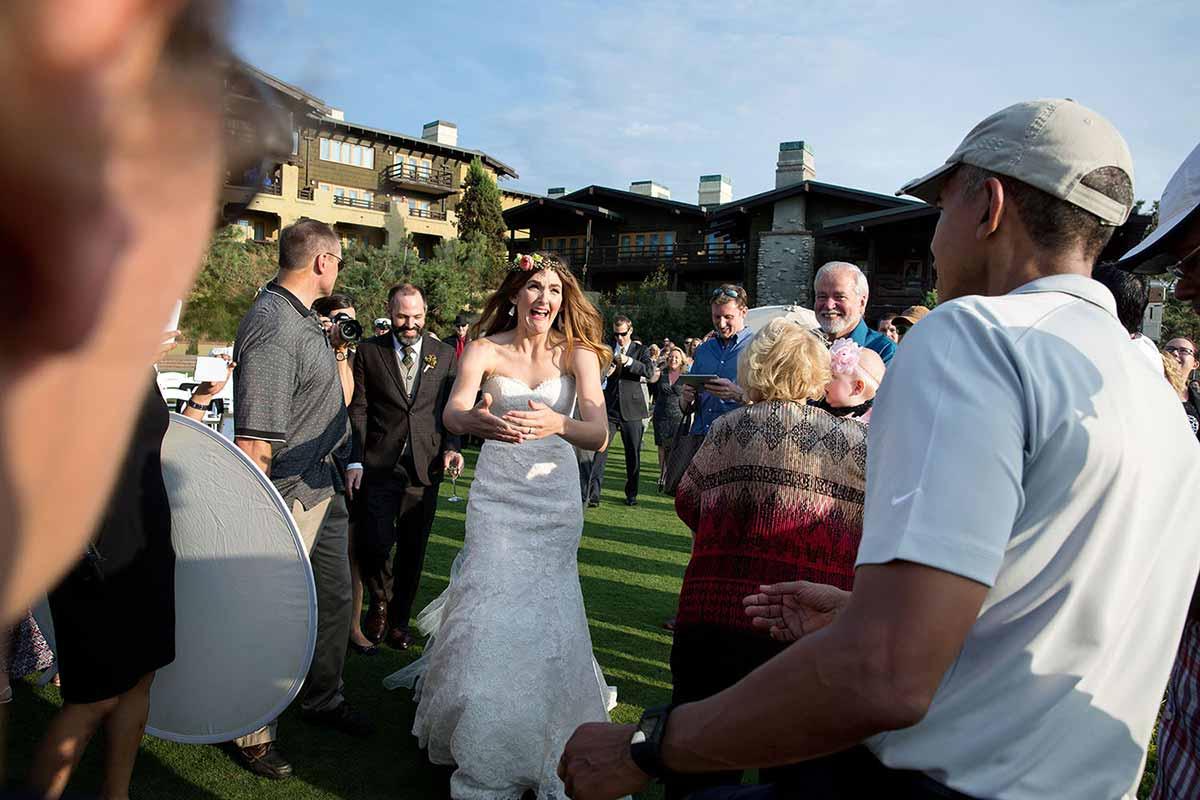 The Wedding Crasher
As he finished playing golf at the Torrey Pines Golf Course in San Diego, California, in October 2015, the president began to greet guests waiting for a wedding ceremony about to begin.

The bride and groom were waiting inside, but when they looked out the window and saw the president, they decided to make their way outside.

'I made a grab shot as the bride, Stephanie Tobe, and her soon-to-be husband, Brian Tobe, came running to greet the president,' Pete Souza recalls.
---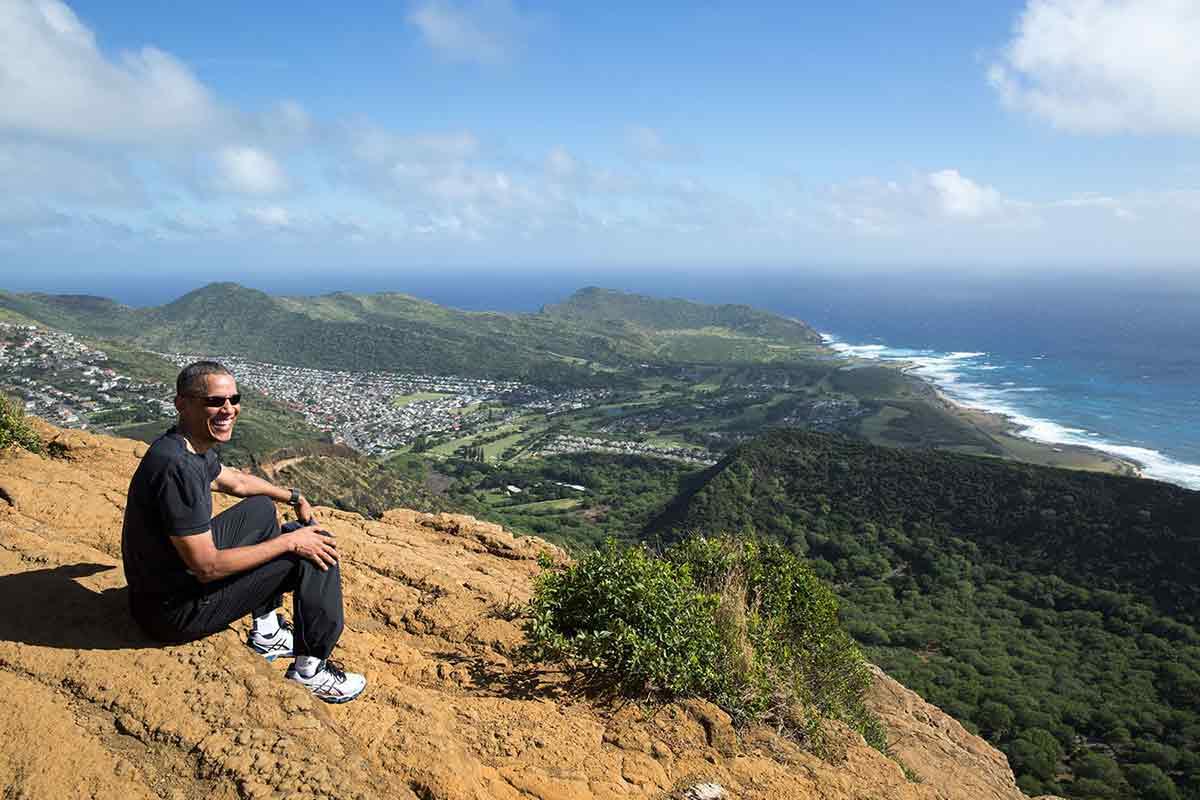 Taking a hike!
Some people vacation in Hawaii to sip Mai Tais on the beach and indulge in well-deserved R&R.

Not Obama for whom Hawaii is home.

He grew up on the island state with his loving grandparents Madelyn and Stanley Dunham, and never misses a vacation in his beloved Hawaii.

In 2015, Barry -- as he was known in these parts when he went to school -- lugged his family and a few friends to the Koko Head Crater Stairs, a Hawaiian hike that is so gruelling, people often refer to it as the 'Stairmaster from Hell.'
---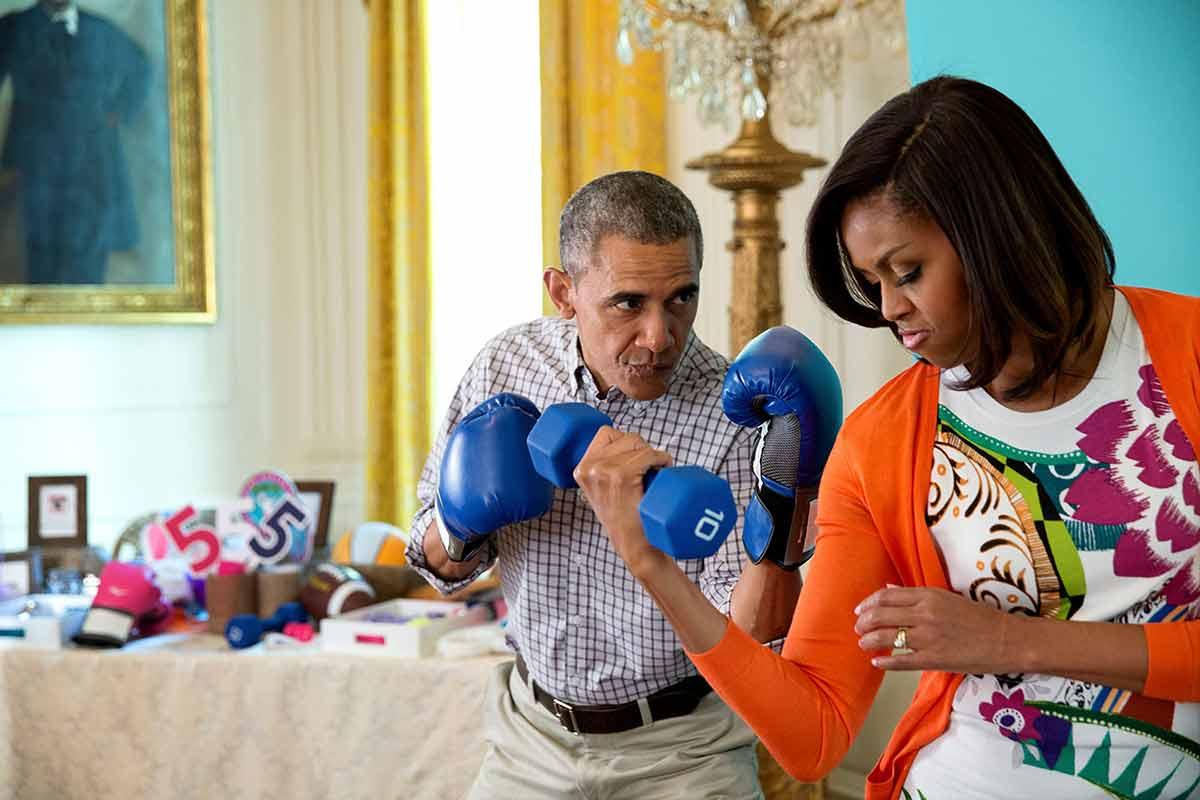 Let's get physical
While Obama dons boxing gloves, Michelle flexes her muscles.

Way to go, people!
---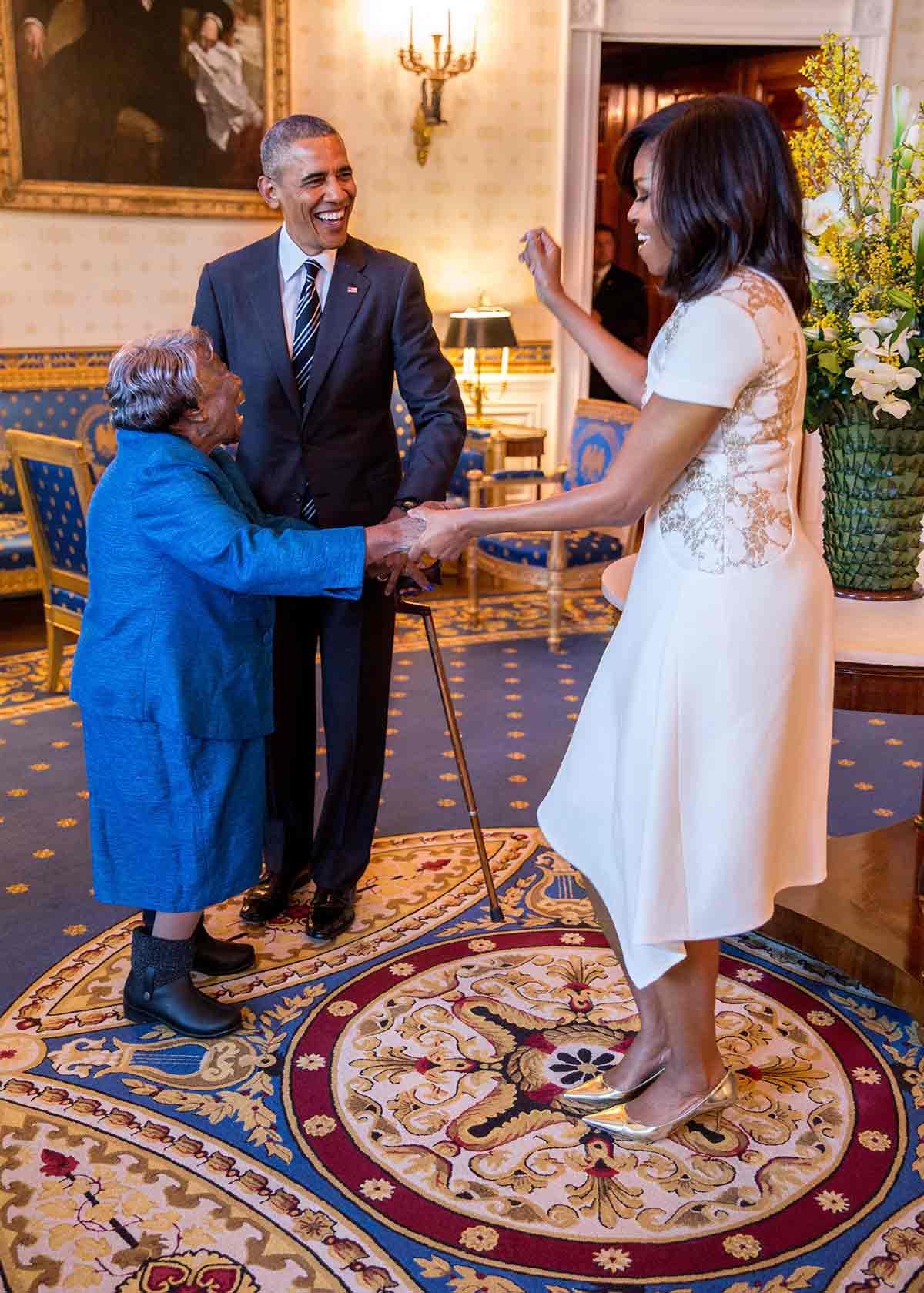 Shaking a leg
Barack watches Michelle dance with 106-year-old Virginia McLaurin in the Blue Room at the White House before a reception celebrating African American History Month.
---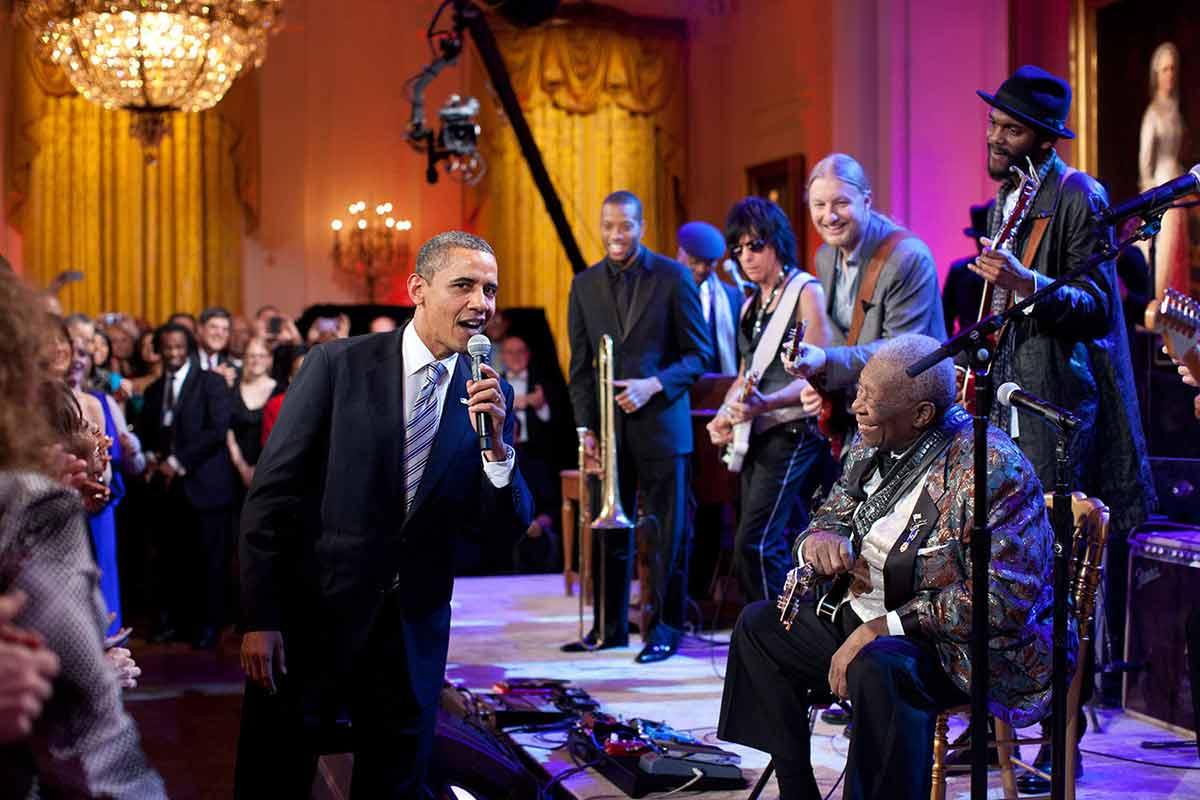 Hitting the right note
Crooning Sweet Home Chicago with B B King at the White House.

Chicago, Michelle's home town, will be where the Obamas eventually settle down.

For now, after January 20, 2017, they will stay on in DC for a couple of years.
---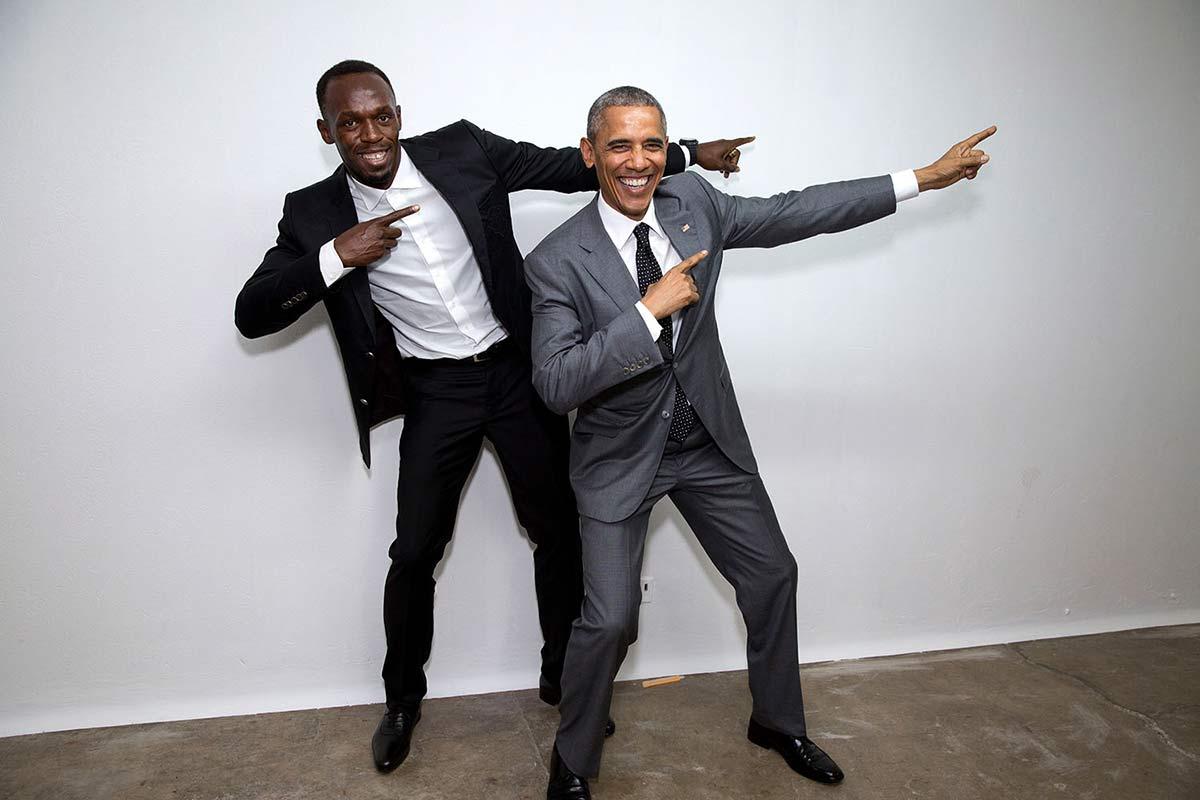 Strike a pose
When they meet him, people are reduced to gush, telling Barack how much they love them.

Just the opposte happened when the most powerful man on the planet met the fastest man on the third rock from the sun.

The always flamboyant Usain Bolt seemed unusually humbled to meet the president and appeared embarrassed when Obama gushed about him.
All photographs: Pete Souza/The White House