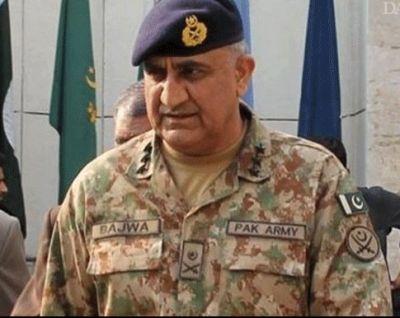 Pakistan's new army chief has begun setting the stage to act against groups like LeT and JeM.
Ajai Shukla reports.
In Pakistan, a new year and a new army chief appear to be heralding a new approach towards reining in anti-India jihadis like the Lashkar-e-Toiba (LeT) and the Jaish-e-Mohammed (JeM).
Business Standard learns from senior Pakistan army sources that General Qamar Javed Bajwa, who took over as chief of the army staff (COAS) from General Raheel Sharif on November 28, has told key advisors that open-ended confrontation with India must be curbed, without compromising Pakistan's self-respect.
A senior Pakistani officer, who held a detailed discussion with General Bajwa, tells Business Standard the new army chief understands fully that reducing tensions with India would require action against the LeT and JeM.
But Pakistan's top general believes the LeT and JeM are now more troublesome than useful.
He believes the Uri terror strike in September provided India respite in the UN General Assembly, allowing New Delhi to shift the spotlight from the uprising in the Kashmir valley to Pakistan-backed terrorism.
General Bajwa, unlike his predecessors, has begun setting the stage to act against those groups, says the source.
This will not involve an overt military crackdown, like what former Pakistan president and army chief General Pervez Musharraf unleashed in July 2007 on radical militants in the Lal Masjid in Islamabad.
Instead, there will be a slow squeeze on Punjab-based militant groups by the Inter-Services Intelligence.
"The ISI exercises a degree of influence over the leadership of these tanzeems (groups). The top leaders, who are the ideological drivers of their jihad, are beholden to the ISI for patronage, funding and protection from law enforcement agencies," says a senior Pakistani official.
In fact, the ISI has the ability to influence the LeT and JeM only up to a point.
Over the last decade, leaders like the LeT's Muhammad Saeed, have developed larger-than-life individual profiles.
According to jihadi lore, Saeed's immediate family alone includes 23 widows of 'mujahideen' who were killed fighting in Jammu and Kashmir.
Besides, LeT front organisations like the Jamaat-ud-Daawa have won public favour by providing humanitarian aid, especially after the Kashmir earthquake in 2005 and the devastating floods in 2008 and 2010.
New Delhi will be justifiably sceptical of such expressions of intent from Pakistan, after repeated disappointments in the past.
On January 11, 2002, with the Indian Army mobilised for war after the JeM terrorist strike on Parliament the month before, General Musharraf proscribed five militant groups, including the LeT and JeM. But most resurfaced quickly under changed names.
Similarly, in January 2004, Pakistan solemnly committed to 'not allow its soil or territory under its control to be used for terrorism against India.' That promise too was violated repeatedly, including in the Mumbai train bombings in 2006 and the armed LeT terrorist strikes in 2008.
Over preceding years, the Pakistan army has battled terrorist groups along the Afghanistan border, notably the Tehrik-e-Taliban Pakistan (TTP), which vows jihad against Islamabad.
But it soft-pedalled against 'strategic assets' like the Haqqani Network and the Afghan Taliban, and left the Punjabi groups like the LeT and JeM unaddressed.
Islamabad claimed it was overstretched with battling the TTP.
However, nobody considered it a coincidence that the groups that were spared happened to be useful proxies to wield influence in Afghanistan, and to strike at India.
Although New Delhi has good reason to be sceptical, a new confluence of factors makes it worth watching unfolding events in Pakistan with guarded optimism.
The first is General Qamar Bajwa himself, reputedly a bold mover.
Soon after taking over charge, Geo News quoted him as stating: 'The situation on the LoC (Line of Control with India) will improve soon.' That has proved correct.
In his initial visits to military establishments, General Bajwa has reportedly been telling his officers: 'Aap mulk ko chalaane ke baarey na sochein, aap apni nazar fauj ko theek se chalaane par hi rakhein (don't preoccupy yourself with how the country is being run, focus your attention on running the army properly).'
The tone of Rawalpindi's statements against India has moderated noticeably.
In October, the Pakistan army 'rejected absurd Indian claims of hoax surgical strikes as attempt to divert world's attention from brutalities by the Indian Army against innocent Kashmiris.'
In contrast, an official tweet last week declared: 'Gen Qamar Javed Bajwa rejects self-defeating claims by Indian COAS about "so called surg(ical) strikes" and its possible recurrence.'
General Bajwa has been ruthless is creating the space to act.
Within days of taking command, he dismantled the core team of his hawkish predecessor, General Raheel Sharif, with a decisiveness that a senior Pakistani journalist described to Business Standard as "brutal."
General Raheel's ISI chief, Lieutenant General Rizwan Akhtar, was shunted out to the National Defence University, a non-operational appointment. He was replaced by Lieutenant General Naveed Mukhtar, whose views mirror those of General Bajwa and Prime Minister Nawaz Sharif.
Already while appointing General Bajwa as COAS, Nawaz Sharif sidelined the hawkish Lieutenant General Zubair Mahmood Hayat, the powerful Chief of General Staff who was a front-runner for the army chief post.
General Hayat was potentially a dangerous power centre also because he is one of three brothers, all serving generals. He was kicked upstairs to the toothless, four-star appointment of Chairman, Joint Chiefs of Staff Committee.
General Hayat's younger brother, Major General Ahmed Hayat, a pivotal officer in the ISI, was marginalised and superseded.
Simultaneously, General Raheel's activist media chief, Lieutenant General Asim Saleem Bajwa (no relation to the army chief), was moved out to the inconsequential post of Inspector General Arms. In his place has come Major General Asif Ghafoor.
The new chief also, as is customary, switched a number of corps commanders and other posts, replacing General Raheel's appointees with trusted officers of his own.
With General Raheel himself moving to Saudi Arabia to command the 39-nation Islamic Military Alliance to Fight Terrorism (IMAFT), the decks are clear for General Bajwa.
At the apex level, there is an agreement between the key decision-makers who would face the brunt of campaign against the LeT and JeM -- Prime Minister Nawaz Sharif, his brother Punjab Chief Minister Shahbaz Sharif, and Generals Qamar Bajwa and Naved.
However, not everyone believes Nawaz Sharif has the stomach for the fight.
Pakistani journalist Cyril Almeida wrote in the Dawn recently: 'The boys (the Pakistan army) want to go in to clean up the sectarian mess and the anti-Pakistan stuff. But Nawaz can't let them... (He) can't have troops stomping around Punjab doing counterterrorism stuff.'
Pakistan's National Action Plan on countering terrorism, which was agreed to in an all-party meeting in December 2014 after terrorists rampaged through an army school in Peshawar, provides a comprehensive framework for tackling terrorism.
However, the potential repercussions of confronting jihadis in the Punjab heartland demands political will to fully implement the NAP.
Pakistani leaders remember the suicide attacks in the Punjab heartland that followed the storming of the Lal Masjid.
"From every brick of the Lal Masjid, a suicide attacker seemed to have been born," recalls a senior Pakistani official.
A tight-wire act for Pakistan's army chief will be to take on the LeT and JeM without being seen to be acting under pressure from India.
A senior Pakistan army officer warns that triumphalism from New Delhi could derail General Bajwa far more effectively than jihadi reprisals would.
The response from South Block, and from the Indian media, would be crucial.