'Here is hoping that the entirely unintended and unforeseen victims of the coronavirus, the printed papers, emerge safe and unscathed from the affliction,' says Shreekant Sambrani.
Illustration: Dominic Xavier/Rediff.com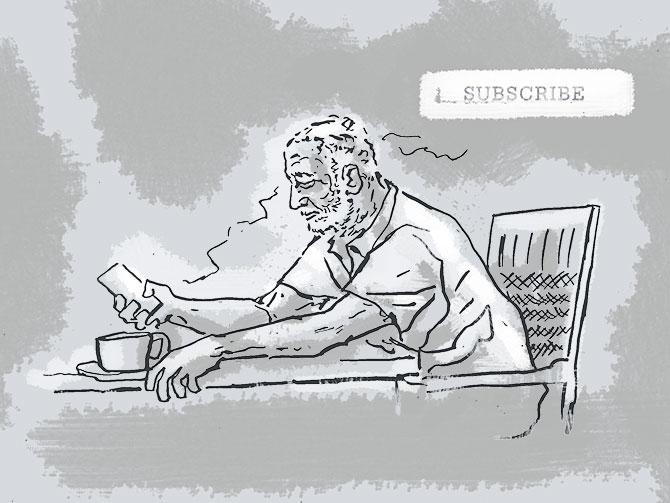 The one line I remember from the otherwise manipulative 2018 biopic Sanju is the eponymous hero mentioning in his prison broadcast how a daily fix is home-delivered to a vast number of people without raising even a single eyebrow.
He was talking about newspapers and he was spot on at least as far as this writer is concerned.
My mornings begin at 6 am, with hot coffee and a stack of papers which our kind neighbourhood vendor has delivered almost an hour before.
One of the occupational hazards of living in Gujarat is that this comforting routine is disrupted on about 10 days a year when all vendors take a holiday and local editions of papers are not published.
On March 22, I decided that it was my patriotic duty not to notice the absence of papers due to the janata curfew, or at least not feel discombobulated by it.
But two days later, the alluring smell of the newsprint was again missing on the first morning of the three-week coronavirus lockdown. And the next day and the day after.
I was chewing nails and climbing walls, being far more crotchety than my usual irascible self.
I nearly broke into a song and dance on the fourth morning when I found some -- not my entire usual complement -- papers on my doorstep.
Now they are all back, albeit much slimmer, and I am like a heroin addict on a methadone regimen.
Newspapers were an inseparable part of our growing up, and not just English papers, but those in local languages as well.
They had an aura of infallibility about them. As schoolchildren in the early years of Independent India, we took what appeared in papers as gospel truth.
My senior colleague at Indian Institute of Management, Ahmedabad, Kamla Chowdhry, had a term for this: The tyranny of the printed word! We were also told to read The Times of India carefully to improve our English language skills.
I understand that The Statesman and The Hindu were also held up as models of chaste writing.
Most leaders of the Independence movement were known also for the journals they founded -- Mahatma Gandhi and Young India, Lokmanya Tilak and Kesari in Marathi, Jawaharlal Nehru and The National Herald are among the most illustrious such associations.
They wrote fearlessly in their organs and faced sedition cases. Many other papers in the 1950s also had redoubtable linkages with political movements and parties.
The tradition of fiery editorials continued in many mainstream papers of that era. N B Parulekar got a PhD in journalism from Columbia University in the late 1920s and returned to India to establish the daily Sakal (morning) -- now with the Sharad Pawar family -- which is even today a leading paper of Maharashtra.
He wrote freely on all matters, especially international ones and addressed all global leaders in the singular, without any honorifics.
A common joke of the day had then US president Dwight Eisenhower waking up every morning with trepidations regarding what the good Dr Parulekar had written about him that day! But things are different now.
A very well-read young friend of mine is a rarity among his cohorts because he subscribes to several papers.
He says though that he sees the news stories, sports pages but seldom if ever glances at the editorial and opinion pages.
That should bring us columnists who think we are fount of all wisdom several notches down to the real earth!
The papers now are vastly different. They are narrower, fatter (until Covid hit them), more colourful and easy on the eye.
All of them -- and not just the tabloids -- have features that would have not sat well at all with their founding fathers: Celebrity goings-on and gossip, exotica, puzzles (confession: my days are not complete without Sudoku and crosswords, the harder the better), and competitions among others.
And advertisements, piles and piles of them, at times disguised as news and featured articles.
While the press is resplendent with all this pizzazz, it has lost some of its elan vital: Its reputation for accurate reporting and usage of correct, if not decorous language.
No one expected Indian papers to follow the legendary fact-checking approach of The New York Times or The New Yorker, but even well-known realities are often misreported.
Most writers are careless about dates, titles, geographies, and various other details that matter.
These errors are sometimes egregious, and the copy desk seems to function in awe of the writers. And worse, they are repeated in the on-line versions as well.
This is worrisome, because the printed word, even when wrong, gains credibility. So I tilt at these windmills.
For the last several years, I have been an enfant terrible in many editorial chambers, pointing out factual inaccuracies and incorrect use of language. I get acknowledgments, but corrections rarely follow.
No matter. I still crave my daily morning fix; e-papers, now increasingly behind tariff walls, are no substitutes.
Here is hoping that the entirely unintended and unforeseen victims of the coronavirus, the printed papers, emerge safe and unscathed from the affliction.
---
Shreekant Sambrani is an economist.