'...I have not read newspapers for quite some time,' a psychologist tells Syed Firdaus Ashraf, 'and I am perfectly normal.'
Illustration: Dominic Xavier/Rediff.com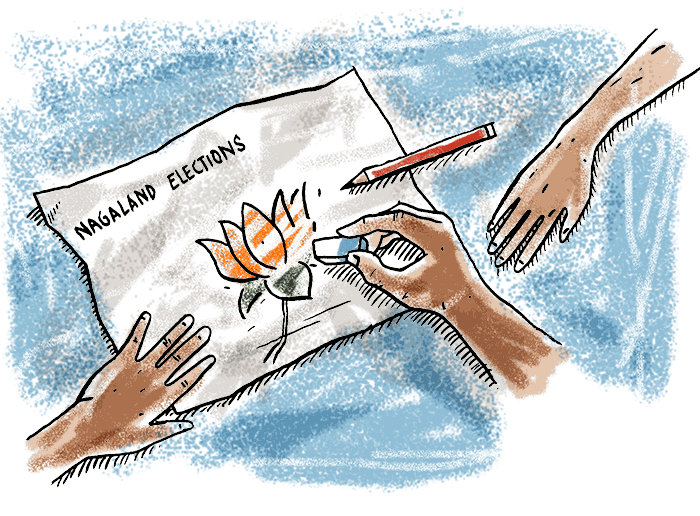 On Saturday, March 3, when most people I know were glued to their television sets and smartphones to access the election results from the north east, I was, unusually, not plugged in.
An election results day would see me flipping television channels, checking Web sites and social media, trying to keep track of the evolving story -- and if it was over the weekend, discussing the political developments with my mother-in-law.
At 9 am last Saturday, a former journalist and now a CPI-M member post-retirement called to declare that the BJP was set to lose the assembly election in Tripura as the early trends suggested.
I told him I was not watching the news because of a personal crisis and warned him not to go by early trends, reminding him how a television channel had called the Bihar assembly election in 2015 for the BJP, wrongly as it turned out.
******
Although it has been customary to discuss politics with my mother-in-law on election results day, last Saturday was different. I was with her, but politics was far from our minds.
She was discharged from hospital two weeks ago, and has been bed-ridden since.
The physiotherapist tried her best to get her moving, as did the lady nursing attendant, but nothing seemed to be working.
On Friday, the physiotherapist had told me that perhaps my mother-in-law needed a psychologist. She felt my 85-year-old mother-in-law seemed to have a mental block about walking.
On Saturday morning, the psychologist was at my home when everyone I know was engrossed in the election results.
After two hours chatting with my mother-in-law, the psychologist asked to speak to my wife and me.
She wanted to know what we did to entertain my mother-in-law. "I read the Urdu newspapers to her," I replied.
Prompt came her reply, "But that is so negative! Don't make her read newspapers. Newspapers only sell hate, it is depressing to read them."
She saw some eight newspapers lying on the table and advised, "And you too must give up reading newspapers, it will be good for you."
Before I could tell her I was a journalist, she went on. "I have not seen news channels for years and have not read newspapers for quite some time, and I am perfectly normal."
"But my mother-in-law loves to read the newspapers," I told the psychologist. "For the last 10 years I have often sat with her and discussed the news."
"Do you know what she likes to do most?" she asked me.
"In the 18 years of my marriage I have only seen her reading the Quran, praying five times a day and reading Urdu newspapers," I said.
"But you are so wrong," the psychologist said. An answer which stunned me.
She then pointed to a painting of a peacock that has been in our front room forever, noting the date on which it was made: August 15, 1962. It has been painted by my mother-in-law.
"She wanted to be an artist, but due to financial difficulties in her childhood she had to drop out of school," the psychologist told me.
It was the first time I heard about Erikson's theory of stages of psychosocial development (external link).
"Your mother-in-law is in the last phase of her life and according to Erikson it is at this stage that people question, 'Is it okay to have been me?'," the psychologist said.
She asked if I had encountered anyone in their final days and found out what they wished for.
"No, not in real life," I said, "but I have seen it in the movies."
As my wife shot me a quizzical look, I explained: "Remember, in Citizen Kane, when Kane is dying, his last words are, 'Rosebud' (external link)."
"Perhaps Kane never wanted to be Citizen Kane and just wanted to be a happy child playing on a sledge all his life. In the same way, probably your mother wanted to be an artist all her life. She never wanted to be a housewife, but we never understood that."
"The happiest moments of your mother-in-law's life were when she saw from the balcony Ganesha idols passing by," the psychologist explained. "The creative person in her wanted to draw and paint them."
"So please bring a wheelchair tomorrow, take her to the balcony and let her watch people moving about."
And before leaving, she once again insisted: "Don't let her read the newspapers, it is depressing. Instead, give her a pencil and a paper and make her sit up. Let her draw things that she wishes."
******
Later that night, when I switched on the television, I saw the BJP had won a landslide victory in Tripura and would also be part of the government in Nagaland.
The Congress was way short of a majority in Meghalaya, and it seemed that the state too would slip from its grasp.
The nurse was visibly excited seeing this, and said this was the best thing to happen to India.
"Modi is the only politician who works for the poor. The rest are looting the country," she said.
"After demonetisation rich traders came to the slums. They gave Rs 300 as a cut to each poor person in exchange for Rs 4,000 in new currency which a poor person got from the banks."
"Modi brought all these rich people to their knees. I have never such a scene in my life," the nurse said.
"These rich people were begging poor people like us. They all wanted to convert their black money into white and were begging for our help. Every poor person in Dharavi made money from the misery of rich people," the nurse laughed.
Besides demonetisation, is there anything good that Modi has done, I asked her.
"Swachch Bharat," she replied promptly.
"Come to Dharavi and you won't see children defecating on the roads. Everybody uses toilets. Though some people try to dirty the roads, people make them understand that they should keep our slums clean."
"Modi is bringing change to our lives. He is full of energy."
******
After the nurse left, my comrade friend called again, his voice soaked in disappointment that the BJP had won the Tripura election.
"The BJP got 43 percent of the vote in Tripura, the Opposition parties got 57 percent of the vote, but still the news channels are screaming that Modi has swept the state. What kind of analysis is this!" the comrade exclaimed.
The next morning, I took the Urdu newspapers to my mother-in-law and sat down to read them for her.
The headlines screamed: 'BJP schemes to form government in Meghalaya despite winning only two seats'.
The big news of the day, Tripura, where the BJP had stunned the CPM which had been in power in Agartala for 25 years, was mentioned only in passing in the Urdu press.
Perhaps the psychologist was right after all. I should stop reading newspapers.