Today, when one Kamalahaasan launches a new political outfit, vowing to cleanse Tamil Nadu polity and political administration of corruption, mal-governance and non-governance, he is pitted not only against Rajini with his commitment to 'spiritual politics', he is also pitted against the real 'Lotus' in Tamil Nadu politics, representing the ruling BJP at the Centre, says N Sathiya Moorthy.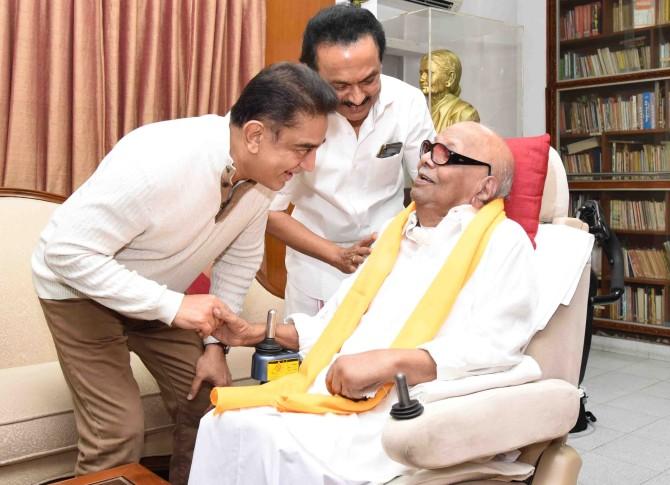 IMAGE: Kamalahaasan with DMK supremo M Karunanidhi and his son, M K Stalin, on Sunday. Photograph: Diamond Babu.
Come Wednesday, February 21, and Tamil cinema's 'supreme star' Kamalahaasan is all set to launch his new political party, announced months ago. Both before and after that announcement, Kamalahaasan has been keeping himself busy on Twitter, with occasional media appearances and comments, and a few meetings with political heavyweights, past and present, including Kerala Chief Minister 'Pinarayi' K Vijayan some months ago.
In the weekend ahead of his Madurai launch, Kamal met with ailing DMK patriarch M Karunanidhi, and also called on superstar Rajinikanth, his compatriot-cum-competitor, as much in politics now as has been in the film industry over the past four decades. He followed it up by calling on fellow-actor Vijaykanth, founder of once-promising Desiya Murpokku Dravidar Kazhagam, on Monday, and reminded media-persons later, how the latter had once said he (Vijayakanth) was senior to Kamal in politics, and hence came to seek his blessings, too.
After their Sunday meeting, Rajini said that they would chart out separate political paths as they have done in filmdom over the past decades. The last of their combined film, Giraftaar (1985) was an Amitabh Bachchan-starrer in Hindi, preceded by their last Tamil film Alavudinum Arputha Vilakkum together, years earlier, in 1979.
Today, when both actors are going their own political way, either can do with another of Alladin's 'wonderful lamp' to be able to make their way ahead in the Dravidian polity of Tamil Nadu.
The two established parties are slowly but surely closing in the perceived gaps that had appeared with Chief Minister Jayalalithaa's death and octogenarian M Karunanidhi's failing health. As the RK Nagar assembly by-election for Jaya's seat showed, where the gap might have existed, AIADMK 'rebel' T T V Dhinakaran might have already filled much of it even before the two actors entered the political scene.
After meeting Kamalahaasan, Rajinikanth told waiting newsmen that like their film career, they would also chart out separate political careers. However, after Kamal's meeting with Karunanidhi on Sunday, the latter's son and DMK working president M K Stalin indicated that they were keeping their alliance options open.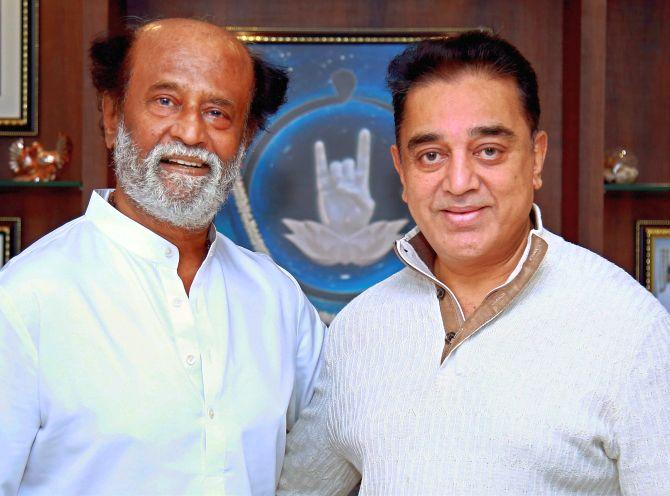 IMAGE: Tamil superstars Rajinikanth and Kamalahaasan, both nursing political ambitions, met in Chennai on Sunday.

Stalin said the DMK would wait for Kamalahaasan to announce the policies and programmes of his party before deciding on the future course. For now, the party would sent out invitations for both Kamal and Rajini to attend the all-party meeting the DMK is organising to discuss the Supreme Court verdict in the 'Cauvery waters dispute', where the Tamil Nadu polity has expressed strong reservations.
Possibly under pressure from the DMK's initiative, Chief Minister Edappadi K Palaniswami has since announced the state government's decision to convene an all-party meeting on the Cauvery issue, on February 22. If the state government decides on principle only to invite political parties recognised by the Election Commission (which is not a wrong way to proceed in the matter), Kamal's yet-to-be registered party may not find a place. The question is, if the DMK would still have a separate session, if only to honour the invite publicly extended to Kamal, when the latter had not asked for either the meet, or invite.
For now at least, the DMK, and even other so-called 'rationalist' parties of the leftist kind, seem overly concerned about Kamalahaasan's own 'rationalist' views cutting into their party base or voter base. If anything, Kamalahaasan himself should be concerned about over-doing his 'rationalist' plank as at any time in the state, any prospective electoral victor would need to carry all constituencies, of believers and non-believers, with him, especially at the start-off stage.
Even the 'rationalist' DMK had its origins in the Justice Party, whose founders were mostly god-fearing men, whose politics was more non-Brahmin in content than anti-Brahmin of the later-day 'self-respect movement' of Periyar E V Ramaswami Naicker. The DMK won on the anti-incumbency plank impacting very negatively on the ruling Congress Party in 1967, but only with god-fearing Brahmin Rajaji's Swatantra Party and the even more dogmatic Muslim League as fellow travellers.
Today, when one Kamal launches a new political outfit, vowing to cleanse Tamil Nadu polity and political administration of corruption, mal-governance and non-governance, he is pitted not only against Rajini with his commitment to 'spiritual politics', which is amorphous as spirituality itself can be. He is also pitted against the real 'Lotus' in Tamil Nadu politics, representing the ruling BJP at the Centre, which however is seen as slipping up, if not failing as yet, on the corruption grade that Prime Minister Narendra Modi had set for himself and his government, especially in the past weeks.
The BJP's slip, if at all, could be an advantage as and when Rajini floats his party, which he continues to say will happen only closer to the day of assembly polls, but not to Kamal, the actor-politician in waiting. Even without it, some in Rajini's camp hope that the BJP's 'spirituality' votes could only go to him, especially in the assembly polls, where the national party is still not seen as a serious player, as they claim Jaya used to do. The Jaya-linked observations have remained contestable, however.
The question remains: where from do the two superstars hope to gain a new constituency? If Rajini were to stick to his 'spiritual' slogan, which thus far has been interpreted by critics as 'soft Hindutva', he may lose an existing anti-Hindutva, non-Hindu fan-following, which might otherwise remain with him in his fan clubs. If Kamal were to over-stress his 'rationalism', be it in word or action (through alliance with the DMK just now), his 'secularism' might acquire a negative meaning for his 'non-pseudo secular' fans.
Yet, over-powering political trend, if any, could work for either of them, and that may also be the only way either of them could hope to climb the political/electoral ladder in a short span. For, unless the voting pattern changes, there is only around 10 per cent of the non-committed voters in Tamil Nadu who have been willing to 'experiment' with their electoral choices, in election after election, almost since the mid-'50s. The rest of the non-committed vote-bank (and it is still there) often goes with the winner (and they have the knack of smelling the victor, thus increasing victory margins than deciding the victor, in a way).
It does not stop there for Kamal especially, as he starts his political journey from the family home of former President A P J Abdul Kalam, whose death moved more Tamils, cutting across party loyalties and religious/caste identities, than anything in recent years and decades.
With or without the DMK as an alliance leader (and not definitely a junior partner under him), Kamal would have to keep looking at his back all the time, as the 'Hindutva' forces in the state have re-launched their religion-centric campaigns ahead of the 2019 Lok Sabha polls, in recent weeks and months.
Talking to newsmen after his meeting with DMDK's Vijayakanth on Monday, Kamal pooh-poohed state BJP leaders' claims that Dravidian politics had ceased in the state and that only 'spiritual politics' would succeed from now on. If anything, he was confident that he "will win with Dravidian policies" -- a reiteration of his re-assertion of his greater identification with Dravidian politics compared to any other political isms over the past decades.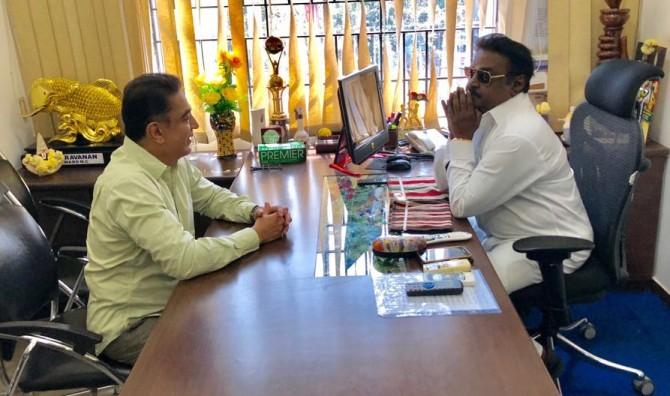 IMAGE: Capping a busy weekend, Kamalahaasan met DMDK founder and president, ex-actor Vijayakanth, in Chennai on Monday. Photograph: Diamond Babu.
That way, in recent days, BJP's Union minister of state Pon Radhakrishnan has been talking freely about multiple militant groups (all of them ideologically disinclined to Hindutva) taking roots in Tamil Nadu, as never before.
For a Union minister, whose party and prime minister are in power at the Centre, making such sweeping statements from public platforms even after Deputy Chief Minister O Pannerselvam had declared it as an 'utter lie', should be irresponsible in the eyes of the BJP's critics in the state. The minister would only have to ask Home Minister Rajnath Singh to take it up with the state government and Chief Minister Edappadi K Palaniswami at the highest levels, rather than making unsubstantiated public claims and thus vitiating the 'peaceful' political atmosphere in Tamil Nadu.
The critics may have a point, considering that general elections have been vitiated in Tamil Nadu, and has influenced polling pattern elsewhere too, twice in the same decade, not very long ago. The 'Rajiv Gandhi assassination' (1991) and the 'Coimbatore serial-blasts (1998) did influence the voting pattern after critics of the DMK rulers sought to link the party to the two events, for non-performance on the policing front.
The critics would also recall for Kamal's benefit that Rajinikanth, whose call to defeat Jayalalithaa's AIADMK in the 1996 polls gained much traction with all sections of voters, lost face and his fan clubs after his uncharacteristic way of jumping the gun and making pro-DMK noises a day or two after the Coimbatore blasts. According to them, in a similar situation, 'rationalist' Kamal may have more to lose than a 'spiritual' Rajini in electoral terms, whether or not they are aligned with each other, or with other parties.
N Sathiya Moorthy, veteran journalist and political analyst, is Director, Observer Research Foundation, Chennai Chapter.