'Jignesh Mevani has many strengths: Youth, articulation, fearlessness, proficiency with social media, political and ideological flexibility.'
'Also focus, as in targeting the BJP as the one and only enemy for now and using that justification to align with the rest,' says Shekhar Gupta.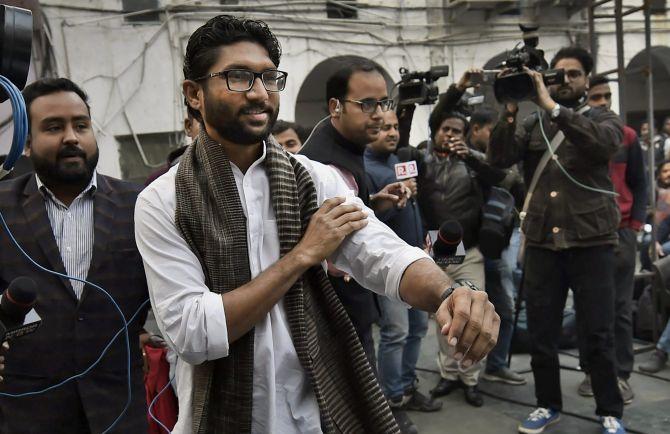 IMAGE: Jigneesh Mevani, the firebrand Dalit leader from Gujarat. Photograph: PTI Photo
Is there a new Dalit factor unfolding in national politics?
Can what has lately been described as Dalit assertion disrupt politics in a heavily election-laden season?
And if so, does the rocket have the fuel to last until May 2019, or will it fizzle and burn out before that?
Further: Does Jignesh Mevani personify this new factor?
And next, who is he in political terms, a new Kanshi Ram, or a mere fizzle like Mahendra Singh Tikait or Colonel Kirori Singh Bainsla (retd)?
The Kanshi Ram phenomenon left a deep impact on heartland politics. The other two, despite wide Jat and Gujjar support at various points of time, faded away.
Dalits are approximately 16.6 per cent of the Indian electorate. That makes them a more powerful vote bank than the Muslims.
In the pre-1989 years, the Congress could pretty much take them for granted except in some states such as Tamil Nadu, Kerala and later West Bengal.
As with the backward castes and Muslims, the Congress started losing this vote there on.
Unlike the Muslims though, Dalits never voted strategically or with a singular purpose of electing one party or keeping another out of power.
This helped the rise of the Bharatiya Janata Party.
In many key states, including Uttar Pradesh and Bihar, the Dalit vote went to parties other than the Congress which suited the BJP.
Some, attracted to Narendra D Modi, started drifting to the BJP too.
Because the Dalit vote became so divided, it lost much of its weight.
Again unlike the Muslims, the Dalit vote is so widely scattered that it lacks the same ability to shift electoral fortunes in most states, barring Uttar Pradesh.
On paper, the Dalit voter percentage is the highest in Punjab (32 per cent) but a large number of these are Sikh and political contests in that two-party state aren't really on caste lines.
At the same time, if a bulk of this vote shifts to any one side in any state, it tilts the balance.
The list of questions we posed early on, therefore, distils neatly into one: Is today's Dalit assertion and its leadership, namely young Jignesh Mevani, capable of bringing about that consolidation? That will be Disruption.
The potential rise of Mevani can check one essential box: A charismatic leader with pan-state appeal.
Since Dalits are quite evenly spread across the mainland, a party needs a leader to rally them.
Until the mid-1970s, Babu Jagjivan Ram did that for the Congress party. Since then, the Congress' failure to produce and empower a Dalit leader is its biggest failure.
We know that its Leader of the House in the Lok Sabha, Mallikarjun Kharge, is a Dalit, but he is neither empowered, nor charismatic. The BJP does even more poorly here.
India is at an interesting juncture when the minorities, Dalits and tribals do not have any key central ministries or chief ministerships, states such as Jammu and Kashmir and the north east and the symbolic Presidency excepted.
This is what creates Mevani's opportunity. The Modi-Shah BJP is astute enough to see this threat.
Further, they have the mindset of an all-conquering superpower, so they would like to finish a likely threat as early as possible.
Mevani rose in the wake of the Una atrocity, as a limited, local, Gujarat phenomenon.
Given that the Dalit population in that state isn't particularly large, wasn't taken seriously as a political player. His initial politics seemed overwhelmed by a JNU-ite ideology that abhors electoral politics.
This changed once he decided to contest. Then he aligned with a national party, in fact the most bourgeoisie party of all.
As an MLA in Gujarat, he counts for many more than one. It also gives him the legitimacy to take the message to other states. He began with Maharashtra earlier last month.
Mevani has many strengths: Youth, articulation, fearlessness, proficiency with social media, political and ideological flexibility.
Also focus, as in targeting the BJP as the one and only enemy for now and using that justification to align with the rest.
He also has some weaknesses. He comes from a smaller state, still carries the weight of a pronounced Left tilt that never works in the mainland outside of the Republic of JNU and a couple of other central campuses.
There is, however, a precedent of a Dalit leader like him hailing from a smaller state but building a formidable politics in India's largest: Kanshi Ram.
Kanshi Ram, a Punjabi (from Rup Nagar or Ropar district near Chandigarh) also appeared on the scene from an unconventional place.
He was a scientist in a Defence Research and Development Organisation lab, started reading Ambedkar and built a pan-national union of scheduled caste, backward and minority employees, BAMCEF (the All India Backward SC/ST/OBC And Minority Communities Employees Federation).
We saw him initially as a headline-hunter.
In the unstable late-1980s he brought together diverse groups, including Sikh separatists, on his platform and attracted crowds.
But nobody saw him as more than a nuisance. Soon enough he had outgrown and dropped them, much as Arvind Kejriwal dropped Anna Hazare, and Mevani, if his politics has to grow, might have to dump Umar Khalid.
As Kanshi Ram realised 30 years ago, there's no Dalit politics unless you are rooted in the heartland, and it can't grow in conflict with nationalism, or even religion.
Neither he, nor Mayawati dissed Hinduism or converted to Buddhism.
As he would tell us at his baithaks, his 'fight was not with Hindu gods, but with Manuwadis' who denied them to Dalits.
Why would we leave our gods to them, that's what they want, he would say.
And Gautam Buddha? The Manuwadis will simply put his busts in their temples as one more to their pantheon of 'teytees karod' (330 million). 'Kya farak padta hai ek aur se?' (How does one more make a difference?)
His first big political arrival was in the historic Allahabad by-election in the summer of 1988.
V P Singh had resigned from Rajiv Gandhi's Cabinet and the Lok Sabha, accusing him of accepting kickbacks in the Bofors deal and was seeking re-election from Allahabad, vacated by Amitabh Bachchan, in the wake of the same scandal.
It was our first exposure to his kind of plain-speaking Dalit politics.
'You've lived like animals for 40 years,' he would say, 'I have come to make you human.'
Three things, however, stood out in the campaign and the politics he constructed later, installing his protege Mayawati in power thrice in Uttar Pradesh.
One, he dumped anybody seen even vaguely to be a separatist, from Simranjit Singh Mann to Subhas Ghisingh.
Second, that he repeatedly stated the nationalist and martial credentials of his family: Eight ancestors in World War I, two in the second and two para commando cousins killed in Operation Bluestar.
His campaign was organised on military lines: Painting brigade, pamphlet brigade, even a begging squad whose members went to Dalit bastis with cans to collect small change as contributions.
The money doesn't matter, he told us. It's just that 'once a sweeper gives us a rupee, he will reject a thousand from the Congress to vote for them'.
The third, and the most important, he spread the tent wider, attracting other groups under the definition of Bahujan Samaj.
That's how he created the slogan, vote hamara, raj tumhara/nahin chalega, nahin chalega (Our vote and your rule? Won't work, won't work).
Later, he and Mayawati realised that to get power they had to co-opt the Muslims and some upper castes too.
This is what brought them power. It isn't an easy playbook, but it's a playbook nevertheless.
Kanshi Ram was a single-minded political genius, a kind of Dalit Kautilya with Mayawati as his Chandragupta.
Does Mevani have the same skills, talent, single-mindedness and ambition to shift to the heartland? We don't know yet, but it explains to you why the BJP and the conservative Hindu elites worry about him.
By Special Arrangement with ThePrint.