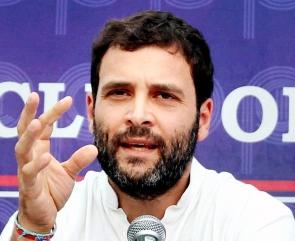 If we have to elect Rahul Gandhi to rule the country because 'secularism', of all things, dictates it, we are strengthening the ugly aspects of the dynastic system of democracy that has come to infect India's body politic deeply, says Jaya Jaitly.
Staunch 'secularists' are being trapped in a dilemma when they oppose the Bharatiya Janata Party bid to hand Narendra Modi the leadership of the country after the next general elections. This article is not aimed at supporting Modi, but questions those who demonstrate their secularist credentials by regularly attacking him, without logically going any further.
One may dislike a person, but when commenting from a political standpoint one cannot avoid offering a solution or an alternative. To that extent the 'right to reject' is a purely negative reaction without indicating what or who could be better. Most intellectuals and senior journalists who claim to be part of the intelligentsia of India avoid taking a positive stand.
After the recent shenanigans of Rahul Gandhi are roundly criticised they tend to go into the NOTA mode provided recently by the Supreme Court. If such persons encourage a "pox on all leaders" attitude it hardly helps in electing a suitable leader in a realistic context.
There can be many alternatives to Modi in a democratic country where everyone is free to practice politics, speak freely, be in a political party, and even be a leader of the people. With nearly 50 registered parties and many unregistered ones, the field is always open. Important states are led by party leaders who are not part of the BJP, or even the Congress for that matter. All intelligent political analysts know that at present the options are the Congress, the BJP, alliances headed by one of these, or a third, fourth or fifth front that comprises of permutations and combinations of various smaller parties, depending on the number of seats they win.
Such persons would also know that in the present standoff between them all, the main spaces are likely to be taken by the Congress or the BJP considering their organisational structures and spread of a national support base. Therefore, the qualities of the Congress leader must be examined and then accepted or rejected openly by eminent intellectuals whose statements appear regularly at 'secular' gatherings denouncing Modi.
There is no time for coyness if one wants to be intellectually honest. If someone like Modi is unacceptable let us see what qualities are required of an alternative: a leader of a complicated and densely populated, often chaotic nation with multi-layered histories, cultures and communities, fault lines and deep problematic needs.
A mature understanding of 'politics' is essential. This means many things, but this primarily requires vision born out of experience, wisdom and struggle, a deep sense of connection with the Indian people, a sound understanding of governance, good judgement and teamwork. Whether in a party or in a coalition it also requires the ability to persuade and win over colleagues and opponents on issues, policies and programmes. The person needs confidence demonstrated by being able to communicate effectively with people in an inspirational and convincing manner, and the courage to face adversity and take responsibility at all times.
This may be idealistic, but unless politics is based on idealism, even if the path to reach goals inevitably requires practical realism, we are doomed from the start.
The Congress party has proclaimed Rahul Gandhi as its leader since the dynastic stranglehold has made it impossible for anyone else to risk offering a name that is not Nehru-Gandhi. Perforce, we have to examine his qualities of leadership, responsibility, mental acumen, and other aspects. Since he is well over 40 years old he cannot be called a 'youth' leader just because others are in their eighties.
He has been elected to Parliament by retainers of a pocket borough held by the family but this has been out of loyalty and habit rather than acceptance of demonstrated qualities. With this particular family, the rule has been to allow them to lead the country and learn (if possible) on the job.
This was tried with his father Rajiv Gandhi with both disastrous and tragic results for the nation. Sonia Gandhi rules from behind curtains and is safely not held accountable for any decision she has influenced. Rahul Gandhi occasionally tours the country exploring facets of poverty afterbeing elected rather than having solutions beforehand to make him worthy of being elected, as if political wisdom is in his genes. He has randomly anointed himself a soldier of farmers, tribals, and Dalits and fallen silent thereafter. His one intervention in Parliament about the Lokpal Bill was pre-written, read out and braggingly called a game changer by himself. It went nowhere. He huddles with his confidants in the back row of Parliament with no involvement in the issues being discussed.
We have no idea whether he has any ideas at all, and we know he has no experience in governance. Partying and holidaying abroad regularly take up his time, while his party followers at home celebrate by feeding each other sweets. His real youth was spent studying inconclusively in various institutions under a false name and under heavy protection. The business he was supposed to be running as a major consultancy was a non-existent space in Mumbai that appeared and disappeared on the internet. His pedigree was allowed to come in the way of investigation of and information on any of these matters to which the Indian public is entitled. His citizenship is also a dual one, due to the foreign nationality of his mother, while Indian law does not accept such a status.
Ignoring all the above, we have the prime minister of India going so far as to declare that he would not mind working under him. It did not need much time for him to realise the frightening consequences of his declaration. The heir apparent demonstrated it before the whole world when he barged into a press conference of a minister of the government who was defending a decision of the Union Cabinet and tore into the decision of taking the ordinance route to protect convicted members of Parliament from losing their seats till the highest court of the land pronounced their guilt.
Rahul Gandhi demonstrated the extent to which his family has been blinded by the belief that it has the divine right to rule, needing to follow no protocol, procedure, discipline, respect for constitutional authorities or decency to be followed when engaging in politics. It has been repeatedly said that he had ample, if somewhat illegitimate, opportunity to oppose and influence the actions of the government and even the cabinet if he so wished.
To bulldoze a formal occasion with his 'personal' views clearly showed him to be an unstable, immature and discourteous 'leader'. If this is the kind of leader offered to rule the country because 'secularism', of all things, dictates it, we are strengthening the ugly aspects of the dynastic system of democracy that has come to infect India's body politic deeply.
Let us not forget that it was this very same dynasty that destroyed India's democracy during the Emergency in the first place.
Jaya Jaitly is a senior politician and former president of the Samata Party.