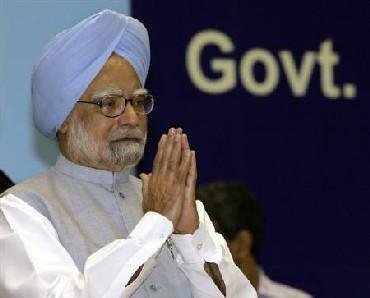 There is no doubt: Manmohan Singh must resign. Not merely because he has been humiliated, but because the persona of the PM has been sullied beyond measure, says Amberish K Diwanji
It is absolutely nonsensical of Rahul Gandhi's to walk up one fine day to a press conference being held by his party colleague Ajay Maken, stage a coup de conference, and call the ordinance "complete nonsense" that should be "torn up and thrown away".
It would appear that he is not even telling the truth because Maken had just minutes earlier said the ordinance was the result of the collective wisdom of the top Congress leadership including the likes of Sonia Gandhi, Rahul Gandhi, and Prime Minister Manmohan Singh.
There are many things wrong with what Gandhi has done, and for a man who swears by consensus in leadership, his public statements have weakened the United Progressive Alliance government in general and humiliated the prime minister in particular. Ideally, Dr Singh should resign.
First, an ordinance of this nature could NEVER have been issued merely by the government or the administrators. Such an ordinance is a political statement. Its timing, the fact that it sought to overturn the decision of the Supreme Court, leaves no doubt that the political top brass were involved, or at least should have been involved. Thus, it is highly unlikely that Rahul Gandhi was unaware that the cabinet of the UPA – which is led by the Congress party, of which he is the vice-president and thus de jure (and no doubt de facto) the second most important leader – was issuing the ordinance. After that to behave like he had no idea only reveals his weakness: to save his image, Rahul is willing to hang out his entire government. This isn't leadership, this is craven populism.
Second, let us even assume that Gandhi, for some reason or the other, was actually unaware about this ordinance being issued. To be honest, that is even more worrisome. How can the second most important person in the government's largest party not be aware of what steps his government is taking, or that he is being kept in the dark about the steps as important as the ordinance (an ordinance is not some administrative order inviting a cultural troupe to Delhi). Should not he be aware of what is going on, should he not be kept informed? This is the age of information. Surely Rahul Gandhi carries a mobile to which an SMS can be sent updating him on the measures his party is taking to keep some allies out of jail. If not then how can he even be called a leader?
Third, the ordinance was issued on September 24 and Rahul thrashed it on September 27. In this gap of three days, a number of articles had appeared in different media all over India blasting the government's move. Rahul's sudden move criticising the ordinance smacks of sheer political opportunism; seeing the backlash the ordinance was generating in the two days between the issuing of the ordinance and his statement, aware that the people were really pissed off at the UPA government's shocking hypocrisy that promises clean politics yet does everything in its power to shield the corrupt, he decided to gate-crash the press conference.
In doing so, Rahul might believe that he will appear as the knight in shining armour, still committed to the cause of clean politics above the mundane and pettiness it has sunk to, but alas, in this case, his latest misstep has only shown that to protect his own image, Rahul will stoop to any level, go down to any depth, even if it means humiliating the prime minister just before the latter was due to meet US President Barack Obama.
That Rahul Gandhi's statement are extremely humiliating for the PM is without doubt. That might explain why a worried Rahul quickly fired a letter to the PM, saying among other things, '…You know that I have the highest respect for you and I look up to you for your wisdom…' Frankly, Gandhi's statement does not show an iota of this "highest respect" for the PM. What it actually shows is his utter disregard not just for the prime minister as a person but for the very post of prime minister. Rahul Gandhi has not just humiliated Dr Manmohan Singh, but he has humiliated the post of PM, India's most important political post.
There is no doubt: Manmohan Singh must resign. Not merely because he has been humiliated, but because the persona of the PM has been sullied beyond measure. Over the last nine years, Singh has borne every insult stoically. He has watched his economic liberalisation torn to tatters by overspending for electoral gains; while honest himself, he has been forced to defend some of the most dishonest men the country has seen, and now, he has been told by a young, callous man that his ordinance, no doubt issued on the orders of the young man's mother, is "nonsense".
Enough is enough. Dr Singh, please resign. At this stage you will have the sympathy of the whole of India. If you don't, the whole of India will mock you.