He had come in search of jobs in America to rescue his presidency and India failed him in more ways than one, observes Ambassador T P Sreenivasan.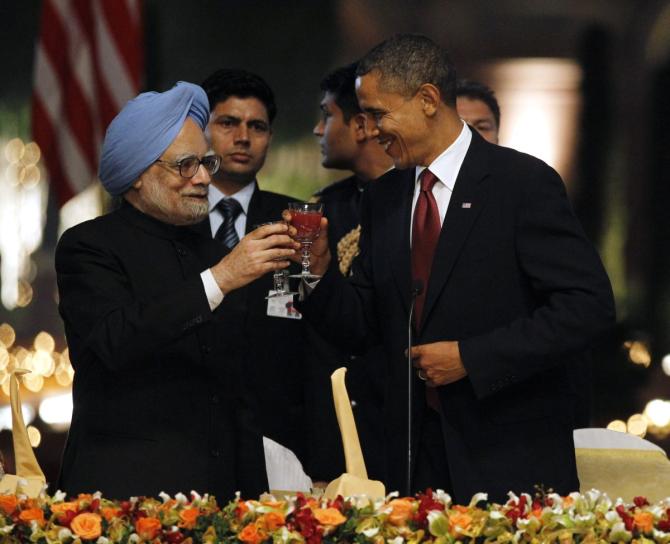 Barack Obama's undiplomatic reference to Rahul Gandhi, appreciative words about Manmohan Singh, indifferent comments on Sonia Gandhi and fulsome praise of India in his new book, A Promised Land have to be seen in the context of his disappointment over his first visit to India in 2010.
He came not in the flush of victory, but in the middle of his first term when his economic agenda had not succeeded and the unemployment level was reaching such critical figures which had proved dangerous for previous American presidents who sought re-election.
He had come in search of jobs in America to rescue his presidency and India failed him in more ways than one.
'The primary purpose is to take a bunch of US companies and open up markets so that we can sell in Asia, in some of the fastest-growing markets in the world, and we can create jobs here in the United States of America,' Obama said before he left for India.
It was hoped that multibillion dollar defence deals and other commercial agreements would be signed.
India was expected to spend at least $52 billion on new fighters, artillery systems, transport planes and helicopters in coming years.
US officials were hoping for measures ranging from reforms of ownership regulations to changes in intellectual property law, which would ease access to Indian markets.
In return for the expectation of such huge economic gains, Obama carried several goodies that India was bound to relish.
Obama's statement in Parliament on India's candidature for a permanent seat on the United Nations Security Council was non-committal.
But his statement, 'I can say today in the years ahead, I look forward to a reformed UN Security Council that includes India as a permanent member,' was a diplomatic gesture to demonstrate that the US fully backed New Delhi's rising influence and stature on the global stage.
He must have been advised that, while the expansion was unlikely to happen anytime soon, this would be the best way to please India.
Other measures that Obama unveiled, like easing of export control on Indian organisations and support for Indian membership in non-proliferation groupings like the Nuclear Suppliers Group and the Missile Technology Control Regime, are more likely to have a concrete and near-term impact on India's relationship with the global non-proliferation regime as well as its ability to fill its high-tech defence, nuclear and space requirements.
These steps demonstrated in very concrete terms that Obama will carry forward the George W Bush legacy of incorporating India as a legitimate and responsible member of the global non-proliferation regime.
Behind such a move, there was also expectation that the promise given by India of nuclear imports worth $10 billion would also materialise.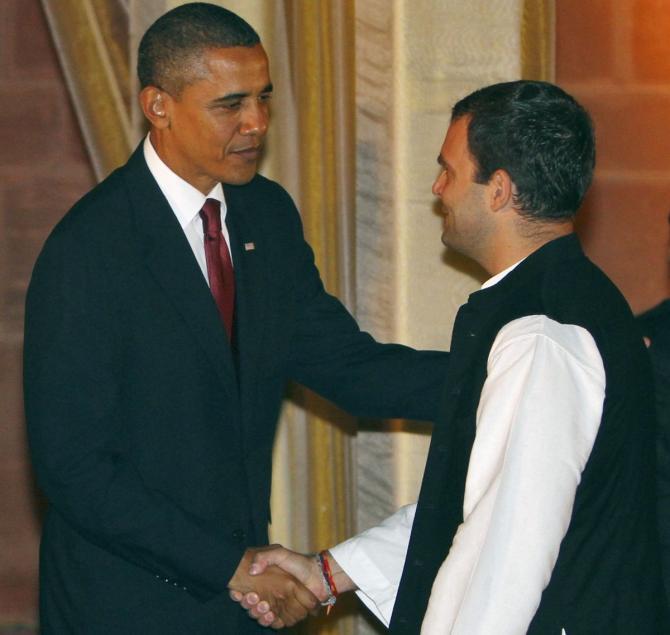 But in the period between his visit and the US presidential elections in November 2012, the ministry of defence announced in January 2012 that Dassault Rafale had won the contract to supply the Indian Air Force with 126 Rafale aircraft, rejecting the US offer of F-16 and F-18 aircraft.
The passage of an Act by Parliament to shift civil liability for nuclear damage and prompt compensation to the victims of a nuclear incident to the supplier blocked American nuclear trade with India.
Obama's hope that creation of jobs on account of the Indian deals would strengthen his position in the elections was belied even though he won re-election.
In assessing that period, with his happier experience he had with Narendra Modi later, he found a way to reflect in his book his basic admiration for India, respect for Manmohan Singh and his frustration over his failed mission.
Those who announced with glee that Modi is not mentioned in the book must know that Obama may not have even heard of Modi in 2011, the year in which the period of the memoir ends.
Obama had adopted DR Singh as his guru during the difficult negotiations on the global economy in 2008-2009, but his comments on him are not of adoration, but of restrained appreciation.
'While he could be cautious in foreign policy, unwilling to get out too far ahead of an Indian bureaucracy that was historically suspicious of US intentions, our time together confirmed my initial impression of him as a man of uncommon wisdom and decency; and during my visit to the capital city of New Delhi, we reached agreements to strengthen US cooperation on counterterrorism, global health, nuclear security, and trade,' Obama writes.
'What I couldn't tell was whether Singh's rise to power represented the future of India's democracy or merely an aberration,' he said.
'As for Rahul, he seemed smart and earnest, his good looks resembling his mother's. He offered up his thoughts on the future of progressive politics, occasionally pausing to probe me on the details of my 2008 campaign,' he wrote.
'But there was a nervous, unformed quality about him, as if he were a student who'd done the coursework and was eager to impress the teacher but deep down lacked either the aptitude or the passion to master the subject,' Obama said.
On Sonia Gandhi, the memoir says how 'we are told of the handsomeness of men like Charlie Crist and Rahm Emanuel, but not the beauty of women, except for one or two instances, as in the case of Sonia Gandhi.'
'It became clear to me, though, that her power was attributable to a shrewd and forceful intelligence.'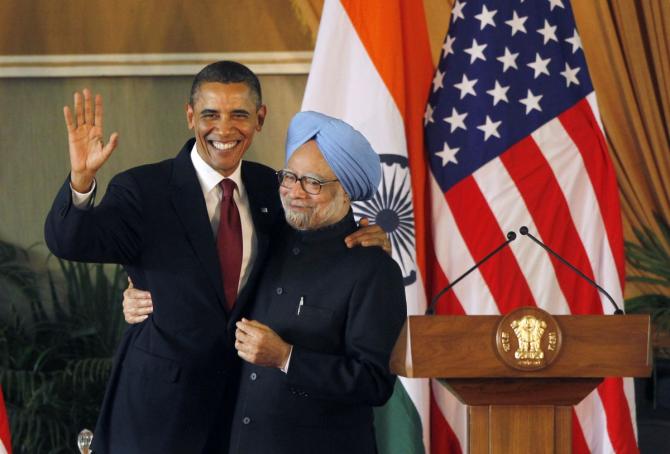 He is quite critical of the India of 2010 in the book.
Across the country, millions continued to live in squalor, trapped in sun-baked villages or labyrinthine slums, even as the titans of Indian industry enjoyed lifestyles that the rajas and moguls of old would have envied, Obama writes.
'Expressing hostility toward Pakistan was still the quickest route to national unity, with many Indians taking great pride in the knowledge that their country had developed a nuclear weapons program to match Pakistan's, untroubled by the fact that a single miscalculation by either side could risk regional annihilation,' he notes.
Obama also writes on Manmohan Singh's elevation as prime minister, sometimes heralded as a hallmark of the country's progress in overcoming sectarian divides, was somewhat deceiving.
The first volume of Obama's memoirs covers a period when the second UPA government was unable to follow up the India-US nuclear deal because of its own preoccupation with internal problems.
The second volume can be expected to reveal the story of how India-US relations made substantial progress between 2014 and 2016.
T P Sreenivasan, (IFS 1967), is a frequent contributor to Rediff.com and his fascinating columns can be read here.
Feature Presentation: Aslam Hunani/Rediff.com