'Why does Mr Modi only attack Nehru from the Dynasty?'
'At one level, it is pure politics,' notes Shekhar Gupta.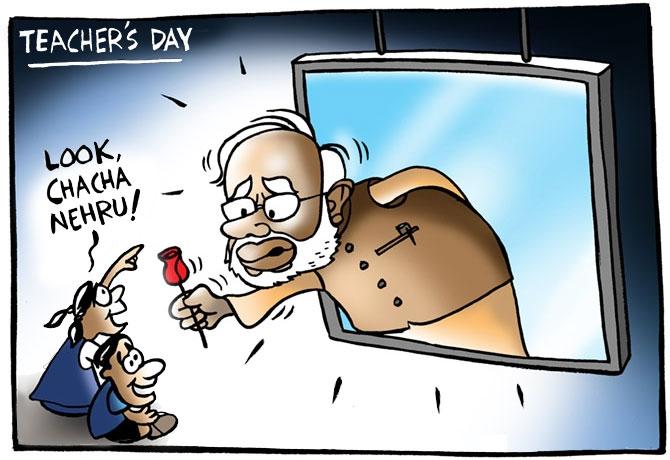 Does Narendra Modi suffer from some exotic neurological condition we might call Nehruitis?
Is he nuts to mention his name 23 times in his 100-minute reply to the Motion of Thanks to the President's address?
And is he distracted to exchange banter in the old, healthy if robust style of parliamentary debate with others in the Congress but pours only scorn at Rahul Gandhi, whom he doesn't even care to name, or rather takes special care to not name?
The answer to all three questions is a clear NO.
Then, why is he acting the way he is, and for years now? Far too many of his critics among social media influencers routinely mock him whenever something goes wrong under his charge to say, it must be Nehru's fault again.
Mr Modi couldn't be bothered.
We should have included a fourth question to the three I listed above.
But I deliberately left it for later. So, read along with me for a bit.
Check out all of Mr Modi's statements, whether casual, delivered in the campaign heat or set-piece as in Parliament.
Nehru is a recurrent theme. The 23 mentions this time attracted attention, but in the course of any year since 2014, I will be surprised if he hasn't mentioned it at least a hundred times, if not more.
He even dragged Nehru in his 2018 Karnataka election campaign by accusing him of having humiliated respected then army chief General K S Thimayya, who happened to be from the state -- a Kodava or Coorgi, in fact.
When you mock or taunt Mr Modi by calling something Nehru's fault, he doesn't mind it.
He probably believes it is. Everything that has gone wrong with India, and continues to go wrong, from Kashmir to China to the public sector to unemployment, in his worldview, is indeed Nehru's fault.
I am not being snarky.
The biggest mistake we old-style pundits make in analysing the Modi-Shah BJP is to apply old and familiar references and, even if I so detest that word, paradigms.
The Modi-Shah BJP isn't one of a kind, or sui generis.
It is the real thing -- BJP, Jana Sangh, RSS, whatever you choose to call it.
What we saw under Atal Bihari Vajpayee and L K Advani was an aberration.
Like us old watchers of Indian politics they too were working in that old paradigm.
Vajpayee would call it inclusive and liberal.
Mr Modi and Mr Shah come from the school that calls it Nehruvian, and not with admiration or nostalgia.
It is the genuinely -- and deeply-held -- belief in the RSS that Nehru never deserved to be given charge of India in 1947.
He grabbed it by manipulating Gandhi and Lord Mountbatten and denied it to Sardar Vallabhbhai Patel.
And once he usurped power, he designed the new Republic in his own worldview, preferring Emperor Ashoka, his edicts and symbols for governance and his Buddhist pacifism over the more war-like and successful Chandragupta Maurya, and Kautilya's Arthashastra as the treatise for governance.
To sum up, Nehru 'deviously' cast new India in a non-Hindu image.
This led to a whole range of problems, from minority appeasement to the neglect of the military, slavery to Western thought, economic models, and so on.
Of course, an entire Nehruvian intellectual ecosystem grew around him to dominate India's thought for seven decades.
For Mr Modi, Mr Shah, and their generation of BJP leaders, almost all of whom emerged from a non-English speaking, non-Westernised environment, this is an article of faith.
That is why Mr Modi isn't faking it when he makes 23 critical references to Nehru in one speech. He speaks from deep inside his heart.
It is a particularly interesting time also for Mr Modi to shift the focus on Nehru.
Three substantive books released over these few weeks have revived some prickly old questions.
The latest, V P Menon, the Unsung Architect of Modern India, by his grand-daughter Narayani Basu, asserts with much documentation that Nehru had indeed excluded Patel from the list of his first Cabinet members.
He relented only after Menon alerted Mountbatten, who intervened.
M J Akbar, who wrote an admirer's biography of Nehru (Nehru: The Making of India) decades ago, has also published his latest (Gandhi's Hinduism -- The Struggle Against Jinnah's Islam), making the same point with much documentation and research.
These two come on top of Congress leader Jairam Ramesh's biography of V K Krishna Menon, where Nehru comes across as a waffling romantic on national security and civil-military relations.
The exhuming and a fresh appraisal of Nehru and his era is very much the flavour of the fortnight.
Mr Modi isn't about to miss out on that.
But, is that all there is to Mr Modi's Nehru fixation? An obsession with what he and the RSS have always seen as follies and injustices of his times?
One thing we know about Mr Modi and Mr Shah is that they aren't driven by pure sentiment, or waste their time reviving old debates for sheer intellectual and political pleasure.
This brings us to the fourth question we held back from you so as not to give the larger political argument away.
Notice three more things that remain consistent in Mr Modi's political messaging since 2014.
One, he almost never attacks other members of the Nehru-Gandhi dynasty.
He ignores Rajiv Gandhi as if he didn't matter.
Even more important, he is always careful not to attack Indira Gandhi.
He does invoke the Emergency often, but is careful not to take on the senior Mrs Gandhi.
The reasons are easily seen in political logic.
Of all the Nehru-Gandhis, she is still the most popular -- see the number of buses that bring people from all parts of the country, especially the south, to her old 1, Safdarjung Road residence, which was converted into a memorial after she was assassinated there.
The second, and I speculate here, Mr Modi probably secretly admires her, for the command she exercised over her party and government, the international respect she commanded and for her dismemberment of Pakistan.
This is why she is the one Nehru-Gandhi he'd rather not mess (or take panga) with.
The second point, you see him constantly praise other leaders of the Congress through those decades, and not just Patel.
Lal Bahadur Shastri has now been pretty much adopted as an RSS icon, the next Patel.
He found friendly mention in Modi's speech more than once.
Further, while he wouldn't ever engage with Rahul and treat him as just that someone who cannot be named, he reaches out to other leaders of the party.
He threw friendly barbs at Adhir Ranjan Chowdhury, a wisecrack of sorts at Shashi Tharoor, praise for Ghulam Nabi Azad, and engaged Digvijaya Singh in competitive poetry.
He even complimented Manmohan Singh as a great personality and scholar.
And third, he keeps paying compliments to other contemporaries of Nehru and his critics, particularly Ram Manohar Lohia.
For us, this answers our fourth question, why does Mr Modi only attack Nehru from the Dynasty? At one level, it is pure politics.
He believes the Congress rests on the Dynasty, which in turn is rooted in the widely respected Nehruvian universe.
If he can chip away at that, the Gandhis would decline, so also their inherited ideology and their party.
Other leaders, smaller Opposition parties, he can handle piecemeal.
In the process, he will also create space for himself and his successors to recast India in the RSS way of thinking, from Nehru's 'muddled' Ashokan State into a 'virtuous' Kautilyan one.
By special arrangement with The Print
---
Shekhar Gupta is the editor, The Print.