'If only Cariappa/Thimayya/Chaudhari/Manekshaw were given a free hand, there'll be no PoK, the Chinese would have been taught a lesson, 1965 would have slain the Pak demon and in 1971 just another fortnight's fighting after Bangladesh and West Pakistan would have been occupied.'
'No authoritative military account suggests anything remotely like any of these...'
'...Chronologies, names, even periods get mixed up, but, never mind, because the point -- strong Army denied by cowardly Congress -- is made.'
'This is where Modi is coming from,' points out Shekhar Gupta.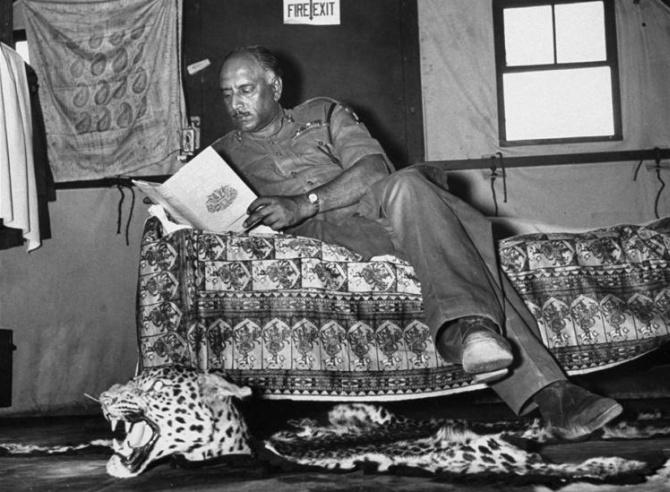 IMAGE: The legendary General K S 'Timmy' Thimayya
The prime minister mixing up military history is between him and his aides.
If only they had checked Wikipedia they would have known that (the then) General K M Cariappa (not General K S Thimayya) became the first Indian Army chief on January 15, 1949, and that is the reason it is celebrated as Army Day.
General Cariappa was just 50 (born 1899) when he took over. They made much younger chiefs then.
That history can get you in a twist partly because of rapid developments that were taking place.
For clarity: Both the Indian and Pakistani armies were led by British commanders through the 1947-48 campaign. They often exchanged notes with each other as the fighting went on.
As if that wasn't complicated enough, the operations on both sides were handed over to 'native' commanders dealing directly with the political leadership.
India picked Cariappa to lead the Kashmir campaign. Then a lieutenant general, he was made to head the Delhi and East Punjab command. He promptly renamed it the Western Command.
Confusion arises because Cariappa, in turn, hand-picked a fellow Coorgi, Major General K S Thimayya, coincidentally the initial 'K' in both their names stands for Kodandera, their common clan.
Cariappa sent Thimayya to command the Kashmir (later 19th) division, which did the crucial fighting in the early months. The Coorgis (or Kodavas) are a small and super-successful ethnic group.
In the fifties, these names were both unfamiliar and similar-sounding. Both worked together, earned well-deserved heroism in the Kashmir campaign, and became chiefs.
Thimayya, unlike Cariappa (whose defence minister was the genial Sardar Baldev Singh, whose name preceded Santa-Banta for the good-hearted joke industry), had run-ins with his defence minister, V K Krishna Menon.
Menon, a deep-crimson Communist, detested the starched, Anglicised Army brass.
Thimayya had no patience with his minister's constant interference. The late Inder Malhotra, among the finest chroniclers of those years, recounted the delightful story of how Thimayya once wanted to take leave to avoid another inevitable face-off with Menon and his aide asked him what he should mention as the reason.
'Just say I have a touch of Menongitis,' Thimayya said.
Thimayya resigned in angry protest in 1959, only to be persuaded by then prime minister Jawaharlal Nehru to withdraw and complete his term in 1961.
All this, and the quaint Coorgi coincidence can confuse ordinary folk. But how can it also get the prime minister and his office mixed up? We might have a plausible hypothesis.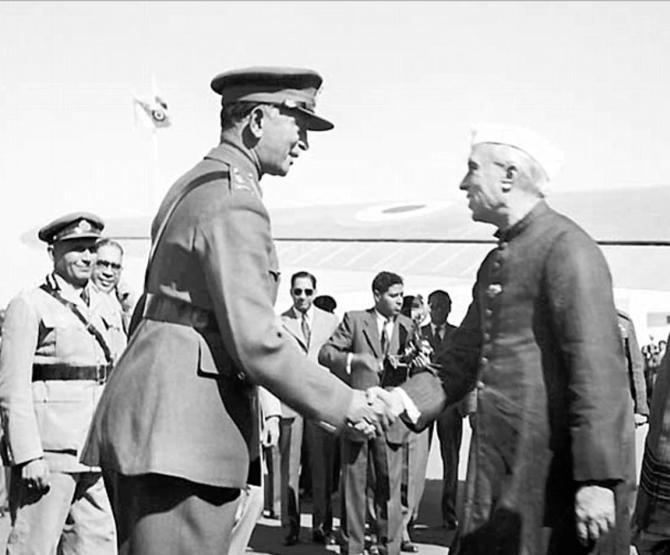 IMAGE: General K M Cariappa greets Prime Minister Jawaharlal Nehru.
Our history of 25 years after Independence is marked with wars, large ones with Pakistan (1947-48, 1965 and 1971) and China (1962), and small ones in Hyderabad (1948), Goa (1960) and again China in Sikkim's Nathu La, 1967.
Barring 1971, none of the major ones was a clear Indian victory. The one of 1962 was a clear defeat, 1965 was a tired stalemate and 1947-48 was an unfinished business.
A belief-set has been consistently built through decades by the political class that the army could have done much better if it wasn't let down by the political leaders of the day.
To say that the politicians swallowed this poison to cover for the armed forces is an oversimplification, but only because they had no choice.
These were the post-colonial world's perilous decades. Democratic institutions were still forming up and the armies were taking over, notably next door.
The political class, led by Nehru, had many anxieties when civil-military equations were still evolving. The challenge was establishing civilian/political pre-eminence.
At the same time, a civil-military tension was to be avoided. Small fact: General (Later Field Marshal) Ayub Khan, who grabbed power in Pakistan in 1958, had served as colonel under Cariappa in his brigade in the Frontier.
A strategic doctrine of politico-military story-telling, therefore, was built over these years. That the armed forces and their commanders could do no wrong.
All blame for setbacks, or a lack of success, was to be taken by politicians.
Of course, success would be shared, as Indira Gandhi did after 1971. This hasn't changed since.
Kargil, 1999, was more a failure of the military leadership than of the Atal Bihari Vajpayee government.
How did the Pakistanis manage to come in so deep, dig in across such a large frontier, undetected?
Once again, a convenient (but necessary) mythology was created. The blame was parked with civilian intelligence, very few in the army leadership were called to account, and all we now remember are stories of heroism and victory.
Because the doctrine of quarantining the armed forces from any criticism was, and is, vital.
The armed forces have institutional continuity, so blaming individual leaders would bring the entire institution into disrepute.
Politicians will come and go, usually replaced and always criticised by rivals.
Probably the most authentic account of these fateful decades is in a recent publication: Army and Nation: The Military and Indian Democracy since Independence by Yale professor Steven Wilkinson.
He describes these tensions in a manner most Indians -- including, honestly, this writer -- would be afraid to. He writes, for example, of the anxiety the politicians had over the army's domination by the Punjabis, and the steps they took to widen its base, finally leading to Babu Jagjivan Ram's landmark decision to bring state population-based recruitment quotas.
Not all states fill up their shares and these devolve on others. But the fake colonial 'martial races' theory is being systematically rolled back.
By the way, the state to take the largest share beyond its own quota isn't one the British or even the ethos we inherited considered particularly martial. It is Kerala.
Accounts by Wilkinson and other chroniclers all tell us that one reason India was able to rebuild its military after Krishna Menon's eccentric depredations and the disaster of 1962 was also two sagacious defence ministers during the warring 1962-1971 decade, Y B Chavan and Jagjivan Ram.
You never heard them blame any generals. Generals Thapar and B M Kaul took the rap for 1962, but mostly it was blamed on a politician, Krishna Menon's door.
It was Y B Chavan who took the call to classify the Henderson Brooks-Bhagat report and keep it from Parliament.
Not because it would have exposed any secrets to the Chinese, but because it was critical for the army's performance and leadership and ran contrary to the Haqeeqat-ised victimhood version (as immortalised by Chetan Anand's film by that name), laced with Lata Mangeshkar's Ae Mere Watan Ke Logon.... Fifty-six years later, it is still classified.
Through the decades, a spiced up, hyper-nationalist version of this history was built: That the generals were always doing the right thing but the politicians came in the way.
It goes like: If only Cariappa/Thimayya/Chaudhari/Manekshaw were given a free hand, there'll be no Pakistan occupied Kashmir, the Chinese would have been taught a lesson and Tibet liberated, 1965 would have slain the Pak demon and in 1971 just another fortnight's fighting after Bangladesh and West Pakistan would have been occupied.
No authoritative military account from any side suggests anything remotely like any of these. But a 'my Army strongest' sentiment was essential in a new democracy while it firmly kept the soldiers out of the power structure.
In the Rashtriya Swayamsevak Sangh lore, it was embellished further. It helped that most of these 'pusillanimous' leaders were of their detested Gandhi dynasty.
In the RSS versions it became something like: Cariappa/ Thimayya/Chaudhari pleaded with the PM of the day, give me a little more time please. But the Gandhi-Nehrus got cold feet, or worse, were complicit with foreign powers.
The only trouble here is Shastri in 1965, whom the RSS deifies. But, in the din of rhetoric, you gloss over it. Ask anybody with an RSS exposure and you will hear the same argument.
In that process, chronologies, names, even periods do get mixed up, but, never mind, because the point -- strong Army denied by effete, cowardly Congress -- is made.
This is where PM Modi is coming from. And also why he and his aides got it so mixed up.
By special arrangement with ThePrint