'#MeToo is not to be dismissed as 'shoot and scoot', but seen as the uncovering of dark truths about seemingly sophisticated and powerful personalities, or at least as one providing catharsis to a survivor,' notes Utkarsh Mishra.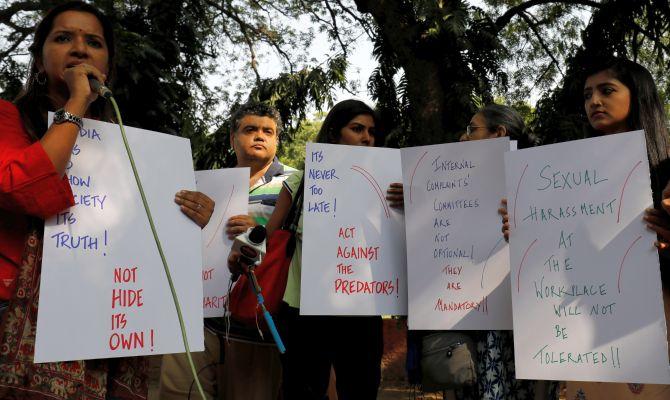 My hesitant contemplation of penning my thoughts about the #MeToo movement in India transformed into a firm, burning desire over the past week. Not the least because the unforeseen support lent by about 20 woman journalists -- including a former boss and an ex-colleague of mine -- to Priya Ramani in her legal fight forced a hitherto stubborn Union minister to step down.
But the fire was lit by a column by a veteran woman journalist in the Indian Express that, I must say, was spectacularly stupid. Frankly, the Express should have treated the column the same way it chose to publish censored information during the Emergency.
But this time, by blacking out the text; that way, it would have conveyed to the reader the magnitude of its sheer nonsensicality.
Digressing from her perennial conflicts with India's 'socialism' and welfare schemes like MNREGA, this time the columnist attacked the #MeToo movement for being 'too elite'.
Presenting a listicle of dreadful incidents of violence and abuse against rural women whose videos she saw on social media, she asked how this #MeToo campaign would help those poor victims.
In her pursuit to deride the movement, she put all phrases like 'sexual harassment', 'abuse', 'brave women' and 'predators' in quotes. Because, apparently, it is not sexual harassment for a young woman to have herself grabbed from behind by a man older than her father and have his tongue shoved down her throat.
And if you belong to that privileged fraternity of women who go out to work on their own terms and earn enough to support an upper middle class lifestyle then, hey, you can't be harassed.
Added to this column were WhatsApp messages and Facebook posts by friends and family members -- sadly, all women -- critical of the movement, accompanied by the usual questions: Why did they wait all these years? Why didn't they file a complaint then? Why did they continue to work at the same place? Every touch is not harassment etc, etc.
The major point that the veteran woman journalist and other women questioning the movement are missing is that this movement facilitated the uncovering of a vicious reality which even those women considered to be 'empowered' live out daily.
Rather than dismiss it as mere pretensions, those genuinely concerned would ask if this is what the 'empowered' women face and if this is what the seemingly gentlemen types do, then imagine the horrors the not-so-privileged women of our society would be going through.
The movement puts a question mark on the very notion that education and the strength to earn their own living 'empowers' women. It says that even if you escape one set of predators in your home or neighbourhood or village, you will certainly be introduced to another in your fancy offices or elegant university campuses.
And often the latter happens to be more shrewd and sly.
It is grossly unfair to dismiss the #MeToo movement as 'grumbling by elite women who got what they wanted at that time but have a problem with it now'.
I also intend to address a few other doubts and questions that I have encountered about this movement.
Why didn't they raise their voices then?
Firstly, most such incidents involve a young woman just starting out on her career and a man enjoying unbridled power in an organisation. Speaking up becomes a bit more difficult in such a case.
Moreover, such incidents shock a helpless victim tremendously, repressing her reflexes, as not even in her wildest dream would she have anticipated a physical assault by her middle-aged boss at her workplace while being asked to assist in regular work. (Thanks to the #MeToo movement, though, now one will not rule out such a possibility.)
Secondly, when a powerful person having greater reach in an organisation attacks you, who would you trust to lodge a complaint with?
In several cases, the complaints of survivors were not taken seriously even by their female bosses, who did their best to shield the predator instead.
Thirdly, I don't think there were Internal Complaints Committees at that time, which were recommended by the Supreme Court in the Vishakha guidelines in 1997, and mandated by Sexual Harassment of Women at Workplace (Prevention, Prohibition and Redressal) Act, 2013.
The options, therefore, were very limited.
Lastly, it is not only due to the fear of losing one's job that one avoided taking up the issue, but also due to the fear of escalation of harassment in case the complaint went in vain.
Sadly, it only emboldened the predators.
However, the #MeToo campaign is capable of changing all these.
On one hand, by creating a favourable environment for the survivors where their complaints are taken seriously and, on the other, by presenting the perpetrators with a disincentive that they can be named and shamed.
Legal options
Often the women who are joining this wave are criticised for not resorting to legal remedies at the time of the harassment.
Even if one musters up courage to embroil oneself in the rigours of a court case, the options, as mentioned earlier, were very limited those days.
'Sexual harassment' or 'outraging a woman's modesty' were loosely defined terms in the Indian Penal Code and there was no separate Act dealing with sexual harassment at the workplace.
It was only after the Bhanwari Devi case in 1997 that the Supreme Court issued the Vishakha guidelines, and sexual harassment was clearly defined.
But the most powerful legal weapon against such crimes was made available only in 2013 -- in the aftermath of the horrific Delhi gang rape of December 16, 2012 -- in the form of Sexual Harassment of Women at Workplace (Prevention, Prohibition and Redressal) Act, 2013.
Also, the Criminal Law Amendment Act of 2013 substantially modified Section 354 of the IPC, dealing with 'outraging modesty', and listing online stalking, forcing a woman to talk against her wish etc as criminal offences.
In criminal trials, the burden of proof lies on the prosecution. And it could be very difficult to prove if one was 'touched inappropriately', especially in a closed room with no witnesses.
The only possible disincentive for such men to desist from this sort of behaviour could be the fear that they can be outed. And that's what the #MeToo campaign does.
But there are some who have the gall to go to court alleging defamation even in the face of a concerted campaign calling out their predatory behaviour.
It requires a movement like #MeToo to take on such people. It is very difficult for an individual to do that, especially someone who just starting out in her career.
Why did they continue to work in the same organisation?
Excuse me! Why should I derail my career because of the sleazy behaviour of some maniac? A safe environment at workplaces is not a privilege to be given but a right of every employee.
And the one who is disturbing such an atmosphere needs to go, not the person at the receiving end.
This argument also reflects that mentality of our society where a family's answer to a complaint of eve-teasing by their daughter is to stop her from going to school, college or work.
Many girls, and women, therefore, prefer not to tell their family about the daily harassment they face lest they be confined to their homes.
All bad behaviour is not harassment
True. But even inappropriate behaviour not amounting to physical harassment can give the victim a lot of anxiety.
I've seen many commenting that 'You see, if someone backs off after your snub, then you shouldn't consider it harassment'.
Technically true, but why be so shameless to elicit a blunt response from someone, can't you read the signals and stop acting like a moron?
But there are creatures who don't do that because in their own parallel universe they think that enough persuasion is going to get them what they want.
And sometimes their big masculine ago is also hurt by a terse response so they begin maligning the girl.
Women have all the right to not expect their male colleagues make repeated attempts at wooing them, and they shouldn't be blamed for freaking out if that is what they encounter all the time.
And finally, the men
A lot of concern has been raised about the misuse of this movement. After all one anonymous complaint can cost a person his job and reputation.
But this very movement has also presented us with the example of Varun Grover to allay such fears.
His detailed response and willingness to be investigated by any committee of the 'victim's choosing' has convinced most of his followers of his innocence.
However, there is no denying that the amended Section 354 can be misused, just like IPC 498A or the amended SC/ST Atrocities (Prevention) Act.
When concerns are raised about the misuse of draconian anti-terror laws, then experts advise us to live with this 'necessary evil' in order to contain a larger problem.
Something of that sort can be also said about concerns regarding #MeToo.
Nevertheless, the need to place safeguards arises from the very coarseness of such movements.
And, therefore, the nature of this movement must be preserved.
It is not to be dismissed as a 'shoot and scoot' but seen as the uncovering of dark truths about seemingly sophisticated and powerful personalities, or at least as one providing catharsis to a survivor.
Is that such a bad thing?