'The India-Canada relationship has suffered benign neglect. Its full potential has not yet been realised,' says Rup Narayan Das.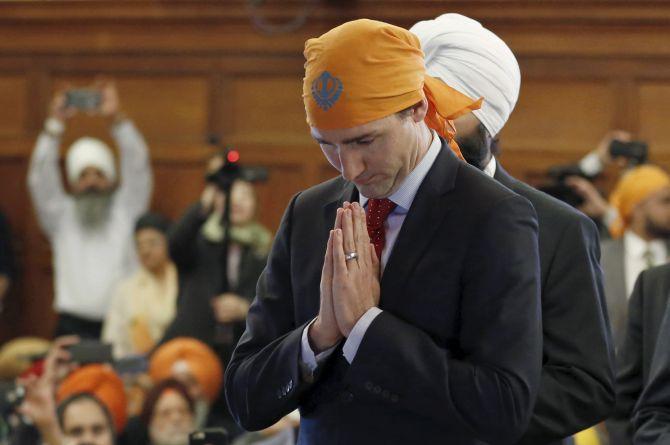 IMAGE: Canadian Prime Minister Justin Trudeau at Baisakhi celebrations at Parliament Hill in Ottawa. Photograph: Chris Wattie/Reuters
Prime Minister D Narendra Modi will host his Canadian counterpart Justin Trudeau in New Delhi on Saturday, February 17.
Trudeau, Canada's second youngest prime minister, is the son of Pierre Trudeau, the distinguished late Canadian PM.
Modi has already prepared ground for a productive outcome for Trudeau's visit.
He visited Canada -- covering Ottawa, Toronto and Vancouver -- in April 2015. This was the first standalone visit by an Indian prime minister to Canada in 42 years.
Though then PM Dr Manmohan Singh visited Canada, it was to participate in the G-20 Summit in 2010.
During his visit to Canada, Modi engaged and interacted with leaders across the political spectrum -- including Trudeau, then leader of the Liberal Party.
India and Canada agreed to enhance bilateral relations into a strategic partnership.
Following Trudeau's victory in October 2015, Modi spoke to him and sent a congratulatory letter. He invited him to visit India.
Modi reiterated his invitation to Trudeau when he met him on the sidelines of the World Economic Forum meeting in Davos last month.
Although both Canada and India are two of the world's largest and oldest democracies that share values of liberalism, federalism and multiculturalism, the relationship between the two countries in past years has suffered benign neglect. Its full potential has not yet been realised.
The presence of a sizeable Indian Diaspora and representation of Persons of Indian origin in Canadian legislatures -- both at the federal and union levels -- are like icing on the cake for the India-Canada relationship.
The dynamic change in India's foreign policy after the end of the Cold War and assumption of power by the Modi-led National Democratic Alliance government at the Centre offers immense opportunities to both Canada and India to leverage their relationship for mutual benefit.
It is worth recalling that in the first decades after Indian Independence, India and Canada were mutually supportive and effective collaborators, both bilaterally and globally.
Although Canada is a liberal democracy and India opted for a socialistic pattern of society in the nascent years of Independence, the welfare model which the two countries have followed have much in common.
In fact, there was a perceptible seamlessness between India's formulation of non-alignment and Canada's commitment to neutrality in international relations in spite of its membership of the North Atlantic Treaty Organisation.
According to Arthur Rubinoff, an acknowledged authority on India-Canada relations, in the early years after Indian Independence, there was a fundamental convergence in the approach of New Delhi and Ottawa on issues such as membership of the Commonwealth, the United Nations and the situation in Asia.
The two countries shared a convergence of perceptions on the need to enhance relations between Asia and the West, to promote multilateral organisations and to foster Third World development.
Canada and India, as representatives of middle powers, have the potential to influence world affairs in a constructive manner.
India is one of the most promising new emerging markets, identified by Canada as being of strategic importance. This decision by Canada was a consequence of the wide-ranging and sustained economic reform process initiated after the end of the cold war in 1991.
Canadian companies enjoy increasing success in India in traditional areas of Canadian expertise such as power, communications and transportation and new areas like environmental technology and agro-processed items.
The further opening up of the Indian economy and improvement in the ease of doing business will certainly facilitate two-way trade and investments.
There is scope for bilateral partnership in urban transportation and smart city development which would leverage Canadian expertise in a number of relevant fields, including public-private partnership, intelligent transportation system, civil engineering and urban planning, water and wastewater management.
Initiatives such as Make in India also offer good opportunities for Canadian companies to invest in India.
Cooperation in the energy sector, particularly in nuclear energy, is yet very important aspect of the bilateral relations between the two countries.
Although Canada was critical of India's nuclear tests, it supported the Nuclear Suppliers Group waiver to India.
It is in this context that the two countries have signed the agreement between India's Department of Atomic Energy and Canada's Cameco for the long-term supply of uranium to India to meet its energy needs.
In the larger context of global diplomacy, particularly in the Commonwealth, cooperation between Canada and India will not only benefit the two countries, but also help restore the esteem of the two countries in the eyes of the developing countries of the world.
Modi and Trudeau are likely to meet again at the Commonwealth Summit in London in April.
India should revive its leading role in the Commonwealth in tandem with Australia, Canada, the United Kingdom and other Afro-Asian countries.
At a time when the Non-Aligned Movement has lost much of its sheen, the Commonwealth offers an opportunity to re-energise India's global footprint in terms of a developmental paradigm.
Rup Narayan Das was a former senior fellow at the Institute for Defence Studies and Analyses. The views expressed are personal.