The culling of key state leaders and bureaucrats has given rise to distrust and uneasiness in Pramod Sawant's style of functioning, notes Aditi Phadnis.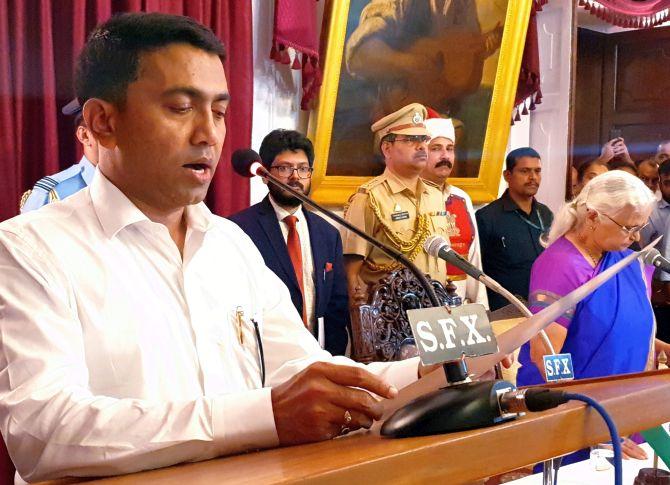 It took nearly six hours after Goa Chief Minister Manohar Parrikar's death to settle on a successor.
Pramod Sawant was sworn in as chief minister at 2 am.
The reason? In the 2017 assembly elections, the BJP got only 13 seats, four less than the Congress' 17, in a house of 40.
It was able to form a government largely because of the Congress lethargy and the special persuasive powers of Nitin Gadkari and Parrikar.
On the back on unspecified promises made by Parrikar to Ramkrishna 'Sudin' Dhavalikar of the Maharashtrawadi Gomantak Party and Vijai Sardesai, mentor of the Goa Forward Party, the two helped Parrikar stay afloat.
When Sawant was named chief minister, they had a choice -- they could accept the appointment or sulk.
Both supported Sawant and for their efforts, were rewarded with deputy chief ministerships.
Goa at one point had a 12 member-council of ministers -- and two deputy chief ministers!
But the two under-estimated Sawant.
Within weeks of Parrikar's death, a group of 10 Congress MLAs, led by no less than Leader of Opposition in the Assembly Chandrakant Kavlekar, merged with the BJP, increasing its strength to 27.
The Congress, the single largest party after the 2017 assembly polls, is now down to five legislators.
Worse was to follow.
Sawant sacked Sardesai and began a brutal unraveling of the legacy he claimed had been bequeathed to him by Parrikar ('Bhai transferred all his josh (energy) to me -- that's how I can work 15 to 16 hours a day,' he claimed last year).
In an outstanding book, An Extraordinary Life: a Biography of Manohar Parrikar, the authors, two Goa journalists, have analysed how Sawant has begun a project of putting his own imprimatur on Goa.
Most of the individuals who were standard fixtures in the government when Parrikar was alive were dropped.
Dr Mahesh Sardesai, head of the Goa Medical College's radiology department and also the father-in-law of Parrikar's son Utpal, was asked to retire.
The two most important government lawyers -- the additional solicitor general and the advocate general, both Parrikar's personal favourites -- were replaced.
Parrikar's own pictures from the BJP's publicity materials were dropped.
Utpal was told to stay ready to be fielded from Panaji, the seat his father had held.
Instead, for long Parrikar's personal secretary, Sidharth Kuncalienker, was given the seat in an apparent divide-and-rule move within the family.
Parrikar was a Gaud Saraswat Brahmin. Sawant is a Maratha.
Most GSBs in government now live in the agony of uncertainty as to their future.
Speaking to local reporters, Pandurang (alias Bhai) Naik, an influential Bharatiya Janata Party leader from South Goa, publicly read out the names of eight GSB individuals, including politicians, administrators, lawyers and doctors, closely linked to Parrikar, who lost their official position after Sawant replaced his as the chief minister.
'Why is the Saraswat community being targeted? Maybe I am the first person to bring it out so openly. I don't know what action the BJP will take against me, but I am proud to be a Saraswat,' Naik said.
He has been a member of the BJP's national executive and is currently a member of the party's state executive, the Goa BJP's highest decision-making body.
Of course, he doesn't count for anything anymore, but Vijai Sardesai was blunt.
At a public meeting last month, he said, 'For us, the BJP is finished after the death of Parrikar. We will never let the BJP rule this state in future.'
Last month, Parrikar's favourite bureaucrat, P Krishnamurthy, who was principal secretary of the state, was transferred to Lakshadweep.
When Parrikar was diagnosed with cancer and flown to the US for treatment, it was Krishnamurthy he had authorised to sign files on his behalf, a move that was widely criticised.
Before that, when he was defence minister, Krishnamurthy moved with him to Delhi on an appointment for five years.
After Sawant was done with the people, it was time to revamp policy.
Sawant has overhauled the Cyberage policy, a signature move by Parrikar to give free laptops and tablets to students, on the grounds that the equipment was being 'misused'.
After having a meeting with then governor Satyapal Malik, Sawant came out to say he had told him the government was doing a fine job managing the COVID-19 pandemic and that the media had it all wrong.
Not at all, said Malik, I said no such thing and I certainly didn't blame the media.
Sawant replied that the governor was always right. (Malik has since been transferred to Meghalaya).
The question is, where does that leave Goa.
Feature Production: Aslam Hunani/Rediff.com