We celebrate Dassera and regard it as an auspicious day as a day of victory of good over evil!
So was 16 December!
It is time we regard this day as auspicious as Dassera in future, observes Colonel Anil A Athale (retd).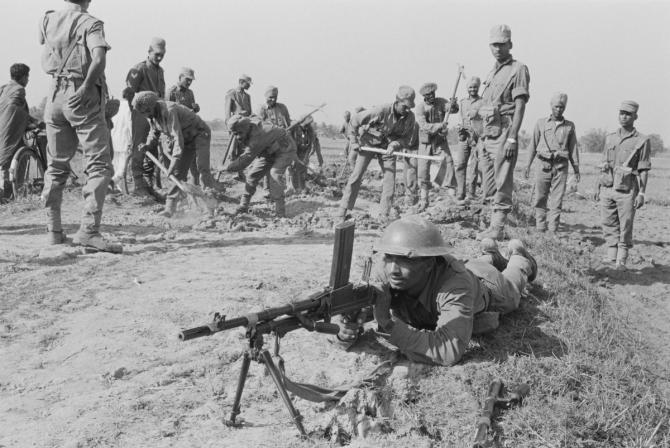 Tambdi Surla is a 12th-century Shaivite temple located in the hills of Goa. It is an active place of worship, being the only structural temple of the Kadamba period to have survived the depredations of Portuguese occupation.
It is a popular tourist spot and like at all such places, there is the inevitable tea shop.
Seeing my Indian Army cap, Shankarappa, the tea stall owner, asked me if I was from the army.
We began chatting and he proudly told me how he serves free tea to ex-army personnel and recalled the visit of another army man who had fought at Kargil in 1999.
He asked me if I had taken part in the Kargil operations.
To his dismay I told him that I had retired by then.
But not to disappoint him, I told him that I had fought in the 1971 War.
To my surprise, I was met with a blank stare.
Shankarappa had never heard of it!
This year, on December 16, we enter the golden jubilee year of India's victory in the 1971 War.
As an ancient nation but a young State, it marked a milestone that must be remembered and celebrated by us.
The victory was a collective national effort of all the people of India and contributions of civil society were as important as those of soldiers.
Remembering past successes of national endeavour inspires us to achieve similar results in present and future.
This is of particular importance today as we grapple with a war like situation on the China and Pakistan border in the midst of after-effects of COVID-19 pandemic that has devastated our economy and social life.
All this is self-explanatory, then why this reminder? Two reasons, short public memory (like Shankarappa's) and fear of short-sighted politics!
There are many similarities in situation we faced in 1971 and the situation we face in 2020.
In 1971, we not only faced an enemy (Pakistan) on the border, but the nation was burdened with the influx of nearly 1 crore (10 million) refugees.
The threat was not merely from puny Pakistan, but a country that was fully backed by a superpower, the US.
It is a matter of public record that in 1971, the US had American advisors (on the western side) right down to the brigade level.
The most blatant example of this support was the presence of the US navy's Seventh Fleet in the Indian Ocean and the threatening move by the nuclear powered aircraft carrier USS Enterprise to the Bay of Bengal.
The victory in 1971 was achieved despite America's efforts to thwart us.
The 1971 victory had many firsts to its credit.
We created a new nation in the post-World War II era.
It was and remains the biggest surrender of over 100,000 troops since 1945.
To date, the 1971 War remains one of the most decisive post WWII battles.
All these are factors that can make any nation take justifiable pride.
Unfortunately, petty politics and concern for the 'vote bank' has cast a shadow on the celebration of Vijay Diwas in the past.
In December 1996, the silver jubilee of the 1971 War victory was celebrated only at two places: Kolkata and Pune.
In Kolkata it was the Indian Army's Eastern Command that took the lead, while in Pune, a journalist -- the late Mr Prakash Kardaley -- took the lead.
Under his inspiration, we organised public lectures by war veterans as well as ceremonial tribute to soldiers at WWI war memorials (at that time there was not a single memorial to post-Independence martyrs in Pune).
When we sought the armed forces's help in this celebration, we were told they had received instructions not to participate in these functions.
The then defence minister Mulayam Singh Yadav had argued that celebrations of this victory would 'hurt' Pakistani sentiments and therefore should be avoided.
In the national capital, there was hardly any event to commemorate the silver jubilee of this major event in our nation's history.
But the rot goes even further back in history.
Immediately after the 1971 victory, every effort was made to denigrate General (later Field Marshal) S H F J Manekshaw.
Rumours and innuendo were spread, quoting the general, who led the Indian Army in 1971, out of context.
Armed forces pensions were slashed and the chiefs were brought down several notches in order of precedence.
The then PM had vowed to keep the armed forces in 'honourable poverty' so that a certain class of people stayed away from joining the forces.
The Indian politician's paranoia about the armed forces and fear of military coups is a fact of life.
This cuts across party lines and there is a difference of only degrees. Luckily, the current ruling party is less susceptible to it.
The result of both these factors -- short public memory and political paranoia about the armed forces -- has kept the nation away from celebrating its military achievements in 1971.
One hopes we rise above these petty considerations and celebrate the golden jubilee next year in an appropriate manner.
On a personal note, when we had to choose a muhurat (auspicious day and time) for a wedding in the family in 2007, I chose December 16 and time 16.32! It was the day and time at which General A A K Niazi of the Pakistan army signed the Instrument of Surrender.
We celebrate Dassera and regard it as an auspicious day as a day of victory of good over evil! So was 16 December!
It is time we regard this day as auspicious as Dassera in future.
Military Historian Colonel Anil A Athale (retd) is a former Chhatrapati Shivaji Chair Fellow at the United Services Institute of India.
Feature Presentation: Aslam Hunani/Rediff.com