As the Bangladesh supreme court upheld the independence of the judiciary, Prime Minister Sheikh Hasina accused Justice Sinha of 'humiliating' the country, notes Prakash Bhandari.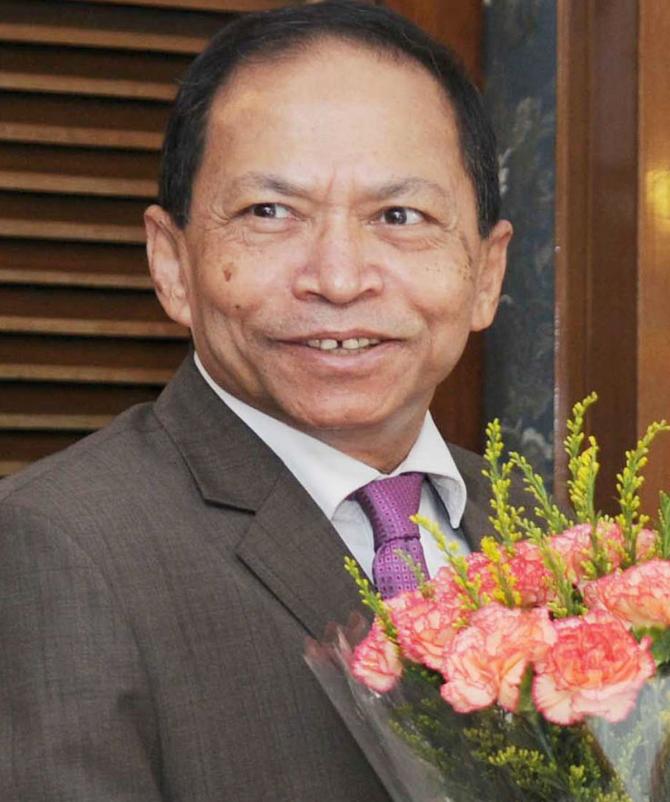 After the recent attack on Hindus and Hindu places of worship, the minority Hindu community in Bangladesh is upset by the court verdict sentencing the country's former chief justice Surendra Kumar Sinha to 11 years imprisonment in a money laundering case involving Taka 4 crores (about Rs 3.20 crore/Rs 32 million).
Judge Shaikh Nazmul Alam of a special judge's court in Dhaka passed the verdict sentencing Justice Sinha to seven years in jail for laundering money and four years for breach of trust. The court said the punishments will run concurrently.
The court also fined Justice Sinha Taka 45 lakh (about Rs 36 lakh/Rs 3.6 million) and asked the government to confiscate Tk 78 lakh (Rs 48 lakh/Rs 4.8 million) from him in favour of the State.
During the verdict, the judge said, 'S K Sinha is the principal beneficiary of the laundered money.'
In October 2018, Bangladesh's anti-corruption commission claimed it found evidence of fraud involving transactions of Tk 4 crore borrowed with fake documents by two businessmen from the Farmers Bank (now Padma Bank).
Later, the money was allegedly deposited in Justice Sinha's account.
On July 10, 2019, anti-corruption commission director Syed Iqbal Hossain filed a case in the matter.
According to family and judicial sources in Dhaka, Justice Sinha is in the United States where he has applied for political asylum after being harassed by the Sheikh Hasina government.
Facing arrest, Justice Sinha, who was Bangladesh's first Hindu chief justice, was forced to leave the country and traveled to Australia to live with his son there.
"He earned the wrath of the Sheikh Hasina government after his autobiography, A Broken Dream: Rule of Law, Human Rights and Democracy, opened a Pandora's Box and he was forced to resign following intimidation and threats," says Subir Nandi Das, an advocate based in Dhaka, who practises in the Dhaka high court.
In his book Justice Sinha described the backdrop to his troubles with officialdom and gave an insight into Bangladesh's numerous social and political issues, including its evolving state of governance.
As a judge of the Bangladesh supreme court and later as its chief justice, Justice Sinha earned the Sheikh Hasina government's anger with some of his judgments.
In 2017 the supreme court on his watch annulled the 16th amendment to the Bangladesh constitution which empowered parliament to impeach supreme court judges for misconduct or incapacity.
As the verdict upheld the independence of the judiciary, it miffed Sheikh Hasina who accused Justice Sinha of 'humiliating' the country.
He was then accused of corruption and misuse of power, allegations that he denied.
Justice Sinha has delivered many important judgments, including one on the killing of Sheikh Mujibur Rahman, the country's founder and Sheikh Hasina's father, and the validity of the 5th, 7th, and 13th amendments to Bangladesh's constitution.
In the the Mujibur Rahman case, the court sentenced 12 killers to capital punishment.
After his elevation as chief justice, a five-member bench headed by him in 2016 upheld the death sentence of a top Islamist leader for war crimes during the 1971 independence struggle, paving the way for his execution.
In October 2017, Justice Sinha left Bangladesh for Australia, calling his leave 'temporary'.
A day after his departure, the supreme court issued a statement saying other judges of the court had decided not to sit on the bench with him over allegations of graft and moral lapses brought to their notice by President Abdul Hamid.
The law minister subsequently announced a probe against Justice Sinha.
In November 2017, Justice Sinha resigned, three months before the completion of his tenure, and alleged that he was forced to do so because he opposed the country's 'undemocratic' and 'authoritarian' regime.
He has been in exile since.
It is learnt that after going to Australia, he moved to Canada and is now living in United States and has sought asylum there.
The judgment against him was delivered in absentia.
The anti-corruption commission's action against the judge is seen by some as retaliatory action by the Hasina government over the judge's book that chronicled the events that led to his forced resignation.
A series of unprecedented events led to tension between the executive and the judiciary.
On September 22, 2014, the Bangladesh parliament brought in the 16th amendment that deleted the provision regarding removal of judges through an influential committee of peers known as the supreme judicial council.
This process was intended to protect judges from political interference.
On May 5, 2016, a special bench declared the amendment as unconstitutional.
Soon after the verdict, MPs blasted the judges and began displaying disrespect for the judiciary.
On an appeal by the State, a seven-member bench headed by Chief Justice Sinha on July 3, 2017, unanimously dismissed the appeal and upheld the high court verdict.
On September 13, 2017, parliament passed a resolution calling for legal steps to nullify the verdict.
Chief Justice Sinha was accused of misconduct and corruption.
While he was confined to his residence, lawyers and judges were prevented from visiting him.
Various ministers suggested he leave the country on medical leave.
Finally, he was compelled to do so on October 14, 2017.
During his departure, he made statements to the media that he was neither unwell nor had sought medical leave.
Facing intimidation and threats to his family from the directorate general of the forces intelligence, he resigned as chief justice on November 11, 2017.
Soon after, President Hamid announced that Justice Sinha faced 11 charges, including money laundering and corruption.
Justice Sinha was born in Moulvi Bazar district in northeast Bangladesh where he grew up in a family of five sons and one daughter. His father was a dedicated teacher and Hinduism scholar.
He pursued a law degree from the Sylhet law college without his father's consent as the latter believed that lawyers made a living by lying.
Justice Sinha drew a lot of criticism when he wrote in an opinion piece: 'Parliamentary democracy is immature and to attain its maturity, there is a necessity of practicing parliamentary democracy continuing for 4/5 terms!'
He was referring to 154 unelected parliamentary members and questioned the Sheikh Hasina government's legitimacy.
Feature Presentation: Aslam Hunani/Rediff.com