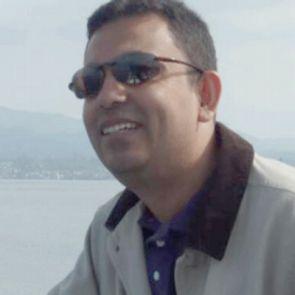 Image: Avijit Roy. Photograph: Courtesy Twitter
Thursday's savage murder of writer Avijit Roy in Dhaka raises troubling questions about religion-inspired terror in Bangladesh, says Indrani Roy/Rediff.com
"Dhaka is not safe for its residents, let alone for foreigners," warned a friend who came to receive me when I visited the city late last year, my eighth trip to Bangladesh.
"Here, law and order have ceased to exist. Anything can happen any time."
His words hit me hard. This was not the Dhaka I knew.
For me, Dhaka and Bangladesh stood for love, hospitality and an unbridled passion for our common mother tongue, Bangla.
"Bangladesh nurtures a group of fanatics who swear by Islam and smother any voice of reasoning that dares to challenge it," he said.
A couple of months later, a terrifying murder made my notions about Bangladesh, especially Dhaka, stand on its head.
On February 26, Bangladeshi-American scientist, writer and blogger Avijit Roy and his wife Rafida Ahmed Bonya were brutally attacked near Dhaka University as the couple was returning from a book fair.
They were on a three-week trip to Dhaka from the US.
Roy was hacked to death. His wife was seriously injured, lost a finger and is in intensive care at a Dhaka hospital.
Roy was a humanist who promoted free thinking and founded the blog platform Mukto-mona (means free thinkers in English).
He was constantly threatened by religious zealots about visiting Bangladesh.
Roy, a prominent voice among Bangladeshi atheists, never hesitated to raise his voice against extremism of any sort and propagated free reasoning.
In an article for the New York-based Centre for Inquiry, Roy wrote: 'For me, religious extremism is like a highly contagious virus'.
The Center for Inquiry released the article soon after his death.
His remarks about fanaticism irked many, including the militant group Ansar Bangla 7 that claimed responsibility for the attack.

On its social networking platform, Ansar Bangla 7 wrote that Roy's killing was to avenge American airstrikes on Islamic State.
The post reads: 'The target was an American citizen.. 2 in 1. #America recently martyred 2 of our brothers in #Khurasan & #Shaam. #Revenge+#Punishment.'
Khurasan means Afghanistan and Shaam stands for Syria.
On his Facebook account self-proclaimed Islamist Farabi Shafiur Rahman repeatedly threatened Roy with death on his visit to Bangladesh.
The Rapid Action Battalion on Monday, March 2, arrested Rahman in Dhaka's Jatrabari area for his alleged involvement in the Roy murder case, according to the Bangladesh media.
On Sunday, Rediff.com contacted Krishna Pada Roy, deputy commissioner, Dhaka metropolitan police, over the telephone.
"Investigation is on and the police are hunting for the assailants," Deputy Commissioner of Police Roy said of the murder.
Since an American citizen was murdered, the US Federal Bureau of Investigation wanted to investigate the crime for which the Bangladesh government granted the FBI its consent.
In 2013, blogger Rajib Haider was killed.
A relentless critic of the extremist Jamaat-e-Islami, Haider was vociferous in his demand for harsh punishment for perpetrators of crimes in Bangladesh's 1971 war of independence.
In 2004, writer and Dhaka University teacher Humayun Azad was seriously wounded in a machete attack when he was returning from the same book fair that the Roys had been to.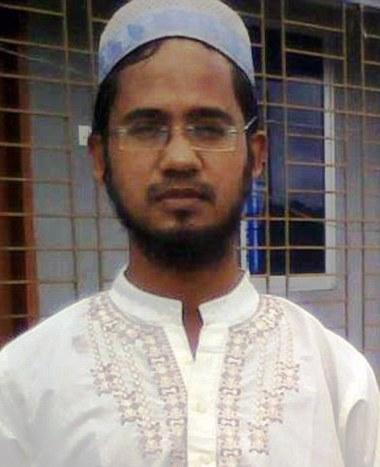 Image: Farabi Shafiur Rahman, who threatened Avijit Roy with death and has been arrested in the murder case. Photograph: Courtesy Facebook
A couple of hours after Avijit Roy's murder, exiled Bangladeshi novelist Taslima Nasreen wrote on her Facebook page: 'I refuse to believe that our Avijit is no more! Some extremists hacked him to death? This is something I can't take. I can't take the fact that life of such a rare talent has been snuffed out.'
In a series of Facebook posts, Nasreen continued to voice her grief: 'To those youngsters who often plead me to go back to Bangladesh, my message is: That country does not belong to me any more, that country does not belong to the free thinkers, that country is no country at all.'
Rohit Dutta Ray (name changed), a resident of Kolkata who is currently in the US, knew Roy for years.
"How can someone kill a writer, such a braveheart? What is this world coming to?" he wrote to Rediff.com
While Roy's wife remains in intensive care, his daughter Trisha, a student in Atlanta, mourns her step-father's death.
In a Facebook post, Trisha wrote: 'To say that I am furious or heartbroken would be an understatement. But as f****d up as the world is, there is never a reason to stop fighting to make it better... I'll carry the lessons he taught me.'
Ajoy Roy, Roy's father and an activist himself, has been shuttling between the morgue and police station since his son's murder. He is in constant touch with the doctors treating his daughter-in-law.
He is determined to fight for justice and vows "not to rest till his son's killers are brought to book," one of his associates told Rediff.com over the telephone.
'Islamist radicals are behind my son's murder,' he had told reporters after filing a case with the police on February 27.
Professor Mahfuza Khanam, an honorary member of the National Human Rights Commission of Bangladesh and the first woman leader of Dhaka University's Central Students Union, earlier told Rediff.com, "Religious fanaticism is at the root of terrorism."
"Driven by pan-Islamism," she added, "several terror outfits, whichever be the nomenclature, are killing people mercilessly and spreading violence."
"The theory of pan-Islamism is dangerous. It is an obsession as disastrous as Adolf Hitler's ideology of a superior race," Professor Khanam said.
The gruesome murder raises a number of questions:
If Avijit Roy was being threatened, why didn't the Bangladesh government arrange for his security after he arrived in Dhaka?
Dhaka University is known to be a sensitive location. Why weren't enough policemen posted there, who could have thwarted the attackers?
Is it true what many onlookers claimed that the police stood as idle onlookers when the assailants pounced upon Roy?
If Farabi Rahman issued regular threats to Roy, why did the Facebook administrator not take action? Should a social networking site permit such criminal activities?
Why did the Bangladesh police not zero in on Ansar Bangla 7? Why hasn't there been a single arrest from the group so far?