The babas' vote banks and the politicians' greed for en bloc votes is the curse of Punjab and Haryana, says Shekhar Gupta.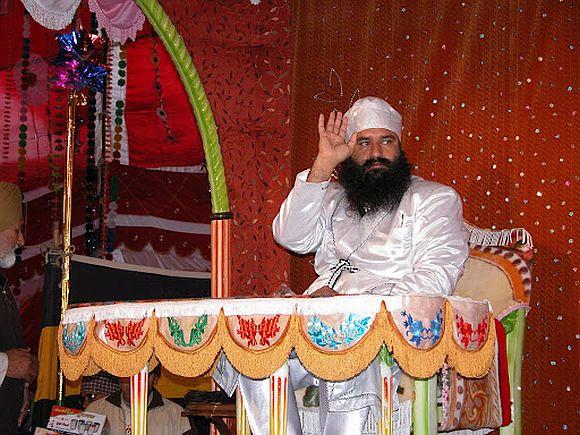 If the context hadn't been so stark we would have found this question more perplexing: Which part of our country has the most godmen per square mile?
It is, indeed, an unusual suspect, Punjab and Haryana.
This region is known for much else in our country, but not really for such a preponderance of religion, spirituality and self-styled godmen. Not all are crooks.
Some have evolved their own spiritual philosophies, stayed within the law and also done philanthropy and public service.
Most of the rest are essentially land-grabbing political fixers, power-brokers and shady entrepreneurs.
No better than glorified Gabbar Singhs in fancy dress in whose powerful courts local politicians dutifully answer the call of 'Arrey ohh, Sambha...'
You have to be careful using imagery from Sholay to describe people with millions, in the instant case tens of millions of devout followers.
That liberty needs to be taken today, our region held to ransom by the followers of a convicted rapist, yet to be tried for the murder of a brave local journalist who outed these cases and also the charge that he emasculated 400 devotees on the pretext of getting them mukti (nirvana) and has their testicles in his possession, presumably in refrigeration. Which theme we shall return to, soon enough.
Today's newsmaker is Baba Gurmeet Ram Rahim Singh Insaan, the godman with the largest following.
Next door to his walled, high-security mini-city or 'Dera' in Sirsa, is another in Hisar, owned by Baba Ram Pal. Sure enough, he is in jail too, undertrial on charges serious enough to keep him there for the rest of his life if convicted.
Since his history is recent, you might remember that in November 2014 the Haryana police fought with his followers in his stockaded fortress and several were killed before he could be arrested.
The then Haryana director general of police S N Vashisht was quoted as saying that his 'police had to deal with a hostile army of Ram Pal's commandos'.
One thing that all deras or sects have in common is a personality cult.
Run your eye westwards from Hisar and Sirsa of Haryana. The adjoining eight or so districts of Punjab have millions of followers of these two babas.
Further, their spiritual halo fades, but only because there are others. Not all as troublesome, but more colourful: In life as well as in death.
Punjab has the old Radha Soami and Nirankari sects. Both are large, spread in large parts of north India (including Delhi) and beyond.
Radha Soamis have been non-controversial. The current head or Babaji is ailing with cancer. Please note that we prefer Babaji or spiritual chief to the description 'guru' in Punjab as it is blasphemous for the Sikhs.
The tenth Guru, Guru Gobind Singh, had declared himself to be the last, enshrining Sikhism's Holy Book, the 'Guru Granth Sahib' as their Guru forever.
The Radha Soami sect is headquartered near Beas river, sort of midway between Jalandhar and Amritsar along the Grand Trunk Road.
A hereditary successor is not available now. But a well-planned, amicable succession is in the works.
The man chosen to lead the Radha Soamis is Bhai Shivinder Mohan Singh who most of us know as one of the two Ranbaxy/Religare/Fortis brothers -- Malvinder Mohan Singh being the other of the duo sometimes called MMS and SMS in Lutyen's upper circuit.
The Nirankaris have had a more eventful history. Their long-lasting head Baba Gurbachan Singh was assassinated by Jarnail Singh Bhindranwale's bands on the charge that he claimed to be a 'guru'.
In fact, the Bhindranwale phenomenon rose when, on Baisakhi Day (April 13) 1978, his followers went to protest at the Nirankari congregation and were fired at by the Baba's supporters, resulting in 16 deaths.
The Sikh clergy at the Akal Takht at the Golden Temple then issued a hukamnama (Sikhism's equivalent of an ecclesiastical bull) prohibiting any social contact with Nirankaris.
Or, as is stated in a language as direct as Punjabi can be, 'roti-beti ka sambandh', relationship where you eat together or inter-marry. Make note again, as we will return to this.
Then there are the Namdharis, the friendliest and gentlest Sikhs in peculiar white turbans.
Their last durable chief Jagjit Singh didn't have a son and anointed one of his two nephews, Uday Singh. He led the sect with his much-revered mother, 'Baba' Chand Kaur.
She was assassinated by motorcycle-borne gunmen in Ludhiana on April 4, 2016 and both cousins blame each other.
Somewhat smaller but equally tightly knit is the cult of Bhaniara Baba in Nurpur Bedi in Punjab's Rupnagar district.
His followers included former home minister and Congress leader Buta Singh who believed his miracles cured his wife.
But he fell afoul of devout Sikhs when he published, in 2001, a book Bhavsagar Granth listing his own miracles.
He was declared a blasphemer and apostate and stabbed by a Babbar Khalsa assassin while making a court appearance in Haryana.
And finally, in this fascinating star cast is the 'Freezer Baba' (we promised we'll return to refrigeration).
Ashutosh came from Bihar and built a following of millions of Punjabis. He died in January 2014. But his followers believe he has gone into samadhi and will return.
So they've put his body in deep freeze and refuse to cremate it.
The high court has been dealing with this for three years. A single-judge bench ordered cremation, but a division bench set it aside.
Meanwhile, the devotees throng to one widely known now as 'Freezer Baba' and chant, en masse, 'Ashu baba aayenge...' waiting for him to wake up.
Why is this region so vulnerable to babas is a question for sociologists.
I have heard many explanations, but one I take more seriously is that Sikhism is the world's youngest major religion (just over 500 years old) and is still evolving.
It's also a religion of the book with a demanding doctrine.
The babas do three things. One, they make its practice simpler, with fewer lifestyle restrictions.
Second, since Sikh and Hindu practices overlap, the babas draw from both and offer a market-friendly hybrid product.
And third, a holy book has much wisdom. But in times of distress, you sometimes need a human being to defer to, particularly if he has a godly reputation. Which is a product of marketing genius.
We all know about Ram Rahim's films, songs, motorcycles, bling.
Of all the babas, he became the most popular. That's why, 35 years after their hukamnama against the Nirankaris the Akal Takht issued another, forbidding Sikhs from having the same roti-beti relationship with Ram Rahim's followers.
Desperate for his votes, the Shiromani Akali Dal-Bharatiya Janata Party government leaned on the clergy to accept his 'video apology', and pardon him.
This drew protests from the devout. The pardon was withdrawn.
But it is widely believed that mainly because he expected help with the Central Bureau of Investigation cases that he asked his supporters to vote Akali-BJP in the recent state elections. One of the same cases has now ended in his conviction.
This, the babas' vote banks and the politicians' greed for en bloc votes, is the curse of Punjab and Haryana.
The Congress is the past master. The BJP has learnt the game. And the Akalis have happily two-timed their conservative 'Panthic' constituency by patronising the deras.
If a brave journalist dares to pursue a rape charge he ends up with bullets in his chest as Ram Chander Chattarpati of Poora Sach did in Sirsa.
The babas, as a result, think they are above the law. Until a brave CBI court judge called Jagdeep Singh changes the script.
By Special Arrangement with The Print