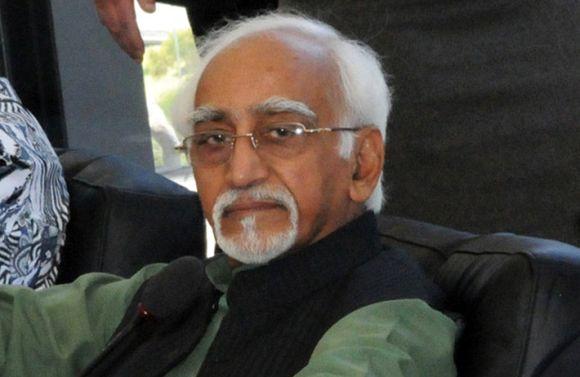 As India strives to make its Act East Policy a comprehensive politico-diplomatic and economic success, Brunei gains more salience, says Dr Rahul Mishra.
Vice-President Hamid Ansari is on a two-day official visit to Brunei Darussalam from February 1-3 at the invitation of Crown Prince Haji Al-Muhtadee Billah. The visit aims to explore new avenues for New Delhi to constructively engage with Brunei, the energy-rich nation situated on the island of Borneo.
The vice-president's visit is a remarkable step forward to engage Brunei, and plug the gaps in India's Act East Policy in terms of comprehensively engaging the countries of the Southeast Asian region.
This will be the first exclusively bilateral high-level visit by the Indian leadership since the establishment of Brunei-India diplomatic ties in 1984.
Several Indian ministers have visited Brunei in the past. Then prime minister Dr Manmohan Singh visited Brunei in October 2013 to participate in the ASEAN Summit and the East Asia Summit.
From Brunei's side, significant visits have taken place in the past showing Brunei's commitment to build strong ties with India. In 1992, the Sultan of Brunei, Hassanal Bolkiah, paid a State visit to India at the invitation of then prime minister P V Narasimha Rao.
The next bilateral visit took place in May 2008 when the sultan visited India. The sultan also visited India in 2012 to participate in the ASEAN (Association of Southeast Asian Nations)-India Commemorative Summit held in New Delhi in December that year.
Accompanied by Minister of State for Home Haribhai Chaudhary and four members of Parliament, Vice- President Ansari will meet the sultan. He will also address the Indian community at a reception, in addition to delivering a lecture at the University of Brunei Darussalam.
According to a ministry of external affairs statement, MoUs in the field of defence and health cooperation are likely to be inked during his visit. The discussions will include issues such as information and communication, space and energy cooperation, especially hydrocarbon and natural gas -- areas that hold vital significance for Brunei-India cooperation.
Vice-President Ansari's visit was scheduled in November after his visit to Indonesia. However, due to the closure of the Ngurah Rai International Airport, he was compelled to stay in Bali for longer than planned.
The delay left too little time for him to visit Brunei as he was supposed to host his Chinese counterpart Li Yuanchao during the latter's five-day visit.
A closer look at Brunei-India relations demonstrates that while bilateral ties have been on right track, with cooperation between the two countries primarily driven by the ASEAN multilateral framework, it demands more focused attention and careful nurturing.
As India strives to make its Act East Policy a comprehensive politico-diplomatic and economic success, Brunei gains more salience. Four major reasons may be listed in that regard.
First, as a member of ASEAN, Brunei is integral to India's Look East Policy, rechristened as the Act East Policy under the National Democratic Alliance government. For years, Brunei has been supportive of India's participation in ASEAN-led initiatives. While other countries have also been supportive of India's active presence in the Southeast Asian region, since 1990s Brunei has been encouraging India's active involvement in the region.
Brunei also supported India's candidature for full dialogue partnership at ASEAN. The ASEAN-India FTA and the RCEP (Regional Comprehensive Economic Partnership) are likely to provide new vistas of cooperation between India and Brunei, especially in terms of economic cooperation and integration in the regional supply chains.
Second, India's cultural relationship with Brunei is deeply rooted. India's engagement with Brunei through the presence of the Indian Diaspora has also been significant. The discovery of oil in Brunei in the 1920s attracted several Indians who, for commercial purposes, began to migrate to Brunei.
There are as many as 10,000 Indians in Brunei and Indians constitute approximately three percent of Brunei's total population. A majority of the Indians in Brunei are either Tamil or Malayali.
Due to the sizeable presence of Indians in Brunei, there is an urgent need to connect with Brunei and also to reconnect with the Indian Diaspora.
For this purpose, greater emphasis should be put on strengthening people-to-people contacts between two countries.
Third, Brunei overtly supports India's candidature for permanent membership in the United Nations Security Council. In addition, in 2011-2012, Brunei also lobbied for a non-permanent seat on the UNSC for India.
Fourth, India's energy needs have been swiftly growing in recent times. Brunei is an important source of crude oil for India. In 2014-15, bilateral trade stood at US$ 882.82 million, out of which US$ 840.85 million accounted for India's imports from Brunei and US$ 41.97 million for India's exports to Brunei.

More than 90 percent of the trade volume is linked to India's oil imports from the Southeast Asian nation. The vice-president's visit to Brunei will further strengthen the energy cooperation between the two countries.
As the Indian economy grows further, its energy demands will grow by leaps and bounds, making it difficult to satiate the demands of domestic industries and households. Brunei can be a great support in dealing with that situation.
With the Look/Act East Policy already in its third decade, it is vital for India to not only 'look' towards Southeast Asia but also 'act' comprehensively in the Southeast Asian region.
The 'Act East' should not be confined just to the politico-diplomatic and socio-cultural domains but should achieve greater linkages, namely:
a. building robust infrastructural connectivity;
b. strengthening Diaspora linkages;
c. realising regional economic integration through integrating with the regional supply chain mechanism and;
d. establishing energy cooperation as a strong pillar of the Act East Policy.
Engaging Brunei comprehensively will pave the way in making these objectives a reality, especially in the context of India's energy diplomacy in the region.
In that context, it is imperative that bilateral exchanges and top-level meetings between the two countries should be increased and the two countries must institutionalise mechanisms to make that an annual feature.
The time has come for India to sense the potential of Brunei in meeting the energy demands of the Indian economy. Brunei's active role in the ASEAN mechanism, cultural commonalities between the two countries and convergence of strategic and economic interests and objectives on regional and global issues make Brunei more significant than ever for India's Eastward engagement.
Dr Rahul Mishra is a Research Fellow at the Indian Council of World Affairs, New Delhi. He can be reached at rahul.seas@gmail.com. The views expressed do not represent the views of the ICWA.