'Education is disconnected from social reality and does not even attempt to solve the real problems of our country,' observe Peehu Pardeshi and Sandeep Pandey.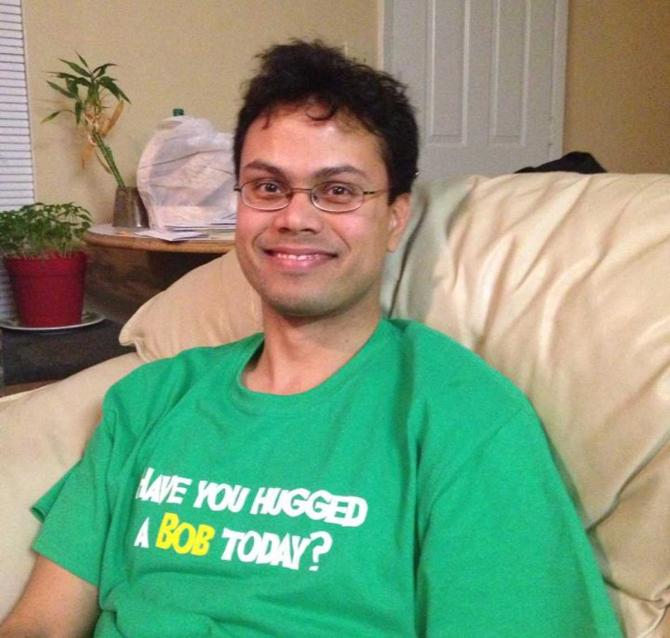 It is unusual for a bright young scholar like Amrendra Narayan, with a PhD in nuclear physics from the Mississippi State University, preceded and followed by research stints at the Indian Institutes of Technology at Kanpur and Mumbai, respectively, to go and work at the relatively little known Veer Kunwar Singh University in Arrah in Bihar near his native place.
His family and friends would have probably dissuaded him from going to Arrah and for good reasons.
After working there for three years, he was physically assaulted on campus on August 13, 2020 by a man who hangs around the university without any formal affiliation there.
It appears that a section of people at the university were not happy with the reforms that Amrendra was trying to bring about in the prevalent 'academic' culture there.
He had made grading process computerised, freeing it from the clutches of private agencies and from external and internal manipulation.
He has made biometric attendance compulsory for students if they were interested in receiving their scholarships and similarly for the faculty members, a number of whom live in Patna, about 50 km away, who now found it difficult to register their attendance through proxy.
His biggest attack was on plagiarism.
He introduced software to detect plagiarism which made it difficult to obtain an easy PhD from the university.
He received requests from other professors to be lenient if the extent of plagiarism was minor, but Amrendra was not to relent.
In his attempt to rid the system of higher education of the malpractices and corruption by strictly implementing the University Grants Commission norms, he shook the entire set-up.
The vice chancellor was supportive of his efforts in the beginning because of which he was able to accomplish a number of things.
But after the assault, the VC has gone mum.
The scenario at the university in Arrah is not an exception.
To a lesser and greater extent, all the malpractices here can be found at any academic institution in other places too.
Using unfair means in examinations is very common and is a collaborative exercise in many places with students, parents, teachers, managements of schools or colleges, education department officials, administrative officers and people's representatives all colluding.
It is an important factor responsible for the fall in the quality of education activity at educational institutions.
Students of renowned institutions like the King George Medical University, Lucknow, and IIT, Banaras Hindu Univeristy have been caught impersonating for candidates in respective entrance examinations in exchange for money.
Incidents of plagiarism have been reported at very reputed institutions too.
Erudite economist Jean Dreze accused an associate professor at IIT-Kanpur of having copied one of his articles published in the Economic and Political Weekly when the latter was a PhD student at Jawaharlal Nehru University.
The PhD student just added a section to Dr Dreze's article and published it in another journal in his name.
In spite of charges of plagiarism in other works, he continues to serve IIT-Kanpur.
What is probably a rarity at IIT is a common practice at universities like Veer Kunwar Singh.
Dishonesty in research and teaching is rampant.
The practice perpetuates from one generation to another.
Any intervention to rectify the malfunctioning is likely to receive a violent pushback as experienced by Amrendra Narayan.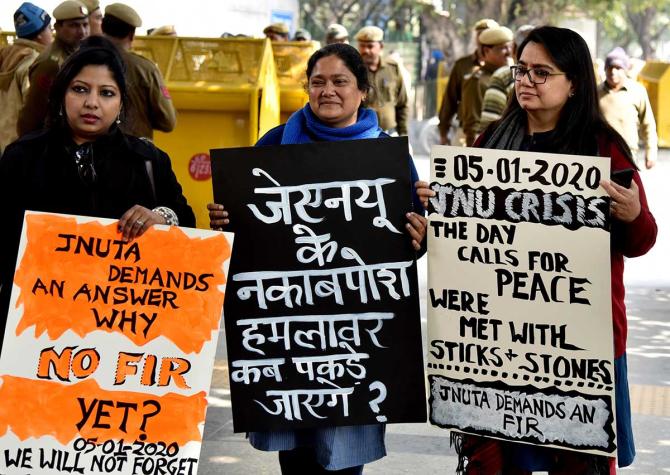 Campus violence is also not uncommon.
From carrying feudal-casteist disputes from the rural hinterland to academic campuses, clashes between student groups more to assert their dominance than for any ideological reasons, giving vent to their frustration against any attempt to discipline them by indulging in vandalism have been common incidents.
Banaras Hindu University closing down after campus violence was an expected annual event before BHU banned students union elections.
This January we saw a masked gang going on the rampage on the JNU campus.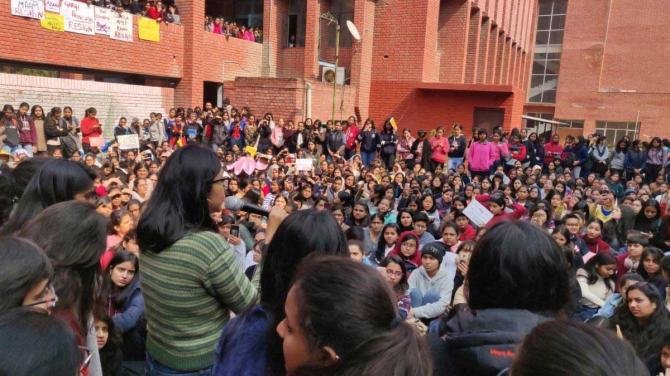 A rowdy group forcibly entered the Gargi College in Delhi in February and shamefully molested women students.
Most of our institutions of higher learning have no pretensions of being ideal centres of learning and scholarship.
In spite of the high numbers involved in higher education India has a poor record in research.
It is no surprise that no scholar working in an Indian institution has received a Nobel Prize till date.
The quality of research also reflects in the economy.
Manufacturing in India is highly dependent on foreign designs and imported material and products.
China has infiltrated the Indian market to such an extent that in spite of our wish to boycott Chinese goods because of its infringement of Indian territory we are unable to do so.
The prime minister may dream of an Atmanirbhar Bharat, but the fact is we cannot do without external help, whether finance or technology.
A recent trend is governments hiring foreign consultants to advise them on matters of domestic policy.
It is quite clear that India has not taken its education seriously.
Education is a ritual to be completed for upward social and economic mobility.
The ultimate objective is to possess a degree irrespective of any capability acquired through the process of education.
The more smart among the educated use their knowledge or skills to make money for themselves, legally or illegally.
Corruption in India is a product of the educated.
Education is disconnected from social reality and does not even attempt to solve the real problems of our country.
Corruption, violence and mediocrity are endemic to the Indian education system.
The system is deeply entrenched intertwined with powerful vested interests.
If the policy makers want an overhaul of the education system, as is desired in the recently released New Education Policy, the reality would have to be confronted.
Some people will have to stem the rot.
This will definitely involve risks as Amrendra's example has shown.
Society and the intellectual academic community will have to support persons who attempt to reform the system and not abandon them.
---
Peehu Pardeshi is an Assistant Professor at the Tata Institute of Social Sciences, Mumbai. Dr Sandeep Pandey is a winner of the 2002 Magsaysay Award.
Feature Presentation: Ashish Narsale/ Rediff.com