'The NEP is a threat, not a hope.'
Chandrabhan Prasad, who is among India's leading Dalit intellectuals and activists, went to a Dalit school with two teachers. He learnt English after he enrolled at the Jawaharlal Nehru University from where he obtained an MA and MPhil.
An ardent champion of the English language, he has always maintained that one of the aspirations of young Dalits is 'to speak in English'.
Last year, his daughter secured 99% in English in Class 10. "English is not just a language, but also a culture that celebrates universality," he says.
In an interview to Rediff.com's Archana Masih, he explains why he thinks the new education policy which makes regional language the medium of instruction in primary school is not just anti-Dalit, but anti-India.
Why do you feel the new education policy is anti-Dalit?
It is not just anti-Dalit, it is essentially anti-India as it hands over the affairs of the State to the society. India is not like the West that earned its civil society. India is still a caste society, hence it needs strong State control.
The new education policy is the first official intervention of the RSS in India's social affairs.
This is the first time the RSS is using State machinery to extend its cultural hegemony over Dalits.
From Ambedkar onwards, Dalits are fond of the English language, Western style of dressing and culture.
Dalit history embraces Western culture as egalitarian in comparison to Hindu culture.
English is not just a language, but also a culture that celebrates universality.
The RSS is mounting an effort to subdue Western influence. If the BJP returns to power in 2024, they will launch a full-blown attack.
The Sangh Parivar is not only opposed to English language, but also believes English to be the carrier of Western culture. They see Western civilisation as a threat to Hindu civilisation.
When I celebrated (Thomas Babbington) Macaulay's birthday in 2006 and it was covered in the press, the RSS gave a statement that these are Macaulay's putras.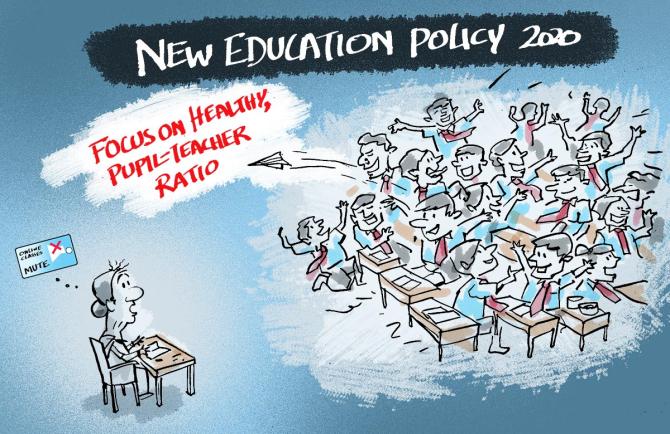 You say that if the BJP returns to power in 2024, the RSS will play a bigger role in education. How do you see that happening?
People may not accept this imposition of deshi language, but the next thing they will do is refrain students from saying 'Good morning teacher' and change it to 'Pranam'.
There is a psychology behind that too -- when you say 'Pranam' you bow your head, fold your hands and the person usually responds saying 'Khush raho'.
This was the traditional culture of caste dominance. It is a subtle way of subjugation.
On the other hand, when you say 'good morning', you are not required to bow your head.
Next, the RSS will say touching the feet of your teacher is sacred, but do you think an upper caste will touch the feet of a Dalit teacher?
There are 926,000 Dalit school teachers in government schools in the country. Schools are the biggest employers of Dalits, even more than railways.
Citizens will abandon government schools that will lead to mindless privatisation of schools, blocking oxygen supply to Dalits.
The BJP is planning this disruption by using State machinery in society.
It will affect Dalit children and teachers the most because they are the ones accessing government schools.
Private English medium schools that have mushroomed in town and villages will not be affected, so why the furore?
The damage was first done by ghe UPA when they introduced the midday meal scheme in government schools and replaced slates with plates.
This effectively converted government primary schools as schools for Dalits. The fear of food pollution made upper caste people withdraw their children from these schools.
For the UPA, food was more important than intellectual development of Dalits.
The leaders of the Congress and BJP are largely children of upper castes and landlords. In the past, landlords used to cook some extra food and Dalit women would come to the house and they would give it to them.
This system of feeding Dalits is part of the permanent memory bank of upper caste politicians.
Over the years, the quality of education has deteriorated in government schools.
I went to a Dalit school that had only two teachers, and no free food. Learning was more important than food.
Earlier, primary schools used to conduct a board exam in Class 5 where we wrote short essays and solved arithmetic problems. Today, Dalit children in Class 5 cannot sometimes write the names of their parents.
This has made 25% to 30% Dalits who can afford it withdraw their children from government schools and shift them to private schools.
In its second term the BJP's agenda is about correcting what it believes are the wrongs of the past. It is already on course with education being part of that agenda.
The 2019 victory was a big win for the BJP, its second in a row, but why are they so angry?
They are angry because they feel this victory came too late because the damage has been already done in the past seven decades.
In the past, Dalits used to go and collect food from upper caste homes, work in their farms, go as praja (subjects) in their sons' baraat to shore up numbers, but Dalits don't do that anymore.
It is this loss of this praja that angers the BJP even in victory.
So now the RSS wants to enter society through the State's education policy which it has always wanted to do. The RSS wants to retain the hegemony of the upper castes.
To the RSS, caste supremacy comes before Hinduism, the supremacy of Hinduism comes before the nation.
The NEP is a threat, not a hope.
Feature Presentation: Aslam Hunani/Rediff.com