What does the National Educational Policy 2020 mean for students, parents and teachers?
Divya Nair/Rediff.com finds out.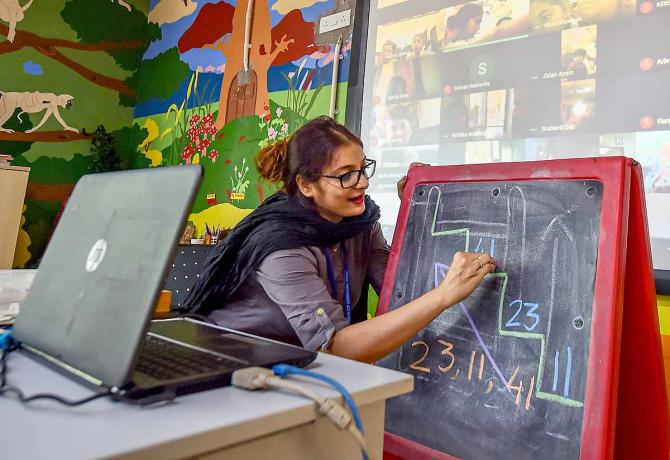 The Union Cabinet's decision to implement the National Educational Policy 2020 on July 29 has evoked mixed reactions.
While some have welcomed the decision calling it a game-changer, others are concerned about the implementation and lack of infrastructure to enable it.
Parents and students largely favoured the idea of 5+3+3+4 model (upto 5 pre school, 6 to 8 mid-school; 8 to 11 high school, 12 onward graduation) over the existing 10+2+3 school structure.
"It took over three decades for us to see this change," says Gayatri Devi, parent of a teenaged daughter who is in Class 8 and plans to pursue her higher education abroad. "Letting go of the 10+2 board system should be a huge relief. With the four year degree model, finally, our Indian students will be at par with their international peers."
Rahul Kokane, who is in Class 9, is excited that going forward, he will not have to choose between engineering and music.
"I used to always tell my friends that after we turn 18, we should have the freedom to pick our electives. With this new policy, I feel lesser students will drop out of engineering to follow their passion for dance, music, films, arts or even comedy. Even if you dropped out, your education won't go waste. At least you will get a basic certificate for the number of years you studied," says Rahul who is currently taking online music lessons alongside preparing for the IIT-Joint Entrance Examination.
Dr Niranjan Hiranandani -- provost - HSNC University that constitutes the HR College, KC College and BTT College in Mumbai -- agrees that the policy will transform learning in the future.
"I am delighted to see a diverse policy that aims to meet the future learning needs which will ingrain practical skill-based learning to shape the learners being Industry ready. The policy very well addresses most of the critical issues that daunt our current education landscape and brings about a totality in terms of the paradigm shift that we need for educated and skilled people in India," Dr Hiranandani said in a statement to Rediff.com.
"The NEP will offer multiple exit points in studies, which means that one could actually get into employment at different ages, different times, and different levels of education which is a thoughtful strategic structure," Dr Hiranandani added.
The idea of introducing vocational training at the school level has interested parents and educational institutions.
Rustom Kerawalla, Ampersand Group, feels that "Project-based learning, vocational learning at an early age, and learning of life skills and inclusion of technology will help a child realise ambitions, gain multi-dimensional knowledge and universal skills and lay the foundation for higher education."
"In addition," Kerawalla points out, "a new system of self, peer, and teacher assessment will give parents and children a 360-degree progress report with new skills learned during the academic year."
"My eldest son learnt to code when he was in college. My younger one is only 11, but he is already taking programming lessons during the weekends. So yes, it's a great move by the government to teach vocational skills at the school level," says Suresh Madikeri, an IT consultant based out of Bengaluru.
Mitali Chowdhury, who teaches Math for Classes 8 to 10 at an international school in Mumbai, the idea of having semester exams twice a year means a huge respite for students, and teachers.
"Having multiple unit tests is too stressful for students, parents and teachers. The amount of time spent in preparing, evaluating and the resources spent to have these examinations four times a year (through unit or mid-term tests) can be reduced," says Chowdhury.
Some teachers believe the new policy doesn't provide an immediate solution.
"In theory, the new policy is encouraging. But what about the funds?" asks Archana Menon who teaches English and science at a school. "Most schools are struggling to pay salaries to teachers. Parents want everything, but they won't part with the money. They'll pay donations and send their children for fancy tuitions. But if you ask them to sign up for a Vedic Math, Web designing or even summer camp, some of them threaten to go on morcha, saying schools should simply focus on finishing the syllabus."
Pointing out the grim reality faced by teachers in India, Preetha**, a mother of two who teaches social sciences at a school, says: "This year when the pandemic began, I invested Rs 8,000 to get a basic certification to be eligible to teach online. Parents are not paying fees, but they want their children to study. We are already overworked and stressed."
"Government should emphasise that teachers need to be remunerated for the hours they put in," she adds. "Also, skills training need to be funded partially by the government or the institution you will be working for. Because right now, some of us are not even paid full salaries."
"If we have to teach students new skills and subjects, we will need to get trained for it. The new NEP may be fantastic on paper. But who will pay for all this?" she asks
For some others like Sumeet Mehta, co-founder and CEO, LEAD School, the decision to have mother tongue as the mode of instruction till Class 5 is a problem.
"The insistence of mother tongue till Class 5 is problematic. This is against the principle of choice. Parents should choose the medium they want their children to learn in," Mehta says.
Besides, there is a general lack of clarity.
"The NEP is a little confusing to begin with," says Suryakant Mishra, a teacher and private tutor.
"I admire the PM's grandeur idea to modernise India's education system, but it's not going to be easy. We have multiple state boards and modes of education. There is no clarity on how pre-schools, schools and colleges can actually execute these guidelines."
"Parents want to know how this will change board examinations this year. What happens to students who are already in a course? How will it affect them? There has to be a proper plan and resources to go with it. Else we all know what happened after demonetisation," he points out.
Meanwhile, parents like Gayatri Devi feel that for the NEP to be successful, there needs to be a complete overhaul in the mindset of Indians.
"If you look at the newspapers, there is so much coverage about toppers with near perfect scores and coaching centres training students to be doctors, engineers. Even if you choose to ignore, the percentages are flashed on the front pages and ads."
"We don't see that emphasis on performing arts, research or innovation. Apart from education, we need to build a culture where we stop obsessing over academic performance and merit."
"As parents," says Devi, "we need to encourage multi-disciplinary skills and build emotional intelligence as well."
*Kindly note that the main image has been posted only for representational purposes.
**Name changed to protect privacy.