Indicators are that there has been little enthusiasm for Rajinikanth's entry into politics, owing possibly to his 'hide-and-seek' game over the subject since the early to mid-nineties. That was when Rajinikanth was already a superstar, says N Sathiya Moorthy.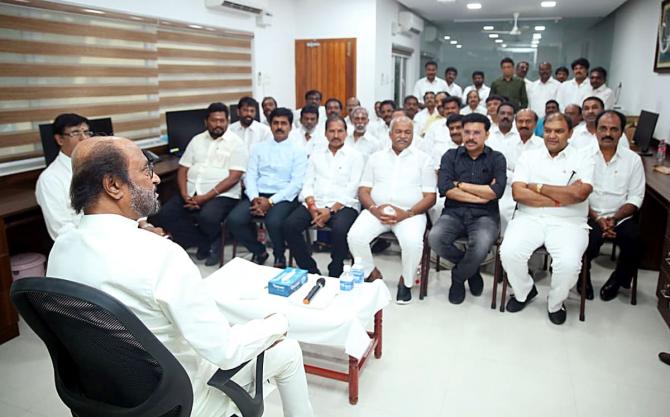 Independent of individual perceptions and intellectual dissertations on the need for Tamil cinema's superstar Rajinikanth to hit the election track for the state assembly polls by May next, and the great opportunity that awaited him, there seems to be equal justification in his perceived hesitation in the matter.
Days after a statement in his name, but not on his letter-head or that of the 'Rajini Makkal Mantram' began doing the rounds on social media, there is little or no action on the ground, to persuade the superstar to change his mind. The period included a weekend, yet no huge crowds of Rajini fans were seen outside his upmarket Poes Garden residence in Chennai, pleading with him to take the political plunge, which he has been 'delaying all along, for the right time to strike', as some fans put it.
True, Rajinikanth promptly distanced himself from the social media message in a tweet, saying he was not the author. However, he volunteered that the information contained in it about his kidney ailment, and his undergoing treatment in Singapore and the US, were also accurate.
Rajinikanth also conceded that his doctors have advised him against public contact during these Covid times, anticipating infection. Though he was inclined to go by medical advice, Rajini promised that he would consult his fans before announcing his decision.
But then the question arises, as the wag puts it, how come an unidentified author of the first message in his name knew all his health details, which not even many in his close circle or big-time Kollywood film-makers did not know for sure.
All that the fans and the rest of the population had guessed all along was that Rajinikanth was not exactly keeping good health.
A section of the Tamil pulp media had reported infrequently that Rajini was being treated for kidney ailment in Singapore first, and the US another year, but there was no confirmation. Not many people also took the media reports seriously.
Fans then ask the question if it was an 'insider' job and if so, by who? More importantly, given the gravity of the personal information shared so very casually, they wonder why Rajini has not approached the cybercrime police to identify the culprit and remove the person from his circle, if a mole is there.
If it's not an insider's job, then he should also be careful about how the 'rumour-monger' got access to the information, and plug the loopholes in the system working for him and around him. The fans are really, really concerned and seriously so.
Some also point out how the style in the writing of the 'rumour-monger' resembles that of Rajini's other statements. They say that investigations, if any, may have to start there.
Over time, all this would only be of an academic interest, but only if Rajinikanth decides to go back on his earlier commitment to enter the electoral fray in 2021. But what if he enters direct politics and contest elections? Fans are worried that such a mole continuing in his immediate circle could be a source for leaking his electoral strategy to political rivals which, in turn, could affect Rajini's electoral chances.
Going beyond what otherwise may read only like gossip, there are serious issues for Rajinikanth to consider, of which his health will also have to remain at the top. Apart from his personal wellbeing, Covid or not, there is no knowing if his health would permit him to undertake a strenuous poll campaign, that too at the height of summer.
As some point out, this will have to be Rajini's longest days out in the sun and for weeks together after his start-up days in filmdom and his earlier life as a student of the Film Institute at Adyar, Chennai -- and also the before it, when he was a bus conductor in Bengaluru.
"He was young, health issues are not." Today, he is 70, and any setback to his health, even an ordinary cold, would have a huge negative market, impacting on his party's prospects, if he were to launch a political party or even campaign for other parties.
Now that Rajinikanth has acknowledged his health condition, some political analysts also feel that the voter will be wary of betting on him to be able to run a government effectively and efficiently through the next five years, if elected, Whether he is chief minister or not, people are going to vote for the 'Rajini brand' of frankness and 'aanimiga arasiyal' or 'spiritual politics', as he put it without explaining.
This is true even of his launching a political party and running it. The wag sees in his March announcement that he would have another person as chief minister to mean the superstar indicating his health situation. "Obviously, he was/is serious. He does not want to go back on his commitment to enter the election fray in 2021, but he also does not seem to know how to go about it otherwise." Come next elections, and he would be five years older, at 75. For the Lok Sabha polls 2024, he would only be two years younger, at 73.
Should Rajini still ignore all issues, health and otherwise, of the future, the question about his electoral acceptance has become suddenly magnified than earlier, thanks to his frankness on 'health disclosure'.
There is one last issue that Team Rajini may be considering before he takes the plunge -- that is, if it came to that. Thuglak editor and RSS ideologue S Gurumurthy reportedly spent two hours with Rajinikanth after the latter came up with his tweet, confirming his health condition and indecision as yet on entering politics. Though described as a 'courtesy call', it is unlikely that they did not discuss politics, and Rajini's position in the matter, especially with the assembly elections not very far away.
However, other indicators are that there has been little enthusiasm for Rajinikanth's entry into politics, owing possibly to his 'hide-and-seek' game over the subject since the early to mid-nineties. That was when Rajinikanth was already a superstar.
When Rajinikanth invited fans for consultations on his political plans in the last week of December 2017, and made the announcement for an election entry in 2021, there were more journalists and photo and videographers outside his 'Raghavendra Kalyana Mantapam' than there were fans, inside -- and even more outside, where people would have expected thousands, if not tens of thousands of them!
N Sathiya Moorthy, veteran journalist and political analyst, is Distinguished Fellow and Head-Chennai Initiative, Observer Research Foundation.