'Creativity and invention come from engaging with the physical world.'
'This is something that we in the upper classes of India do not do as much as the rest of the world,' says Aakar Patel.
Illustration: Uttam Ghosh/Rediff.com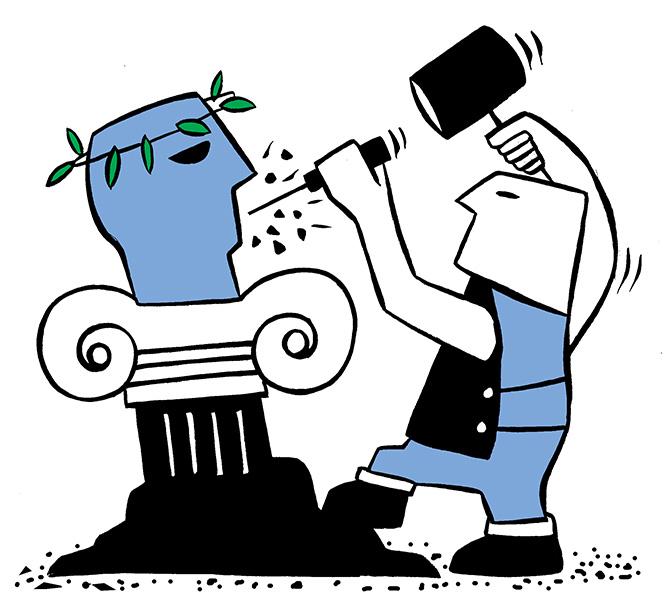 America's third president Thomas Jefferson lived in a home he had designed himself in his 20s.
Named Monticello, it was neo-classical in design, with a pediment (that triangle shape you see above the columns in buildings like the Parthenon) and a rotunda, a dome, which would not have been easy to design or construct.
Jefferson's morning ritual was to go outside and record the atmospheric pressure on his barometer. He was a wealthy man (being the owner of a plantation) and did not need to work, given that he possessed several slaves.
So this activity of his presumably sprang from some instinct that was not linked to necessity.
I was reminded of this on reading an interview of Steve Wozniak in which he referred to physical creativity.
Wozniak founded Apple along with Steve Jobs. Wozniak himself hand-built their first machine, about 42 years ago, which was called the Apple-1.
He was visiting India and a journalist asked him this: 'What are your views on India? Do you think a global tech company can emerge from here?'
Wozniak replied: 'I am not an anthropologist and I don't know the culture of India well enough. I don't see those big advances in tech companies. What is the biggest tech company here, Infosys maybe? I just don't see that sort of thing coming out of Infosys and I have done keynotes for them three times.'
The journalist asked a follow-up: 'What is the missing link here?' And to this Wozniak said: 'The culture here is one of success based upon academic excellence, studying, learning, practising and having a good job and a great life. For upper India, not the lower.
'I see two Indias. That's a lot like Singapore -- study, work hard and you get an MBA, you will have a Mercedes but where is the creativity? The creativity gets left out when your behaviour is too predictable and structured, everyone is similar. Look at a small country like New Zealand, the writers, singers, athletes, it's a whole different world.'
Wozniak is modest enough to qualify his observations by admitting that he did not see himself as an expert on either culture or India. But what he says still needs to be looked at seriously because he is making a critical point.
As Indians we have more input on this subject than he does, so let's first see if he has said something obviously wrong. He says there are two Indias that he had seen and he's talking about the 'upper India'.
Most Indians don't have access to a good enough school and certainly the career path of an MBA with a Mercedes is unavailable to them.
Wozniak is addressing the urban elite of fewer than a hundred million Indians. That is you and I, readers. We don't have to examine any data here. We have to only ask if what Wozniak observed about ourselves is true. Is it?
Creativity and invention come from engaging with the physical world. This is something that we in the upper classes of India do not do as much as the rest of the world.
I spent some time a few weeks ago in a flat facing Regent's Park in London. I was jet lagged and up before 4 am.
Standing by the window I noticed that cyclists, some in groups and others alone, were passing, all in gear with helmets and lights.
I am a cyclist myself and one morning, with nothing to do, I started to count. I stopped after a thousand cyclists had passed under my window (this was a weekday morning) and it had not even been much longer than 60 minutes.
This was clearly a culture that loved physical activity and outside spaces and it shows in their beautiful country.
Let us look at some Indians that all of us know about because they have led public lives. Can we think of many who had similar spirit?
One of Jawaharlal Nehru's biographers was Walter Crocker, Australia's high commissioner to India. He wrote that Nehru practically kept a zoo in his garden at Teen Murti Bhavan and was interested in and personally cared for all sorts of animals. I found that interesting.
The thing that is unusual about a Gandhi, which separates him from the rest of us, is his constant working with his hands. The spinning and the cleaning. It is no doubt the product of his many years in South Africa and England.
The same time as I was thinking about what Wozniak said, I read a story in The Guardian, the liberal London newspaper, under the headline, 'The sandwich that took 10 months to make (... sow, grow, catch, bake).'
The report read: 'If there is an easy way to do something, Benjamin Carle does not do it. So when the Frenchman wanted a sandwich, it was out of the question to buy one from his local boulangerie.'
Instead, he set out to make one from scratch. From sowing the wheat to produce flour, to baking the bread, to building a vegetable garden on a Paris rooftop and fishing for tuna, to raising chickens for eggs.
Ten months later, Carle, 30, had his sandwich, which he insisted tasted all the better for the effort expended to make it. He also claimed the exercise revealed a modern-day existential truth: That the millennial generation is engaged in a desperate search for something to do with their hands.
The report quoted Carle saying that what he was doing was not that unusual. 'My girlfriend knits and I saw all around me more and more people who have nice day jobs but spend their evenings doing some kind of manual activity and telling the rest of us about it,'
'We are all in DIY mode,' Carle said. 'It's as if our intellectual jobs are too abstract and not satisfying enough. People are happier with some kind of material reality.'
This is something that Karl Marx first observed about the modern production method. But if it is a universal truth, for some reason it has excluded us.
I find that Wozniak's point about the active pursuit by ordinary people of the creative arts and sports not being common among upper class Indians is absolutely true for me.
What about you?