'Long Distance Running is not merely a sport, it's life's breath.'
'While everyone breathes so they can run, runners run so they can breathe,' says Krishna Kumar.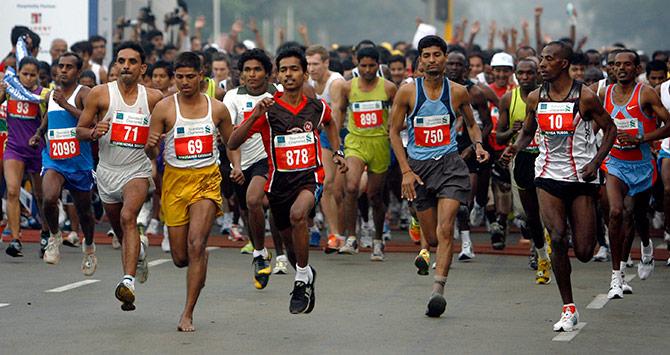 IMAGE: The Tata Mumbai Marathon in all its glory. Photograph: Punit Paranjpe/Reuters
It isn't for nothing that Mumbai is called MaximumCity.
It's a city always on the move. But then the kind of energy that one sees in the wee hours of the third Sunday of January pales all the adjectives given to Amchi Mumbai into insignificance.
Thousands of runners and several thousands of cheering Mumbaikars congregate to pay their respects to the mother of all events -- the Tata Mumbai Marathon, TM).
The adage goes, have feet, will run, but with TMM it's like, have spirit, will run.
Long Distance Running is not merely a sport, it's life's breath. While everyone breathes so they can run, runners run so they can breathe.
Homo Sapiens is a profoundly smart species, with a great capacity to fool itself, but then long distance running is such a majestic sport that it makes you go naked, no amount of intellectualisation gives you even a shade of a shredded grass to cover yourself with.
You can't hide from the truth about yourself any longer, it's as simple as that.
It has been almost a decade since I have been running the Mumbai Marathon. My first run was in 2009, and since then it has been like taking an annual pilgrimage (except for 2014 when I missed it).
As with all good things in life, LDR demands Discipline, Hard work and Sacrifice.
Rather, LDR feeds upon Discipline, Hard work and Sacrifice and in turn also feeds into Discipline, Hard work and Sacrifice, as it strengthens those aspects of your life, like strengthening a core muscle.
Some time in September I stumbled upon a book by Angela Duckworth, Grit -- The Power of Passion and Perseverance.
In it Duckworth shares her predicament with running, when her performance had stagnated. While discussing it with her coach, he asked her what she was doing to improve her performance, to which Duckworth replied, she runs as she enjoys running, what more.
This was exactly my situation, I could see myself in her shoes, for I too got up and ran, but then my performance saw no improvement.
Duckworth's coach suggested she follow the principle of T&T if she wanted to improve.
Target & Tracking is the first lesson LDR teaches you, rather it builds your mindset for setting a target and tracking performance as a way of life.
While there is no denying that I run for the sheer joy of it, one of the sources of joy is when you see yourself improving. As humans maybe we are hard wired to strive for excellence!
I excused myself from the path of excellence by taking refuge in the thinking, 'Oh, but I am doing it for the love of it.'. As they say, we humans have an immense capacity to fool ourselves, so did I.
I have been part of the LRC (Lokhandwala Runners Club) for the past few years. It is one of the finest running clubs where people come together for the pure pleasure of running.
I discovered that LRC had started a Mentors Challenge to help runners improve their performance. I enrolled myself in it.
My mentor was Colonel Amitava Kundu (retd). While I won't go into the details of the programme, I would like to share that target setting and performance tracking is the foundation of the programme.
That a simple act of setting a target and tracking one's daily run performance can have such an profound impact on one's thought process was unimaginable for me.
It simply pushes you out of your comfort zone.
Colonel Kundu with his fine leadership skills propelled us all to keep hitting our weekly target by giving up the warmth of the pullover in the winter morning chill.
Sacrifice is one of the ingredients for achievement, lesson one if you will.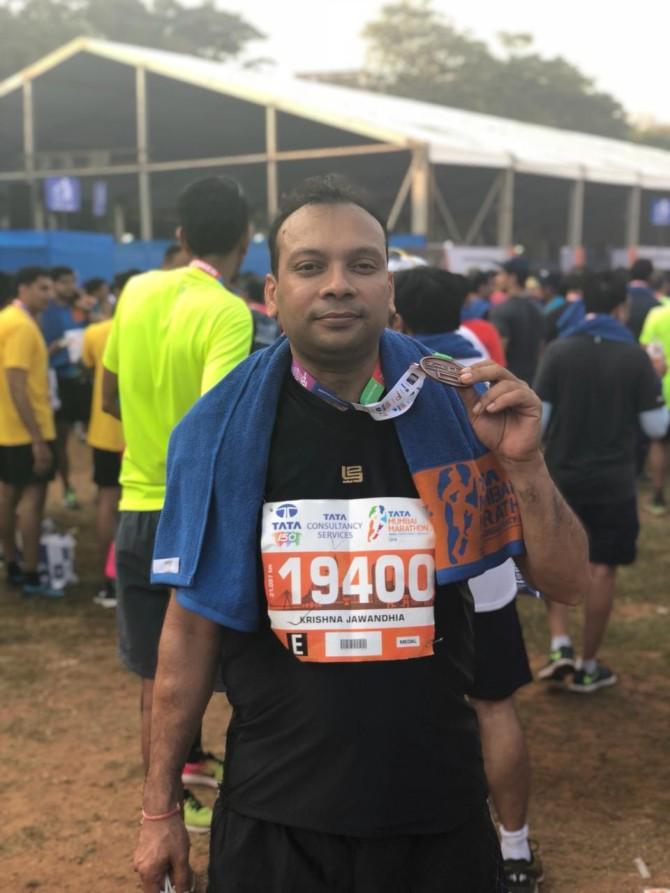 IMAGE: Krishna Kumar at the finish line of the Tata Mumbai Marathon.

With all practice and preparation, D-Day finally arrived -- January 21, 2018.
The winter chill was still in the air. The atmosphere was super-charged at the Worli dairy, the starting point for the half marathon, where over 10,000 runners had gathered to pound the road with their feet.
You could read the emotions on their faces. Some nervous, others joyous. Some had come for fun, many were dead serious.
Whatever the emotion, one thing was clear: No one would go back an empty soul.
Everyone who landed at the starting point would end up taking a piece from the moment to savour for eternity.
At 5.40 am the race started. The wave of humanity hit the trail, and with the passage of time wave after wave of runners rushed onto the road, each looking forward to cover the distance of 21.097 km.
As I hit the trail, I could breathe the energy in the air -- fresh and charged.
I had to exercise restraint and not let my mind be driven by the atmosphere around.
After all, 21.097 km is a pretty long distance to cover. So that's the second lesson that LDR teaches.
While life may be short, the journey of life is pretty long, so harness your emotional horses wisely and tightly.
Irrespective of how many races you run, how many hours you put in practice, it takes a few km before you get into your groove, for it takes a while for the body to warm up.
That's the third lesson: Whatever you start in life, you have to bear some initial discomfort, some unease. It will take a while for you to get into the skin of the game.
One of the highs of running the Tata Mumbai Marathon is that you get an opportunity to run on the iconic Worli-Bandra sea-link. But then, as they say, all good things in life come with a caveat.
Running on the sea-link is a bit tricky, because it is an elevation. So it's kind of a double whammy. The body is just warming up and before it is fully warmed you hit the elevation.
So that's the fourth lesson: Life doesn't always offer you choices of your liking, rather you have to make the best of the choices that are being offered.
As you reach the centre of the sea-link, the gradient declines; the body is now fully warmed up so you want to take advantage of the downward slope by increasing your pace so that you can knock off a few minutes at the finish.
The fifth lesson: Make some hay while the sun shines, and why not? After all, the tail wind needs to be taken advantage of.
But then, remember, you have only covered three to four km of the 21-km race course, you still have 17 km to go, so hold your horses. As they say: Don't jump your gun. That's lesson six.
As I was cruising down the decline, taking advantage of the slope, I saw runners taking a U-turn, as that was the set path.
And as I took the turn the incline started. This is what happens many a time in our life as well.
Just when you think you have got into the groove of things, life throws up a surprise.
'Life is what happens to you when you are planning for life,' John Lennon once said. Seventh lesson: Expect the unexpected.
As I took the U-turn and was running up the incline, a thought came to me.
Many a time in life we want to keep going with the flow, enjoy the good times.
In spite of tiny signals from the soul whispering in our minds to change course, we want to keep going.
But then like the mandatory turn that I encountered, making a course correction is necessary.
Had I run down the slope, not only would I have deviated from the set path, but also got myself disqualified from the race.
From the goal that I had to hit, it was mandatory that I take the turn irrespective of how pleasurable the flow was or however painful the new course path would be.
To run towards the goal post, pain was inevitable. And that's the eighth lesson.
For the next few km I try and keep up the pace. I am now in the trickiest path of the whole course.
If I increase my pace, I can gain a few minutes, but then I also need to save my energy for the most challenging part of the race, the climb at Pedder Road.
Holding my nerves I just run the course keeping up my momentum, avoiding all misadventure that springs from over-enthusiasm. That's lesson nine.
Mother Nature was still kind to her children by maintaining a cool breeze even as the Sun god was rising in the horizon.
As I approached Pedder Road from the Worli side, I prayed and paid my respects to all gods and goddesses around, from Pir Haji Ali to Mahalakshmi.
May the force be with all runners. Lesson 10: No harm in keeping God on your right side.
As I started the climb at Pedder Road, I didn't know what to expect, for this was the spot where my legs got locked in the 2016 Mumbai Marathon, when I just couldn't run, and I had to walk, rather limp away.
That was the time the words of Dr Martin Luther King Jr provided me with much-needed energy: 'If you can't fly, then run. If you can't run, then walk. If you can't walk, then crawl. But whatever you do, you have to keep moving forward.'
So this time, once again taking inspiration from Dr King's words, I kept moving forward, one step at a time, and I just kept running. That's lesson 11: Keep Moving.
After crossing Kemps Corner I felt some solace. But then the race was not done yet.
I still had a little over 5 km to run.
As I hit Marine Drive, there were festive sights all around. Bands playing, kids dancing. The elite runners had hit the course.
It is sheer joy to see them run. They seem to be flying in the air, exhibiting the same grace and poise that a ballerina does.
They have perfectly synchronised body movement, with every muscle of their body talking to each other.
Pure bliss!
As I took the turn from Marine Drive to Churchgate, I could feel the strength of my legs waning, the body refusing to move, but then the mind prods, one more step, just one more step.
Even crossing the distance mark which said 800 metres to go didn't give me any solace.
Just 600 meters from the finish line I could feel the pain aggravating.
Now my eyes were frantically searching for the Chhatrapati Shivaji Maharaj Terminus (formerly Victoria Terminus), for that's the point of Nirvana, where the race ends.
Looming among other heritage buildings around it the grand CSMT finally came into view and that's when I got the faint feeling that I might just complete the race.
As the mileage mark read 100 meters to go, I pushed my body for the last leap and crossed the finish line.
I felt elated and relieved for completing my 9th Mumbai Marathon.
As I looked at the clock at the finish line, I smiled to myself, for I knew I had improved my last year's timing by a good 7 minutes.
The smile was like a faint rainbow one sees after a big storm.
Finally, as I walked towards the arena to collect my finisher's medal, I got the last and 12th lesson: There is no harm in over-preparation.
Which means for the 2019 TMM I have to prepare for a 25 km course so that 21.09 km can be a breeze.
If you have stayed with me and read this far, then I would request you, urge you, to make LDR a part of your lifestyle (after due medical advice, of course).
Health is just one of the good things it gives you, deep behavioural change is at its core.
But more on that, later.
Krishna Kumar is founder-CEO, GoMo Tech, a management consulting firm helping technology companies with their sales and business development strategy and execution.
He is also a motivational speaker, and can be reached at kk@live.in