'The pressure to expand the council of ministers will come from states where the BJP has formed a government after ousting the Congress,' predicts A K Bhattacharya.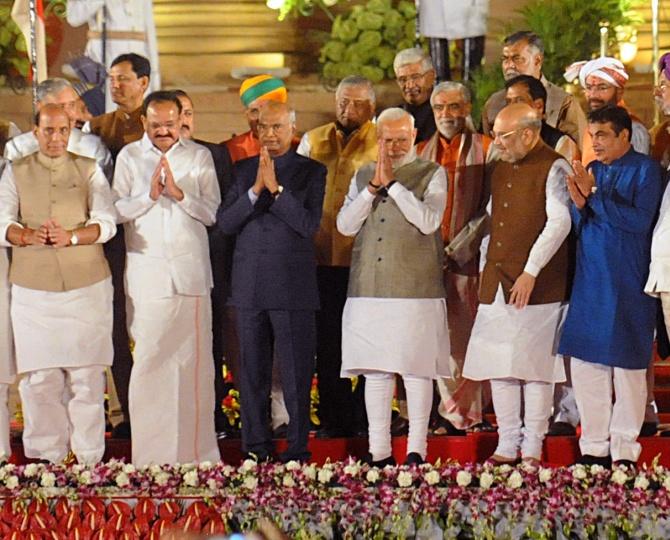 In his second term as prime minister, Narendra Damodardas Modi has been a little more restrained as far as reshuffling or expanding his council of ministers is concerned.
This may be because since March, he has been preoccupied with the tasks of tackling the pandemic.
But the fact is there has been no major ministerial reshuffle or expansion of the Union council of ministers in the Modi government's second term even after 14 months since its formation.
When he was first sworn in as prime minister in May 2014, the size of his ministry was relatively small at just 45 ministers -- 23 Cabinet ministers and 22 ministers of state including those with independent charge.
By November 2014, Modi inducted 21 more ministers into his government and raised the strength to 66.
Twenty months later, in July 2016, he appointed over a dozen more ministers and the strength of the council was well above 70.
In contrast, Modi began his second innings at the end of May 2019 with 57 members in the Union council of ministers.
There was expectation that the size of the council would be expanded soon just as it was done in 2014. But no such reshuffle or expansion has taken place so far, barring just one change in November 2019.
Arvind Sawant quit the Union Cabinet after his party, the Shiv Sena, broke off its relations with the Bharatiya Janata Party in Maharashtra over the formation of the state government.
That actually reduced the size of the council of ministers to 56.
Sawant's ministry -- Heavy Industries and Public Enterprises -- was handed over to Prakash Javadekar, who already had two other ministries under him -- Information & Broadcasting and Environment, Forest and Climate Change.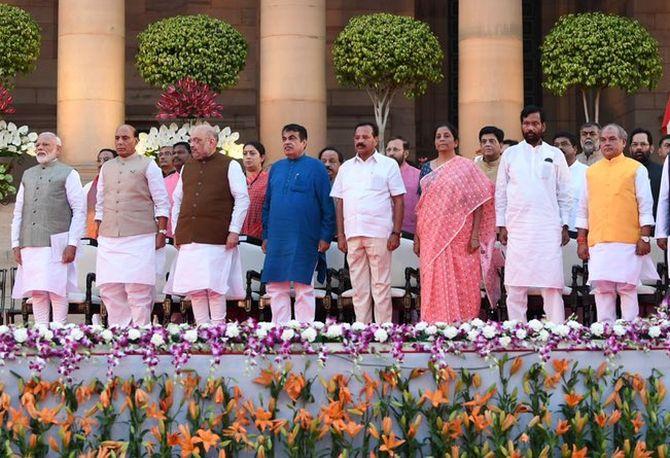 At the Centre, there are 52 ministries and two departments. The two departments, looking after space and atomic energy, are under the prime minister's direct supervision.
Modi is also in charge of the Ministry of Personnel, Public Grievances and Pensions. That leaves 51 ministries to be looked after by the council of ministers.
But in Modi's second term, there are only 23 Cabinet ministers and nine ministers of state with independent charge.
Twenty four ministers of state do not have an independent charge.
The unusual feature of this government is that as many as five Cabinet ministers are in charge of as many as three ministries each.
Five more Cabinet ministers handle two ministries each.
There are only 13 ministers, who handle a ministry each.
Of the nine ministers of state with independent charge, as many as four ministers look after two ministries each and the remaining five are entrusted with one ministry each.
If the Modi government could do with fewer ministers in the last 14 months, the obvious question that arises is, why there should be any need for any expansion of the council of ministers?
Governance has not really suffered because of fewer ministers.
The much-hyped goal of maximum governance through minimum government seems to have been achieved at least at the top rung of the administration by entrusting the responsibility of about 63 per cent of the total number of ministries with just 14 ministers.
Critics may worry about the concentration of power in a smaller number of ministers, but that is a different debate.
The next step here upon should be to restructure these ministries by merging or restructuring them to ensure there is synergy and correlation among the different ministries being looked after by each of these ministers.
For instance, there is no reason why Steel as a ministry should be handled by one minister while Coal and Mines should have another Cabinet minister or why Commerce and Industry, Heavy Industries and Public Enterprises and Micro, Small and Medium Enterprises should be handled by three different Cabinet ministers.
A logical next step for the government would be to keep the strength of the council of ministers at the current level, since governance has not really been worse than when there were more ministers, and restructure as well as reallocate them in a manner that the exercise brings greater cohesion, harmony and synergy.
The chances of this happening, however, are very remote. For many years, ministry formation has not been just about governance, but more crucially about political management.
Far more important than governance is to ensure how different states get necessary representation in the council, how different alliance partners of a coalition are looked after and how the presence of different castes and communities in the council is ensured.
Pressure from the alliance partners to include their members in the council may not be difficult to resist.
There are 30-odd partners of the National Democratic Alliance, but none of them wields a strong influence on the BJP, whose dominance in the coalition is almost complete.
The real pressure to expand the council of ministers will come from the states, where the BJP has already formed its own government after ousting the Congress by winning over loyalties and may do so again in another state.
In short, the Modi government may not be able to keep its council of ministers as lean as it has kept in the last 14 months.
---
Feature Presentation: Rajesh Alva/Rediff.com