'If the RSS should be saluted for choosing such a scholarly statesman to address its highly trained cadre, one must also praise Pranab Da's sagacity for having gracefully accepting the invitation, thus disapproving any ideological apartheid,' says former BJP MP Tarun Vijay.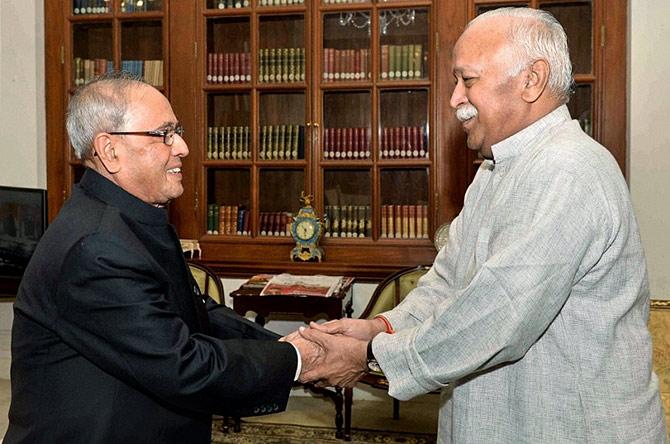 Former President Pranab Mukherjee is a scholar par excellence who brought a rare dignity and academic aura to Rashtrapati Bhavan.
I have known him for 30 years, since before he left the Congress and rejoined it later.
During those turbulent times, I interviewed him for Panchjanya (a weekly Hindi magazine published by the RSS) at his Teen Murti Lane residence (in New Delhi). All he said was that he had a few principled differences with Indira Gandhi's Congress and never allowed the conversation get acrimonious as far as she was concerned.
Later, when he rejoined the Congress and became defence minister, he gave a scintillating speech (external link) at the Executive Defense Industry Round Table Lunch organised by US-India Business Council in Washington in 2005.
I cannot resist quoting a few lines from that famous speech -- though it was given 13 years ago, it sounds as if it were just yesterday -- which I believe will aid our relationship with the Trump administration.
Mukherjee revealed an extraordinary long term vision, which still reverberates in the higher echelons of the external affairs ministry.
'I believe real opportunities of partnership and commerce (between India and the USA) exist at least in the following specific areas that are essentially defensive and non-lethal.'
'Some of these are technologies/equipment/strategy to counter terrorism; surveillance, communication equipment, sensors for border management; cyber security -- synergies in the field of information technology; and devices to neutralise IEDs.'
'While we could begin modestly, it is necessary for the US to look seriously at platforms and weapons systems which, in our case, may be needed purely for self-defence and deterrence.'
'There are commercial opportunities for American industry in the sale of equipment and weapons.'
'But India does not look at purely a 'buyer-seller' relationship. Such a relationship needs to be 'strategic'.'
'We are looking for long-term commitment. Therefore, really substantial commercial opportunities will arise from the following: Transfer of technology; co-development; co-production; mutual outsourcing; and joint marketing.'
I used this speech, translated in Hindi, in Panchjanya, which he appreciated.
If the RSS should be saluted for choosing such a scholarly statesman to address its highly trained cadre, one must also praise Pranab Da's sagacity for having gracefully accepting the invitation, thus disapproving any shamanistic ideological apartheid.
What will Pranab Da see?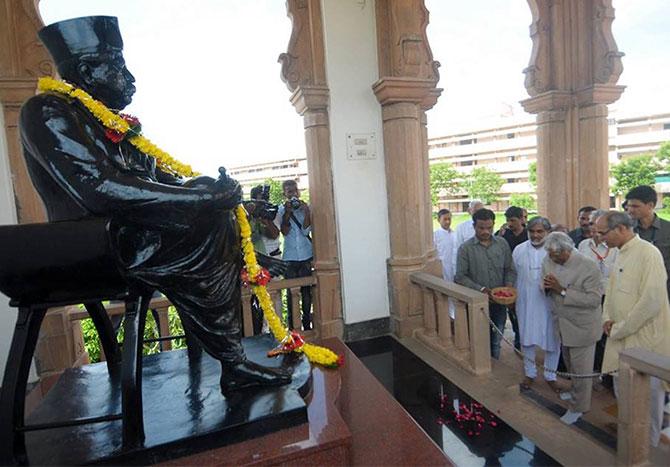 Pranab Da will see a large number of youth representing the new resurgent, disciplined, liberal and inclusive Hindu society that fuels the engines of India's growth.
The best of software engineers, IIT graduates, financial experts, teachers, young entrepreneurs and a huge battery of pracharaks (non-ochre wearing Sangh monks) who have dedicated their lives to serving India in various fields like medical care, schools, tribal hostels, eye banks, blood banks, special children, visually challenged, international Hindu brotherhood, labour and farmers.
They all will be there to listen to him.
What exactly is the RSS all about?
It is an unapologetic, proud Hindu organisation that follows the ideals of Chhatrapati Shivaji, Swami Vivekananda, Sri Aurobindo and Dr K B Hedgewar (the founder of the RSS).
Our faith in Hindu dharma is inclusive. It doesn't allow any discrimination against any segment or any faith.
Our inspirations are rooted in the glorious traditions of Hindu civilisational values.
It is the sacrifices and lifelong dedication to the glory of Mother India by millions of selfless RSS workers since 1925 that has wrought changes in India's social-cultural and political agenda.
It is an incredible saga of Hindu resurgence, unique in its methodology and unparalleled in the annals of world history.
An 'applied RSS' example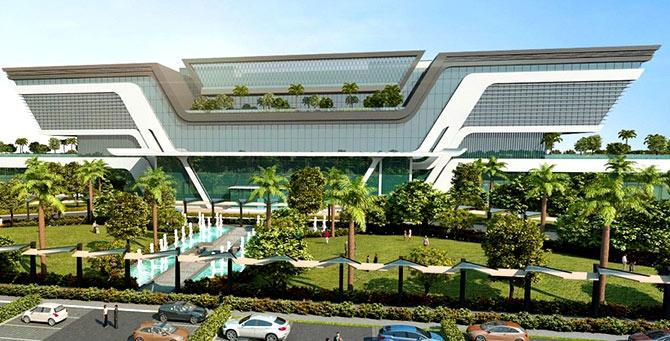 Recently, I was in Nagpur to attend the 'sacred thread' ceremony of a friend's son and chanced to hear about a National Cancer Institute coming up there in memory of Abaji Thatte, personal physician and assistant to the second RSS sarsanghchalak (chief), M S Golwalkar (popularly known as Shri Guruji).
It aroused my curiosity. I was taken around the institute by its chief architect and executive, Shailesh Joglekar. The visit was an eyeopener even for someone like me, who was born in a RSS family.
The National Cancer Institute, which is spread across 700,000 square feet, can be termed as one of the best cancer hospitals in India. The campus facilities include a Yatri Niwas, a nursing college, a hostel, a staff housing facility and an engineering service block.
The two people giving leadership to the entire project are Maharashtra Chief Minister Devendra Fadnavis and Shailesh Joglekar. Both are friends and both share their inspiration behind this project.
Devendra's father suffered from cancer and, despite trying to get the most advanced treatment available then, he could not save his father's life.
Shailesh, a senior advocate, lost his wife to cancer.
The tragedy they individually faced made them aware of the problems faced by cancer patients in India. Their loved ones find very few centres where cancer patients can get satisfactory treatment at a reasonable cost.
Cancer treatment in India is so expensive (with a few honourable exceptions like Mumbai's Tata Memorial Hospital) that it often becomes as painful as the dreaded disease itself.
The dream to start the best, yet affordable and patient friendly cancer, hospital began taking shape, with help coming from RSS swayamsewaks Narendra Modi, Nitin Gadkari (who hails from Nagpur), Piyush Goyal, Dharmendra Pradhan and many, many, others.
Ratan Tata was very enthusiastic about the project as well.
The first phase soon came up near Nagpur. With the help of 53 specialist doctors, 156 state-of-the-art machines and 470 beds, it now serves 1,248 patients.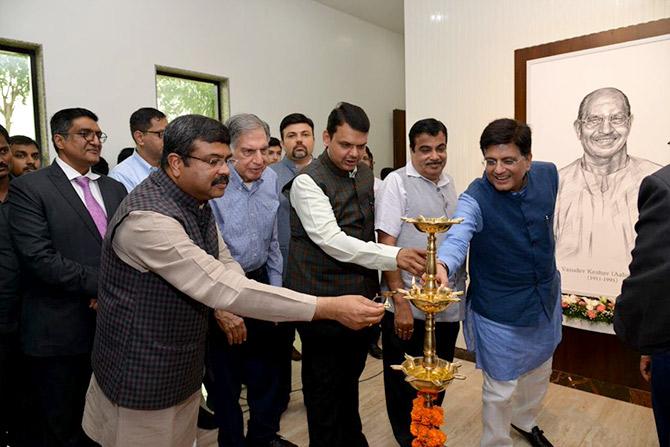 The National Cancer Institute has introduced a unique scheme, Kark Yoddhas or warriors against cancer, a group of highly skilled professionals who have devoted their lives to eliminate cancer.
"In the fight against cancer," Shailesh explains, "doctors are in the front line. We give oncologists and other medical practitioners a platform that helps them in their quest to conquer cancer by offering them access to world-class infrastructure."
"We help them stay abreast with the latest and best innovations through affiliations with reputed international institutes. These Kark Yodhas help patients, answer their queries in a warm, friendly manner, assist their caregivers and try to help them in every way they can as these patients are in a state of great shock and feel dejected."
"The role of the Kark Yodhas is to give them hope and help them face the situation calmly."
"We provide access to the latest cancer care equipment and, most importantly, enable them to give back to society without restricting their knowledge and empathy to a certain elite class."
"The institute also plans to start university-recognised training courses for nurses, para-medical staff and medical fraternity, including super-speciality training in oncology and PhD programmes."
I feel this cancer hospital is Applied RSS or a living introduction to its founder Dr Hedgewar.
Those who want to know what the RSS is all about, and what the vision of its founder Dr Hedgewar was, must visit this hosptial. They will be introduced to the spirit that shapes the RSS.
How did the RSS begin?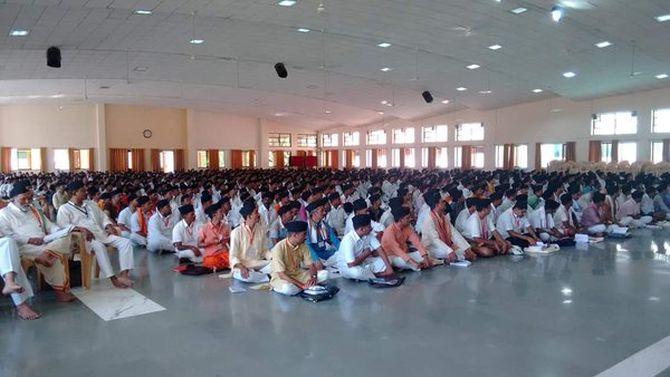 The RSS runs more than 1.7 lakh service projects all over India.
It is the only organisation that is active in every single aspect of nation-building -- serving millions through hospitals, eyes banks and other Sewa Projects.
Often, it is the RSS workers who are found giving a helping hand when there is a calamity.
One can't understand the RSS without knowing about the visionary who created the world of the Sangh.
In fact, if we have to select one person whose life and organisational capacity has most impacted the life of the average Indian, it would undisputedly be Dr Keshav Baliram Hedgewar.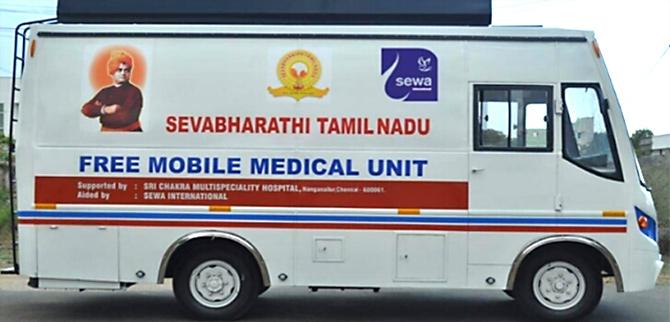 Born in Nagpur on the Hindu new year (Varsh Pratipada, Vikrami Samvat) in 1889, Hedgewar became the architect of a modern powerful India. He had an unapologetic pride in Hindu civilisation's legacy.
His is the incredible story of a person who succeeded in transforming society with a new generation of dedicated youth, whose influence is seen today in every corner of India -- from Tawang to Leh and Okha to Andamans.
He founded the Rashtriya Swayamsewak Sangh on Vijayadashami day in 1925 with a simple, one line announcement, 'I am announcing the formation of the sangh (organisation) today.'
The name Rashtriya Swayamsewak Sangh was given a year later, after intense deliberations and after receiving many suggestions, which included Bharat Uddharak Mandal (loosely translated as Society to Rejuvenate India).
His principal purpose was to create a society that would never fall prey to internal squabbles and forge a firm solidarity so no one would be able to subjugate us again.
Before he formed the Sangh, Dr Hedgewar had been an active member of the Congress and was one of the people in charge of organising its famous Nagpur session.
He participated in the non-cooperation movement and was sentenced to a year's rigorous imprisonment for giving passionate speeches about freedom.
He was also targeted by the British government for his connections with the revolutionaries of the Anusheelan Samiti and their leader, Pulin Behari Bose.
He never sought or received publicity and remained relatively lesser known than the people he moulded, who later became internationally renowned.
The RSS' achievements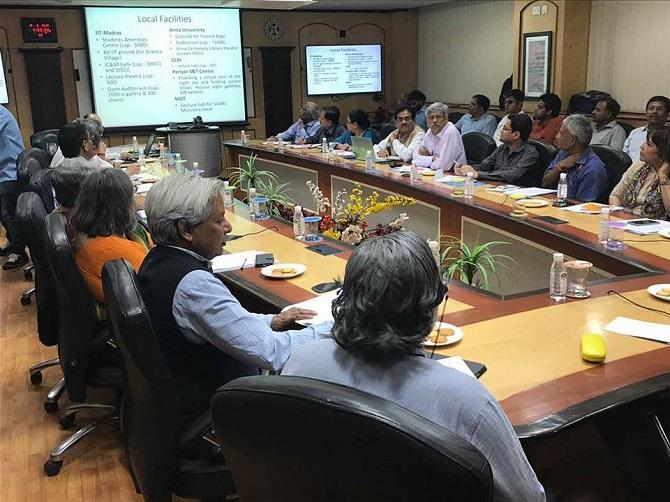 Thousands of swayamsevaks have shone in their respective fields.
You name any area of our national life and you will find a person inspired by Dr Hedgewar.
Renowned supercomputer scientist Dr Vijay Bhatkar, who heads the RSS inspired organisation for scientific research and organising scientists to create a scientific atmosphere rooted in India, Vigyan Bharati, is one of them.
From medical help to schools, colleges and institutions of technology, from labour unions to students' fronts and tribal service projects, Dr Hedgewar's vision is being implemented by thousands of young souls who have dedicated their lives for the cause of every Indian citizen, even in the remotest of areas.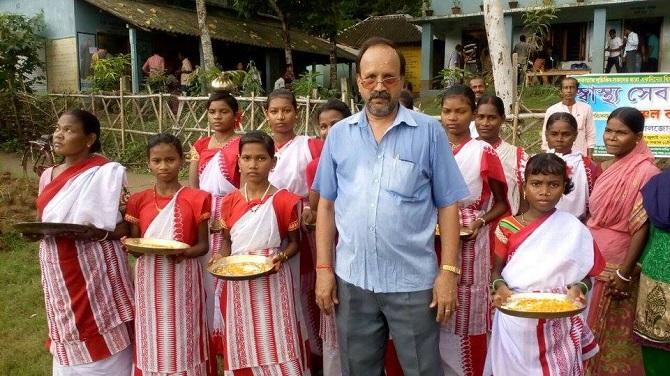 It is difficult to believe that just one organisation, which is providing education and health services to tribal children, the Vanvasi Kalyan Ashram, is running 20,000 service projects that include hostels, schools, medical centres and women self reliance projects.
The largest number of inter-caste marriages happen within RSS families. RSS workers are waging a silent war to eradicate caste-based discrimination.
When I took Dalits to a temple in a remote Uttarakhand village in Jaunsar Bawar, the so-called high caste people maintained a studied silence. The only solace came from RSS national General Secretary Suresh Joshi who said, 'You are fighting for social justice.'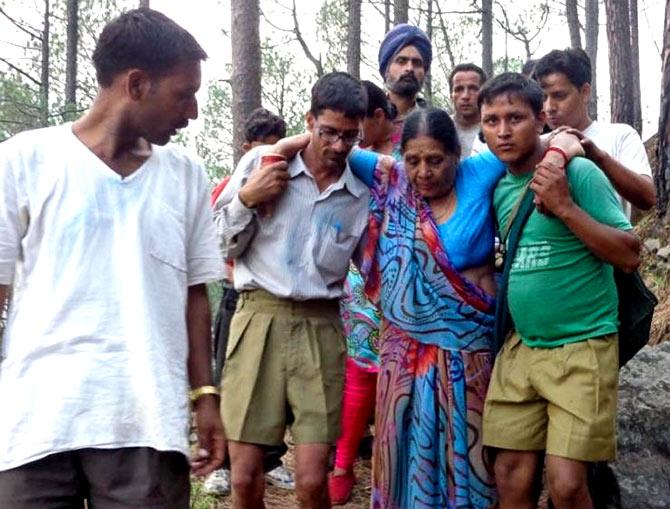 Today, the largest network of service projects run by any organisation in India is efficiently run by RSS workers.
The RSS is involved in 170,000 projects, including hospitals, blood banks, eye banks, special centres to help the handicapped, the visually challenged and Thalassaemia-affected children.
Whether it is war or a natural calamity, Dr Hedgewar's followers are the first to reach the site and provide relief.
Whether it was the Charkhi Dadri plane crash, the December 26, 2004 tsunami, the Bhuj and Uttarkashi earthquakes or the Kedarnath tragedy, RSS swayamsevaks were in the forefront to help the affected people and, later, rehabilitate them.
It is true that the BJP owes its moral strength to the RSS and a large number of its leaders are swayamsevaks.
But it would underestimate Dr Hedgewar's impact on Indian society to judge the RSS only by the political spread of the BJP.
Think of Moreh, the last village on India-Myanmar border. Who is running a school there and providing medicines to the local villagers? They people who are doing this are inspired by Dr Hedgewar's vision.
Think, also, of the projects at Mokukchang and Changlang in the far north east that serve the local tribe and the ashram for tribal students at Port Blair in the Andamans that are run by swayamsewaks.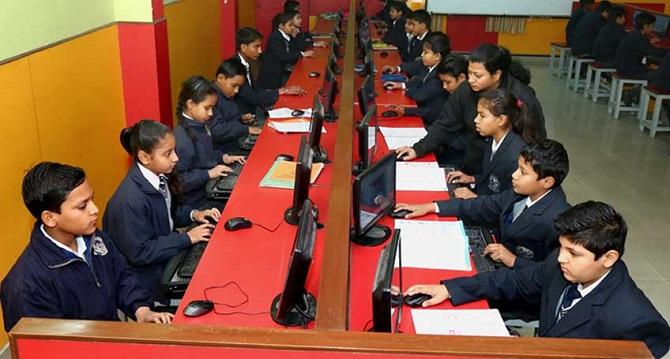 The RSS today has the biggest network of educational institutions in the country and perhaps the world.
Vidya Bharati today runs more than 25,000 schools. Their locations extend from the farthest village in the north east to the snow deserts of Ladakh and border villages of Rajasthan, Jammu and Punjab. Vidya Bharti has a quarter million students and employs 1 lakh teachers.
Dr Hedgewar's ancestral village, Kandakurti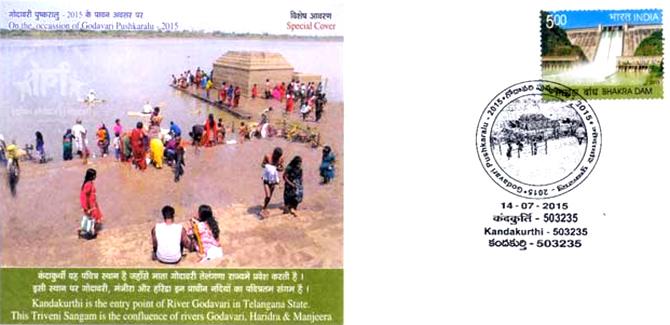 A few months ago, I was shooting a documentary on Dr Hedgewar's ancestral village, Kandakurti, in Telangana. It is a historic village on the confluence of Godavari, Haridra and Manjiri rivers.
The population of this sleepy, calm village is almost 65 per cent Muslims and 35 per cent Hindus. There are as many mosques as there are ancient temples. They exist side-by-side and there has not been a single unpleasant incident.
The ancestral home of the Hedgewar family is about 50 feet by 28 feet, which has been turned into a memorial by the villagers who were inspired by senior RSS leader Moropant Pingle.
It runs a beautiful co-educational school, Keshav Bal Vidya Mandir, that has a modest strength of about 200 students. I was pleasantly surprised to find a good number -- almost 30 percent -- Muslim girls and boys, studying there.
It is not that the village doesn't have other schools. Then why do the Muslims here prefer to send their children to a school established in the memory of the RSS founder?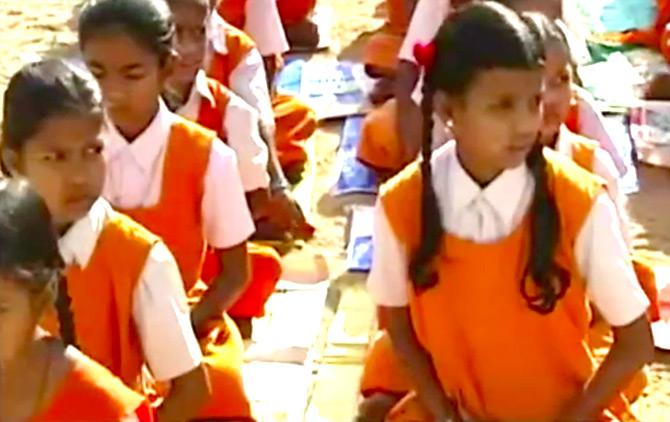 One such parent, Jalil Begh, traces his ancestry to the Mughals. He is a journalist representing the Urdu daily, Munsif.
He says his family felt the school was good because it has the best facilities and caters to the poor and financially weaker sections of society. They have a digital class as well and train kids in computers. Above all, he said, the standard of education was good.
Rafia, a student at the school, sang, Hind desh ke niwasi, Sabhi jan ek hain, Rang roop, vesh bhasha, Chahe anek hain (The people of Hind are one, even if our colour, attire and language differ).
Dr Hegdewar, India's biggest changemaker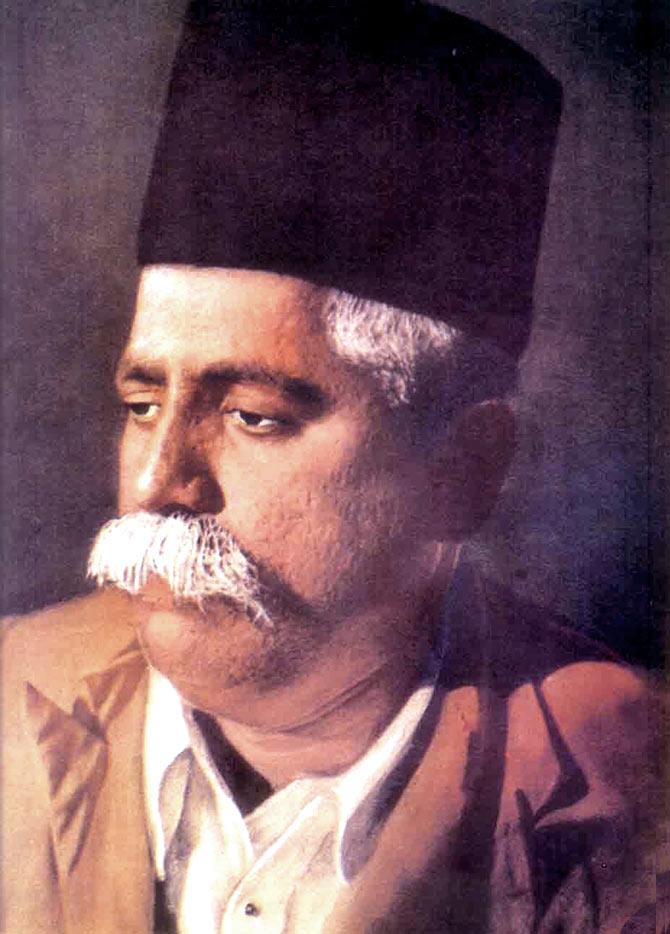 The man who gave a pan Indian vision to millions, inspired bright young Indians to be part of a new order of thought as pracharak monks (who don't wear ochre robes but live the life of an ascetic), giving their utmost for peoples' education and health care and work towards a civilisational awakening in a silent, unpublicised way, keeping away from the media glare, is a story of an India that is being transformed like never before.
Dr Hedgewar -- who inspired millions to live for the greater good of the nation, injected in people a sense of pride and courage, inspiring them to stand for the universal values and Dharmic traditions of Bharat, that is India -- needs to be studied and appreciated more.
He is the biggest change maker India has ever witnessed.
That is RSS -- Ready for Selfless Service.
Pranab Da is going to the right place, a place where he will feel the spirit of Bharatvarsh.
Tarun Vijay, former BJP MP, was the chief editor of the RSS weekly, Panchjanya, for 20 years. He has made a documentary on RSS founder Dr Hedgewar's ancestral family's journey from Kandakurti, Telangana, to Nagpur.