Much of the pre-2014 peace in our hotspots is diminished.
Kashmir is on the boil and the Northeast is anarchic, observes Shekhar Gupta.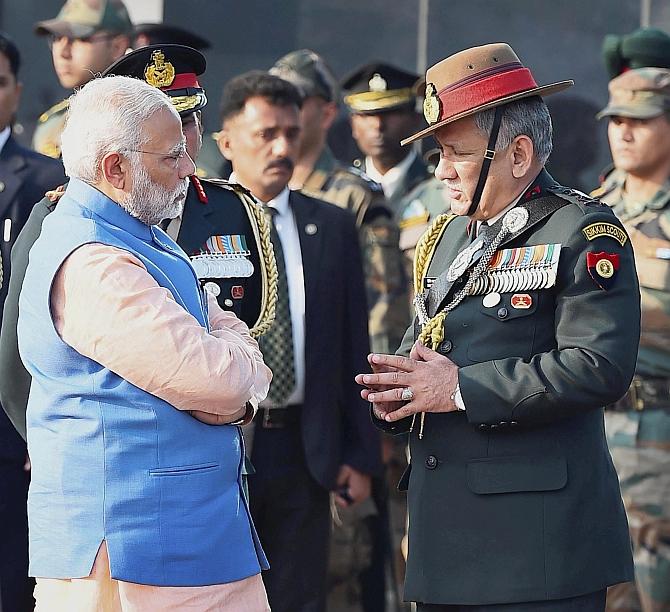 For almost a decade now, it has been plausible to argue that India was more secure externally and internally than it had ever been.
It will be hasty to call an end to it, or to declare that it was just a passing epoch.
It will also be complacent not to note new threats.
The external front is still the same as before, in spite of the months when the LoC lights up. But the internal situation has deteriorated.
At its halfway point, the Narendra Modi government's report card on internal security is, let us stay with diplomatic euphemism, indifferent.
The government inherited a reasonably stable internal security environment in the summer of 2014.
Kashmir was quiet and the Northeast was more or less out of our headlines.
The most worrying, active trouble was then in east-central, tribal India, the Maoist region, or what North Block prefers to call the LWE (Left Wing Extremism)-hit zone.
The UPA government had shown a great deal of contradictions in its handling of armed Maoists although Manmohan Singh had quite accurately diagnosed it as India's number one security threat.
Police and central forces were suffering unacceptable casualties, the political class lived in the fear of assassination and illegal 'tax' collection was unabated.
There was, of course, the other perennial threat, of home-grown or Pakistani jihadis backed by the ISI, but post-2008, it had been stable.
I would agree with Minister of State for Home Affairs Kiren Rijiju, therefore, when he ranked internal security threats in May, 2014 as LWE, Kashmir and then the Northeast.
The Maoist region is now much quieter. Security forces' casualties are minimal and armed rebel ranks are depleted with killings and capture in encounters and large-scale surrenders, even if many of these are stage-managed or fictional.
The state governments have much greater control. A good indication is the increase in mining activity.
Both other threats, however, have become worse.
The ranking should now change to Kashmir, the Northeast and the Maoist heartland, with ISI/IM/ISIS terror threat lurking as before.
Kashmir is back on top after a decade because of a combination of external and internal factors.
The relationship with Pakistan is at a low ebb, and that is also a political decision at the Indian end. The more worrying decline is internal.
Unrest in the Valley over the past months has taken the mood back to the ugly 2010-2011.
It has reversed most of the gains of a peaceful election and resumption of the political process.
Much was expected of a sagacious alliance between two contradictory ideological forces, the PDP and BJP. But it has mostly failed.
It is true that army chief, General Bipin Rawat, spoke more in anguish than any intent to launch a war on the local population. But frustration with the ground situation in the Valley is rising.
This is fundamentally different what happens on the LoC.
That, the army is fully capable of dealing with. It is a battle-hardened army that enjoys combat.
Getting into low-intensity, urban operations, and having to deal with thousands of angry civilians are a different matter altogether.
The army isn't equipped to deal with them.
The most lethal weapon the mobs carry is stones. The least lethal weapon the army uses is an automatic rifle.
It is a mismatch no regular army likes to deal with, or has ever succeeded in doing.
The myth of Israeli military genius has been exposed by similar mobs despite the use of much harsher measures on people Israel does not consider its own.
There is no way the Indian Army would use any lethal force even vaguely comparable against its own people.
The larger failure of the NDA government, and the PDP-BJP alliance in Jammu and Kashmir lies in not being able to keep the population, particularly the young, engaged and more importantly, optimistic of the future.
In the process, as in the bloody pre-2002 past, Kashmir is back to being handled purely as a security problem, putting intelligence agencies in the control room and the army on the frontline.
This is not the script Atal Bihari Vajpayee had written.
And because Narendra Modi called Vajpayee's Kashmir policy his inspiration, it is for him to repair this situation, politically and strategically, not tactically or militarily.
One index of the state of internal security is how fully India's Central Armed Police Forces are stretched. They have now crossed a million mark in strength (the regular armies are 1.3 million) and are the largest in the world.
They are, at this point, fully stretched, with almost no reserves left.
Some of it is due to the state elections. But it is difficult to foresee much respite even March onwards.
That is partly because with winter thawing the Kashmir Valley will again be entering the 'campaign"' season unless the political process is restored. But also because the Northeast, which was calm for so long, is active yet again.
In fact, more active than it has been since the mid-1980s when Rajiv Gandhi signed peace accords with insurgents in Mizoram and agitators in Assam.
Worse, this renewed trouble is also less military (unlike the past) but more political and, therefore, tougher to respond to.
Manipur is in an active state of inter-ethnic anarchy and nobody seems to have any response to it except shove in more CAPF companies, even use the IAF's largest C-17s to airlift diesel to the blockaded Imphal Valley.
This is unsustainable.
Nobody had anticipated this at a time when the separatist insurgency has been dormant for years.
Even today it is a failure of governance as the conflict is Valley versus the Hill Tribes, Manipuri versus Manipuri. The Congress and BJP are both playing the ugly game to their own electoral advantage.
Nagaland's is a more complex -- and disappointing -- story.
Premature claims of a settlement when only a one-page framework agreement had been signed with the largest insurgent group resulted in the peace process drifting away.
This has given time and space for inter-group clashes and rivalries to fester. All of these groups carry arms and collect 'taxes' although, in fairness, they mean very little threat to anyone other than each other.
But they own their own respective domains, unchallenged, have become fully mixed with local populations and have stretched their influence to the adjoining district of easternmost Arunachal Pradesh.
It is a matter of time before it spreads to the sensitive oil districts of Upper Assam.
The overall internal security balance sheet, therefore, could be a lot better.
Postscript: The challenge of mobs in the Kashmir Valley and our army chief's anger brings back a conversation with the late Buta Singh in the summer of 1989 when he was Rajiv Gandhi's home minister.
He had invited my then editor Aroon Purie and me for dinner, mainly to explain his defence of the scams he and his sons were then said to be involved in.
He talked of a conversation on the same table with Georgian strongman and Russian foreign minister Eduard Shevardnadze, who marvelled at how India managed to deal with massive protests, when his troops unleashed poison gas on the first crowd they encountered in Tbilisi, killing many and losing Georgians and sparking the unraveling of the Soviet empire.
"Your excellency," Buta Singh said, "We never send the army to face mobs because what can an army use but the lethal weapons it has?"
"So what do you do?" Shevardnadze asked.
"We have this thing called CRPF," said Buta Singh, "if you so desire I can lend you a couple of battalions to train your people, excellency."
IMAGE: General Bipin Rawat, the chief of the army staff, brief Prime Minister Narendra Modi on the security situation in Kashmir after four soldiers were slain in a firefight with terrorists on February 14, 2017. Photograph: Kamal Singh/PTI Photo