'The border standoff, if not properly addressed by both sides, could escalate to a conventional or sub-conventional conflict between India and China,' predicts Srikanth Kondapalli, one of India's leading China experts.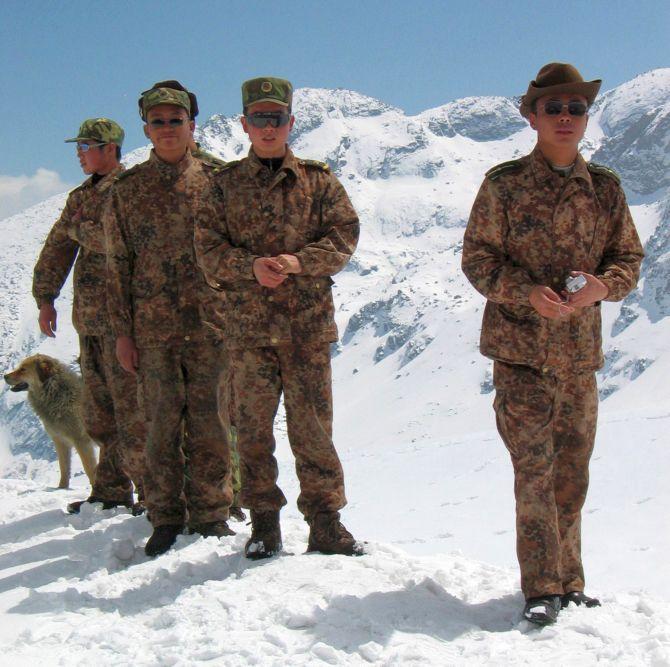 The continued military standoff at the Sikkim-Bhutan-Tibet tri-junction has led to speculation about the possibilities for confidence building measures, diplomatic intervention, or even conventional or sub-conventional skirmishes between India and China.
In the light of escalation in China's 'three warfares' (in the media, psychological and legal arenas) on India in the last few weeks, several scenarios could unfold between these two rising countries with long-term consequences for Asian regional alignments.
It has been nearly a month since the standoff began between Indian and Chinese troops at the tri-junction with Bhutan.
No party to the dispute seems to be blinking unlike in previous such border standoffs.
This has led to a palpable uncertainty in bilateral relations, although so far the acrimony is mainly confined to tactical levels even as the strategic levels have been relatively free of the contagion.
This situation may not last long if other active measures are not initiated by both sides.
The three sides have struck to their respective positions: India and Bhutan insist that China shelve its military road construction activity and go back to the June 15, 2017 position.
China on the other hand demands Indian troops withdraw from Bhutan's territory.
For Bhutan, which has come under heavy pressure from Beijing, the age-old historical and cultural relations with India and security guarantees have been conducive to its all-round growth.
On the other hand, opening to China diplomatically are fraught with uncertainties.
Firstly, if diplomatic relations are established with Beijing, Thimpu is aware that it has to first accept the iron-clad 'One China' policy of jettisoning fellow Buddhist Tibetans from the Himalayan kingdom, thus tearing apart the social fabric and creating tensions.
Bhutan is aware of the recent plight of Nepal in this regard where the Chinese police wantonly intrude to chase away Tibetans.
Secondly, for Bhutan the pushy nature of Beijing's diplomatic, political and economic clout could alter its much-preserved happiness quotient in the long-term while upsetting the mutually beneficial apple-cart with New Delhi.
On the other hand, China has unleashed a barrage of invective against India -- both questioning the Bhutan-India special relations as well as on Sikkim and other areas, repeatedly reminding of the 1962 imbroglio.
This has led to speculation about a possible change in the escalatory ladder in the current standoff in the Doklam area.
While India has been assiduously de-escalating tensions, nevertheless, four possibilities could change the current situation at Doklam.
Firstly, while India and China signed confidence building measures in the conventional military field since 1995, including border personnel meetings, 'hot lines', periodic flag meetings, mutual military visits in local areas, these are conspicuous by their absence at the Doklam standoff.
At the moment, both armies are looking forward to the elusive political signaling.
Secondly, diplomatic intervention to resolve the issue is being explored -- quietly at the moment with back-channel diplomatic activity.
This is expected to increasing in the coming days with high-level official meetings.
In the previous standoffs at the Depsang Plain in 2013 and Chumar in 2014 and 2015, this track proved to be decisive, although slow in the making.
Thirdly, the border standoff, if not properly addressed by both sides, could escalate to a conventional or sub-conventional conflict between India and China.
While both sides have ruled such possibilities, miscalculation and misperceptions, which abound on both sides, could result in escalation.
Misperceptions abound with the unresolved territorial dispute triggering mistrust, fueled further by other factors such as 'extended territorial claims' as in Tawang or in Doklam, Pakistan, the Tibetan dynamics, and others.
At the conventional level, much preparation is being made by both sides, although spilling over into the nuclear domain is ruled out given the 'no first use' doctrines of India and China.
In conventional warfare, China clearly has an edge in quantity, logistics sustenance and saturation missile strike capabilities.
However, the Indian armed forces are no pushover with clear advantages in morale, motivation and professionalism, in addition to recent preparations in arms build-up including new air bases and advanced landing grounds, transport and rapid response, the Brahmos and a part of the Strike Corps available for operations.
For a decisive military outcome, China has to mobilise about 28 divisions across the Line of Actual Control, across narrow mountain passes with over 200 to 300 Four Plus generation J-10 and J-20fighter aircraft, Yun-20 transports from 12 airfields in and around Tibet and rapid response unit deployments.
This is a tall order given the ever-increasing demands in the South China Sea, Taiwan and Senkaku Islands.
Also, given the enhancement in the kill-ratio capabilities of the Indian armed forces, thanks to recent inductions, Beijing has to re-think Defence Minister Arun Jaitley's comments on the 1962 skirmishes.
Nevertheless, Beijing may be tempted to resort to Mao Zedong's dictum 'feint in the east, but attack in the west'.
This bleak conventional scenario leaves the possibility for sub-conventional stress levels increasing between India and China in the short term.
Much of the 'three warfares' that China is waging against India is in this domain of legal, psychological and media aspects recently.
In addition, cyber domains are expected to come under pressure.
Also, over 150 trans-Himalayan Buddhist monasteries could witness major changes in leadership and finances in the coming years with law and order as subjects of concern.
Srikanth Kondapalli is Professor in Chinese Studies, Jawaharlal Nehru University.
IMAGE: Chinese troops on the India-China border in the Sikkim region.