'The lessons from tiny New Zealand about mobilising to prevent an environment going up in flames around us and combatting the feral Whatsapp politics of hatred are in many ways Gandhian,' says Rahul Jacob.
After a white supremacist went on a shooting rampage in two Christchurch mosques last March that resulted in the death of more than 50 people, New Zealand Prime Minister Jacinda Ardern led from the front with compassion rather than hot-headed rhetoric.
She visited mosques of course, but also pushed through a law disallowing the ownership of military assault weapons within a week of the attack.
The contrast with the US on this issue was stark. Ardern famously refused to refer to the terrorist by name, arguing that he desired notoriety.
'I implore you: speak the names of those who were lost, rather than the name of the man who took them,' she said in a speech that was Shakespearean in its use of language as it was statesman-like.
As majoritarian populism takes an enormous toll on the pillars of democracy everywhere, from Donald J Trump's America to Boris Johnson's Britain to Narendra Damodardas Modi's India, tiny New Zealand (population: 4.7 million) is an unlikely role model.
It has problems, of course; housing prices have spiralled out of the reach of many. In a country much visited for its idyllic countryside, rural suicides are growing in the high teens.
Yet, from climate change to dealing humanely with immigrants, New Zealand lives on the seismic faultlines of our zeitgeist.
It is fashioning responses that do not evoke the anxiety attack that the once futuristic, even auspicious, year of 2020 has prompted from Washington DC to New Delhi.
In our global dystopia, a country whose politics do not evoke unbridled pessimism seems a hopeful place.
In neighbouring Australia, Prime Minister Scott Morrison, a staunch denialist of climate change, bumbled through the crisis of bush fires that claimed the lives of one billion native animals and more than 20 people.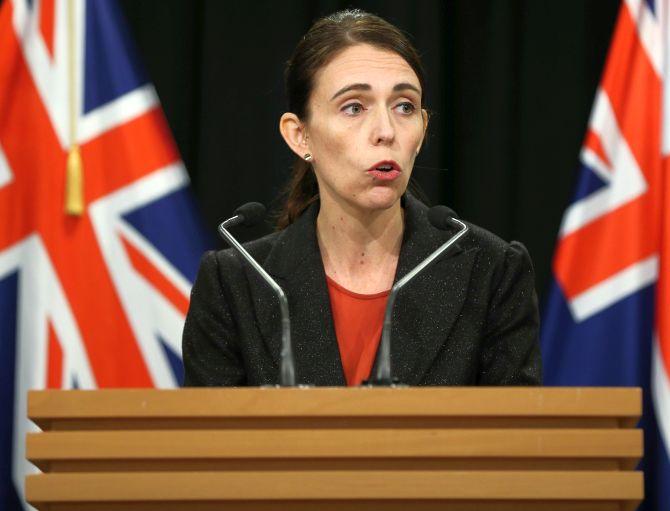 One example of the Kiwi focus on the environment is the request to clean the soles of one's shoes as you walk on paths in reserves in order to save the magnificent kauri tree which risks extinction from dieback disease.
On a mostly deserted beach on Barrier Island that looked an idealised, photoshopped vision of a perfect beach, my host fretted that some young men horsing around were running too close to a cluster of birds that are endangered; the fright could cause permanent stress.
The battle to preserve our environment, notably absent in the public consciousness in India on issues such as conserving water, is as urgent as the challenge of democracies managing diverse cultures.
New Zealand is grappling with high net inflows of migrants of 1.5% of the population annually, whereas most countries track well below 1%.
Every other Uber driver was from India and came to the country on a student visa, many studying at obscure technical institutes where diplomas became a track to citizenship.
New Zealand's population will pass 5 million this year, a jump that has taken 14 years rather than the 30 years that increasing from 3 million in 1976 to 4 million in 2006 did.
Inevitably, there is a debate starting on the levels of immigration, but little of the harsh rhetoric that one has heard against immigrants's from India's government over the past several months.
While Australia herds illegal immigrants on a harsh, sweltering island that is expected to act as a deterrent to others, New Zealand has offered to give them shelter.
The articulate cab driver taking me to Sydney airport Sunday said while Aussies had patronisingly regarded New Zealand as a kid brother, nowadays it seemed the other way round.
New Zealand is also richly bicultural in respecting its original Maori inhabitants and Maori heritage in ways that, for example, the US and Australia fall short.
I was at the gay wedding of a Kiwi friend where the wedding dinner abounded with moments made more beautiful -- the presentation of a feathered cape to a son getting married by his mother -- because they were distinctively Maori.
Watching the funeral of a Kiwi friend's father a few years ago, I was struck by how many eulogies were in Maori.
Part of the country's charm is how laidback it remains.
A mecca of fitness for fitness lovers worldwide is Les Mills, founded in Auckland, now a global group fitness phenomenon unlike any other with its patented high-intensity classes taught in 16,000 gyms worldwide.
Last month, an exercise class was a minute from starting when the owner of the company, Phillip Mills, gave up his spinn bike to a member who had just walked into the full class.
I tried to imagine this happening in India, but couldn't. I have not only worked for a diverse Kiwi macroeconomic research firm, but am such a sycophant of Les Mills Kiwi instructors in Hong Kong that I retain a gym membership in a city I left six months ago.
But the lessons from tiny New Zealand about mobilising to prevent an environment going up in flames around us and combatting the feral Whatsapp politics of hatred are in many ways Gandhian -- and global.
We should all sign up.