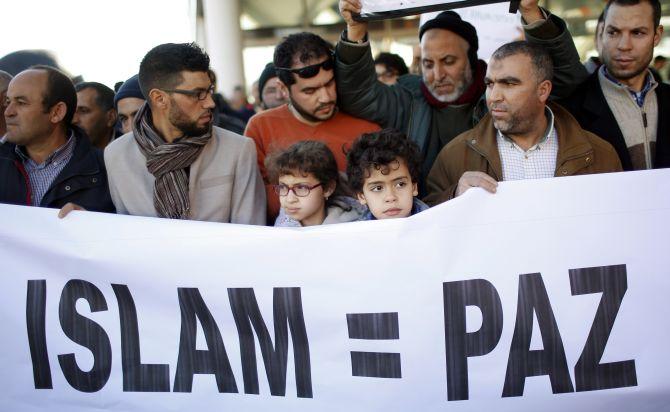 'Non-violence can be a viable tool for countering the competitive brutality of terrorist groups,' argues Rajni Bakshi.
Freedom of expression was the central motif of the million-strong unity march in Paris last Sunday. But the burst of opinion and actions triggered by the tragic strike on Charlie Hebdo raise some dark challenges about the veracity and the viability of non-violence.
While condemning the terrorist strike many have also questioned whether the right to offend, when carried to a certain extreme, is not itself a form of violence.
At least one commentator in the Indian media has claimed that it is an extension of the colonial hangover that those who wound with words are considered superior while those who respond to the hurt by killing are denounced as barbarians.
In India there was a time when this line of reasoning might have been easily dismissed as being obviously specious and toxic.
That is not an option when there is a spate of reports about groups in India that are now openly hero-worshiping Nathuram Godse, the assassin of Mahatma Gandhi. One particular group, in the city of Meerut, has plans to build a temple to Godse.
Such developments are generally seen as manifestations of the renewed tension in Indian democracy between secularism and an openly religious identity based polity.
But the more substantial tension is between two diametrically opposed views on the validity of violence. One sees non-violence and compassion as fundamental and universal civilisational values upon which to build a wholesome civil society.
The other sees non-violence as effeminate and even an affectation of the Indian elite that took over from the British in 1947.
Though it was not obvious a similar tension was probably just below the surface of the Unity March in Paris. As Western Europe grapples with how to tackle terrorism it will be difficult to sift the issue of religion and secularism from the more fundamental challenge of violence and non-violence.
For instance, recent weeks have seen pro-diversity rallies across Germany to counter anti-Islam rallies being organized by a group called Pegida -- Patriotic Europeans against Islamisation of the Occident.
Yes, it took the combined military power of the Allies to defeat fascism in the first half of the 20th century. But that does not mean that brute force is the only or the most effective way of dealing with terrorism.
The challenge before all those who are pro-diversity and free speech is to revive the spirit of the global anti-war effort 12 years ago. According to the BBC about six to ten million people marched in over 60 countries on February 15, 2003 to stop the impending US invasion of Iraq.
Participating in the march held in Mumbai on that day it was clear that no one in that gathering was a supporter of Sadam Hussein's regime. The no-war appeal was based on substantial analysis which showed that a war in Iraq would take the situation in that region from bad to worse -- as it did leading directly to the rise of the Islamic State.
Peace activists across the world are now confronted with the daunting challenge of demonstrating just how non-violence can be a viable tool for countering the competitive brutality of terrorist groups.
It is important but not enough to keep repeating that US foreign policy has seeded many of the Frankenstein's monsters that are now expanding at a frightening pace.
It will be far more important for votaries of peace and justice to craft geo-political strategies that are true to the ideal of non-violence and yet also rooted in some version of real-politic.
The challenge lies in drawing on the energy of the hundreds of million who favour freedom of expression to also stand up for creative solutions to conflicts rather than expecting brute force to overcome terrorism.
Image: Muslims with a banner that reads 'Islam = Peace' at a rally outside Madrid's Atocha train station. Photograph: Juan Medina/Reuters
Rajni Bakshi is the Senior Gandhi Peace Fellow at Gateway House: Indian Council on Global Relations.