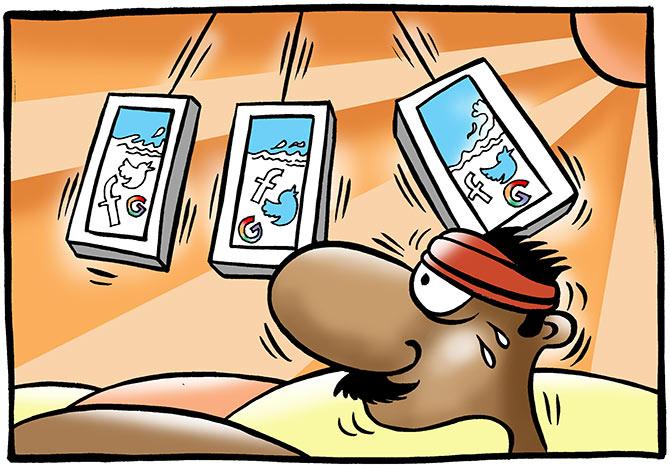 'If such is the ambition to effect change, India is a platform where an innovation can be tested on a scale unavailable in most places.'
'To take the simplest example, where else are hundreds of millions in one country waiting for Internet access, for better broadband, for 4G roll out -- millions of them in each of these categories -- of the ascending scale?' asks Ambassador B S Prakash. Illustration: Uttam Ghosh/Rediff.com
A few days before Modi's visit to San Jose, Rediff published my column on how the personality of the prime minister and the spirit of Silicon Valley were a good fit.
After it appeared, some of my friends, ingrained sceptics and hard-nosed bureaucrats, accused me of unwarranted enthusiasm, both for Silicon Valley as a place and for Modi as a person.
"We did not suspect that you are a crypto-RSS," said one, using the most handy, albeit irrelevant, label to denigrate my 'positivity.'
Is it a part of our DNA to lose perspective, to swing between adulation and condemnation? What we were seeing during the Modi visit to the US -- is it all mere hype or is there scope for hope, I wondered.
Now that the visit is over and we have seen on television all the legendary locales -- the Tesla Wall, the Google campus, the Facebook square, the SAP centre -- and watched Modi's meetings with the young icons of the 21st century -- Marc Zuckerberg, Elon Musk, Eric Schmidt, and not to forget our own 'made in India' Satya Nadella, and Sundar Pichai: Was it significantly productive or only a tamasha with a star studded cast?
Opinions will inevitably differ -- when have we agreed on anything? -- but here is my take.
The visit to the West Coast proved three points: Modi's sincere interest in, and familiarity with technology; his belief (and the belief of all his interlocutors) in technology's transformative power to change the world, and to make lives better; and third, a focus on how all this can be attempted in India.
In what we witnessed there was energy, some commitment, and an unmistakable pointer to the possibilities. Hyperbole again? You be the judge.
Modi's personal interest in technology was a necessary condition for a visit of this intensity to Silicon Valley. No one can accuse him of elitist antecedents and yet, despite his very modest beginnings, if he became curious about computers, it was to educate himself, for the ease of condensed knowledge as he explained at the Facebook event.
Over a period of time, as CM, he may have realised the virtues of e-governance and also the utility of an excel sheet to keep score. It is likely that as PM, he has discovered technology's tremendous spin-off to connect directly with the public, bypassing to some extent the bureaucracy and media.
He has been an early adapter as we see in the use of Twitter, mention of Instagram, and the keenness for a new app in his name. His visit therefore was almost like a pilgrimage to the famous locales, but in a truly Silicon Valley style, friendly, informal and focussed.
Looked at from the other side, the big names in technology are, of course, business leaders, but are also more than businesses leaders. Making money is important, but is not the only objective.
Am I being naive? I need no other example than Bill Gates. How come, Gates has decided to withdraw from the stewardship at Microsoft and is now focussed on public health and education? He is still among the world's richest men, but money is not what he is all about.
The founders of Google, Larry Page and Sergei Brin, are keen to change the world in different ways -- longevity of life, artificial intelligence -- than continue with what they had led already, 'the Search algorithm' that has changed the world.
Elon Musk, Tesla's CEO who hosted Modi, is another example. He invented PayPal, made over $150 million in his twenties with it, but invested all of it in adventurous ventures like space exploration.
Thus, that technology can change the world and transform lives is one of the foundational principles in the Silicon Valley constitution, if one were to be written. That commerce is the only motive that drives Americans is a kind of cynicism that we tend to overdo.
If such is the ambition to effect change, India is a platform where an innovation can be tested on a scale unavailable in most places.
To take the simplest example, where else are hundreds of millions in one country waiting for Internet access, for better broadband, for 4G roll out -- millions of them in each of these categories -- of the ascending scale?
China, Indonesia and Brazil are some other places, but are somewhat ahead of India and therefore the unfulfilled demand is highest here. Again, Tesla's dream of independent solar powered households or even entire solar cities without a grid -- which better place to try out its PowerWall?
OK, you say. But will things really change in India; Can we walk, the talk? Are we going to see the miracles in the coming years?
Neither the real 'doers' in the Indian establishment nor the geniuses in Silicon Valley are romantics. There are infrastructural, procedural and financial hurdles, the litany that we all know. Even as the visit was on, some television commentators pointed out that the pathetic state of the highways cannot be substituted by I-ways.
Predictably and repetitively, others spoke of 'implementation' as the key and as our perpetual weakness. The regulatory mindset we exhibit is a killer of the entrepreneurial spirit that we applaud on the West Coast.
There is also the familiar and relevant question: Should we not be concentrating on agriculture and manufacturing, on job creation and skill upgradation instead of all the fancy stuff?
We thus come down to staring at the glass, half-empty. But what the visit achieved was to make us look at the half-full glass too: The connectivity that has been achieved over the last two decades, the leapfrogging of technology in communications, the net worth of networks that are already in place.
Is Digital India a dream? But reading this column on your current device -- a mobile, an iPad, a laptop -- was perhaps a dream too, a decade ago. A better question is: Are these the kind of dreams that are worth having?
B S Prakash is a former Ambassador who served as India's Consul General on the West Coast from 2004 to 2008.