'This has been an ongoing process,' says Ambassador B S Prakash, India's former consul general in San Francisco, 'but I believe a Modi visit to the West Coast can be a force-multiplier.'
'Go West, young man' is a popular phrase from American folklore going back in time, intended to convey that for the aspirational and the ambitious, opportunities are plentiful as one travels west towards the Golden state, California. At one time, it connoted vast spaces and empty land for agriculture, later it meant digging for gold in the region around San Francisco, and in recent decades has meant aiming at an IPO to become a young billionaire in Silicon Valley.
The same lure can be true for migrants, as well: Mexicans, Filipinos, Chinese and, of course, Indians.
As India's former consul general in San Francisco, I rejoice in the prospect of Prime Minister Narendra Modi heading to this region. The rationale in the choice of his destination is impeccable. The prime minister heads to the United Nations for its 70th year, an essential undertaking for the leader of a major nation, even if it is somewhat of a ritual.
Last year, apart from the UN event, Modi did a rousing Madison Square Garden public event that set the template for enthusing the Indian community abroad. He then went to the all important meeting with President Obama in Washington, DC and the results are meaningful. The decision this time to head 'West' after the UN is once again purposeful.
Why do I say that? There are three factors to consider: The inherent importance of the region in the world and for India; second, the unique profile of the Indian community and the engagement that it already has and can be further enhanced with India; and third, a certain natural fit that one can discern between Modi's interests and the Silicon valley attributes. Let me explain.
Not only is the state of California the richest in the US, but were it to be an independent country, it would be the 8th largest economy in the world. With a GDP of $2.3 trillion in 2014, the state's GDP is comparable to the Indian economy as a whole. It is also richly diversified with agriculture, manufacturing, technology, entertainment and services, all being globally significant.
Think of California oranges or almonds, Levi's jeans or Bechtel machinery, Hollywood or Disney, and Google or Apple. All are Californian like Ronald Reagan, all-American! Economy apart, I learnt during my four years there that its people, politics and priorities are different from the East Coast, the Washington-New York-Boston ambience.
In my first week, at a seminar in Berkley, I became aware that the thinking was far different from the conservative and war-mongering attitudes then prevalent in the Beltway, with Bush Jr and Dick Cheney in command.
The two Senators from the state, both feisty women, were liberal and feminist. The leading lights of the West Coast establishment tended to be intellectual, more focussed on the Pacific and not necessarily the Atlantic Ocean, and far more interested in Asia -- China, India and Japan -- than their counterparts on the East Coast.
Their hobbies were eclectic too: Esoteric spiritual practices of every shade, funky and fun-loving sartorial styles, fusion cuisine, Japanese furniture, Chinese medicine, Indian incense. You get the picture.
Then there was Silicon Valley, a unique habitat of material, intellectual and financial success. Companies like Intel and AMD had infused the 'chip' with magical qualities. Geniuses like Steve Jobs, Sergei Brin-Larry Page and Elon Musk were changing the world on a day to day basis with their ideas and inventions, and in the process making astronomical sums of money.
I am speaking in the past tense of my time in the last decade, but the process has only accelerated. Today, there are no doubt clones of the 'Valley,' in Bangalore, Boston, Israel or Ireland, but the reach and the potency of the original endures and strengthens.
Next, the Indian community. As a diplomat, I served in many countries with large Indian communities, but their profile in the Bay Area around San Francisco is special. A sizable presence, it is arguably, the most successful and high-profile Indian community anywhere because of the accent on education, accomplishment, and technology-orientation.
The community in London may have great business acumen, New York more bankers and investors, Boston -- more PhDs and professors, but the Bay Area has all of these and a 21st century futuristic mentality.
All the celebrated companies that I mentioned earlier, the japamala of the nerd -- Intel-Google-Apple-Oracle -- have teams of Indians, and some at the top too. Need I mention Sundar Pichai or Vinod Khosla or Satya Nadella, to make the point? There are scores of others in the specific fields of venture capital, angel investors, consultants, brand-builders and tech event managers. All this is but one segment. The famed universities of Berkley, Stanford, UCLA and many more are home to Indian academic talent of the highest kind.
It is also from the West Coast that Ali Akbar Khan, Ravi Shankar and Zakir Hussain made Indian music global. Think, next of gurus and godmen. During my time as the CG I was privileged to be blessed by the entire pantheon from Sri Sri Ravi Shankar to Mata Amritanandamayi, besides visits to the Ramakrishna Mission and the all authentic Sunnyvale temple.
More importantly, the Indian 'connect' is substantial and visible. All the major Silicon Valley corporates already have a presence in India and are expanding it. Areas like clean energy, bio and nanotechnologies, and design engineering are the newer areas for engagement.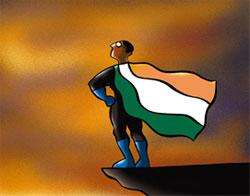 Many of our stalwarts, be it academics or doctors or IT professionals, often want something to give back to their IITs or IIMs or village, and in short are a ready constituency for enhancing the connection between the Desi and the Pravasi.
This has been an ongoing process, but I believe that a Modi visit to the West Coast can be a force-multiplier. His interest in technology and belief in its efficacy for social transformation has become well known. He himself has been an early adapter of social media and has demonstrated earlier as Gujarat's chief minister and now as prime minister his interest in using IT.
Apart from tech-connect and investments, his proclivity is also to project the cultural and spiritual connection that already exists in abundance in that region.
Finally, a ringing mutual appreciation spectacle that we may see on a huge stage in San Jose can be useful. For the hard working, high-earning Indian community, an acknowledgment of their success story, by no less a person than their prime minister will be a morale booster.
Their cheerleading would be welcome and domestically advantageous for Modi. Is this mere tamasha as the habitual critics say and is there a downside? Only if the applause leads to over-confidence or tone-deafness, I would say. We shall watch.
Ambassador B S Prakash served as India's Consul General in San Francisco from 2004 to 2008 and published a book based on his experiences there, Clueless in California, a collection of his columns on Rediff.com
Illustrations: Uttam Ghosh/Rediff.com