Eleanor Roosevelt, a advocate of civil and gender rights, invested the American First Lady's role with meaning.
Jackie Kennedy was her husband's unofficial envoy, including to Asia.
Betty Ford is remembered for changing the discourse on addiction.
Does Mrs Donald Trump realise that her immediate predecessor, Michelle Obama, is not the only hard act to follow, wonders Kanika Datta.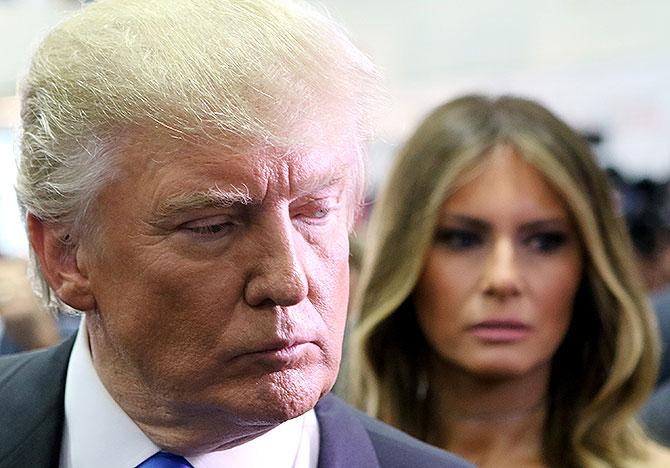 IMAGE: Melania and Donald Trump in New York in September during the presidential campaign.
Melania is, inevitably, invested with the cruel biases that society attaches to models.
Photograph: Michael Bocchieri/Getty Images
Donald Trump's presidency is replete with unknown unknowns.
But what kind of First Lady would Melania Trump make?
Mrs Trump was an enigmatic figure on the campaign trail, manifestly more arm candy than life partner.
So, little is known of Melania Trump beyond her Slovenian provenance and journeyman modelling career that The New York Times even commissioned a short story by Chimamanda Ngozi Adichie to reconstruct a day in her life.
What can be safely predicted about Mrs Trump is that she will record several firsts as a First Lady incumbent of the post-war White House.
She will be the first first-generation immigrant, the first third wife, the first model, certainly the first to have modelled nude and, the first to be accused of plagiarism, however unwitting, that too from the charismatic Michelle Obama, whom she will succeed.
As Mrs Obama walked her through the White House, Mrs Trump would have seen portraits of former First Ladies.
Would she realise that her immediate predecessor may not be the only hard act to follow?
The First Lady's role depends on what the incumbent makes of it. Several choose non-controversial issues, such as Mrs Obama's campaign to make Americans eat healthy.
For Hillary Clinton, it was the (unsuccessful) health care plan that marked the start of her bid for President.
IMAGE: US First Lady Michelle Obama, right, with former FLOTUS Hillary Clinton in October 2016, during the latter's presidential campaign. Photograph: Alex Wong/Getty Images
But it was Eleanor Roosevelt who invested the First Lady's role with meaning.
Wife of one of America's most revered Presidents, Franklin Delano Roosevelt, Mrs Roosevelt was famously dowdy, but also an indefatigable advocate of civil and gender rights.
There were causes she championed so fiercely that, it was said, she drove her ailing husband to the undemanding company of Lucy Mercer, his long-time mistress.
Eleanor's sterling work did not end with her husband's death in 1945. Harry S Truman appointed her a delegate to the UN General Assembly, and she worked as a human rights campaigner at the United Nations and under John F Kennedy.
IMAGE: Eleanor Roosevelt at a United Nations conference in 1946.
Author, lecturer, ambassador, social activist and a representative to the UN, she chaired the committee that drafted and approved the Universal Declaration of Human Rights.
Photograph: Keystone/Getty Images
JFK also had an accomplished wife, the Vassar-educated East Coast socialite Jacqueline.
Like the Roosevelts, the Kennedys' marital relations were strained. But JFK appreciated his wife's star power.
On their first official visit to Paris, she drew such huge, adoring crowds that her husband humorously told journalists: 'I do not think it altogether inappropriate to introduce myself. I am the man who accompanied Jacqueline Kennedy to Paris. And I have enjoyed it.'
Jackie was often her husband's unofficial envoy, including to Asia, where she charmed both Jawaharlal Nehru and Ayub Khan.
It was the Pakistani dictator who gave her the black horse, Sardar, that led her husband's funeral procession after his assassination.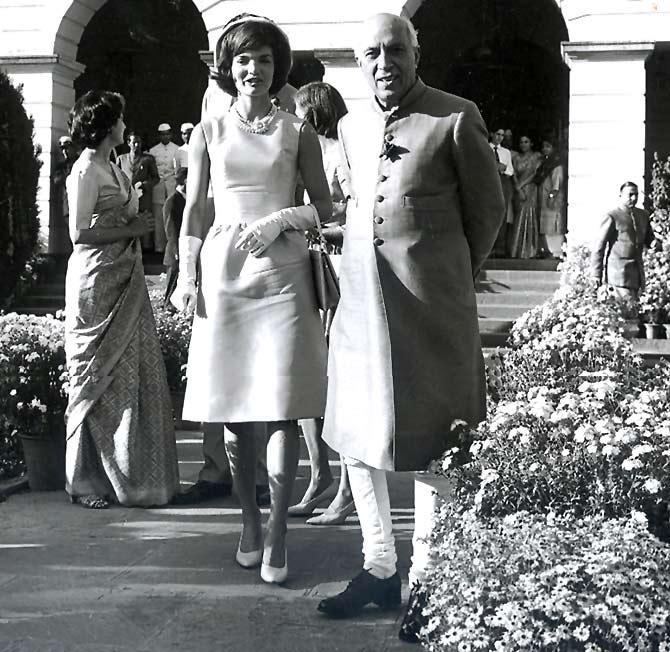 IMAGE: First Lady Jacqueline Kennedy with Jawaharlal Nehru at his home during her 'Friendly Trip to India' in March 1962.
She charmed not just the Indian leader, but also Pakistan's military dictator, Field Marshal Ayub Khan.
Photograph Courtesy: US embassy New Delhi
For a certain generation, Betty Ford, the trendy wife of America's only unelected President Gerald Ford, will be remembered with affection for her gallant and publicly acknowledged battle against breast cancer -- the first time the disease was openly discussed -- and, later, against alcoholism.
The eponymous de-addiction clinics remains her legacy.
Betty changed the discourse on addiction, but her feminism (she couldn't understand why First Ladies didn't get a salary) is said to have cost her husband the 1980 nomination to a former film star named Ronald Reagan.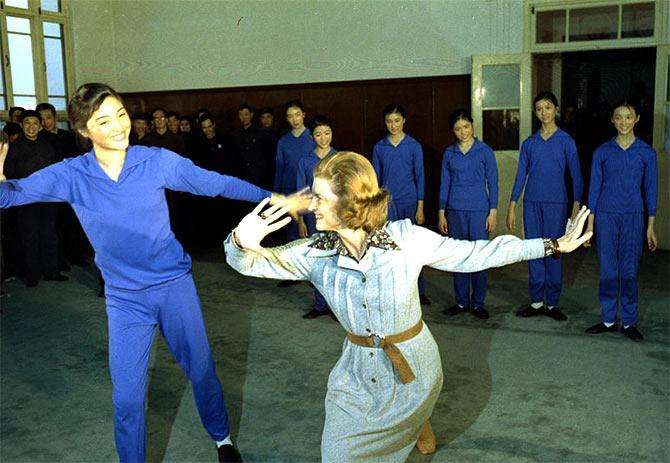 IMAGE: Betty Ford, right, during the 1975 State visit to China.
Her legacy includes her public conversation about her battle with breast cancer. Photograph: Kind courtesy Gerald R Ford Presidential Library
Despite Reagan's conservative platform, Nancy, also a former actor, played a significant unofficial role in her husband's presidency to the disgust of his aides -- her running feud with (then White House Chief of Staff) Donald Regan was the stuff of headlines and related with relish in her memoir My Turn. Theirs was a conspicuously happy marriage.
Reagan's Cold War frenemy Mikhail Gorbachev also enjoyed a great marriage with Raisa, an unusually stylish Soviet First Lady who attracted much attention wherever she went.
Predictably, Nancy and Raisa did not get on.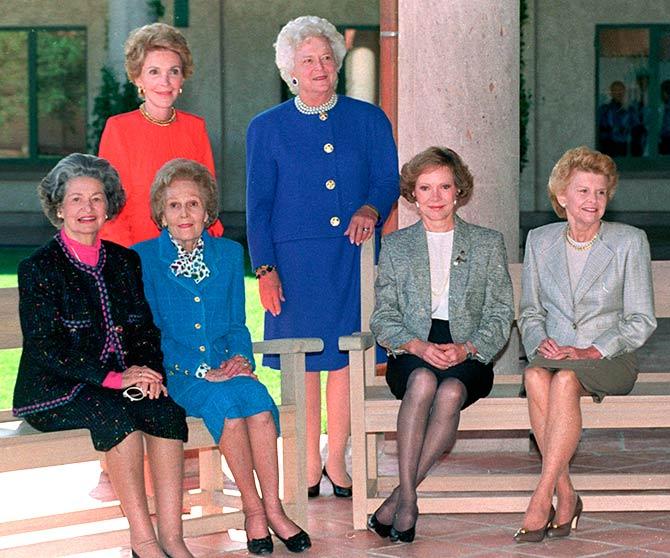 IMAGE: From left, former First Ladies Lady Bird Johnson, Pat Nixon, Nancy Reagan (back row), Barbara Bush (back row), Rosalyn Carter, and Betty Ford in California, November 1991.
While Nancy Reagan played a significant unofficial role in her Ronnie's presidency, several other First Ladies opted for low key roles.
Photograph: Gary Cameron/Reuters
Several First Ladies opted for low-key roles -- Mamie Eisenhower, Lady Bird Johnson, Pat Nixon, Rosalyn Carter, Barbara and Laura Bush. But none were so crudely relegated as Mrs Trump.
Trump preferred his poised daughter, Ivanka, to stump for him and did not even bother to share the podium with his wife before his victory speech.
Her rare public engagements -- even aside from the Republican convention -- have been excruciating.
Cyber-bullying appears to be her issue of choice, though how she plans to parry her husband's troll bhakts is an open question.
Mrs Trump lacks the default hard-boiled quality of an elderly high roller's trophy; but her personality remains so well hidden that she is, inevitably, invested with the cruel biases that society attaches to models.
Her involuntary mannequin mannerisms quickly became grist for the talk shows -- the pout of a mouth accentuated with nude-coloured lipstick, the toss of streaked and artfully wind-blown hair and the cosmetic surgery that makes her look as though she is about to sneeze, as one fashion editor put it.
Saturday Night Live's Cecily Strong has already had a field day. Which makes it easy to predict that Mrs Trump will add another first to her stint in the White House -- as the first First Lady to be the stand-up comedians' favourite.