Pakistan's offer to normalise relations with India is an attempt to buy temporary peace due to its economic and politico-strategic compulsions, notes Brigadier Narender Kumar (retd).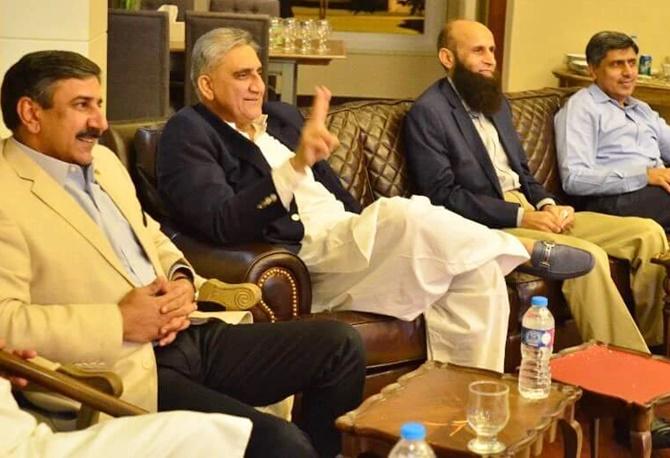 Arthur Miller said, 'Betrayal is the only truth that sticks.'
Pakistan has betrayed India multiple times and it is difficult to trust even honest intent unless Pakistan proves it by deeds on the ground.
In the last couple of months, Pakistan has indicated to normalise relations with India.
The directors general of military operation talks and later Prime Minister Imran Khan's offer to open Pakistan's borders for Indian trade with Central Asia were a precursor to announce to the world that Pakistan is willing to take a step forward to establish peace in the region.
Pakistan has indicated that there are peace dividends for both countries and India will gain by normalisation of relations especially for its trade with Pakistan, Afghanistan and Central Asia.
Pakistan army chief General Qamar Javed Bajwa made a few important assertions last week that needs to be critically examined.
India and Pakistan must bury the past, General Bajwa said, but asserted that Kashmir is central to the establishment of peace between two nuclear neighbours.
He seems to be emphasising that a peaceful resolution of the Kashmir conflict in a dignified manner is a must for lasting peace.
Willy-nilly, he made normalisation of relations between India and Pakistan conditional and threw the ball in India's court.
This is a shrewd opening move by Pakistan after a prolonged deadlock to a complex relationship with India.
Should India bite the bullet and once again trust Pakistan or should India wait and watch Pakistan's next move?
General Bajwa has given an impression that Pakistan has offered an olive branch and demonstrated the intent to normalise relations with India and it is now for India to reciprocate.
The question comes up: Is it for India to prove intent and desire to normalise relations with Pakistan or it is for Pakistan to act and take concrete steps to eliminate cross border terrorism as the first step to lay a foundation for durable peace between the two countries?
Who is the victim of State-sponsored cross border terrorism?
Certainly not Pakistan. It is India that is bleeding due to scourge of terrorism.
General Bajwa may have desired to normalise relations, but he has kept the Kashmir conflict at the top of Pakistan's agenda.
He very astutely reminded the Indian audience that Kashmir will remain Pakistan's primary focus and a move forward is not possible without a resolution of the Kashmir conflict.
He asserted that the Kashmir conflict should be resolved bilaterally whereas the Indian stand is that the only issue unresolved in the Kashmir conflict is Pakistan occupied Kashmir and the Northern Areas that should be returned to India for durable peace.
Why the sudden change of heart? Is it a compulsion for Pakistan to normalise relations due to economic, political and strategic reasons?
Empirical analyses suggest that politico-strategic compulsions is forcing Pakistan to make an effort to normalise relations with India.
Pakistan is conscious that it cannot match India conventionally and use of non-State actors as strategic assets have harmed Pakistan's larger interests.
Thus, it is imperative to buy temporary peace till Pakistan's economic condition stabilises.
One must also not preclude the instrument of force used by India (the September 28-29, 2016 surgical strikes and the February 26, 2019 strikes against terrorist camps in Balakot) that has compelled Pakistan to come to the negotiation table.
Moreover, Pakistan is not in a position to fight a conventional accidental war due to an unexpected event such as 26/11, Pulwama and Uri.
Pakistan is conscious that being continuously on the grey list of the Financial Action Task Force will deny funding from international financial institutions.
If it is put on the FATF black list, Pakistan will find it difficult to tide over its current financial crisis and will be placed alongside Iran, North Korea and Syria, shutting down all avenues of international funding.
Therefore, normalisation of diplomatic and trade relations with India is kind of a certification of good behaviour of Pakistan.
If Pakistan continues to remain an ideological and physical adversary of India, it will certainly lose huge resources in competing with India instead of developing Pakistan as a stable economic State.
Pakistan is also mindful that if it does not build bridges with India, it will be unsustainable to fight multi-front wars including managing a hot Line of Control.
At the moment Baluchistan is on the boil, Tehrik-i-Taliban in Pakistan terror groups are regrouping and there is rising disaffection among various communities in Pakistan due to political apathy.
Such a security scenario is unsustainable especially with the current state of Pakistan's economy.
Pakistan also suspects that pressure from Saudi Arabia and the United Arab Emirates to return billions of dollars loans cum bonds is being done at India's best. This is pushing Pakistan into an unholy alliance with China that may result in a Chinese debt trap.
Pakistan is also under pressure from the United States not to lease Gwadar port to China.
Pakistan is aware that the more it slips into a Chinese stranglehold, the more it will drift away from the US. The net result will be that Pakistan will become a vassal State of China, thereby losing strategic autonomy.
What should India do?
Should India remain uncommitted and not respond to Pakistan's olive branch?
Should India lay down its own set of conditions before moving forward?
And who should respond to General Bajwa's peace offer?
India's response to General Bajwa should go from the Indian Army instead of the ministry of external affairs.
The response should be a brief statement asking Pakistan to act first against terrorists hiding in safe sanctuaries in Pakistan, and second, that Pakistan must stop all cross border acts of terrorism.
If Pakistan proves its honest intent, only then India can start any meaningful dialogue.
In addition, Pakistan should be given a clear message that Kashmir is an internal matter of India and any discussion if at all it takes place, it should be for the return of PoK and the Northern Areas to India.
The offer to normalise relations with India at this stage is an attempt by Pakistan to buy temporary peace due to its economic and politico-strategic reasons.
Pakistan is unlikely to cast away its subconventional capabilities in the long term and Kashmir remains its leverage against India.
Pakistan may not hesitate in exploiting the fault lines or vulnerabilities that may arise due to the India-China standoff.
The lowering of guard in India's counter-terrorism and counter-infiltration grid may be counter-productive.
Though it is a welcome step if Pakistan is willing to correct its past mistakes and normalise relations with India as a responsible neighbour.
Brigadier Narender Kumar (retd) is a Distinguished Fellow at the United Services Institute of India and a frequent contributor to Rediff.com.
Feature Presentation: Aslam Hunani/Rediff.com